Even the best web developers don't have all the knowledge nor can they apply the same strategy to different types of needs. It all depends on your audience or better said, their type of character. This is why it is important to experiment with different options and features, so you get feedback and see what works best for a certain type of workload.
Basically what you need to do is, get to know your audience/visitors and try to tailor the website towards their preference. After all, they are the ones who keep coming back and consume your content, while also increasing your traffic rates and rankings.
With A/B testing tools, you can optimize your WordPress site's design, copy, product, and also find solutions for all of your problems. Use different tools and test various options. Find out what works best and optimize your site's performance.
How can you find out what people like best? Well, A/B testing tools allow you to use a split testing process that draws a comparison between two (different) versions of web pages and determines which one performs better. In return, the process helps optimize your site, user experience, and conversion rates.
These tools have been around for quite some time and their popularity has been on the rise for a while now. Many big businesses rely on the statistics provided by these tools because they help them expand their business much quicker and more efficiently.
In a nutshell, A/B testing tools come in two types:
Client-side – A/B testing tools that instruct web browsers how to display a page. The page gets tagged with Javascript lines and upon loading the page, the Javascript contacts a back-office system to instruct the browser which content to display. The back-office system also tracks conversion rates.
Server-side – A/B testing tools that operate on the webserver. The page is compiled by the server and then delivered to the client's browser. When someone visits your site, a random test gets sent from the server and no modifications are made by the browser.
Basically, client-side tools are a bit easier to use, allow a quicker execution, and come with a WYSIWYG editor. However, server-side tools are more flexible and a bit more powerful, which results in better performance as they don't have some of the weaknesses that client-side tools have.
For example, client-side tools are known to cause the "flickering effect" and/or worse performance. And even though client-side tools offer a bit more speed when it comes to testing many different changes in a short time, server-side tools can do a lot more with less impact on the site's overall performance. Also, server-side tools give you more control and allow you to secure your site better.
With those explanations out of the way, let's dive into exploring the best A/B testing tools!
Optimizely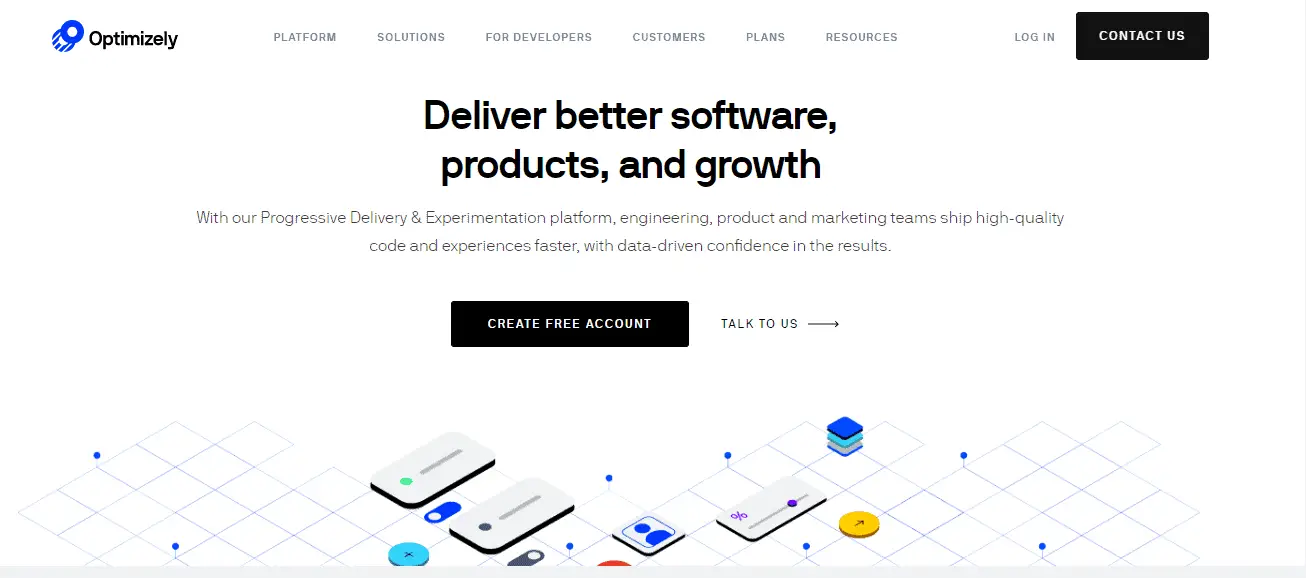 Optimizely is a progressive delivery and digital experimentation platform designed for marketing teams. The A/B and multi-page experimentation tools allow you to run numerous tests/experiments on a single page at the same time.
Since Optimizely offers more than just A/B testing, you can also do testing on dynamic websites, ad campaigns, cookies, and even more. It helps optimize the experience across any platform as well as websites, backend code, mobile and conversational apps.
Using Optimizely you can experiment with different UI variations and in return, optimize messaging, layouts and, forms on your site.
Features
Web experiments that load blazingly fast
Improve experiences on mobile apps, messaging platforms, etc.
Create with clicks, not code
Target optimized experiences
Use and experiment on APIs and extensions
Security and Compliance
Program Management
VWO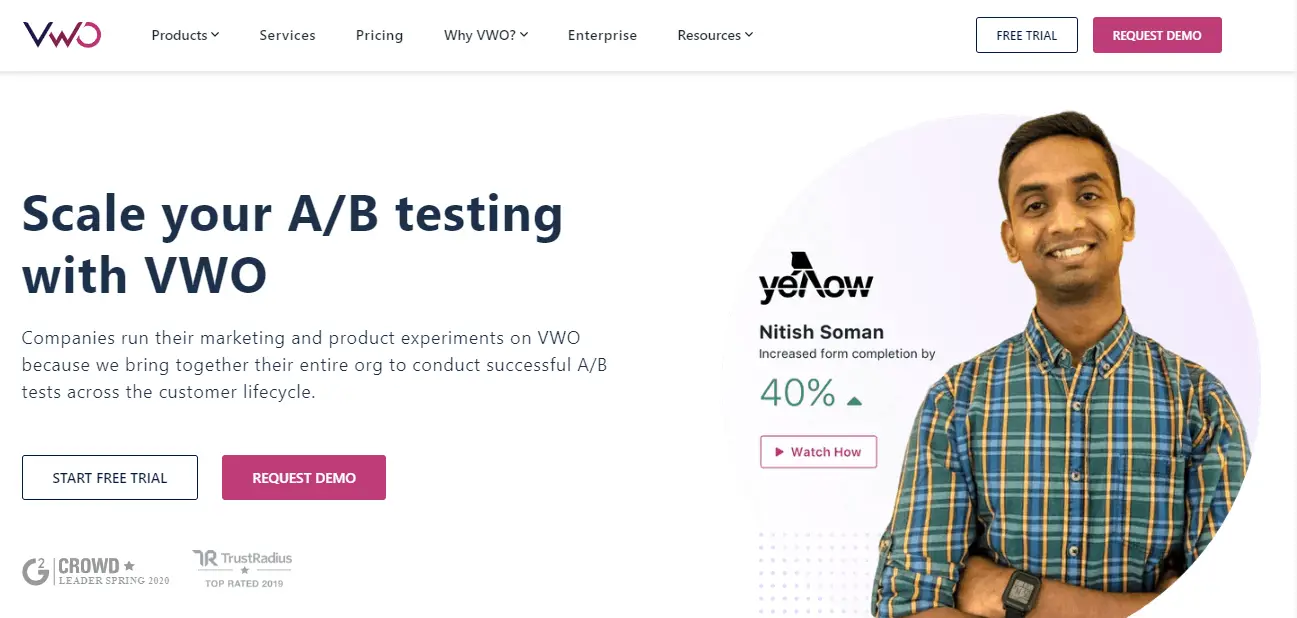 VWO is similar to Optimizely when it comes to testing features and abilities, but the main difference is in what they offer and charge extra for. VWO gives you user feedback for free and has a user-friendly dashboard that is easy to use. Also, its platform structure is simple and even though you might get a few more features elsewhere, its simplicity and the not-so-steep price make this product stand out.
It features A/B, multivariate and split URL tests. On top of that, the SmartStats feature lets you run your tests much quicker and allows for more control.
Features
VWO Testing – build and test experiences however you like
VWO Insights – don't guess what visitors want, get an analyzed report and improve user experience
VWO FullStack – test anything, search algorithms, engines, workflows, etc.
VWO Engage – create automated marketing campaigns that help you engage with visitors
VWO Plan – plan your experiments and manage their execution centrally
VWO Services – optimize growth and improve conversion rates
These are the recommended platform combinations that offer multiple tools inside one package. They cost a bit more but still, they offer all the bells and whistles. However, there are more plans to choose from if these seem too pricey for you.
Also, if you are looking for specific tools and want to save some money you can choose any tool you want separately.
AB Tasty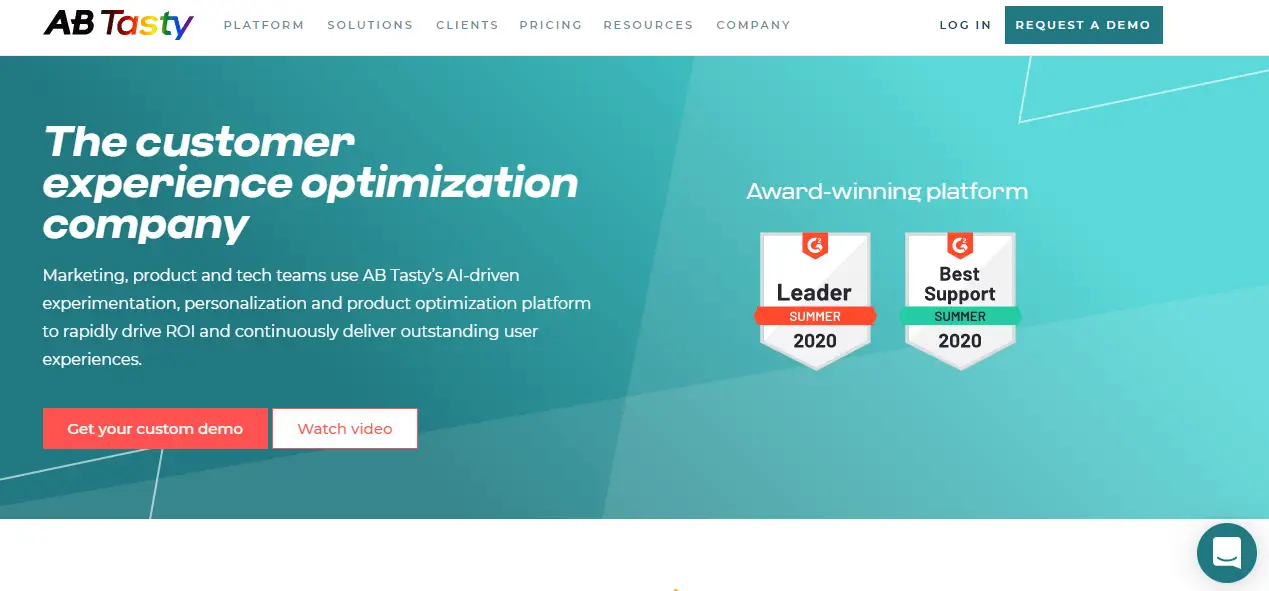 This product specializes in improving customer experience through experimentation and personalization, which in return allows for overall optimization.
AB Tasty is a popular platform and it offers numerous insights and personalization features. The platform is focused on clients, enterprise-ready, and even AI-powered which saves you time. Essentially, it has all the important features and tools for optimizing conversions.
Features
Experimentation – simple to use visual editor and widget library
AI-powered personalization – hyper-precision at hyper-speed
Dynamic widgets – various customizable templates to keep visitors engaged
Feature flags​ – toggle new features (on/off)
Progressive rollout​ – use beta versions to test the waters and minimize risk
Server-side experimentation​ – adds depth to experimentations on all levels
Client-focused – customers are the foundation and the focus of the company
Enterprise-ready – move quickly by using supercharged experimentation
Convertize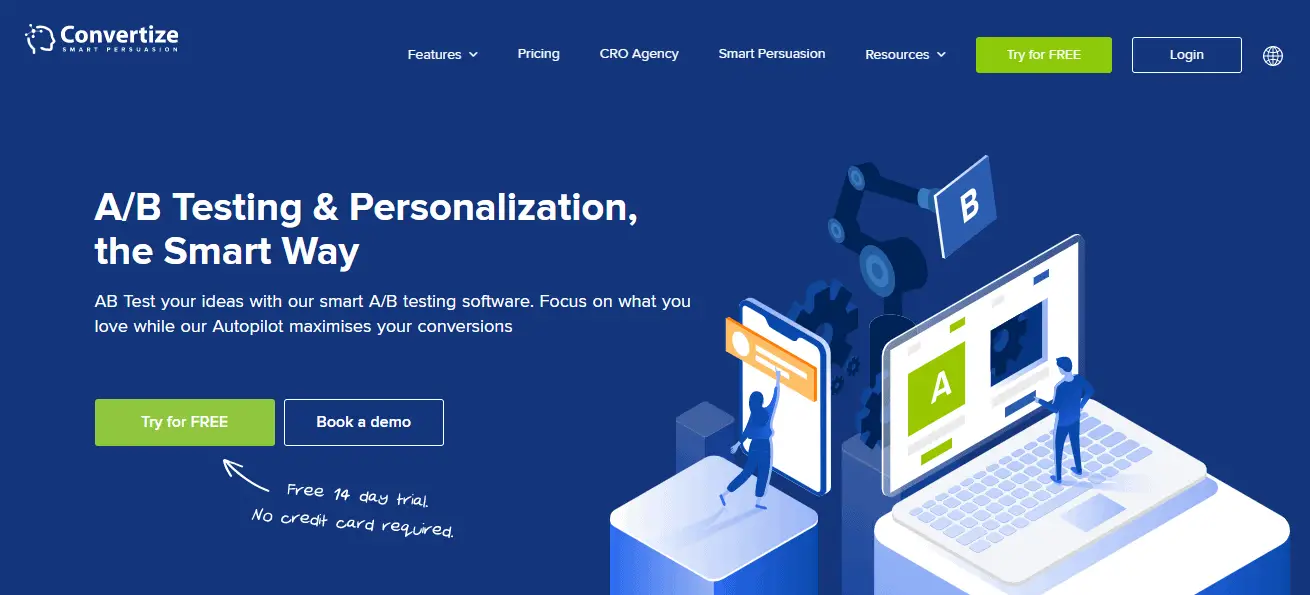 The Convertize A/B testing software allows anyone to test their ideas almost effortlessly. No need for any coding and you can sit back while the autopilot takes care of traffic and maximizes conversions.
It is quite easy to set up and the experimentation process is simplified by automation features.
Features
Quick Install – CMS & Tag managers integrations
Persuasive Nudges – increase engagement
Smart Editor – create experiments with the drag-and-drop visual editor
Autopilot – automatic traffic correction
Lightning Mode – 13ms page loading speed
Statistics Engine – get insights
Dynamic Text – responsive titles and body text
Flight Tracker – traffic history and conversion rate data
Tactic Library – 150 creative tactics
Specialist Support – CRO support
You can get the "Solo" plan for just $49 per month or the "Team" plan for $199 per month. But I'm afraid you'll have to get the "Team" plan if you're not a small business owner and plan on doing lots of tests with a larger audience.
Omniconvert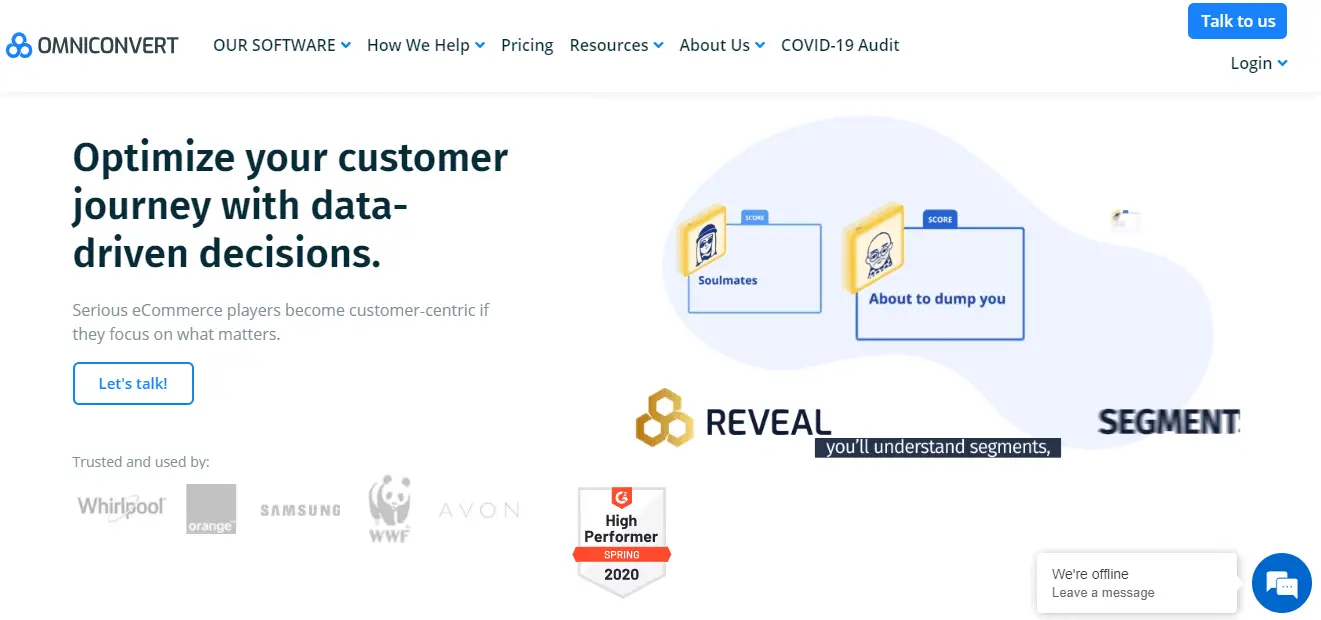 Omniconvert is a platform that offers an A/B testing tool with local segmentation and personalization features. It allows you to optimize conversions by running an A/B test on desktop, mobile, and tablet devices.
You can test over 40 segmentation parameters such as visitor behavior, location, source of traffic, and conduct surveys to get feedback.
So why not improve your ratings and optimize your site with this simple solution.
Features
Unlimited CSS & JS Editor – create and modify site elements (CSS & JSS)
CDN cache Bypass – conduct test in seconds
Advanced Segmentation – leverage and create various segments
Experiment debugger – detailed error analysis
Web Personalization – test how visitors interact with site elements
100+ overlay templates
40+ segmentation criteria
12 Cognitive Biases
Feedback Survey Tool
Scheduling
Multiple pages
Full HTML control
The most basic plan starts at $167 per month but if you want more, you'll have to contact them to get an offer.
Apptimize

Apptimize is an A/B testing tool designed for mobile platform optimization. So for businesses that focus on mobile apps and mobile user experience Apptimize is a safe bet.
Using Apptimize, you will have full control over the visual editor and you can use it to create multiple tests and target them to your liking. You can also conduct cross-platform experiments, tailor personalized experiences, and release new versions, or product updates. On top of all that, it supports adding code and dynamic variations.
Apptimise's data system collects insights from platforms so you can get a detailed analysis of user behavior and the mobile experience.
Features
Feature Flags
Automatic Event Importing
Data Exports
Full API Access
User ID Targeting
Team Administrative Controls
Advanced-Data Insights
Cross-Platform A/B Experiments
Instant Updates
Phased Rollouts of A/B Tests
Adobe Target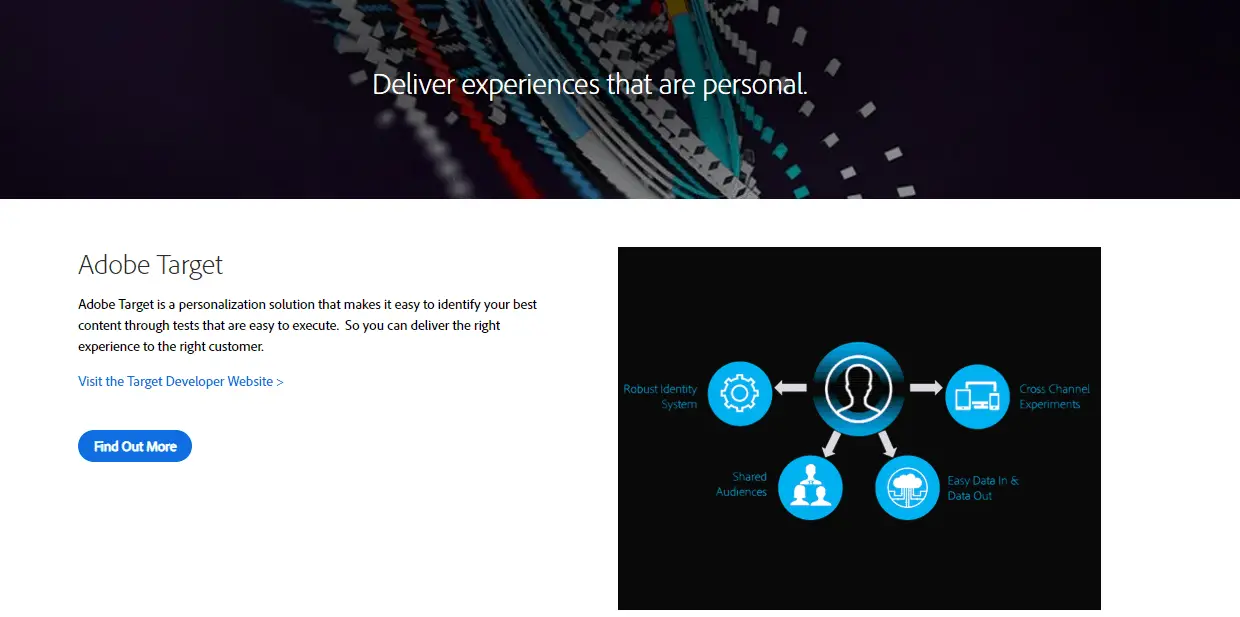 Adobe Target is one of the most popular testing tools and maybe the most expensive one out there. Nevertheless, it is highly effective and brings professionalism to another level. The integration is on point and you can even push data in two ways.
You can conduct A/B tests and experiments anywhere. And tests for multiple pages or categories of pages as well as rule-based targeting is also supported.
Using Adobe Target, you first create a variant, then target the variant based on visitor segmentation, and then you finally customize test milestones.
Thanks to its automated personalization, the self-learning algorithm learns and adapts to produce the best results at all times.
Features
A/B testing
Multivariate testing
Multi-armed bandit testing
Website optimization
Single-page app optimization
Mobile optimization
Server-side optimization
Email optimization
One-click personalization
Enterprise governance
Automated offers
Behavioral targeting
Conclusion
As you can see, there are many different tools you can choose from but still, most of these are built similarly and offer similar features. So do your research and pick the one that best fits your needs and budget.
Some of the platforms even offer free solutions that you can try out through trial and demo versions. So if you're just planning on using these tools for a short period of time, they will get the job done just fine. But if you're running a serious business, there is no need to skimp on purchasing testing tools as they will offer the most bang for your buck when it comes to testing your site's elements, users and their preferences.
Although most A/B testing tools cost a pretty penny, they are worth it in the long run. If you can't make up your mind, I'd suggest you get a trial or cheaper version and if you don't like it, you can always switch to another platform without any hassle.