If you prefer using awesome free stock photos for your blog or website, you've probably heard of a popular site with tons of inspiring images – Unsplash.
This site has a generous collection of quality photos, and it covers lots of categories from nature to spirituality to travel. And the most important, it's totally free! (And no man would ever refuse free quality stuff, right?)
But, this is not something unsolvable, and this will definitely not prevent any user from continuing indulging in free stock photos (at least, not me).
That is why many fellow free stock users (like myself) have to combine several free stock photo sites or free stock videos that will give them more quality photos, which means more choices, more alternatives, and more colors!
10+ Best Alternatives To Unsplash For Free Stock Photos
Now, to save you from trouble called "spending your entire day in search of the best alternatives to Unsplash," here is the list of top 10+ worthy alternatives that will offer you a wide array of unique photos and illustrations!
Depositphotos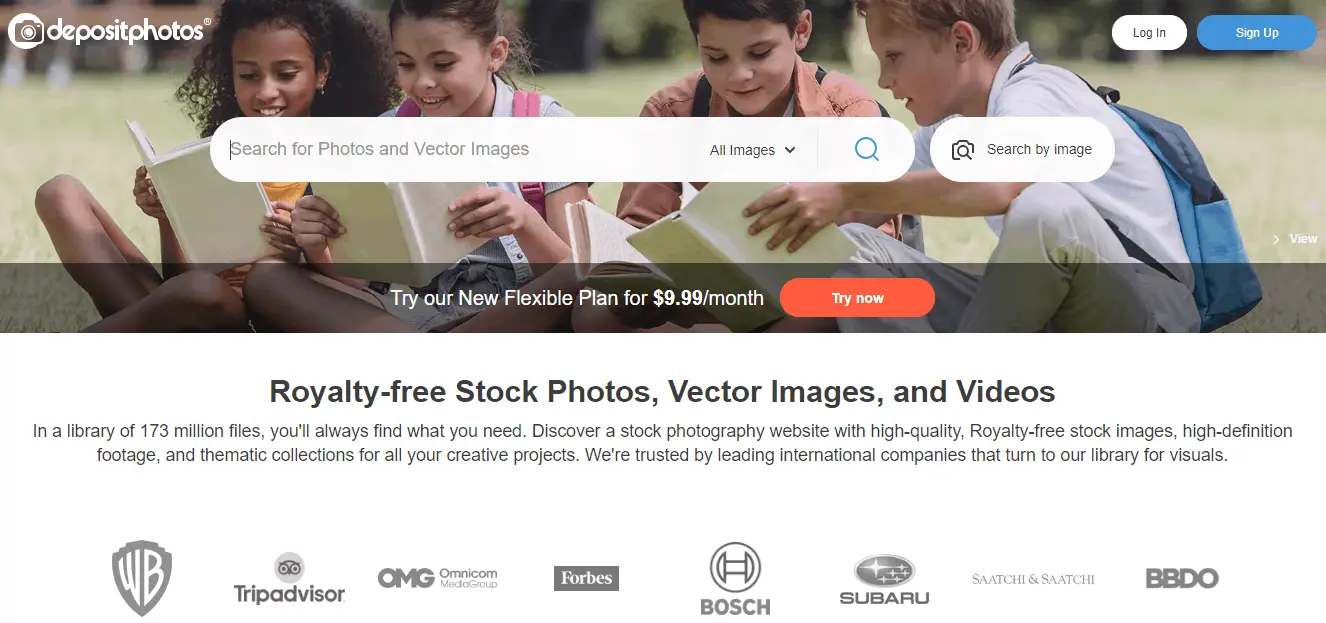 Depositphotos, as one of the most popular stock image websites, needs no introduction. Its collection which counts over 100+ million royalty-free stock photos and vector images is without a doubt one of the largest.
Regardless, every piece of content offered by Depositphotos is high-quality and was created by professionals from all over the world.
To top it all off, Depositphotos allows searching by categories and in reverse which can come in really handy when you are in a rush.
And when it comes to licensing, all the content can be used commercially, without any attribution.
Yay Images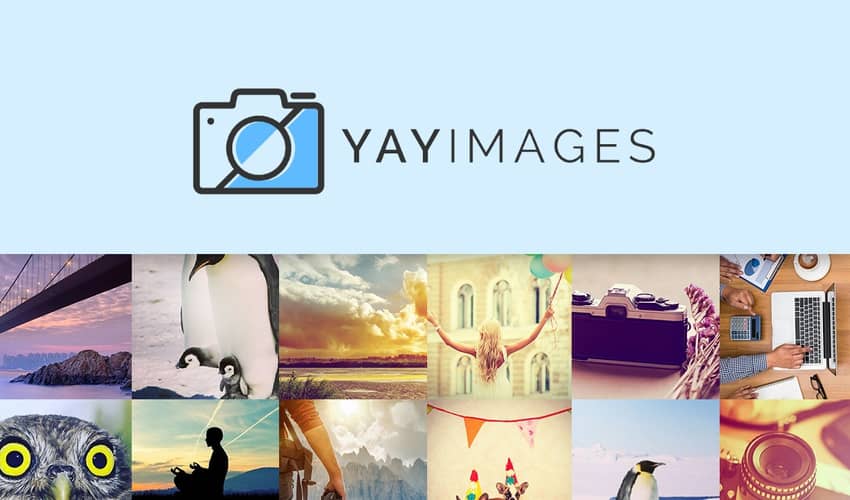 If you're looking for cheap but high-quality royalty-free stock content, then Yay Images is the place to browse!
Yay Images provides a collection of not just well-produced photos but also vectors and graphics as well. To be more exact, its collection consists of 12+ million photos and 1.2 million vectors created by 18K+ photographers/creatives.
Like Depositphotos, Yay Images comes with advanced search features which include:
Reverse Image Search

Text Space

Color Search

People Search

Orientation

Vectors

Keywords

And many more
And if you wonder whether the content from Yay Images can be used for more than personal use. The answer is yes, it can be used for both professional and personal use.
StockUnlimited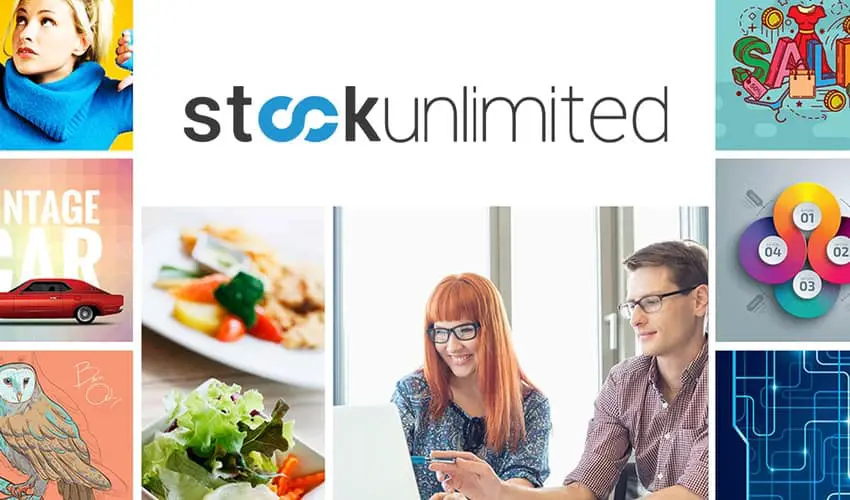 Despite coming with a huge collection of graphics, vectors, and photos, StockUnlimited also comes with a huge selection of audio files, fonts, backgrounds, textures, and icons.
What's even more impressive is the fact that StockUnlimited adds new content on a weekly basis which includes everything from vectors to images that show wildlife, views, architecture, people, and so on. And no, there is no limit on how much you can download from StockUnlimited.
Lastly, we have to note that StockUnlimited comes with a built-in editor and plenty of templates that will take your creativity to the next level.
FreeStocks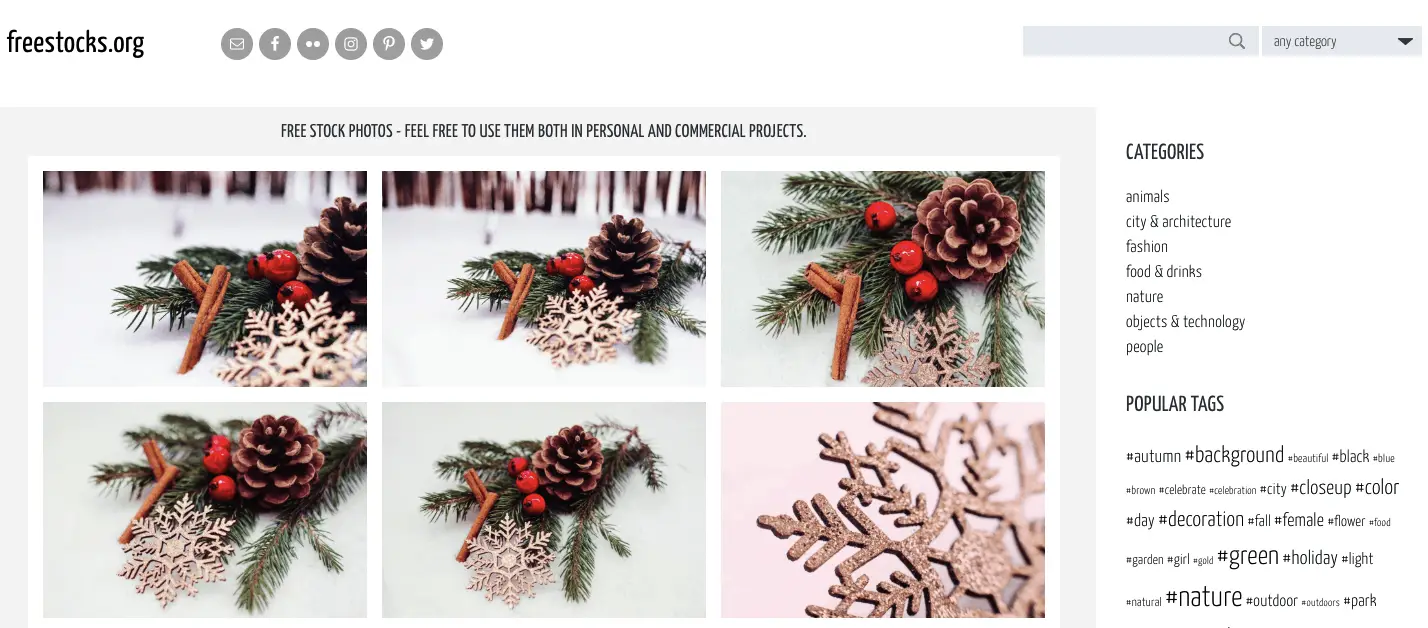 As the name implies, FreeStocks consists of numerous free stock photographs. These photos are of decent quality belonging to one of the seven categories (animals, fashion, food & drinks, nature, city & architecture, people, and objects & technology) for you to choose from.
This doesn't mean you can't search for specific things, but it does mean that you are limited to the number of free stock photos. As already stated, the images are of good quality, but the better and more specific ones cost money (as always).
Nevertheless, you should be able to find a wide variety of photos that may suit your needs without paying. Also, to note, the photos are completely free to use and are not bound by copyright claims.
Burst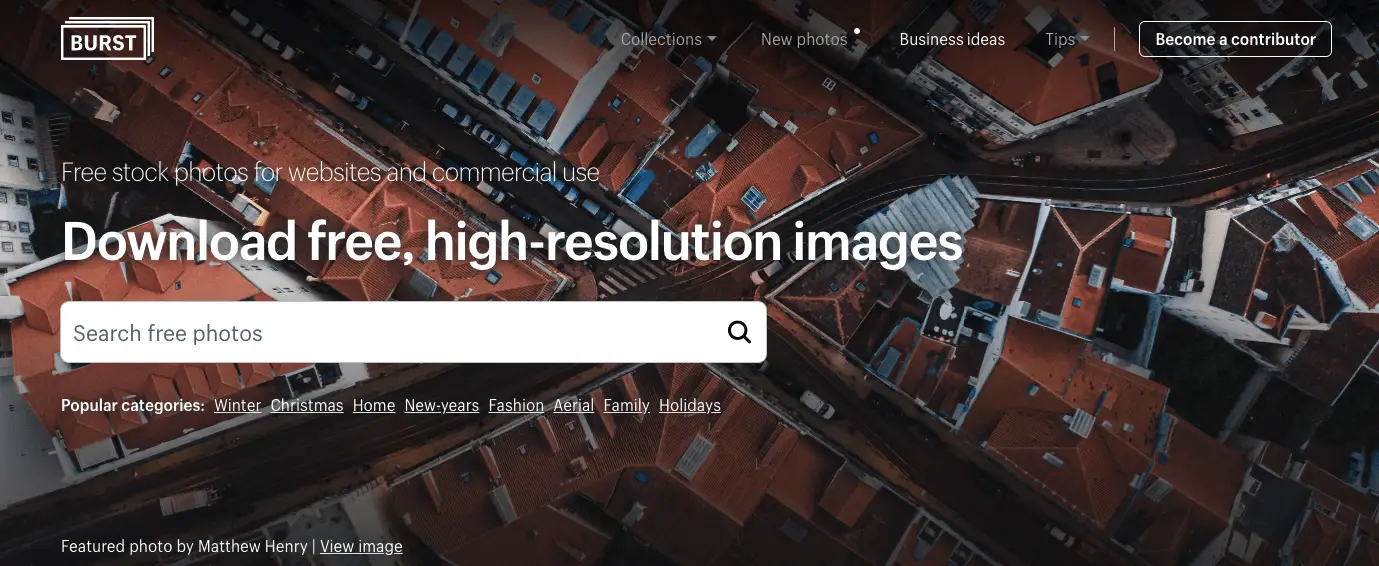 Burst by Shopify is a real gem when it comes to free stock photos! The sheer amount of categories and subcategories you are able to look through (around 28) is simply mesmerizing.
You can choose the quality of the photo depending on if you want to print it or if you want it to be used for small web graphics! The best part is that all of it is completely free, and the quality of the stock photos is "higher" than Snoop Dog (or perhaps not).
New Old Stock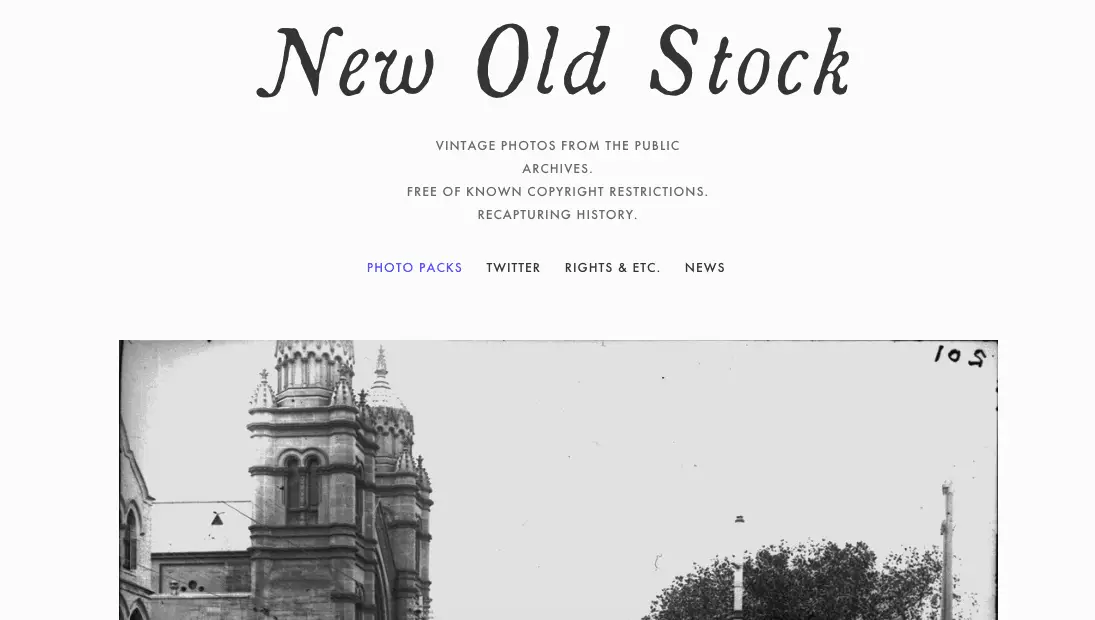 Hello there traveler, are you in need of an old photograph portraying an old woman and a man riding a donkey next to a potato field, or do you wish one of an old sailor knitting his old and used out fishing net?
If yes, then New Old Stock is warmly inviting you to come on in and make your pick! (If you haven't read it in a cowboy accent, you haven't read it right).
All joking aside, this site is filled with old vintage photos that have been taken from the public archives. They have already been trimmed, optimized, and edited so that it is fast and simple to download and use.
It does not have categories because the site is a category of itself. It specifically contains old vintage stock photos that are open to the public to use for free! But you can also search specific terms, keywords, or just about anything you want, and you may just find something that suits your needs!
FOCA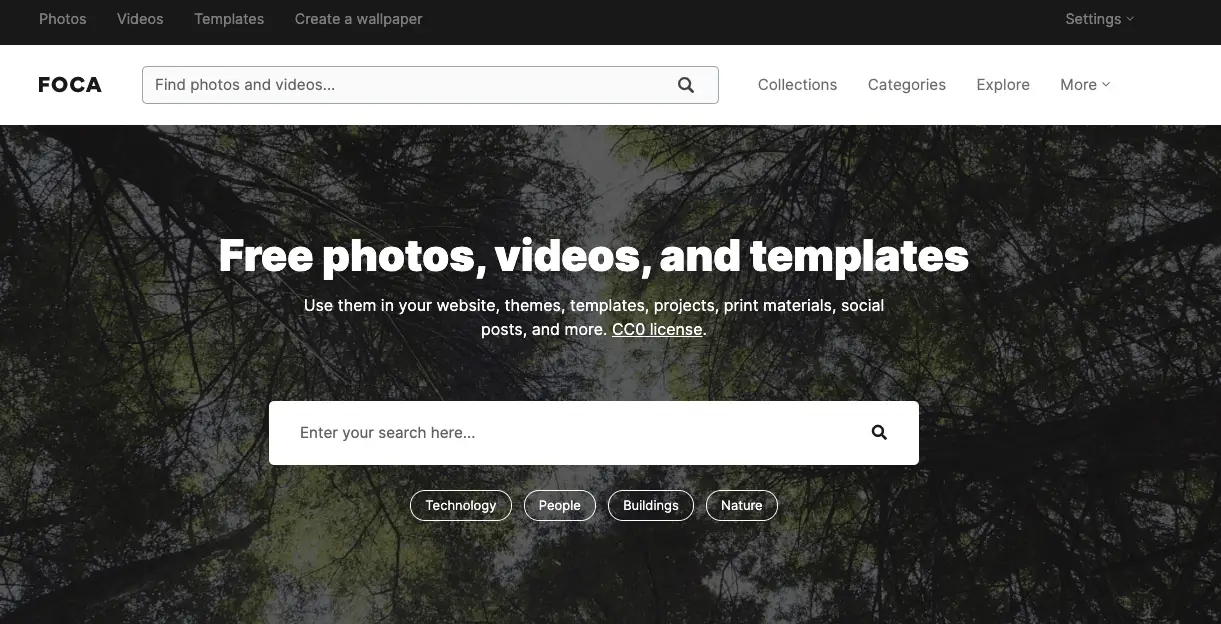 FOCA is also one of the best alternatives to Unsplash because it contains a lot of high-resolution photographs provided by Jeffrey Betts. And yes, the stock photos are all free of charge for personal use and commercial purposes.
It consists of stock photos, videos, and templates which you can use in your website, themes, print materials, various projects, and similar. But the real gem lies in FOCA's ability to customize the photo after you've picked the one you want.
It allows you to change the photo's contrast, brightness, blur, and saturation! This feature will both save tons of your time and allow you to add that special something to your photo, which is the key ingredient when it comes to finding the perfect one.
Foodiesfeed
"In case you haven't noticed from the title," this site deals with free stock photos related to food! It's very similar and definitely one of the best alternatives to Unsplash (especially if you're a gourmet looking for amazing and inspiring food-related photos).
Foodiesfeed is loaded with plenty of photos of food and drink that will make you instantly hungry and thirsty, so beware! Also, the site has a number of awesome categories like close-ups, healthy, vegan, fresh, etc. that might help you out in your search for the best looking photos of food!
Pixabay

If you're looking for the best alternatives to Unsplash, look no more! Pixabay has a library of over a million free stock photos. Wow.  It also has well over 230000 illustrations and 90000+ vectors for you to choose from!
The best part about it is that it does not require you to make an account, but you rather simply just download whatever you want and whenever you want. Amazing, right?
Gratisography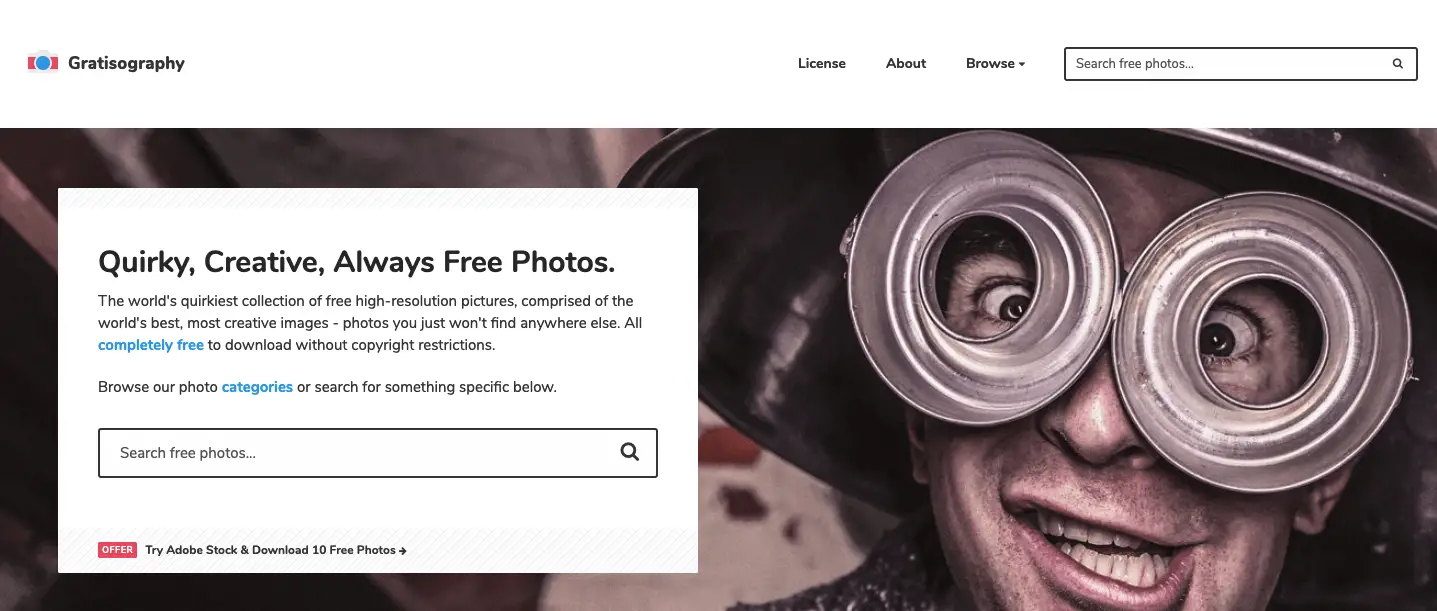 Need a photo of someone hugging themselves, or perhaps a horse wearing shoes? Well, then you will strike gold with Gratisography!
This site is kind of quirky in a way, and by that, I mean, you will find good quality stock photos that stand out in their own creative kind of way. There aren't that many photos available, but the ones that are present are real gems that have the power to light up any project or site with its uniqueness!
And yes, the stock photos on this site are completely free to download and use, which makes it another worthy alternative to Unsplash!
Skitterphoto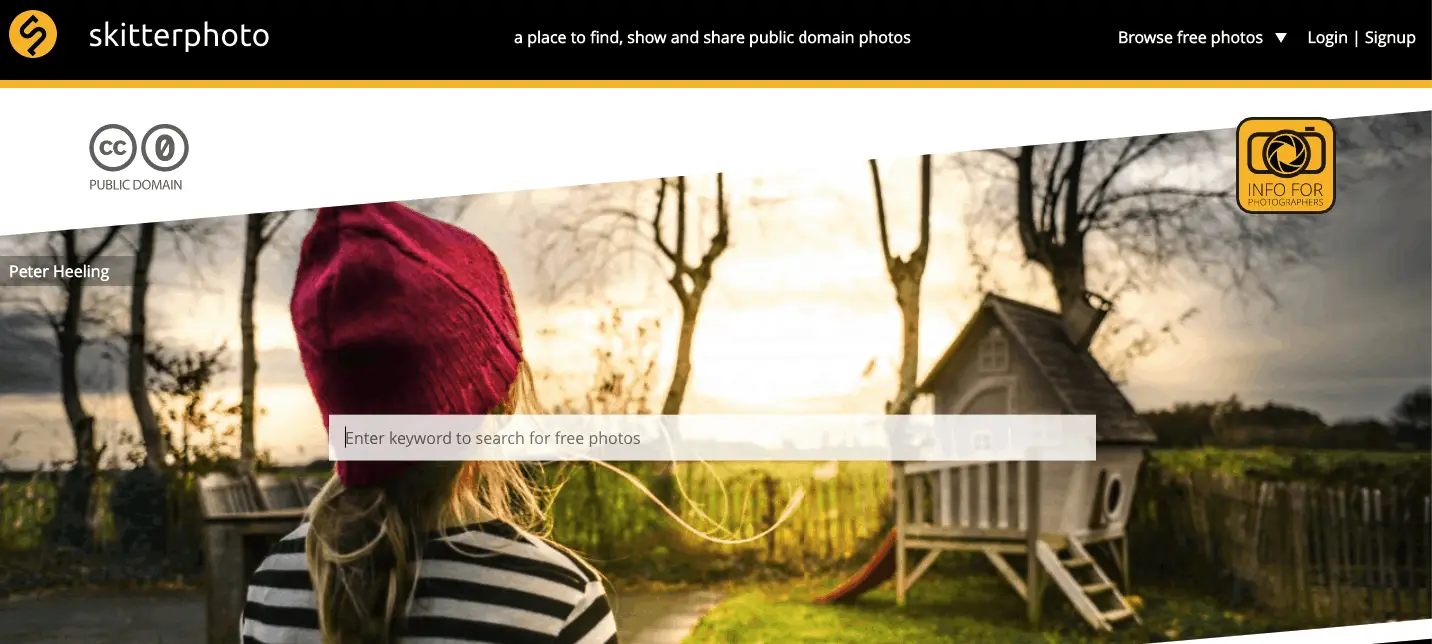 Skitterphoto is a brilliant and simple site with a fair number of excellent quality stock photos, which is yet another good alternative to Unsplash.
In case you're wondering about what's the real difference between the two, Skitterphoto doesn't have a very large library of photos to choose from, but on the other side, the photos that are there are all of very high quality!
The site goes for quality rather than quantity, but nevertheless, all of the photos are from the public domain and can be downloaded and used for personal and commercial purposes, free of charge!
Additionally, you're not required to sign in or create an account. You just simply choose the image you want and then download it without any fuss!
Pexels

Pexels is another stock photo site like Unsplash that is completely free, with a lot of categories for you to choose from and with the feature that allows searching custom keywords!
Plus, the site is loaded with tons of awesome free stock photos that are waiting for you to download and use for personal and commercial uses for free!
The thing that stands out with this site is the fact that on many occasions, you just happen to find so many unique and perfect photos that you didn't even know you needed until you found them on this simple to use and navigate the site.
Negative Space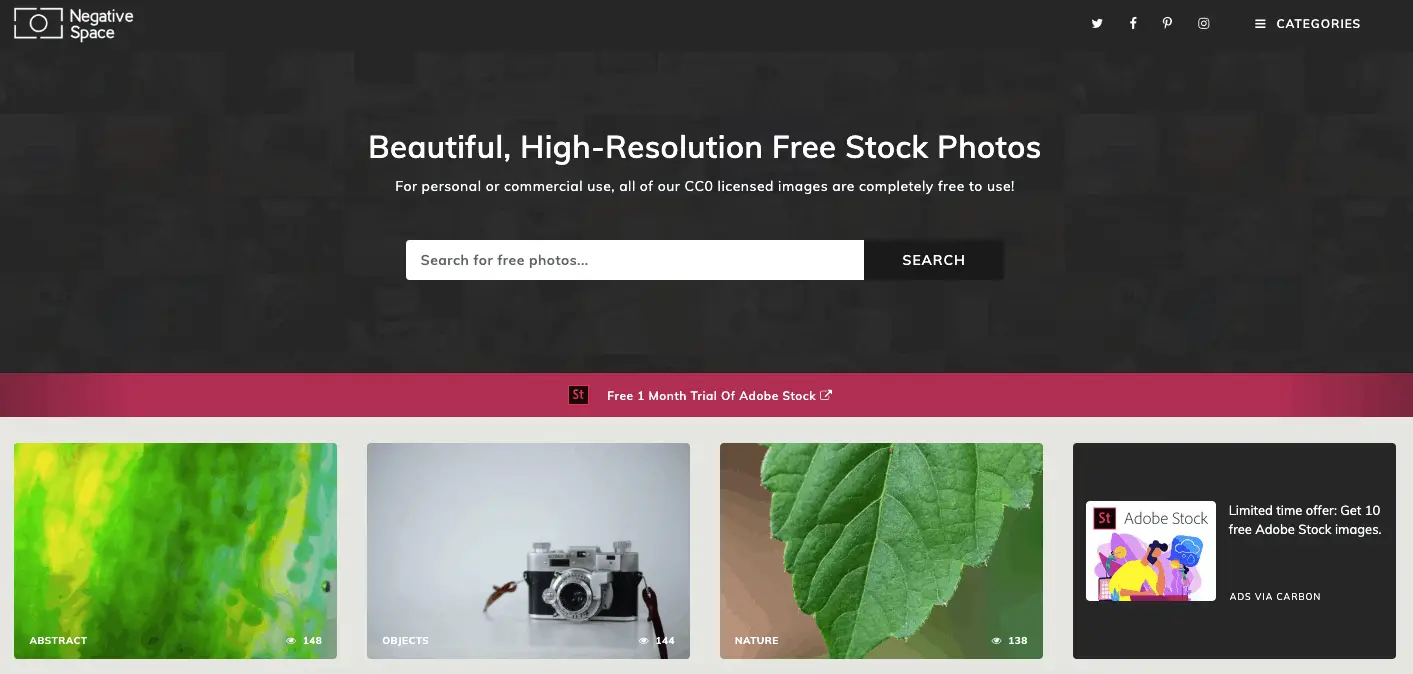 And last, but definitely not the least – Negative Space. This site is one of the best alternatives to Unsplash, mainly for the reason that it has a large portfolio of free stock photos that are free to use for personal and commercial purposes.
The simple layout and overall design of the site make it easy to use and navigate. Additionally, it has a bunch of unique and specific categories (a total of 16 categories) for you to choose from depending on what you need.
The site is also updated with new stock photos almost every week! (Now, that's really lots of photos!) Speaking of which, if you're more into professional photography, you will immediately notice the high quality of the content provided by this site.
Combine that with a simple and clean interface and the fact that all of the images are free, and you'll get one of the best alternatives to Unsplash thus far. In all seriousness, go check it out!
Conclusion
The above free stock photo sites are all great alternatives to Unsplash, and when combined, you get a free collection of a variety of photos for any occasion or purpose. From quirky photos to free stock photos related to food – your choices are indefinite.
This collection of photos will both save you money (given that it's totally free), and it will help your sites or blogs become more visually appealing, which is one of the key ingredients when it comes to attracting more traffic with minimum expenses and in the long term.
But, still, if you somehow don't succeed in finding what you were looking for, you can always look for unique images from cheap stock photo sites or choose to take your own photos instead, and who knows, maybe this becomes your new hobby or a profession! Good luck, and have fun!