Even in today's modern and digital world, full of technological possibilities, applications, accessories, and much more that can help us, many still have problems with content. Creating high-quality content that you can market is a technique that has many advantages.
Customers will have more confidence in you based on the content you share with them, which also develops and improves SEO. Plus, enhancing your content will help you build your brand and attract new potential customers.
This is where WordPress comes to our aid. One of the most powerful content management systems with an enviable and rich offer of plugins and tools that do all the work in just a few steps.
In this article, we will present you with a few examples of great plugins that you can use to create content that will be a true magnet.
1. WP Reset
We will start with a plugin that seems very simple but has many features. This plugin can help you with managing content. WP Reset offers a great option for deleting content. Precisely, in just a few steps, you can delete content and all linked or child records to prevent creating orphaned rows in a database.
One of the most useful features of WP Reset is its ability to create snapshots that can be used to restore your site to a previous state, for instance, before certain actions/changes were made. The snapshots are very easy to manage. You can upload them to a cloud storage platform, as well as transfer, edit, and delete them if they are no longer needed.
WP Reset can also create automatic snapshots.
Other notable features include resetting an entire site or just aspects of it, creating plugin and theme collections, the Emergency Recovery Script and much more.
2. Coming Soon & Maintenance Mode or UnderConstructionPage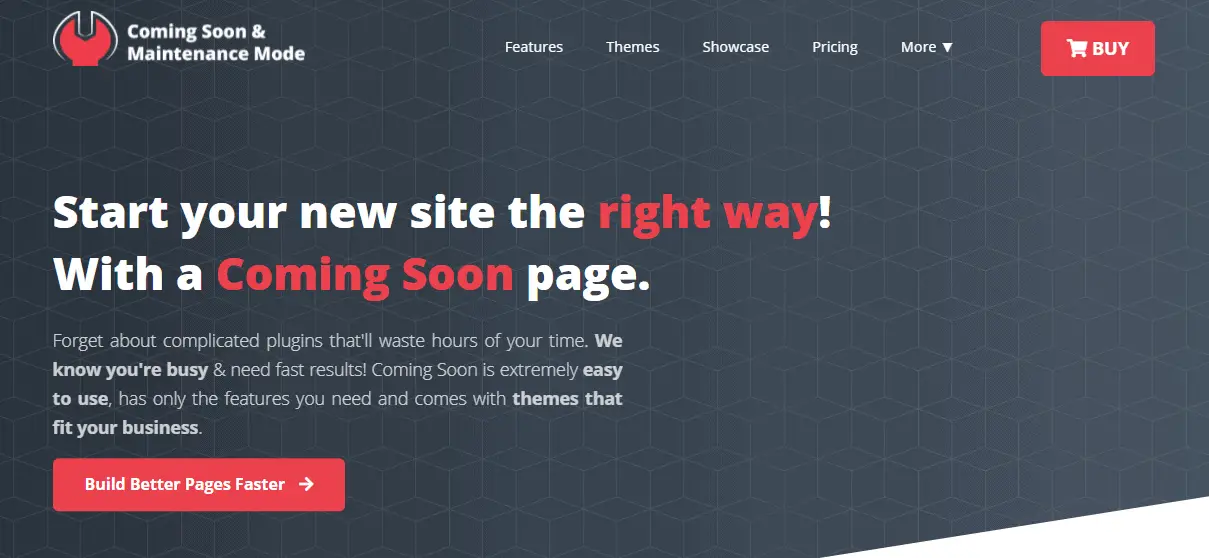 If you find yourself needing to change your site's look, content, or something else, to strengthen your brand, you'll need under-construction or coming soon pages. We will highlight two WordPress plugins designed for creating these pages.
The Coming Soon & Maintenance Mode plugin can create coming soon or under-maintenance pages that inform all users that, for whatever reason, specific changes are happening on your site. You will have complete control over every element of those pages and can rearrange as well as customize them according to your preferences.
UnderConstructionPage, a plugin with a similar function that focuses on creating under-construction pages.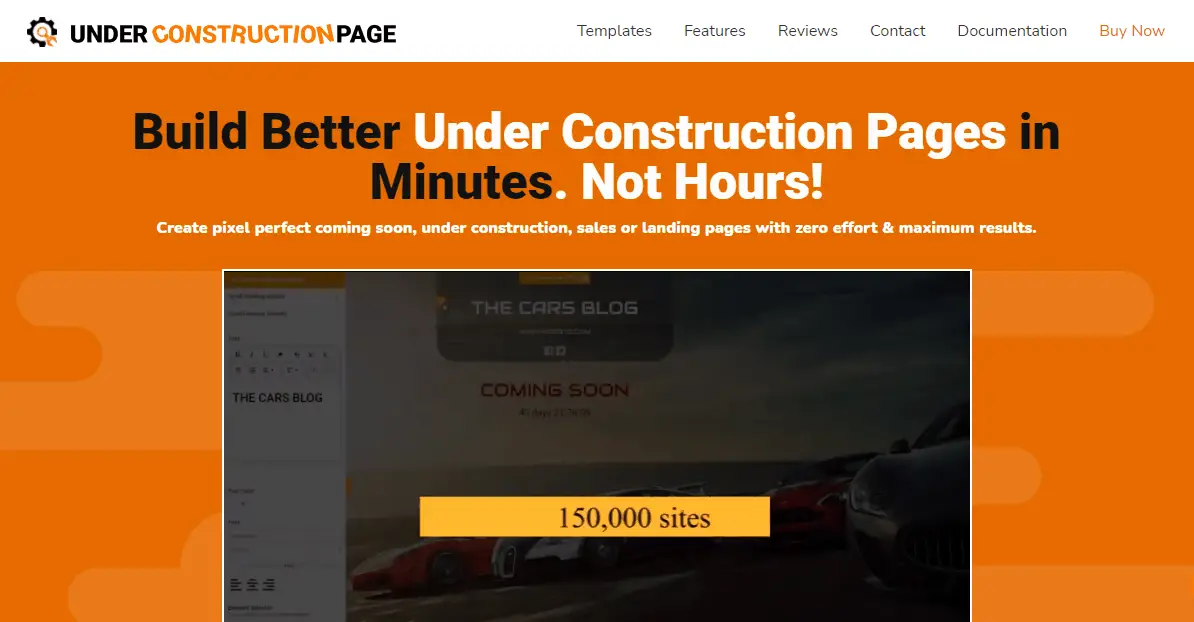 Through these pages, users will know your site is being improved or modified and will not get confused about why they cannot access it currently.
With this plugin, you have the ability to change the page title, content, description, logo, integrate it with social media platforms, and do much more.
Both of the mentioned plugins come with templates, stock images, a drag-and-drop page builder, reliable support, and more.
3. Simple Author Box Pro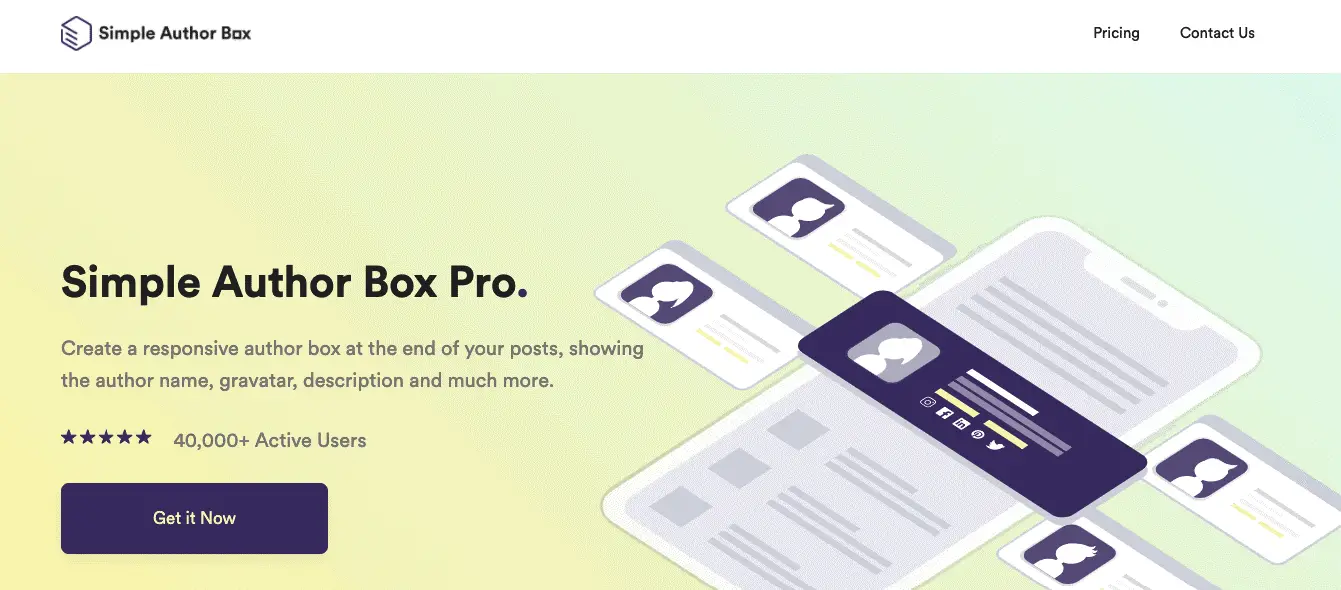 Simple Author Box Pro is a plugin that makes it easy to assign authors, co-authors, and guest authors. It has an effortless way of creating customizable author boxes. With all the options it offers, you will be able to edit all the information related to the authors in charge of creating content.
You are in charge of everything when it comes to creating the author boxes – their location, appearance, elements, etc.
So, with this plugin, managing authors on your site will not be a problem, and credit will be given where credit is due.
4. External Links – nofollow, noopener & new window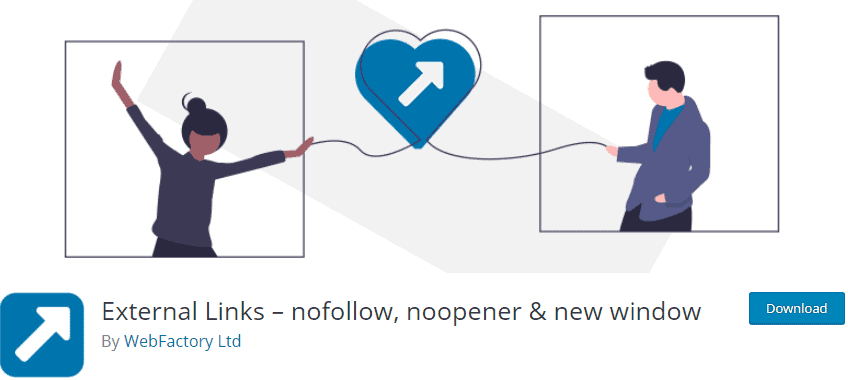 What exactly are external links? They are links on one site pointing to another site. These external links can affect the positioning of your site in search engine results.
External Links is an ideal plugin for managing links (external or internal). With it, you can also open links in a new window or tab, add follow or nofollow attributes as well as noopener and noreferrer attributes, use link icons, scan complete pages and do much more.
Once activated, the plugin is straightforward to use.
5. Word Stats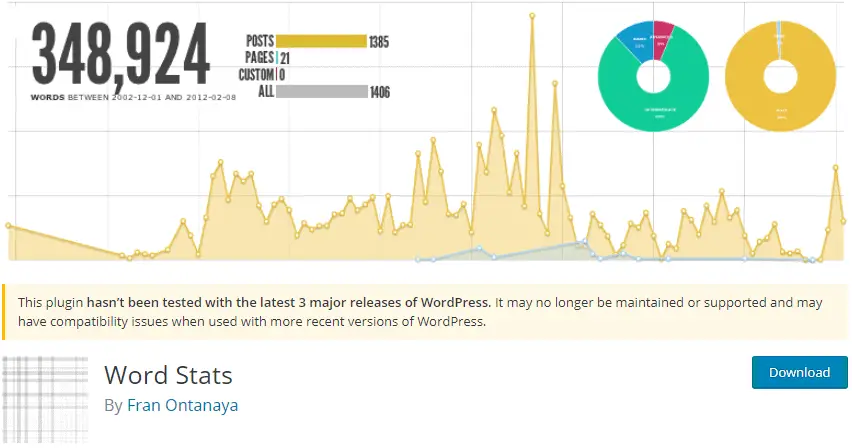 Need to analyze your content to improve it? With this plugin, you will have an insight into the total number of words, the number, and percentage of posts of each post type, the top 20 keywords, and many other things related to your content.
Word Stats can also extend the info area of the post edit form with live stats such as relevant keywords, accurate word count, color-coded readability tests, different types of character counts, etc.
If you want the total word counts for each post type to be visible in your dashboard, widget areas, and inside your posts, that can be enabled using shortcodes.
You should use one of the best WordPress table plugins to create a dynamic chart.
Content can be analyzed by author and by period.
6. PrePost SEO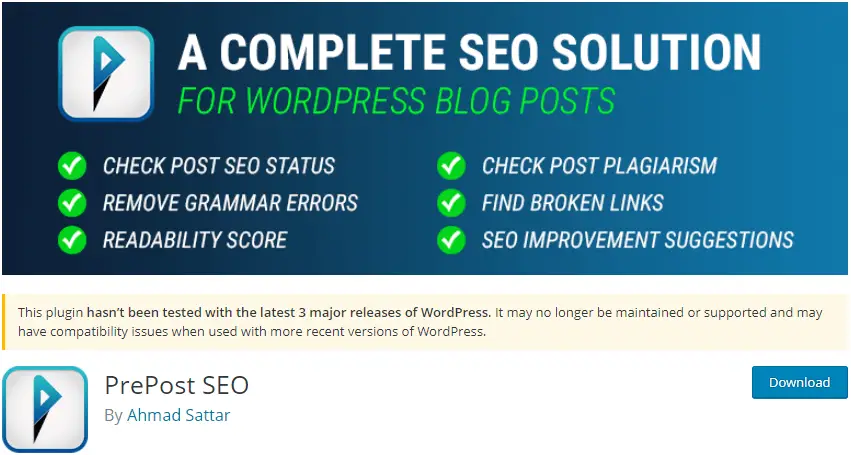 You've done everything you can and still don't get the results you want? You need a plugin to help analyze and strengthen your posts' SEO before publishing them? PrePost SEO does just that! It performs a detailed inspection of your entire website, informing you of any irregularities or weaknesses that could have a detrimental effect on your SEO.
It also offers the option to check for duplicate content to make sure yours is original and unique.
PrePost SEO gives suggestions for improving post SEO if you don't already know what to do.
Checking grammar, spelling, already achieved SEO results, keyword usage, and more are just some of the many features you get with this plugin.
7. Postaga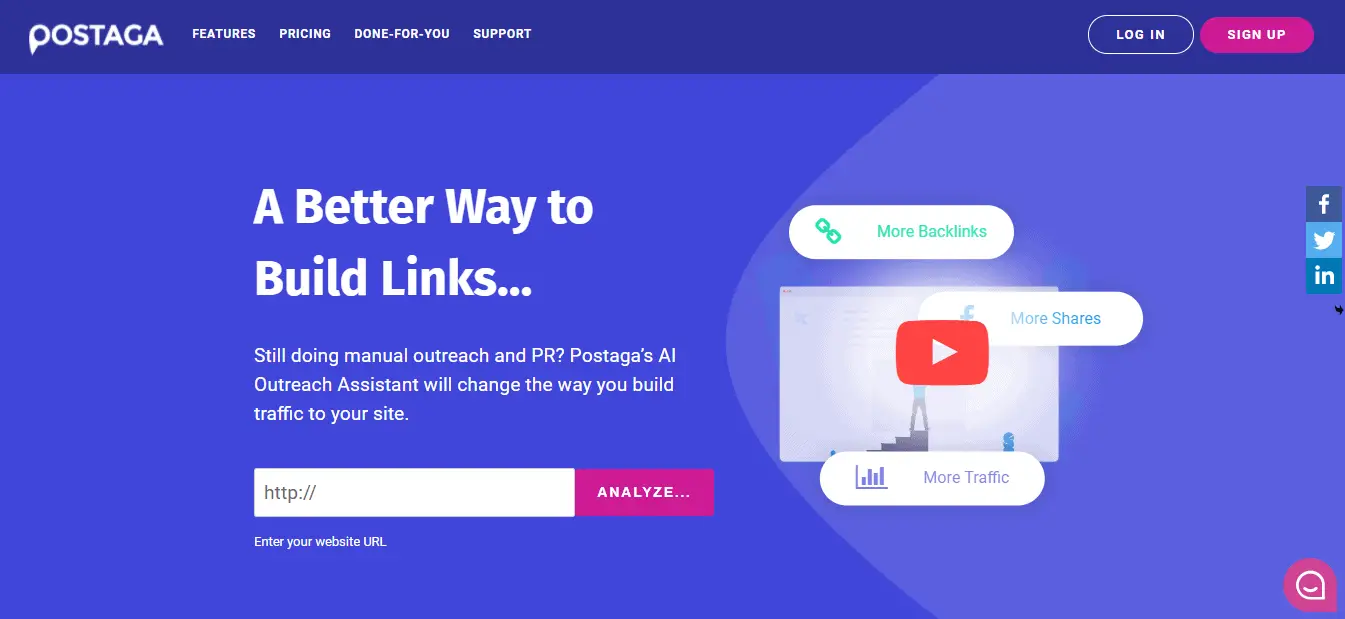 Another plugin that attracts the attention of many users is Postaga. One of its many capabilities is building links and driving traffic to your website quickly. With this plugin, you can create customizable, automated campaigns, which will promote your content in the right way.
Through this plugin, analytical data related to contacts and their email addresses or accounts on social media networks (Twitter, LinkedIn) are available to you in one place.
The plugin can also be used to create awesome emails to promote your content.
8. Content Villain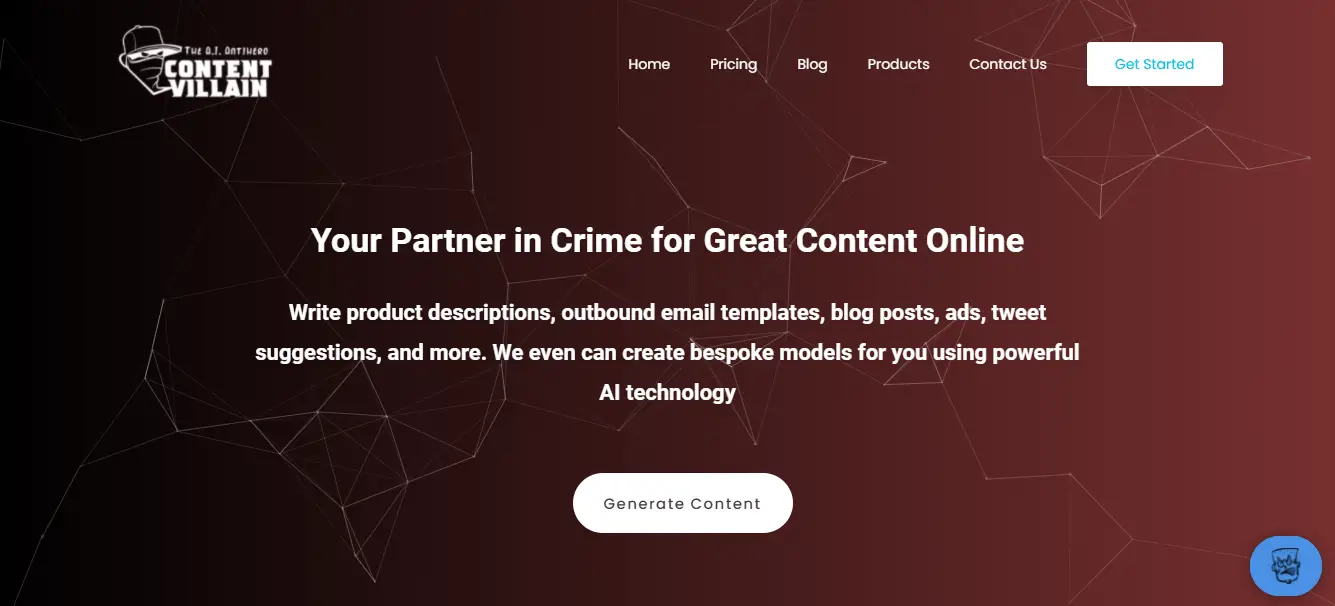 The plugin called Content Villain can be your best ally in creating excellent content for a website. Using it, you can get AI-generated content in an instant and send it wherever you need it easily.
The plugin uses the latest technology and has 50+ generator models. Plus, its webhook functionality is instantly accessible, thus allowing you to send your copy directly to Zapier and Integromat.
All in all, this plugin is an ideal partner that will help you find inspiration for business ideas, ads, outbound sales emails, and much more.
9. Editorial Calendar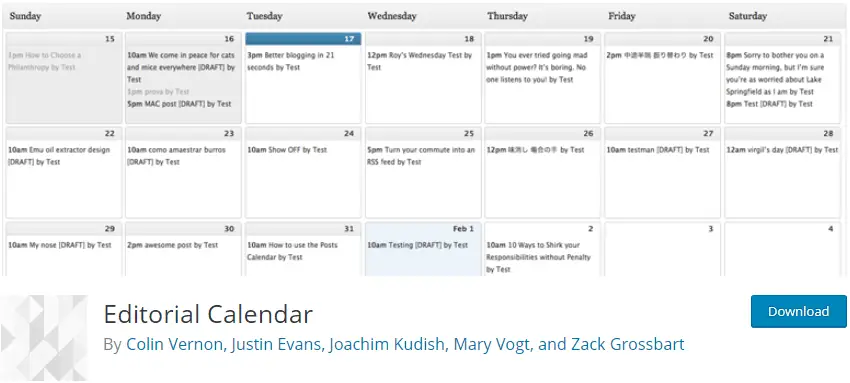 Everything you do to improve and create great content would be pointless if you don't have proper organization. If you organize yourself accordingly, you will get better results and save lots of time. The Editorial Calendar plugin can help achieve this.
With it, you get an overview of your blog and can see when which post will be published. Posts are placed on the calendar using the drag-and-drop mechanism. They can also be edited within the calendar.
In a nutshell, with these and other features, this plugin will enable you to manage your entire blog with ease! If you want even more control over editorial calendars, check out what you can get with monday.com.
Conclusion
After listing all these great tools, we should again highlight that creating great content is an important process into which you need to invest time to achieve noticeable results.
Having WordPress plugins and tools makes this process much easier, and it's up to you to decide how you're going to take advantage of them.
So, pick your favorite ones and start generating that great content!