Every day, millions of emails are sent all over the world. In that sea of messages, it's quite a challenge to stand out. And you certainly want to be noticed if you're running a business – you want your potential clients to perceive you in a good way.
Sometimes, they can even include a direct link to the page you want them to visit. Therefore, thinking about an email signature is quite a good idea, and there are plenty of good generators out there to help you implement one easily.
Designhill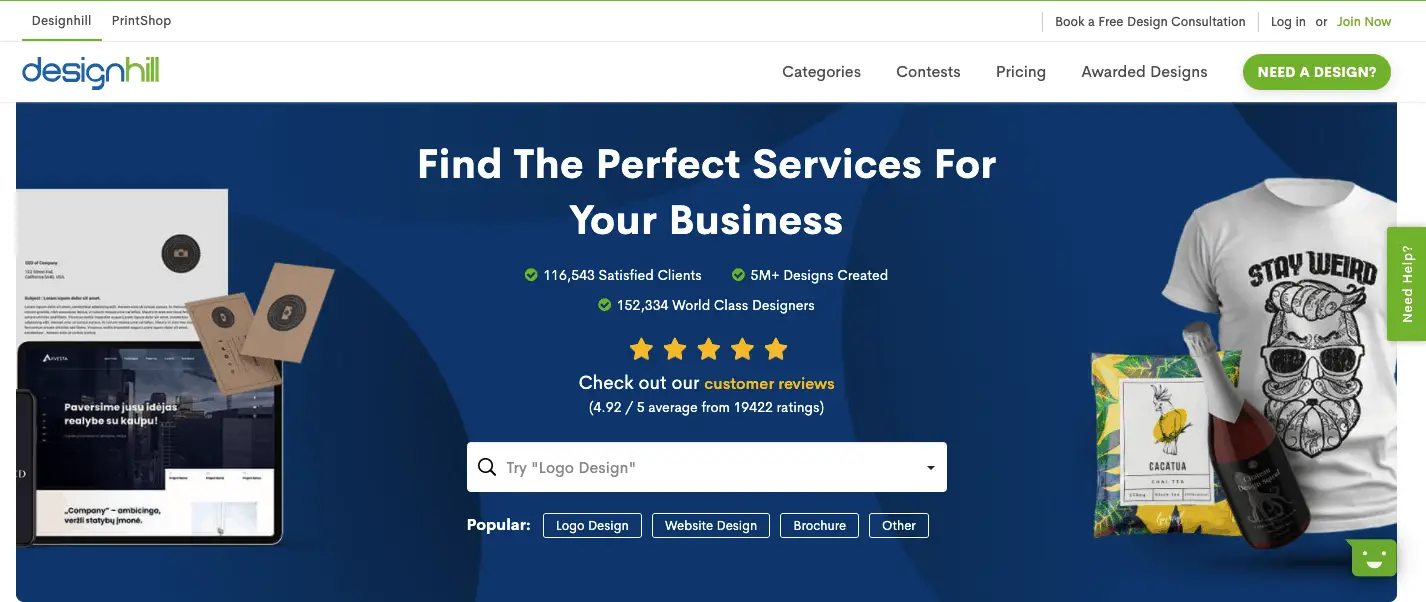 You will find Designhill on pretty much every list discussing good signature generator – it's simply that good. Not only that, but it has received high praise from many reputable websites because of its simplicity of use and very attractive signatures. Just enter the details of your business into it, and a fantastic signature will appear in just a click.
Signature Maker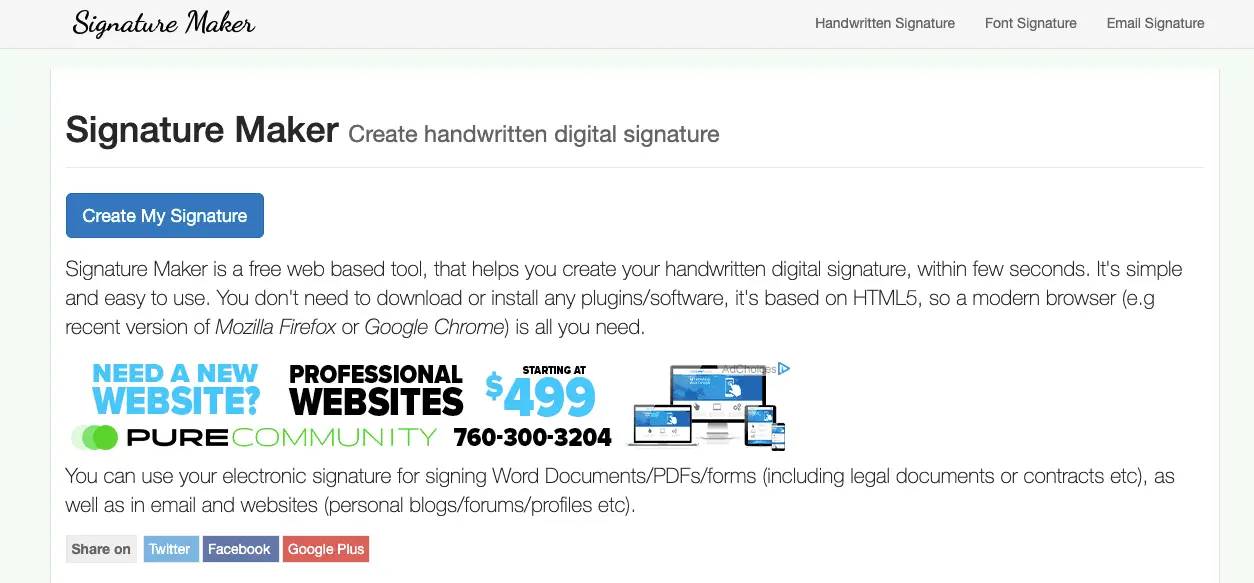 Signature Maker is an extremely simple tool to use because all you need to do to get your email signature is input some basic personal data. You can upload a picture to go along with it and connect it with your social account. Apart from that, however, you can also create font signatures and even handwritten signatures. See what best suits you, and you'll have it in a matter of seconds.
Newoldstamp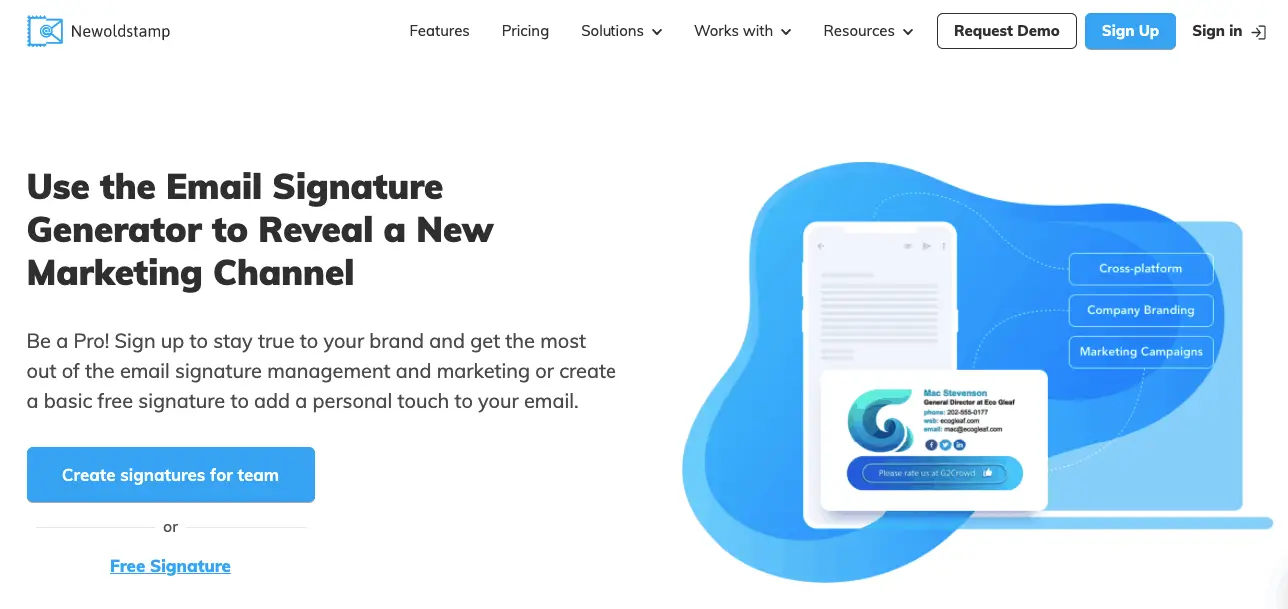 When it comes to the number of features you can use to create your email signature, Newoldstamp is pretty hard to beat. Badges from social networks, calls to action and landing pages can all be integrated. You can even add banners and be in charge of signatures belonging to other people in your team. Newoldstamp has a free version, but do check out their premium product – it is very much worth the price.
Hubspot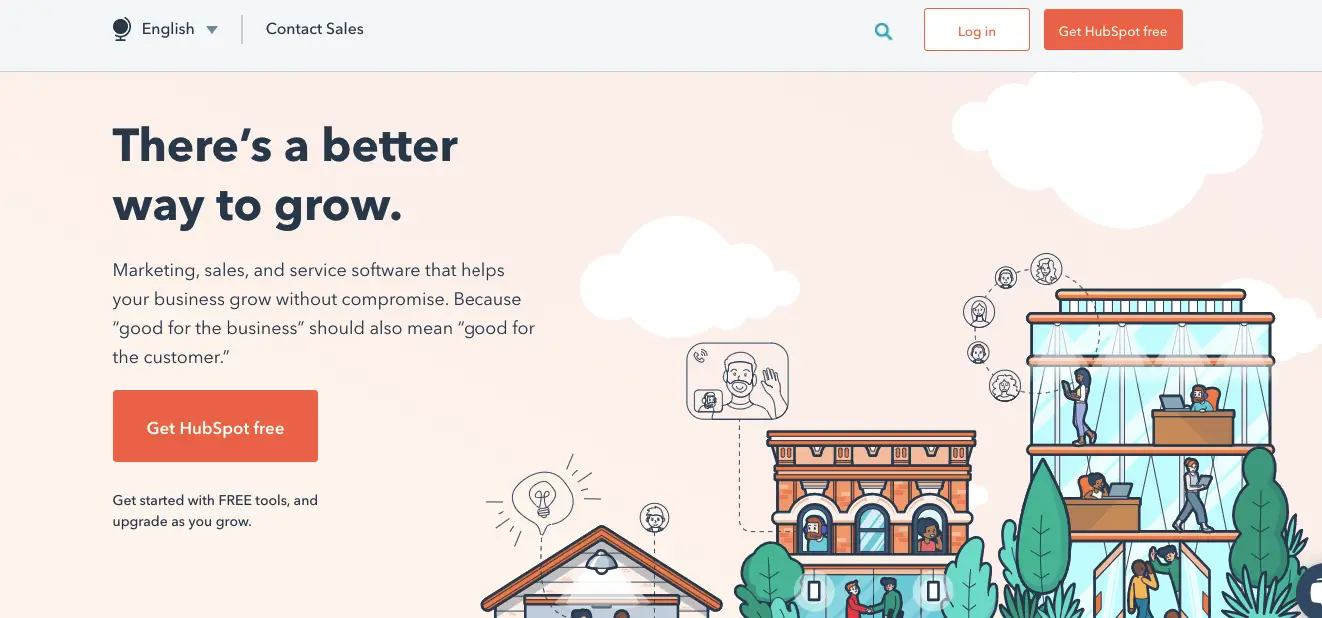 Hubspot is just a solid email signature generator; however, you look at it, and you can always be sure it will deliver a high-quality end result. Plenty of customization options and the ability to insert texts and images to help entice the recipients to execute an action will surely appeal to many users. It's very simple to use as you only need to insert a bunch of information—definitely a strong candidate.
HoneyBook

HoneyBook is one of the simplest email signature generators you can find. You just input the info needed, choose the template and BAM – you have your signature. Sure, this tool may not offer many flashy options, but if you want something simple that gets the job done quickly, this is certainly it – in less than a minute, you can have your new email signature all set up.
MySignature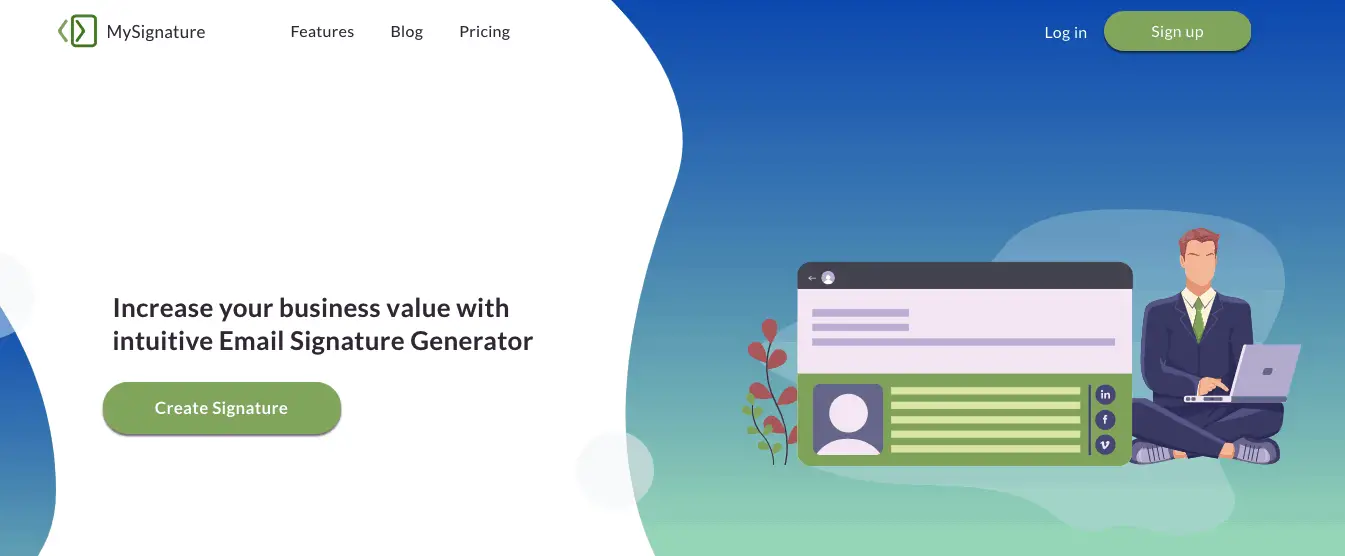 MySignature is great if you want to learn about the process of creating email signatures a bit more because it has a guide that explains every step of the way. But perhaps the most important feature of this tool is the fact that you can easily use it on mobile devices, so if you're in a rush, you can create a signature from your smartphones. There are even addons and analytics you can use, but for that, you need to have an account on the website. Check out the pricing models (which are very versatile) and choose the right one for you.
CompanySIG

At first glance, this is another run-of-the-mill signature generator, but when you dig a little bit deeper, you realize that CompanySIG allows you to put a map into your new signature. How cool is that? Perfect if you're opening a new bar, restaurant, or something along those lines and want people to be able to find your location quickly. You can control multiple signatures at once, and the first three you create are free—a pretty good deal, to be honest.
Email Signature Rescue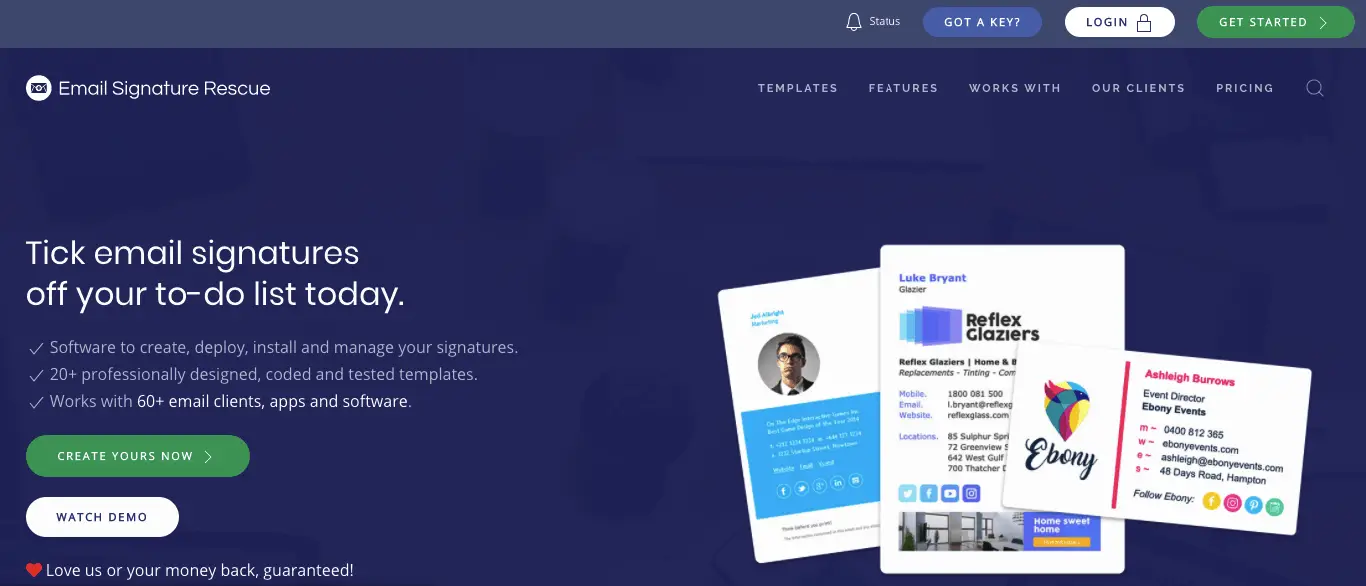 Email Signature Rescue is not free, but it certainly justifies its cost. With more than 20 signature templates, you have plenty of ways to make your signature just right. That's just the beginning, though, because you can add GIFs and animated banners here, as well as connect the whole thing with Google Analytics to stay in touch with the numbers. There's also a sea of icons from social media you can add, so when it comes to premium signature generators, this one is top tier for sure.
Xink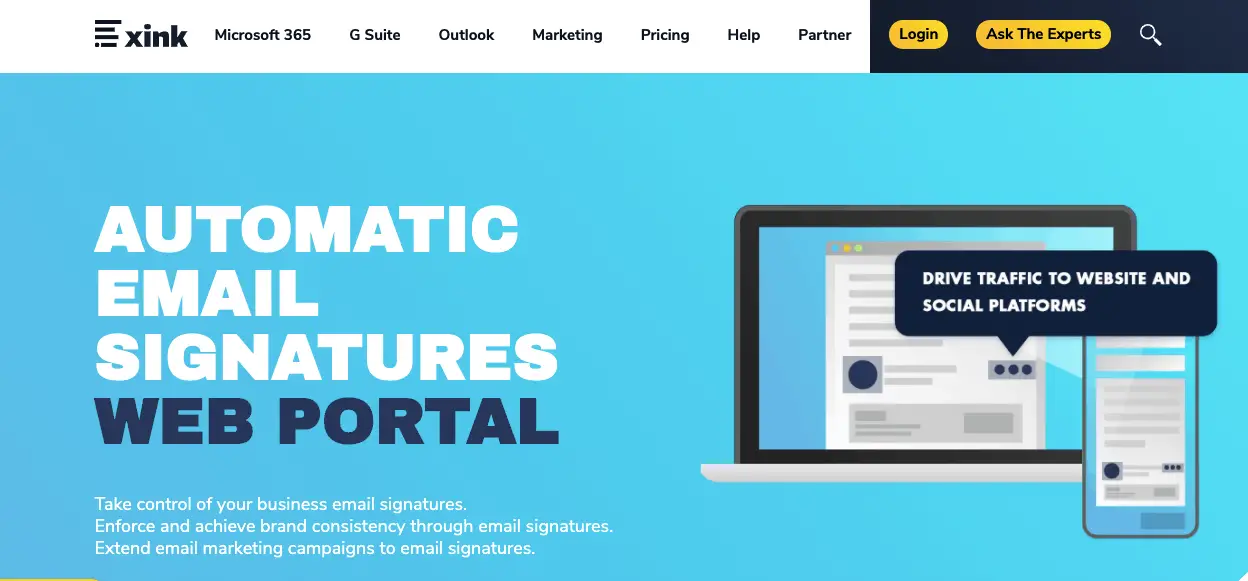 Last but not least, Xink is a tool you can use pretty much everywhere: Mac, Gmail, Office 365, Outlook… everything is supported, even mobile devices. Interestingly, they also offer the option of creating marketing campaigns, which is certainly something professionals will want to look at. This is not free, and the packages start from 10 signatures and only grow larger, so it's perhaps not best suited for individual use.
If you're not a pro in the marketing business, you may not have realized how helpful a good signature can be to your business. It can tell the recipients of your emails so much about you and your company just at a glance, plus there are so many useful things you can slip into them. Landing pages, calls to action, even maps, all of that can help you stand out from the rest of the pack.
In Conclusion
Think about it – an average person receives emails every single day, so you need to make yours count. This is all easy to do with the right tool, and you don't have to be a programmer or a computer scientist to do it. It all boils down to designing the signature properly so that it shows all relevant information, something you can do easily with templates every tool has. Just input your information, and you'll be sure to make a lasting impression the next time you send out an email.