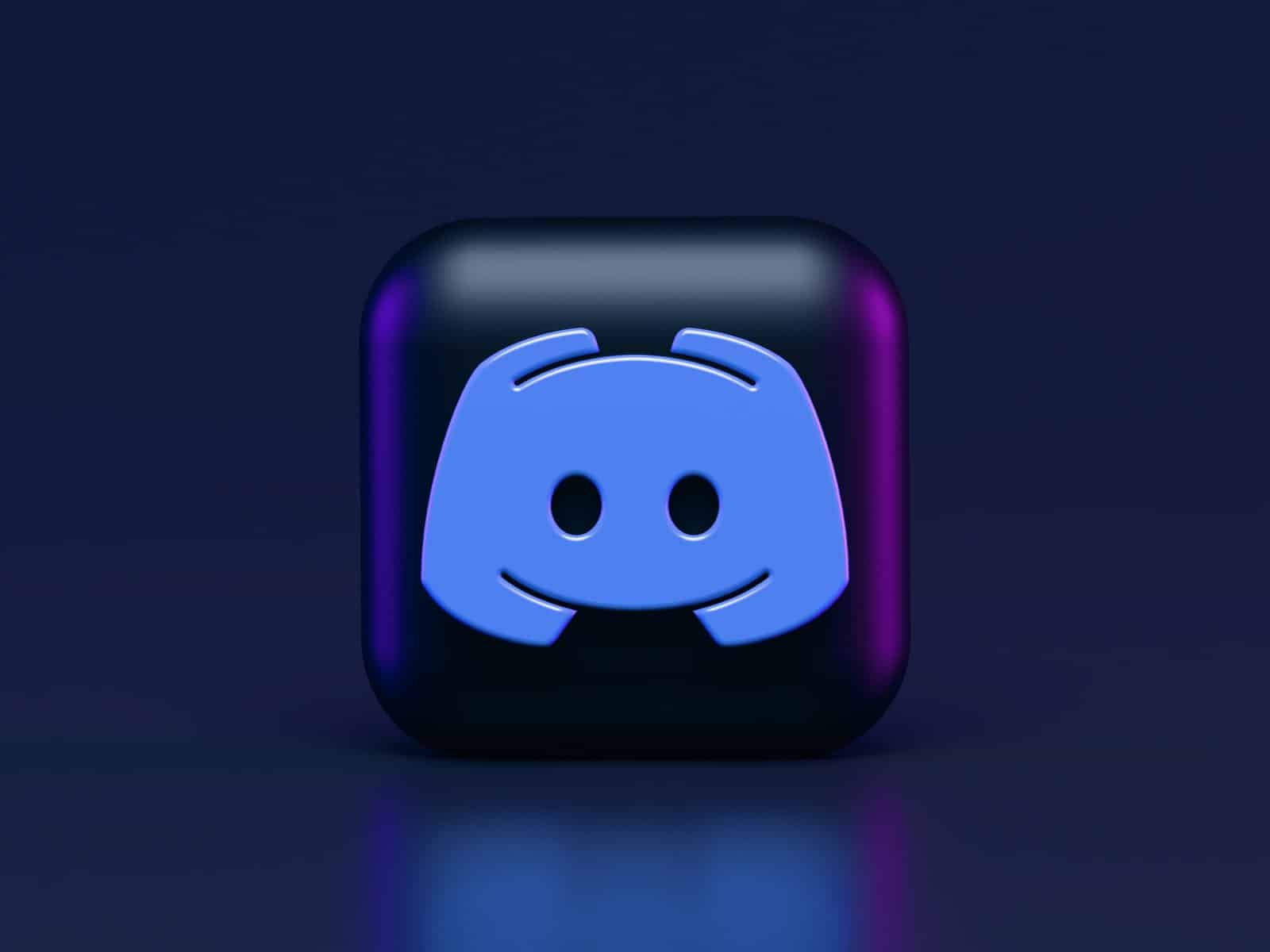 Discord is a popular communication tool that has grown in popularity in recent years. It was originally intended for gaming communities, but it has now grown to encompass a diverse spectrum of users, including corporations, schools, and non-profit organizations becoming a go-to tool for online communication and collaboration.
It offers voice and video communication, and file and screen sharing where users can create and join servers. One of its most compelling features is its simple UI and extensive set of tools for regulating and managing communities and servers. It is available on a wide range of devices and platforms, making it accessible to a broad spectrum of users.
Discord bots
One of Discord's biggest features is the option to add bots to your server, which can drastically improve your user experience. These bots can provide a range of entertaining functions, including music streaming, trivia games, and even memes! In addition to that, they can help keep servers organized by deleting spam messages, and can also allow users to mute or kick other members if needed.
These bots make Discord even more enjoyable by adding new features, and with a plethora of bots to select from, you can simply personalize your server to your preference and improve the chat experience.
But the fun doesn't stop there: you can play music directly from YouTube, Spotify, SoundCloud, or your library, create memes or share the most popular ones, and do a variety of other things to turn your server into a pleasant corner of the Internet.
In this article, we are going to discuss an entertainment bot that allows users to play interactive games featuring K-Pop stars.
What is Eunseo bot?
Eunseo Bot is one of the widely used bots for entertainment featuring K-Pop stars. Based on Gacha card games, users face challenges every day, featuring the most famous K-Pop stars, interacting with other users, and winning prizes.
Users can use cards to access more activities, earn gems, advance to higher levels, collect more cards, complete groups, play lottery games, participate in various events, and win rewards. Eunseo bot commands provide your server friends with the finest gameplay experience possible, and each command is designed to do a certain activity.
How to add the Eunseo bot to the Discord server
It's fairly simple to add the Eunseo bot to your Discord server. All you have to do is to visit the following link and invite Eunseo to your server.

When you click the 'Invite' button, a new window will appear asking you to give access to your server. Select the server you want to include the Eunseo bot, and click 'Continue'. Once added, you can use the Eunseo Bot Commands For Discord to use it.
Eunseo Bot Commands For Discord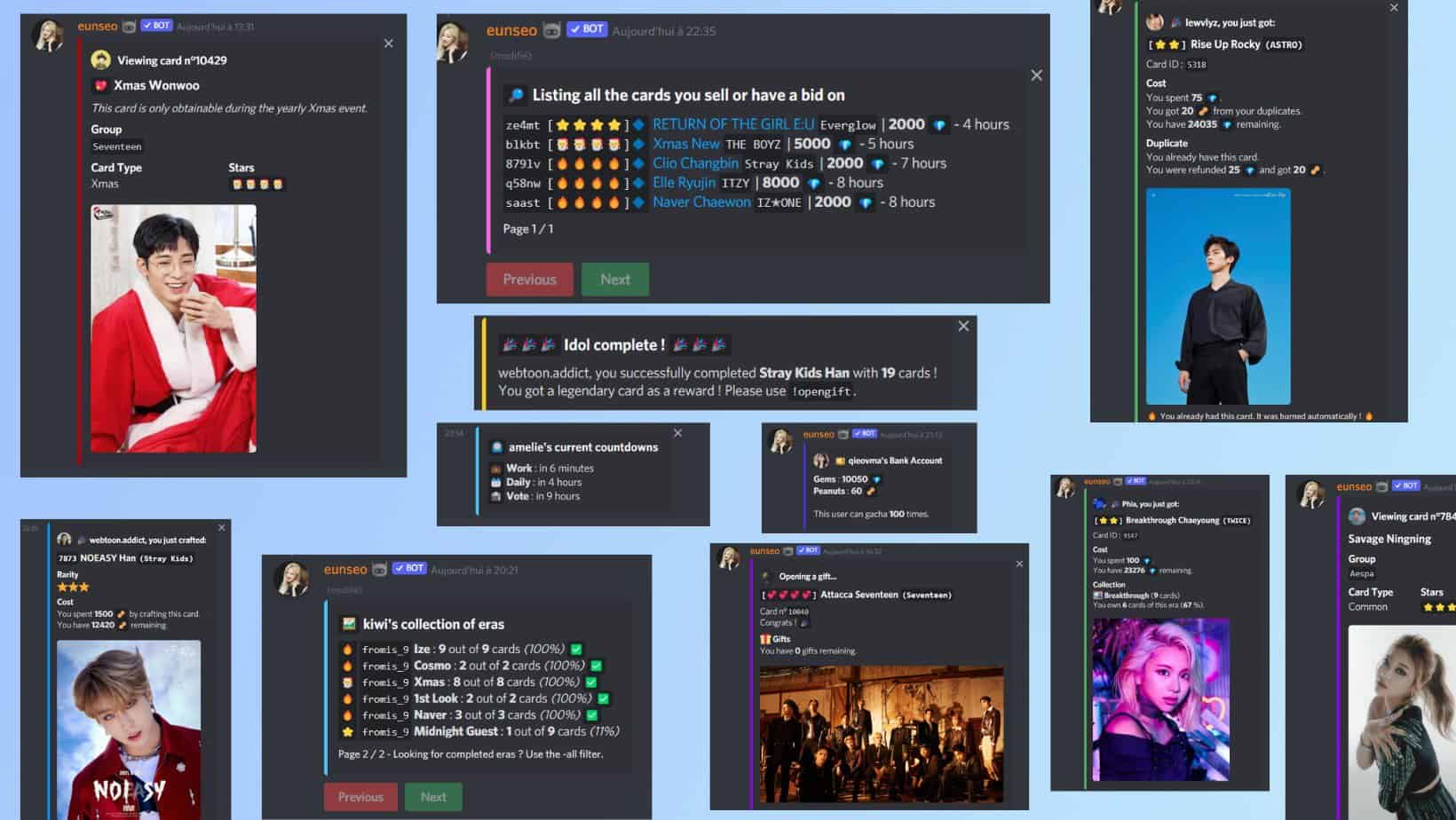 Eunseo Bot Commands For Discord are divided into four categories: Daily, Gacha, Trading, and Utility. They allow you to collect your gems, get Gacha cards, complete groups, and trade and buy cards.
Some of the most useful Eunseo Bot commands for Discord are:
/daily, /work/, and /vote for collecting gems
/gacha for getting Gacha cards
/trade, and /auc for trading cards
Daily commands: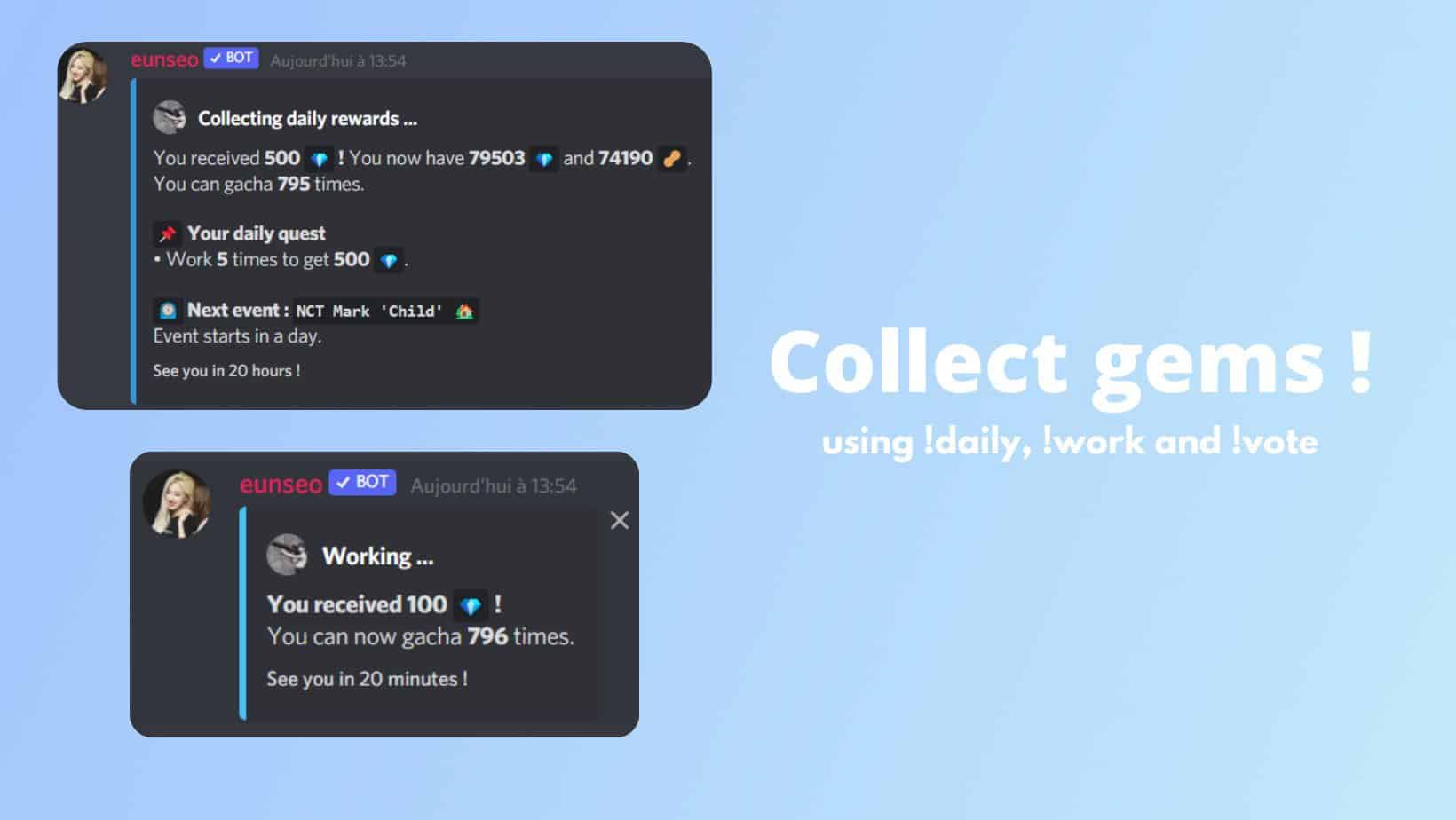 /vote – Claim 500 gems after watching an ad every 12 hours
/balance – Check total gems
/cds – Check the time left before using /work, /daily, and /vote commands again
/quest – Shows the number of quests for gems on a daily, weekly, and monthly basis
Gacha commands: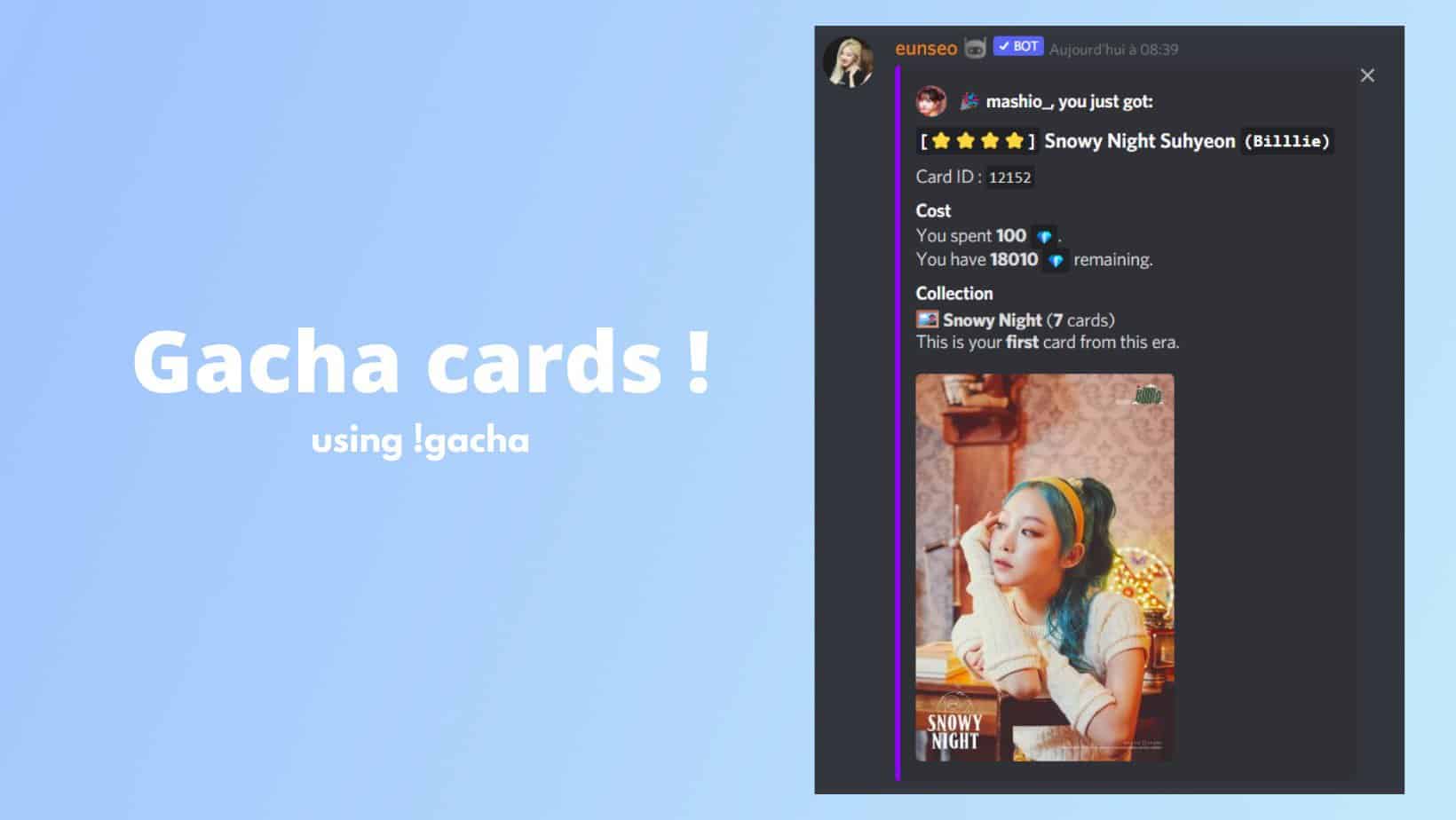 /inv – Your and others' cards inventory
/fav cards – Favourite specific cards
/fav last – Favourite the last card pulled
/unfav – Unfavourite the favorited card based on its ID
/burn last – Burn the last pulled card
/burn all – Burn all the cards that are not favorited
/event – See the ongoing and upcoming events
/opengift – Open gifts you received
/quizplay – Take part in quizzes
/quizrankings – Your quiz ranking
Trading commands: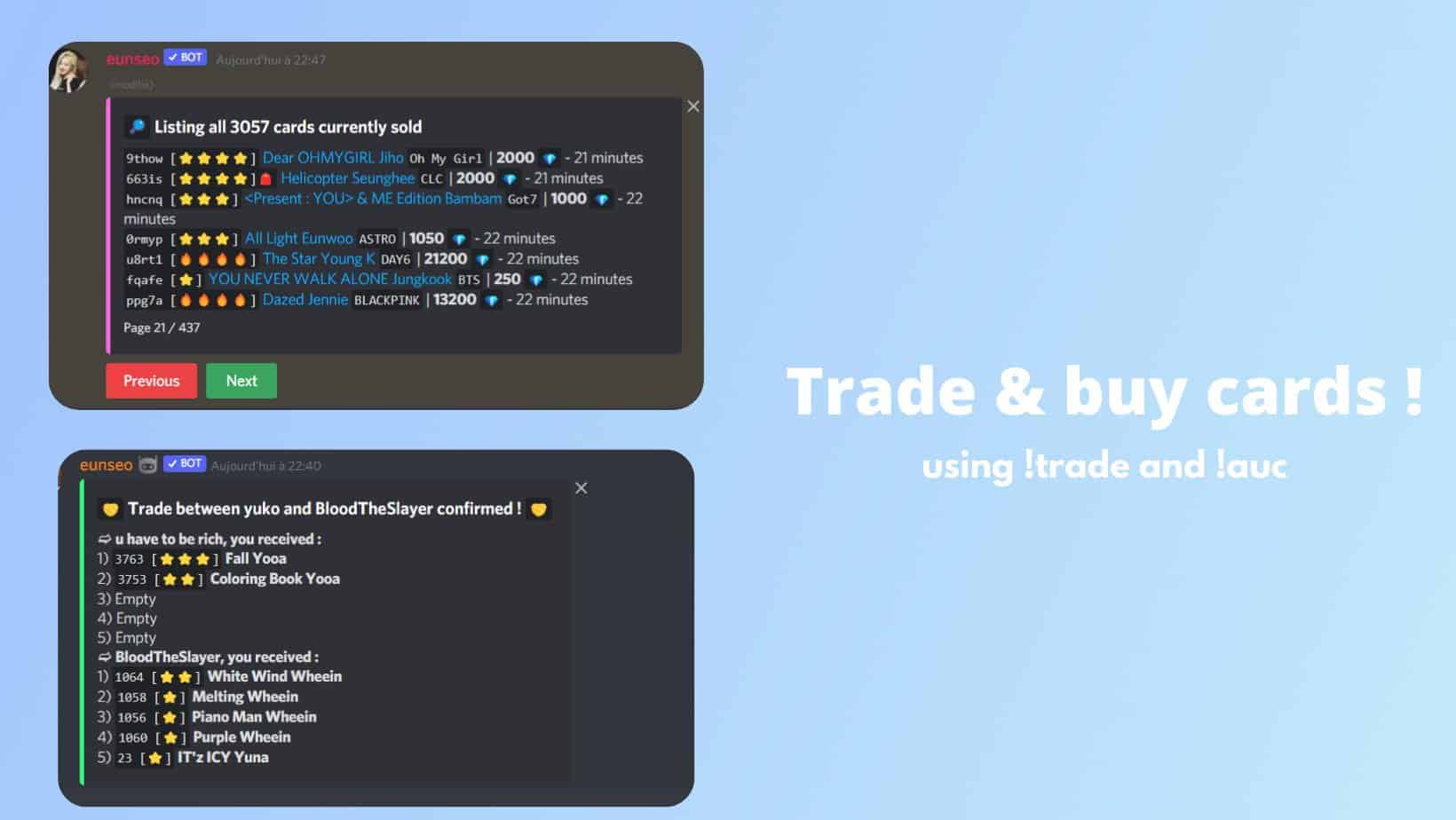 /sell card – Sell cards
/sell last – Sell last pulled card
/bid – Bid on the specific card
/add – Add the cards to trade
/accept – Complete the trade
/cancel – Cancel the trade
/buy – Purchase inventory expansion
/craft – Craft any card
/redeem – Redeem a membership
Utility commands:
/help – Help guide
/rules – Bot's rules
/profile – Your profile
/profile user: Discord ID – Opens user's profile based on its ID
/profile new_bio – Enter a new bio to your profile
/profile featured_card: Card ID – Add the card to the featured card slot
/event – Shows the ongoing and future events
/lottery – Shows lottery events
/opengift – Open fits from completing groups, eras, or idols
Conclusion
Finally, Discord bots such as the Eunseo bot can improve the user experience on a server. Eunseo bot has unique features such as K-Pop quizzes, card trading, gem collection, and more, making it an interesting addition for K-Pop enthusiasts. The bot is interactive and provides a fun way for users to communicate with their Discord server friends.