Have you noticed how there are more and more videos released every day and how this trend has been growing quite rapidly lately?
For those unfamiliar with the topic, stock videos are stored on online servers for people to use for personal or professional use. There are many free sites that offer stock videos for free but there are also some providers who charge for their services which can fall under different types of licenses. It's a great opportunity to save a few dollars and purchase essays online, if you're a student overwhelmed with assignments and running out of money.
Types of Licenses:
Royalty-Free – the type of video can be used however you want, for personal or commercial use without having to mention the creator or distributor.
Attribution Required – you must give credit to the creator and/or distributor.
Free for Personal Use – the video can be used for personal use only, and you aren't allowed to profit from it.
Now is definitely the time to start taking advantage of stock videos as it is an easy way to accumulate views and keep your audience interested in your content.
If you're looking to enrich your site/page with some content, why not place a few relevant stock videos that you can get for free and impress your visitors. However, don't expect these free stock videos to be a replacement for your editing and video production tasks. Instead, think of them as additional footage that can help you fill the missing bits and pieces.
Of course, there are sites/businesses that specialize in creating advanced custom videos, but they will often, charge a pretty penny for their services. Nevertheless, free stock videos are more than good enough for your needs.
So where can you find high-quality footage for free that you can use for both personal and commercial use without having to worry about royalties? Below are a few honorable mentions that will get the job done quite nicely.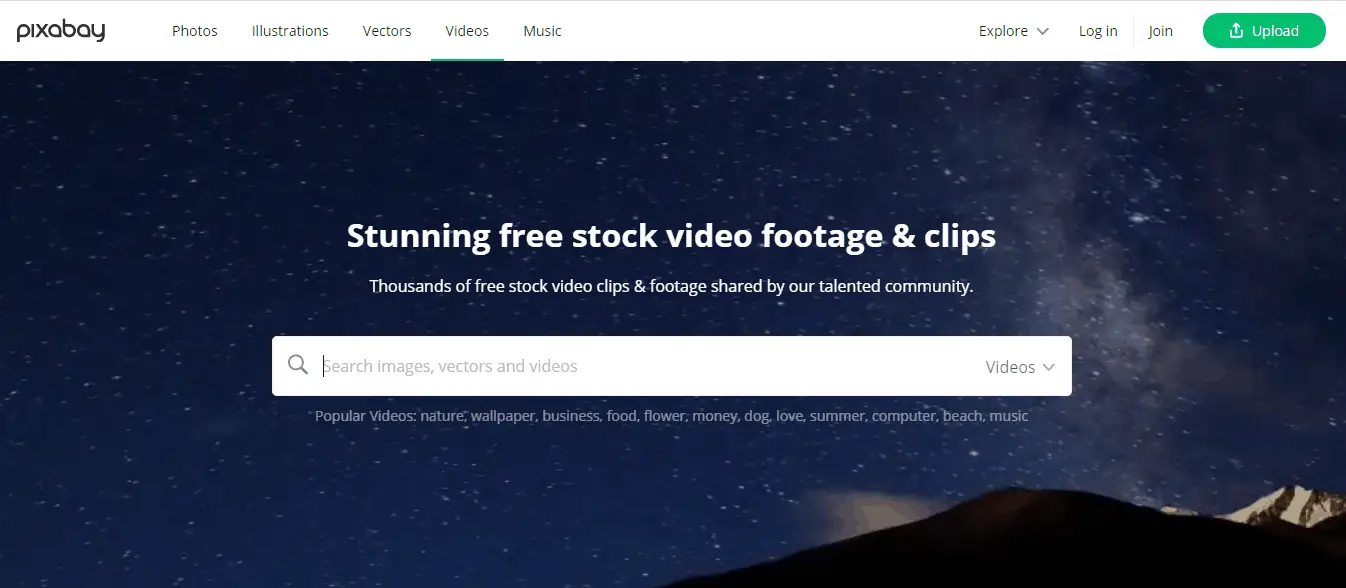 Pixabay has thousands of free stock video clips and footage that are waiting to be used purposefully. Simply go over to their site and download any clip or piece of footage that you like and use it for personal or commercial use.
You don't even need to mention the creator although it is probably best to do so in your post. Thanks to it being licensed under Creative Commons Zero (CC0), you are free to do what you want with the content.
Also, there is no need for you to create an account but if you wish to leave comments and/or take part in the Pixabay community, you'll have to create one.
On Pixabay, you can search for any topic, keyword, or idea and then choose from a variety of high-quality stock (MP4) footage that ranges from HD to 4K files. With that said, I'm sure you'll find something that fits your liking.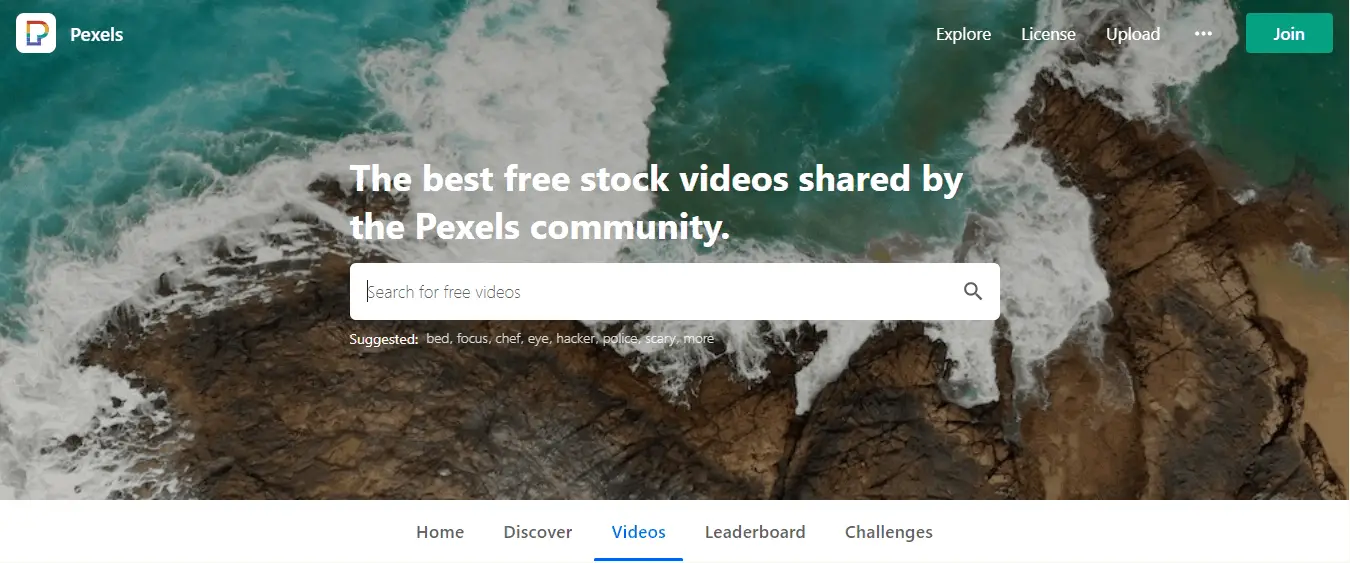 Pexels started as a stock photos site but has now become a library of free HD stock videos. It is also under the CC0 license like Pixabay, meaning you can use its photos and videos for personal or commercial use without having to cite the distributor.
On Pexels, there are loads of different photos and videos that can be used to create clips, time-lapses, and more. However, the biggest letdown is that there is no 4K content, which can be a problem for those who need the highest possible quality out there.
Still, you do get loads of free HD content which you can use however you see fit.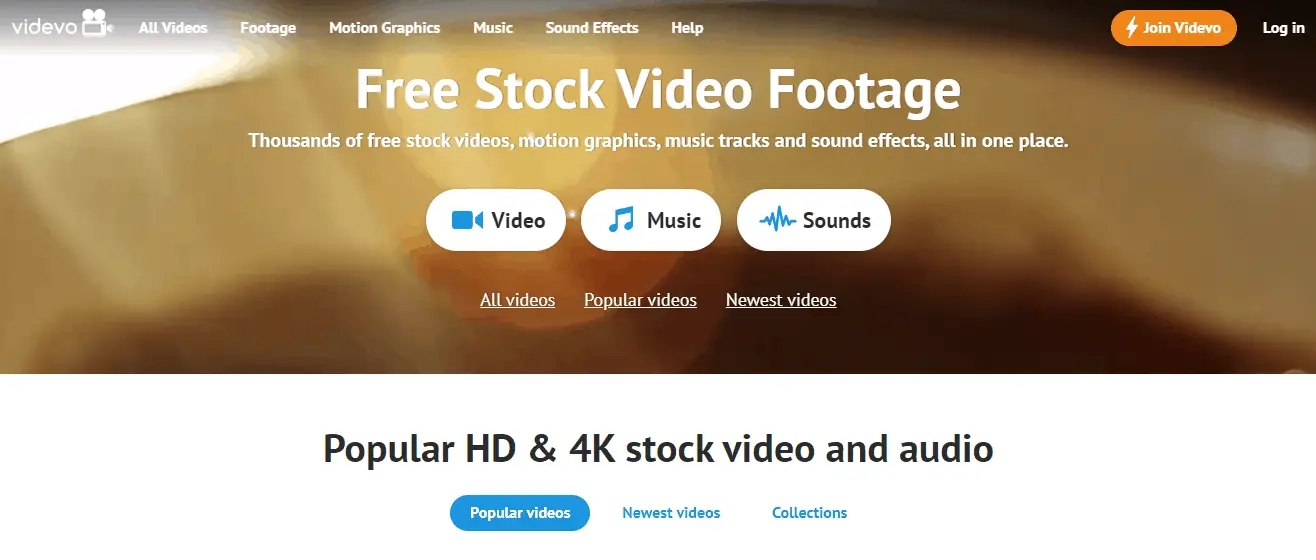 Videvo is a stock video website with lots of top-quality video clips both in 4K and HD resolutions. The video files can be download either in MP4 or QuickTime format and since most of them are well made, you won't need to spend a lot of your time editing them.
You can also find motion graphics, music, and sound effects, all in one place.
Most of their stuff is free of charge and comes with a royalty-free license so you can use it anywhere and however you want. However, they do offer premium videos but to download those, you have to get a premium account.
Videvo Types of Licenses:
Royalty-Free License – you can use the video footage without giving out credits but you must edit the footage before using it.
The Videvo Attribution License – you must attribute the author and you can't redistribute the video in its original form.
The Creative Commons 3.0 – similar to their attribution license but the main difference is that this one does allow you to distribute the footage on other platforms without editing it.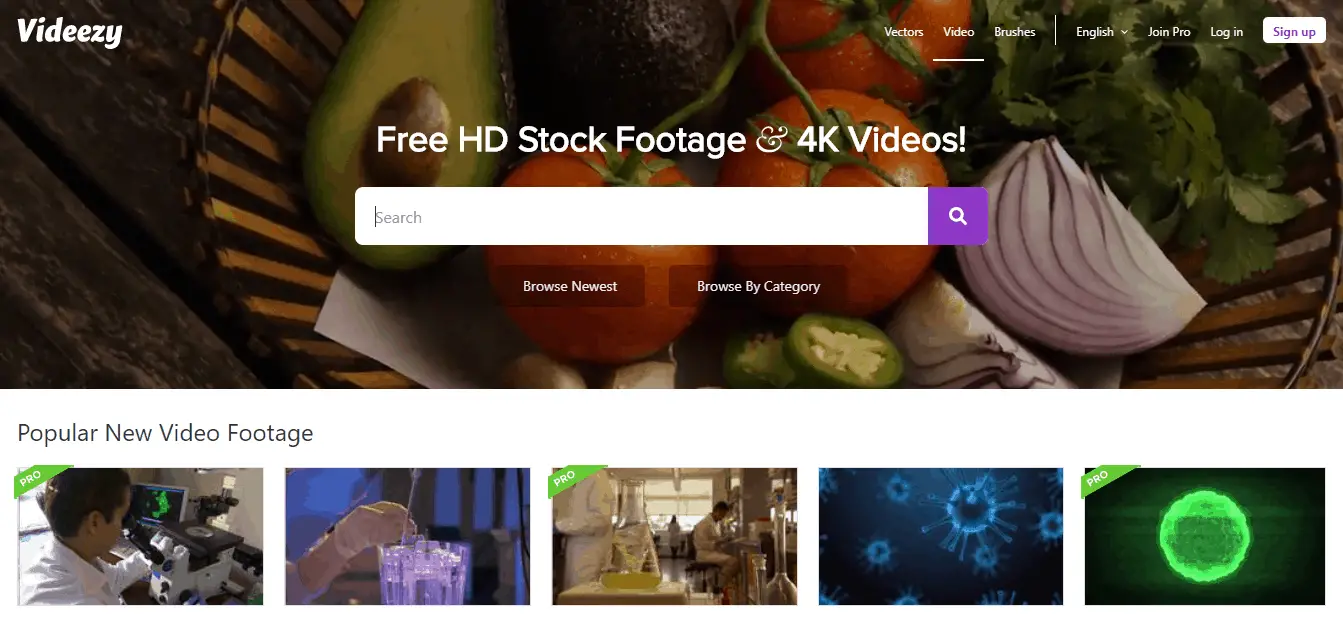 Videezy offers you thousands of videos in HD and 4K quality. The videos are free for personal and commercial use but you must give credit to Videezy.
Their best videos are marked as "Pro" and cost money but you can also still find loads of free content.
If you wish to use "Pro" video footage, you'll have to create an account and buy credits, which you can use to purchase stock footage. By getting their "Pro" license, you also get a commercial use license that doesn't bind you to mention the creators.
However, if you want to use their free stock videos, you must give credit to creators by simply adding a credit link to "Videezy.com" in case you'll be using their content on broadcasting platforms.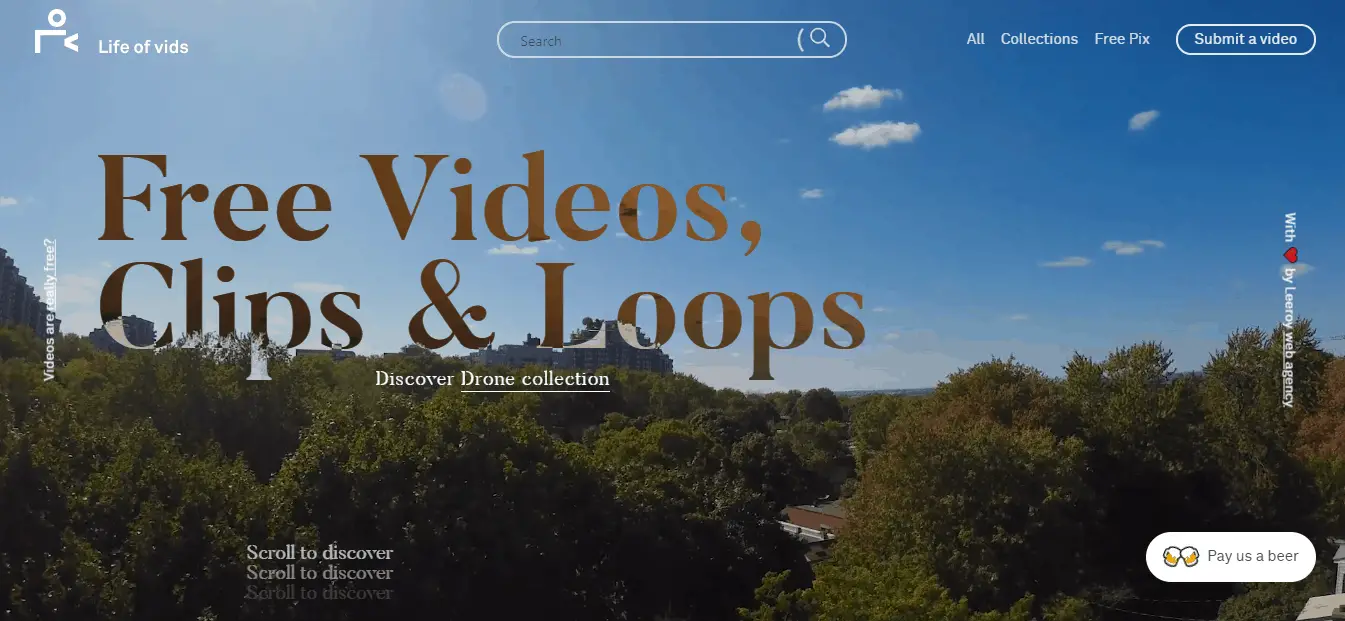 Life of Vids offers a collection of royalty-free videos. You don't need an account and you can download footage in various resolutions.
Their videos are in MP4 format and can be downloaded in quality ranging from SD to 4K. However, you must give credits to Life of Vids for their footage.
And while you can freely distribute their videos without editing them, there is a catch. They have a restriction on the number of videos you can distribute, which is 10 videos in unedited form per user.
Lastly, it's important to note that all of their footage is free to use for both commercial and personal use.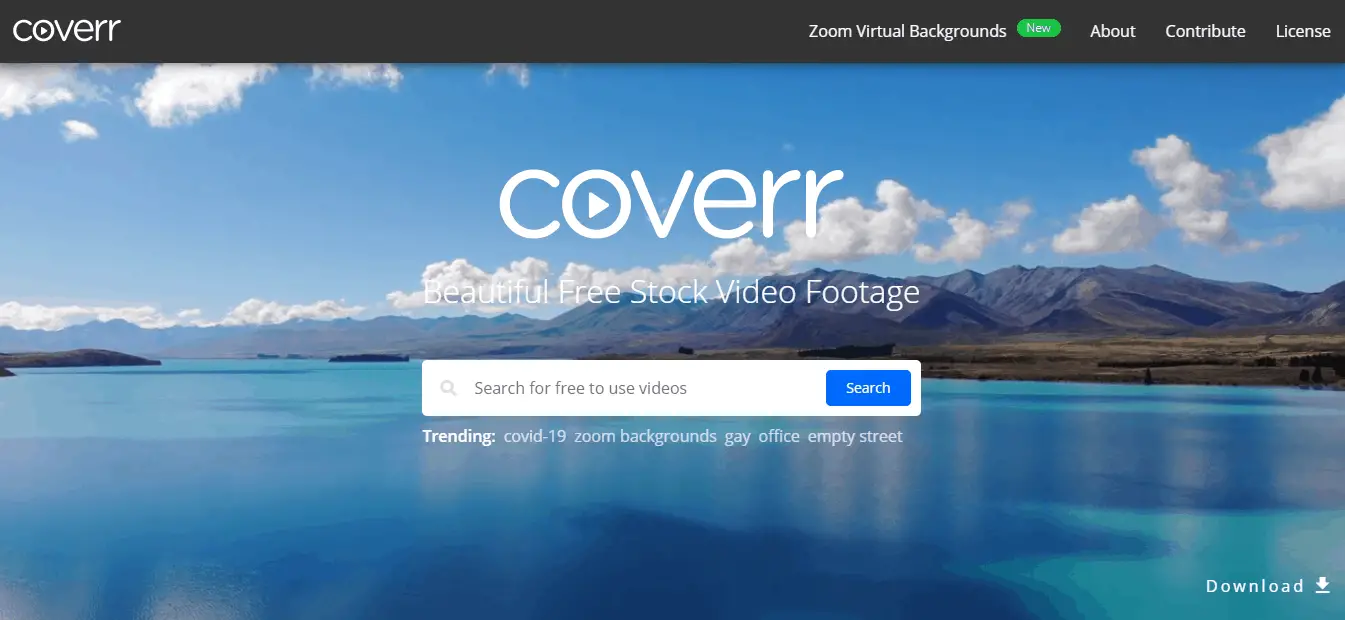 Coverr is another stock video website that offers numerous high-quality videos. On top of that, when using their content you don't even have to mention them as a source!
All their footage is free and can be downloaded in FullHD quality without even going through the registration process.
However, you don't have the right to use:
Trademarks, logos, or brands that are in the footage
People's images if they are recognizable in the footage
Conclusion
Start utilizing free web content such as stock video clips to improve your marketing and digital design. Once you've decided which platform to use, make sure to go through their licensing types, because nobody likes wasting their time on something that, in the end, can't be used in the way they intended to use it.
Remember, not all sites have the same licenses, so it is best to check them out just to be safe. It is also good to edit the video clips and footage before posting it somewhere.
Try to tweak the footage by adding your pictures, clips, effects, and transitions to make it more personalized. You don't want your visitors to see the same clip on multiple different sites and find out that you're just rebranding someone else's footage.