If you're looking for the best color tools for designers, you're just in the right place!
Being a web designer is not only a matter of making a website functional but making it aesthetically appealing is also something that deserves special attention.
For example, warm colors such as red are capable of stimulating emotions like comfort, excitement, warmth, and even hunger (just think of McDonald's), whereas cool colors like green and blue create a calming and resting environment.
To understand it better, imagine a website that sells electronics. Now, as you're looking at your imaginary website, what colors do you notice there? Probably white, grey, blue, and maybe red (only for price tags), right?
The reason why you imagined all these colors is that you've probably seen thousands of electronic websites in the exact same colors so far, and your brain memorized all of them. Another reason is that the word 'electronics' evokes the image of cool colors instead of vibrant ones meaning in 99% of cases devices like TV or laptops are exhibited in black or grey color.
Now, the point of all of this is the following: By choosing the wrong color, you risk sending the wrong message that could be fatal for a business. But if you choose the right color that perfectly resembles your brand and the desired message, you will succeed in capturing the user's attention and instilling triggers like 'call to action' into their mind.
Sounds brilliant, right?
Now comes the fun part. Thanks to the 21st-century technological advancements, to find a perfect color match, you don't have to be a pro, and you don't have to waste tons of your time studying things like 'psychological impact of colors on the human psyche.'
The only thing you need to do is check out the most popular color tools for designers that will help you choose the best colors for your design and convey the desired message.
Once you do find the best colors, you will need a tool to help you create those designs as well. And that is where Crello comes in!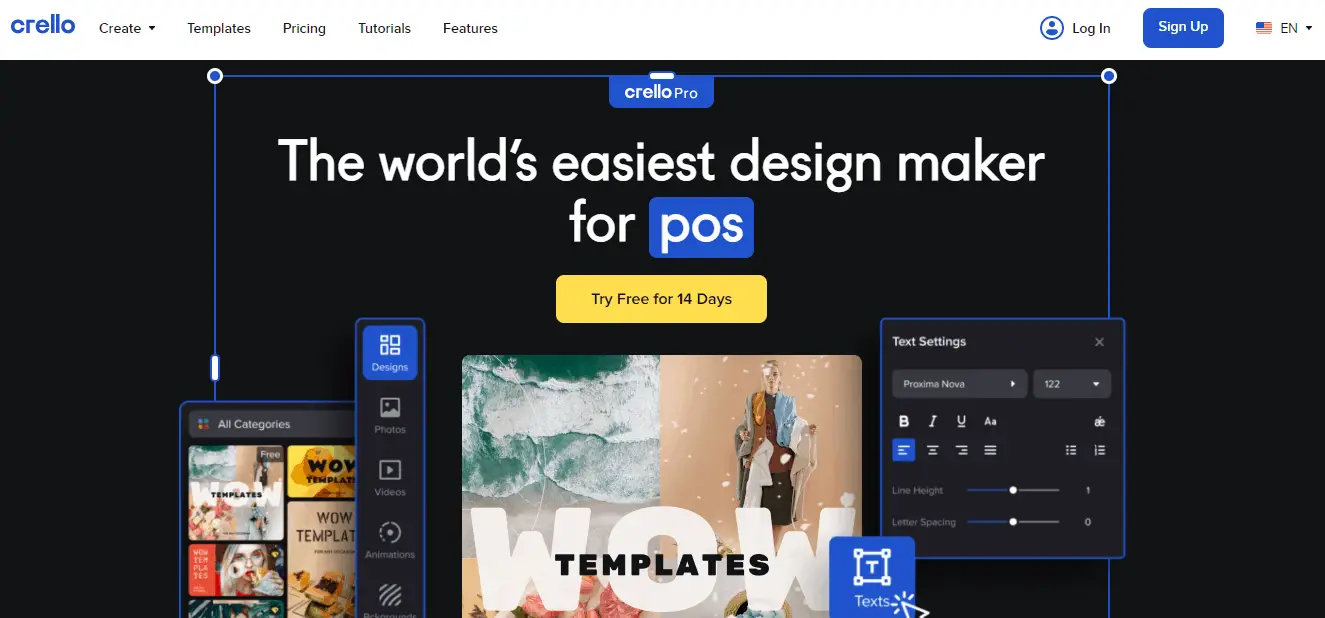 Crello is sometimes referred to as the simpler alternative to tools like Photoshop and Canva, an alternative that will provide you with tons of one-click editing tools. These tools include text editing, resizing, cropping, applying photo effects, adjusting the fade and contrast, and much more.
On top of that, it also comes with 30,000+ customizable templates, and millions of high-quality photos, videos, designs, and animations. But if none of those fit your liking, you can always turn to Depositphotos, Yay Images, and/or Stock Unlimited.
With that out of the way, let's get back to talking about great color tools!
THE 13 BEST COLOR TOOLS FOR DESIGNERS
1. Coolors.co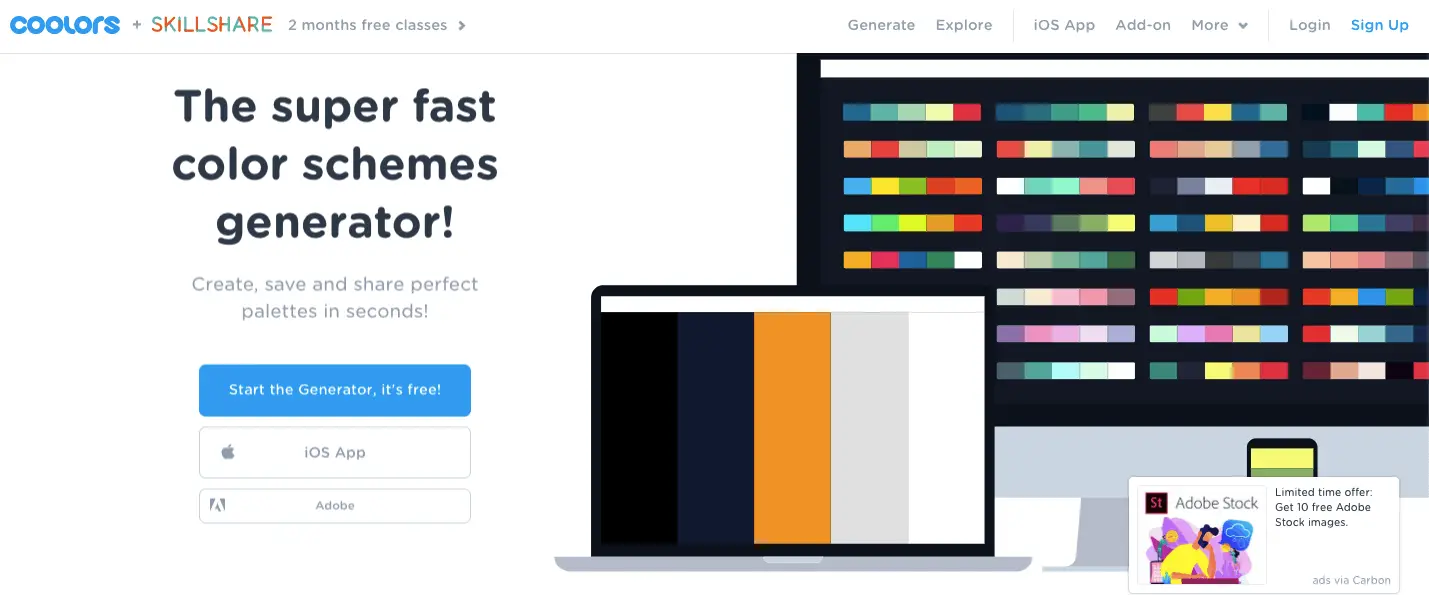 Coolors is a fast, easy to use, and fun tool that helps you create impressive color palettes to which you can even add names and tags. Besides that, it also gives you an option to customize your colors by adjusting temperature, hue saturation, brightness, and many more.
What's especially amazing about this color tool is that you can also view other user's color palettes and creations, which can be extremely helpful when it comes to finding your own inspiration. And once you've created your desired color palettes and designs, you can easily export it in lots of formats like PNG, PDF, SCSS, SVG, or you can copy the permanent URLs.
2. Khroma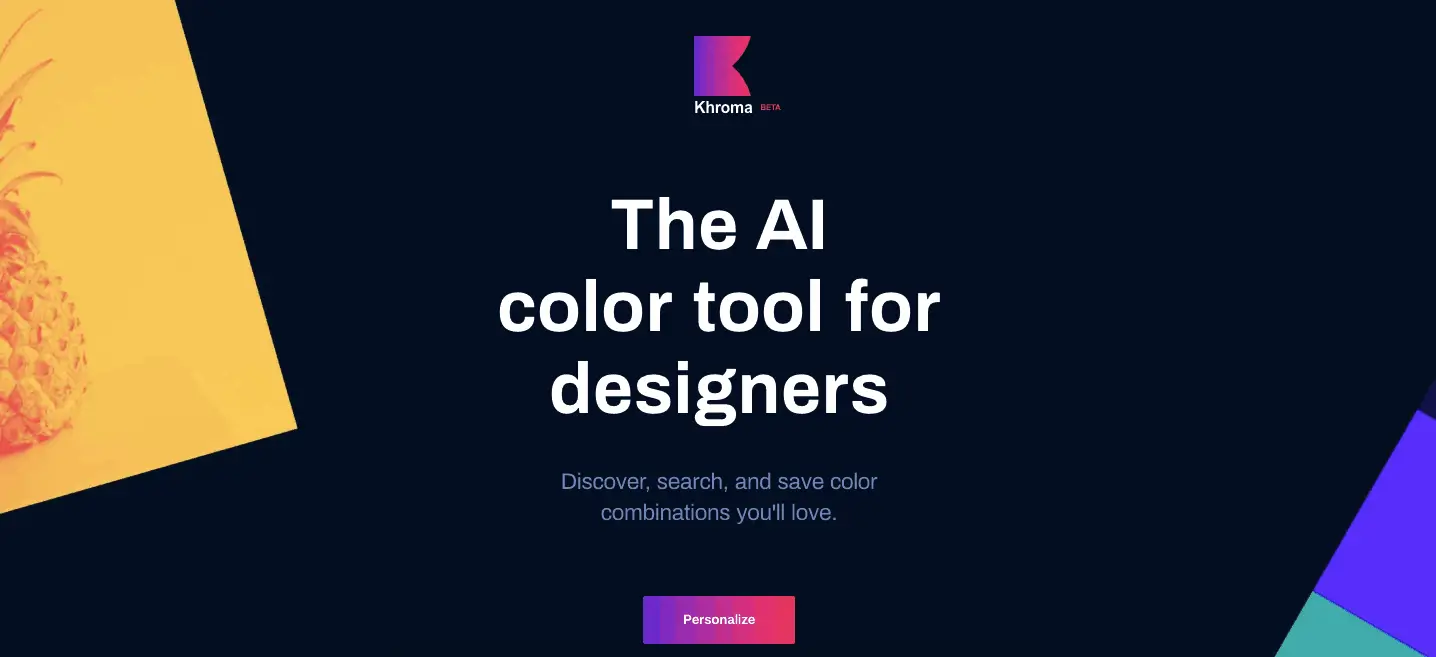 Khroma is another practical and easy to use color tool that offers to discover, searching, and saving of thousands of color combinations and patterns. All you need to do is choose a set of fifty colors, and an algorithm will generate only the colors of your preference and ignore those you don't like.
It is a stunning color tool that allows you to browse as typography, swatch, gradient, palette, or image and filter the generator by hue, tint, value, color, and similar. Khroma is undoubtedly one of the fastest ways to create personalized and inspiring color combos in no time!
3. Eggradients

Eggradients is a tool abounding in eye-catching gradients that are perfectly suitable for any design work. On the contrary to the rest 'tool crew,' Eggradients is a perfect place to get a fair amount of laugh as well. Why?
Because under each egg shape's color, you will find a funny, thought-provoking name like 'Obama's Resignation,' 'Homeless Man's Joy,' 'Housewife's Ad Revenue,' 'Successful Immigrant,' or 'Fraudulent Election.' I couldn't believe it with my own two eyes (and glasses), and I definitely can't remember the last time I laughed so hard.
4. HTML Color Code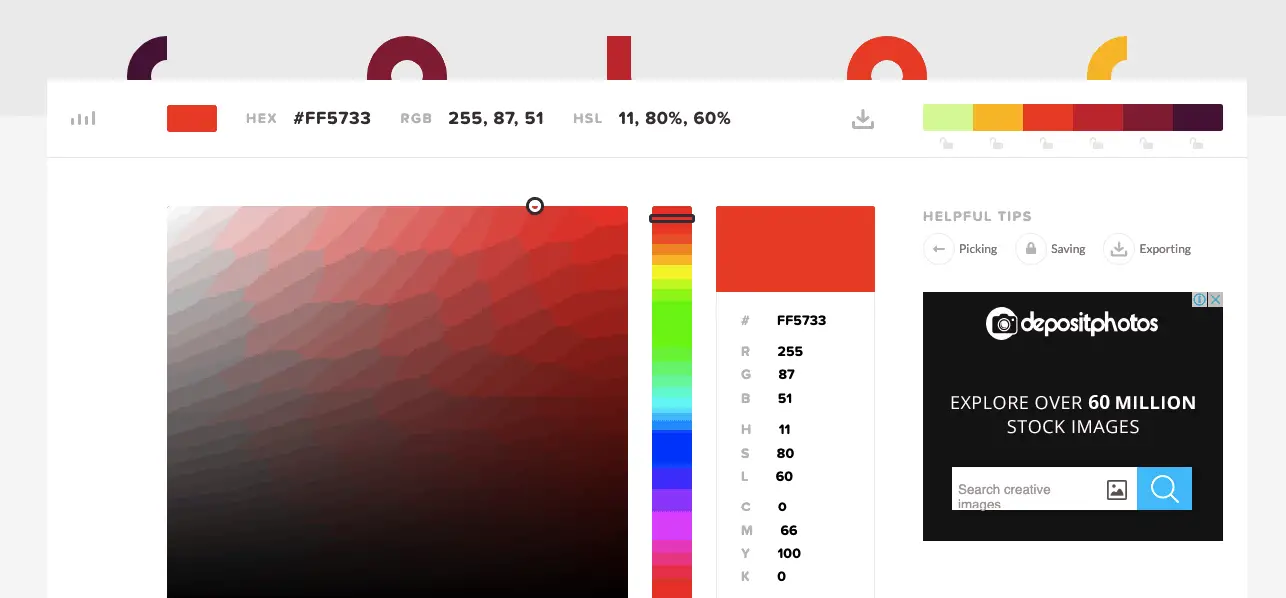 HTML Color Code is definitely one of the best color tools for designers because it offers an extensive color picker along with an in-depth guide regarding color rules. Furthermore, it offers a color chart that features flat design colors, Google's Material design scheme, and the classic websafe color palette as well (including hex color codes).
On top of all of that, it also offers various tutorials from basic HTML and CSS color guides to more advanced techniques in SCSS, which is really helpful for those who have just started their website.
5. Flat UI Colors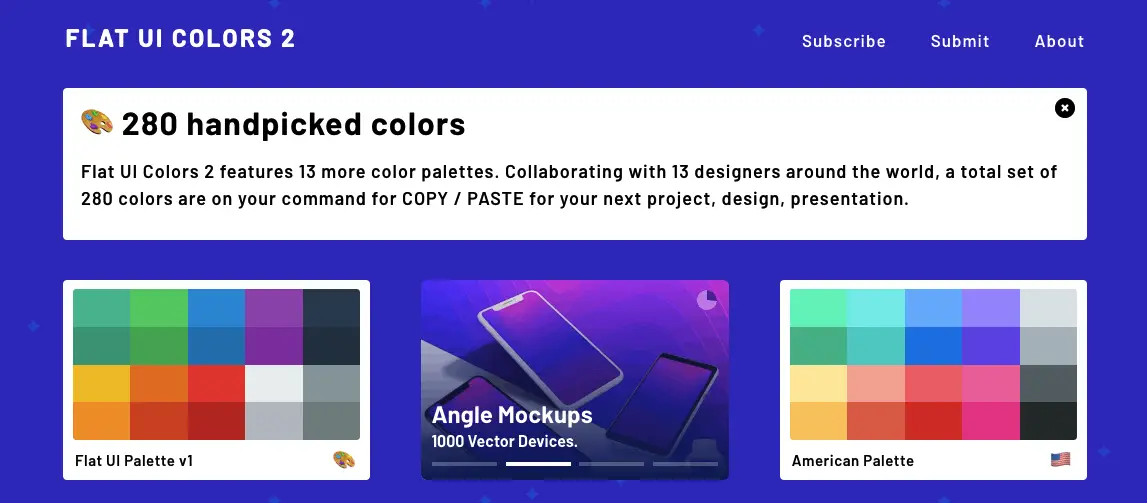 If you don't have much time to deal with finding a perfect color, then Flat UI Colors is just perfect for you! A set of 280 handpicked colors is basically just waiting to be copy-pasted for your project, design, or similar.
To be more specific, there are 14 palettes, and each of them has both light and dark versions of each color. To pick a color, all you need to do is double-click on it and which will instantly copy the color's hex value. Pretty much simple, right?
6. Muzli Colors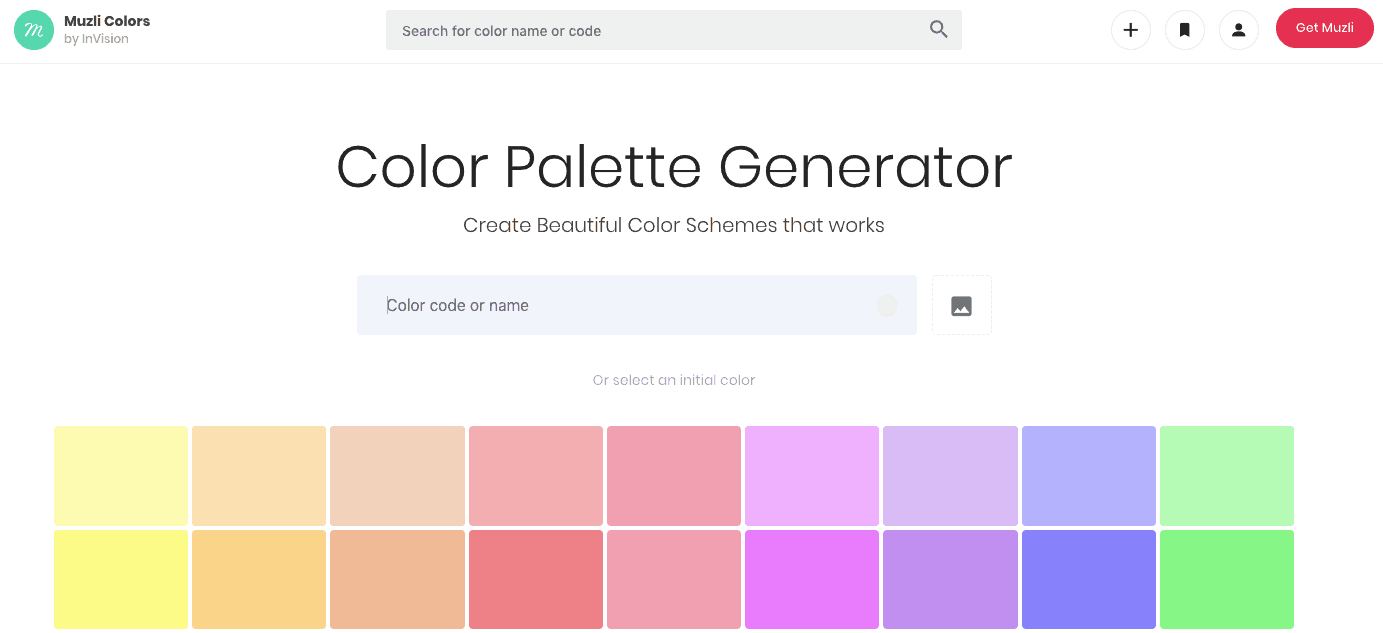 Muzli Colors is another easy to use tool that will help you create beautiful color schemes that no one will be able to stay indifferent to. This tool helps you create and edit color palettes, color matches, and it even offers to preview and to download customized UI kits of your own color preference.
If you scroll down a little bit, you will see that it also offers popular color palettes, which can save tons of your time if you're in a hurry to meet a deadline or you simply don't have that much time to create your own color schemes.
7. Color Leap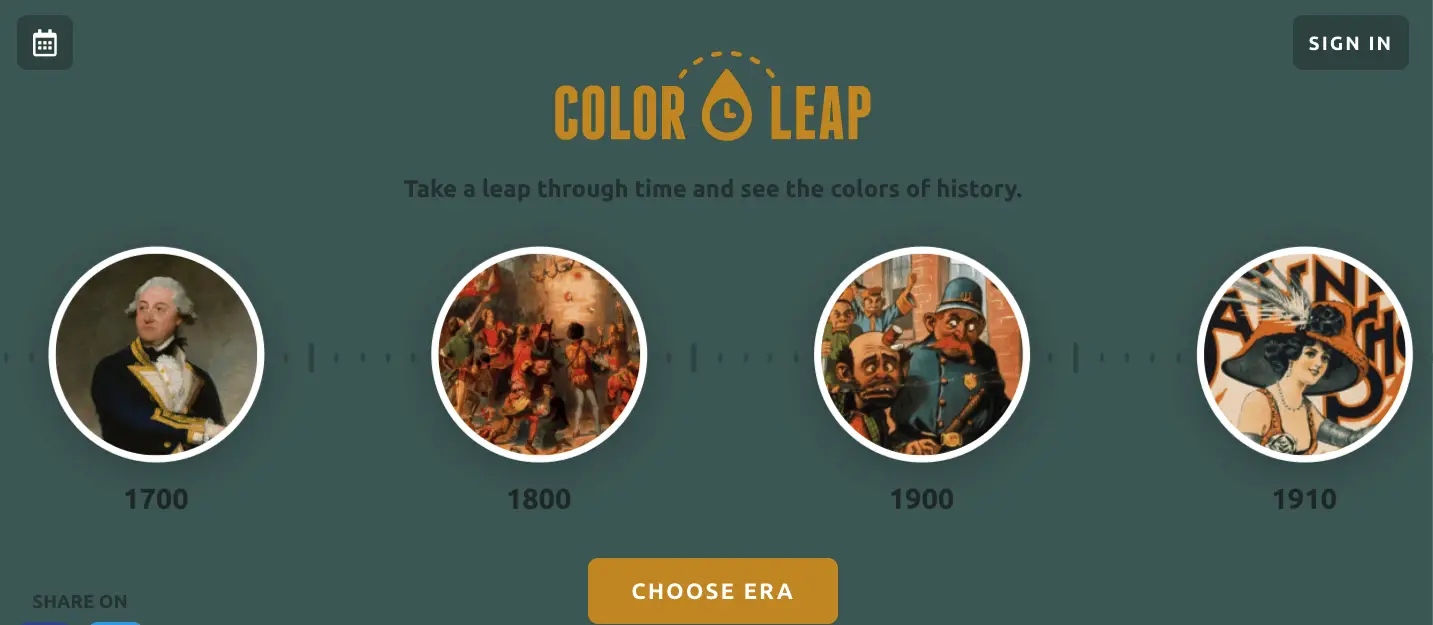 If you're interested in searching color palettes used throughout the last 4000 years, then Color Leap is an excellent choice for you! It offers 180 color palettes with images and a wide array of color combinations.
When you choose the desired year, you get a short description of innovations and what was trending during that time, and you also get a few images on the right representing that particular year.
For example, I've chosen 1900, and it said that during that time, the modern advertising industry was born explaining what types of textures and illustrations were used at the time. When you click to see the images, under each image, you will find a color palette used on that particular image that you can easily copy with just one click.
From my personal experience, this tool is totally brilliant and fun to use as well. You will enjoy every second of searching for your perfect color (I can guarantee you that)!
8. Picular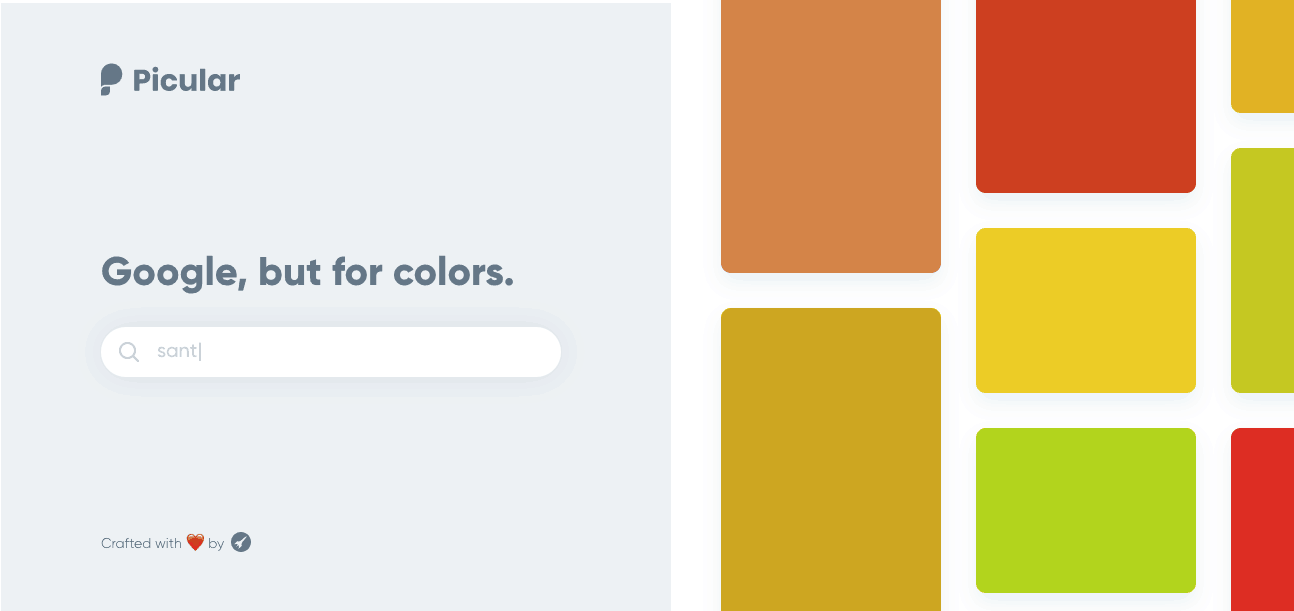 Picular is another amazing color tool and definitely one of the best color tools for designers out there. Imagine that you had Google for colors where you could write anything that comes to your mind, and you would get a color that matches your word or a sentence.
Well, Picular is right that! It is a Google for images where you can write just about anything, and you will get the list of colors resembling your word or idea. I tried writing the word 'serious,' and I got mostly matt colors that were perfectly fitting into my concept. I also tried the word 'banana' and lo and beheld I got '10 shades of banana' along with images.
This tool is awesome for those who are looking for a specific thing, idea, or color of something they've already seen but aren't sure of the real color of this particular item. Also, when you finally find the perfect shade, you can easily save it with just one click on the desired color's hex code.
9. Colordot

Colordot is a perfectly organized and effective online tool. Now, what is specifically interesting about Colordot is the extremely flexible and fast usage of the tool.
For example, you can move your mouse back and forth for hue and up and down for lightness. Scrolling is for adjusting saturation, and only one click of a mouse saves the desired color to your palette.
When I first tried it, I was totally mesmerized by its effectively simple usage, the wide array of beautiful colors, and the possibility to see each color's RGB and HSL value.
10. Adobe Color CC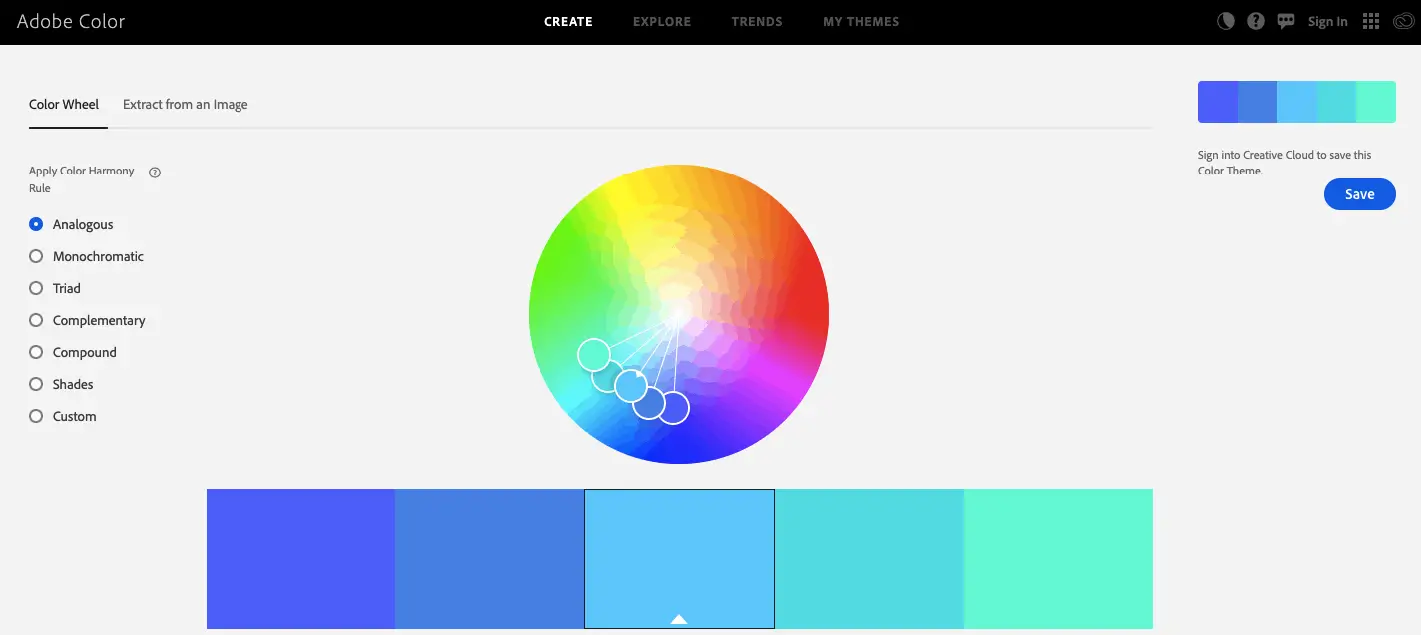 Adobe Color CC, without a doubt, also belongs to the crew of being one of the best color tools for designers. It lets you create your own color schemes, and it also lets you explore other user's work and their creations.
To start the process of finding your perfect color, all you need to do is select a color from the wheel in the middle or from an image. After you've done that, you simply apply different color rules, which will let you only use complementary colors, monochromatic colors, or you can generate a color palette of the selected color's shades.
And you don't have to worry about losing your potentially perfect color palettes because all of your work can be easily saved to your Adobe library.
11. Canva Color Palette Generator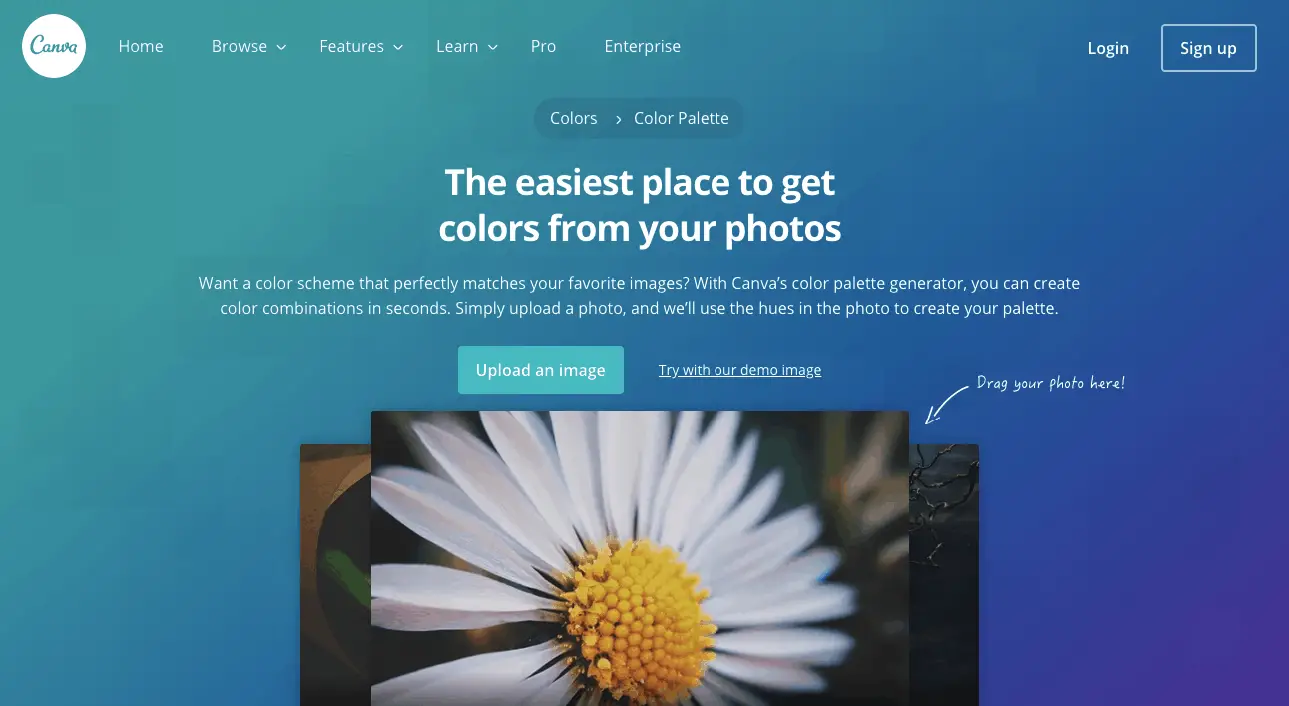 Similar to Picular, Canva Color Pallete Generator works on the principle of recognizing and providing colors from specific images you upload. You just need to upload your favorite image, and you will instantly get five main colors contained in that particular image.
As with other tools, you can easily copy the hex value of the colors you like. Yet, unlike other tools, Canva Color Palette Generator doesn't offer adjusting of the palette's colors, but this can sometimes be a good thing if you're in a hurry and you don't have time to make adjustments (and especially if you're indecisive by nature like myself).
12. Color Calculator

As the name implies, Color Calculator looks exactly like a mini color calculator that gives you precise colors upon your selection. It is in the form of a color wheel where you just need to pick a color, choose a harmony (complementary, monochromatic, analogous, split complementary, triadic, or tetradic), and you will see the results within a second.
If you're not really sure about the principle of color harmonies, they suggest experimenting with different color harmonies that will help you achieve the desired effect. In addition, Color Calculator gives you an insight into color theory as well.
13. Colors & Fonts

Colors & Fonts is another easy to use and extensive color tool suitable for web developers and digital designers. It is basically represented as a collection of color gradients, color palettes, material colors, font pairing, and color contrast that serve as tools for finding your perfect shade.
As already stated, it is divided into two sections: 'Resources for designers' and 'Resources for developers,' and every section provides different tools and inspiration.
For example, Design Resources offers different design tools like Sketch, Invision Studio, Adobe XD, design inspiration (websites, landing pages), typography tools (LeonSans, Fontjoy), icons resources and stock images. Summarized, it is a quality "companion" for any designer out there.
Conclusion
Choosing the right colors that perfectly resemble the desired brand is not an easy task, and it requires lots of creativity and time, but with the above color tools finding the perfect color palette will be a unique and fun experience because the majority of the tools are easy to use, extensive and precise.
Every tool slightly differs from one another and offers a specific or general assistance or a combination of both.
For example, you can find colors contained on a picture you upload, you can search color palette throughout history, you can write any word or a sentence that comes to your mind, and you will get the colors associated with that particular idea, or you can pick a color from a color wheel and keep adjusting it.
Possibilities are endless, and all you need to do is experiment with different colors until you find the right one that will trigger the desired emotion and effect. Good luck (and remember to have fun)!