These days, no decent website can make it if it doesn't include pictures and photos of some sort. People have come to expect that the pages they visit are well designed and easy on the eyes, and this, in turn, makes them want to come back to the website again and again. Text alone just isn't going to cut it.
Some images may be bigger, and you may need to shrink them a bit, for example, for them to fit into your website's theme properly. And one of the most important things to consider when doing that is the aspect ratio.
Read on and learn all about it here.
The basics of aspect ratio
To put it as simply as possible, the aspect ratio is the ratio between an image's height and width.
The first number denotes the width, while the second one denotes height. It is important that we are not talking about any particular units of measurement here (inches, centimeters, etc.) just that the relationship between the image's dimensions is constant. For example, you may have noticed that HDTV uses the 16:9 format, and there is a variety of other aspect ratios used by different media.
Apart from that, there are other metrics you may want to consider – such as the number of pixels – and because of that, the process of converting an image's ratio and size is something that shouldn't be taken lightly. Do it improperly, and the quality of your image can deteriorate significantly: you will lose a whole bunch of details, and the sharpness will take a hit. Fortunately, there are tools to help you with that, tools that can make the whole thing a breeze thanks to their intuitiveness. But even among them, one tool, in particular, stands out.
ResizeMyImage
Without a doubt, ResizeMyImage is the online tool you want to use when editing your images, no matter what purpose you have in mind. The tool offers numerous advantages, with some of the most important ones being that everything is done online and that the whole thing is completely and absolutely free. You don't even have to download anything! All you have to do is find the image you want to edit, no matter if it's on your computer or on some other website, and drag and drop it to the  ResizeMyImage's box.

Once you do that, you will be able to do wonders with it, but it's also worth mentioning that you can upload your images in bulks here and then convert them all to the format you want or simply resize them all with just one click. Pretty nifty, huh? Again, no additional software will be required. However, when you upload a single image, you will have a much wider array of options in front of you, so let's take a closer look at them.
ResizeMyImage features
As already mentioned earlier in the text, all you have to do is drop your image into this tool's box, and the fun can begin. First and foremost, you can adjust the size of the image any way you want. Three main options are available (25%, 50%, and 75%), but on top of that, you can determine the percentage of the number of pixels on your own – ResizeMyImage will automatically adjust the aspect ratio every single time.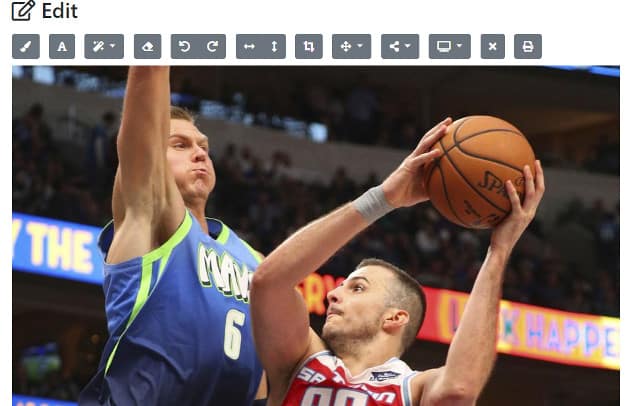 Images can also be flipped, cropped, and rotated, but what is particularly important is the fact that you can choose between numerous different aspect ratios, depending on what kind of picture you want. Apart from standard aspect ratios such as landscape and portrait, you can also set things up so that the picture fits various ad formats. Not only that, but ResizeMyImage also mindful of photos you need for various social networks and will, therefore, help you make sure your profile always looks perfect. But even that's not all!
Painting and adding effects
Last but not least, you can let your imagination run wild on whichever single photo you upload. This tool allows you to draw as much as you want, plus you can change the background color and add various shapes and letters, including a watermark, if you so desire. Finally, there is a whole array of effects you can put in, one of our favorites being the sepia effect, which makes your photos look like some of those old movie classics we all know and love. There is plenty to choose from in this area, too, so you can be sure you will find the filter or the effect that works for you.
As you can see, the number of options you have, no matter how you want to edit your image is quite impressive. Remember, all of this is available without any charge – all you have to do is go to the tool's website.
A few final words
Worried about the size of your image? About its aspect ratio or even its format? Don't be: everything can be solved and adjusted if you use ResizeMyImage, the best free online photo editing tool you can find. The number of options you get there is staggering, and you can easily use every single one of them. Thanks to the tool's simple and intuitive design, you will immediately know what everything does around there.
No matter if you have only one image you want to tinker around with or hundreds of them you want to change in one fell swoop, this tool will always remain equally intuitive and simple, allowing you to upload images from your computer or from a URL of your choice at any given moment. The aspect ratio covers all the most popular types, even profile pics for social networks, and will always remain the same no matter how much you shrink or enlarge your image. Therefore, whatever you need to do it, ResizeMyImage will always be the perfect solution – quick, reliable, easy to use, and completely free.