There are quite a few things that represent a brand. It can be quality, uniqueness, consistency, or even its design and style. But there is another thing that catches your eye the second you see it and is probably the most recognizable and memorable thing about a specific brand – the logo.
It can pack a punch by drawing attention and raising awareness about your product that will differentiate you from your competition or be lifeless and stale, which will reserve you a spot in the "forgotten brand shelf." Logos are associated with something that users trust, value, and appreciate, so it's not a surprise that they are the most important and successful branding elements.
Now you are probably worried that the logo you are capable of creating won't be memorable, that it won't pass on your ideas, and that you will have to cash out a ton of money for a professional to get the job done. But cross out that idea because that's where we come into play and share with you the secrets of making a good logo that will be unique, exclusive, hit its target audience, and, most importantly, represent your brand for the best possible results.
The tale of logos
Simple
When you stumble upon a random logo, how much time do you spend on analyzing it? My psychic senses tell me that it's about a few seconds. Now think about the most successful brands and their logos. You will probably picture Adidas, Apple, Samsung, Coca-Cola, and many more. And what do they all have in common? You guessed it, all of those logos are as simple as it gets. The attention of your target audience is limited to an extremely short period of time, which is why your label needs to be effective. Just imagine a situation where you are in a crowded store, driving on a highway or browsing – there is no chance that you will remember a detail-packed specimen. Don't make it complicated; just keep it sharp, elegant, and simple!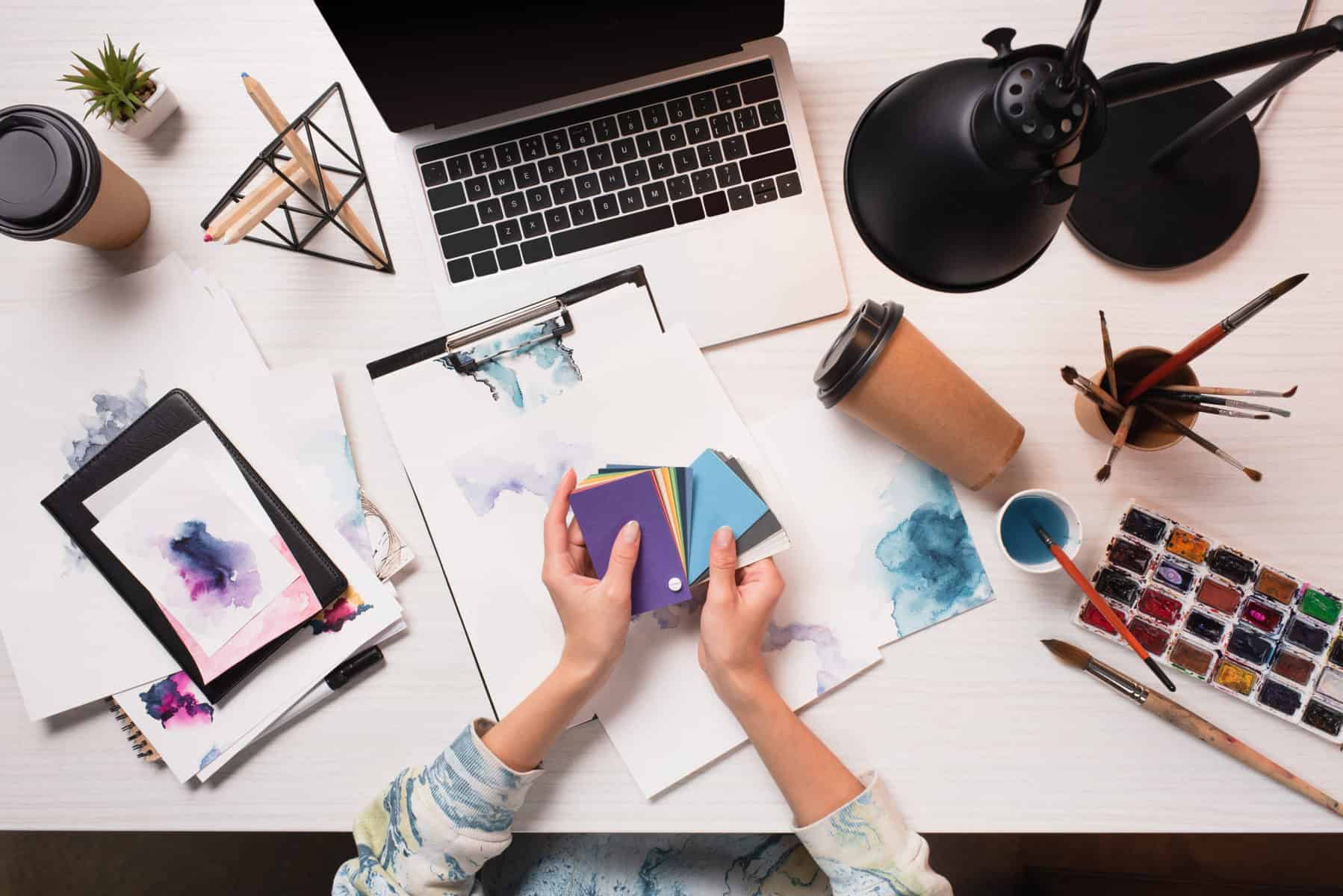 Unique
When you want to join a market that is packed, there are two paths to go down to. You can either:
Observe the ones that are the best and copy
Use your own imagination and creativity to create something original
Don't get me wrong; many great ideas emerged after finding inspiration in a "done product, " and it's highly recommended that you observe the professionals in order to unlock the secrets of success. But let's get serious, you have a creative mind, and if you even try to copy someone, you deserve a time-out! There are hundreds of thousands of logos on the market, so how do you expect to stand out if you desire to join the pack with the idea that someone else already exploited? Attempting to mimic another well-known brand is a recipe for failure, and you certainly don't want a piece of that cake. Of course, that doesn't mean that you should go drastic and make it unique to the point that your customers don't understand the general idea behind your business. If you wrote it down in a formula, it would look something like this:
observation of the best + your own creative approach =  triumph
Memorable, versatile and targeted
These terms are pretty self-explanatory, but let's break it down in order to entirely unlock your full potential. You want to achieve a design that will intrigue your audience to a point where it gets embedded in their memory, and as soon as they discover the qualities of your product, it's over; they got hooked. But the creative part is not the only one to think about.
The technical part is just as important because if it doesn't work on all platforms, your logo making mission is compromised.
Your technical task is to build a vector that can scale regardless of the platform (website, billboard, flyer, video…), and in addition, the color might be a pickle if you rush into making a decision from the get-go. Ideally, you should start from black and white and work your way up. And of course, you need to analyze and aim your ideas towards the target audience for your brand. They need to be able to connect with it, so before you start designing, ask yourself about the gender, age, and preferences of your potential users.
Toolbox
Now that we've covered the essential factors that will make your logo one of a kind, it's time to open the toolbox and get to the building process. There are numerous online services for logo making, but some of them are too complicated to use or lacking important modification tools. But don't get your hopes down because we bring you our list of top logo making software that will be your loyal helper for getting the best possible results.
1. Designhill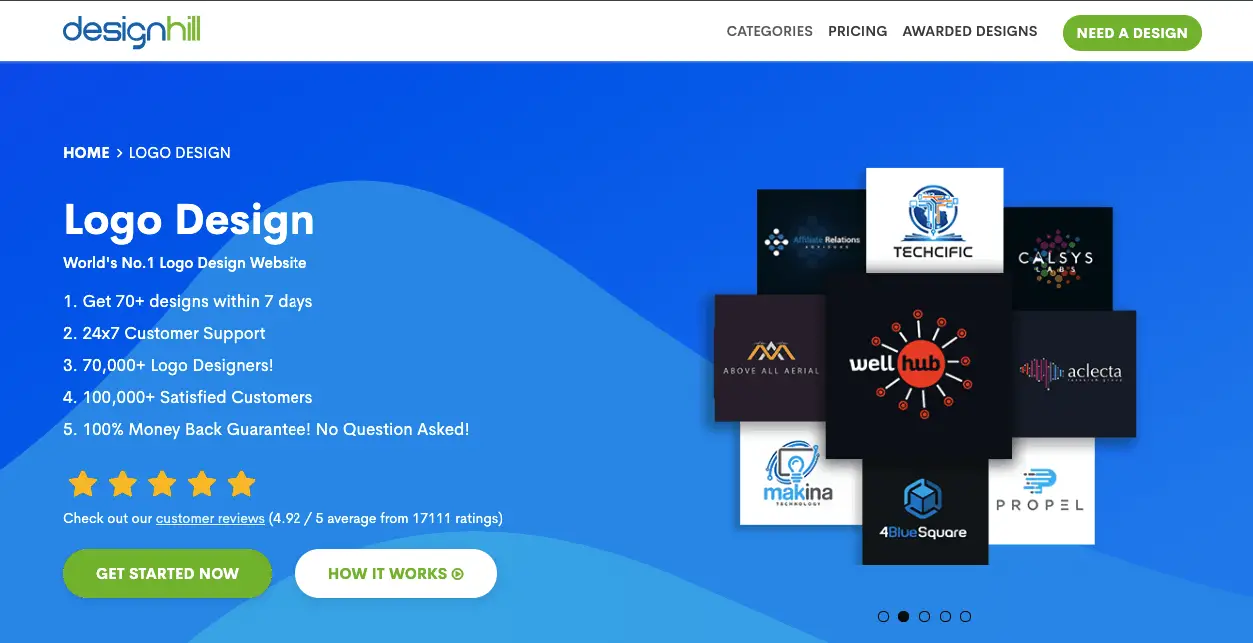 Simple, proficient, and does the job for you. Designhill is a software packed with over a thousand different logos, which is more than enough for you to hit your own jackpot. First, you need to select your business and price range to kick off the process. As soon as you do, magic will appear in front of your eyes. You will get a variety of different logos to choose from, and when you spot the perfect one, you get to the customization part where you can select the color scheme, symbols, etc. When you finish customizing, you can download the final product for a price of $15 for the low-resolution file, or throw in a few extra bucks for the highest quality available.
2. Hatchful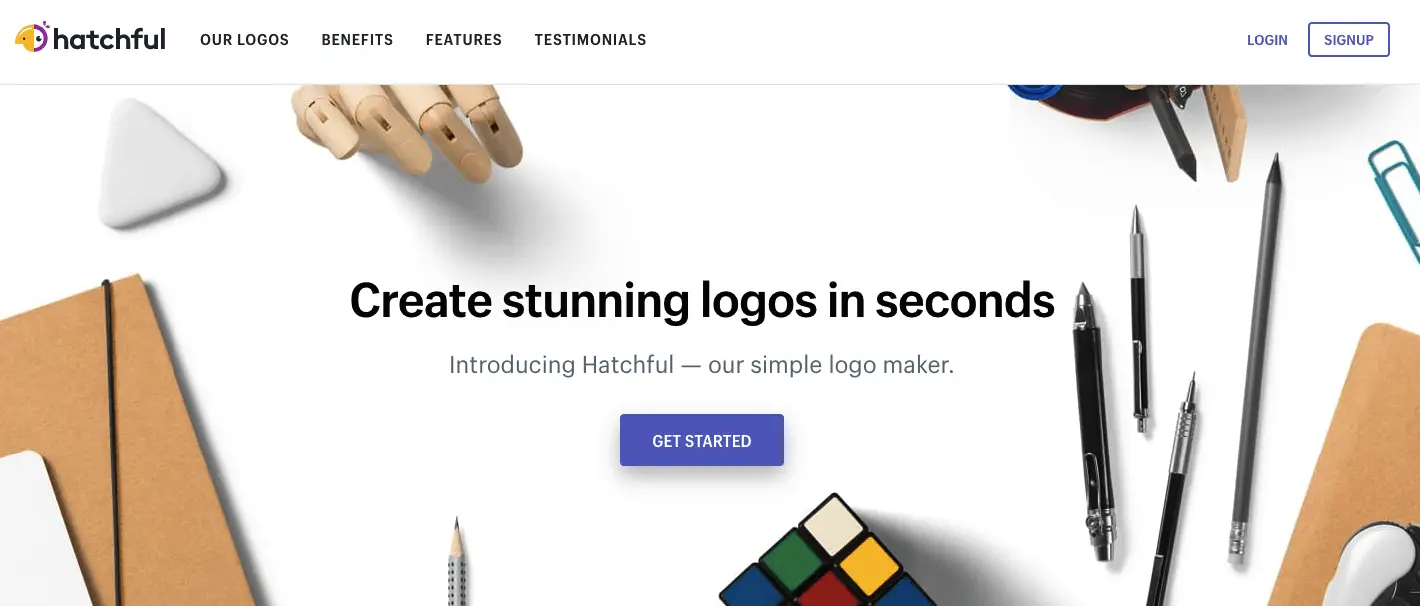 Some people think that if you can get something for free, it usually lacks quality. But this beautiful piece of software exists to shut their mouth…and to be your ultimate logo maker, of course. With its playful layout and simple instructions, building a logo with Hatchful is both entertaining and super easy. After you pick your profession and style, this software will give you a great range of options to pick. And if you are a part of the extremely picky crew, you can reach for your wallet and get even more recommendations and get the #1 logo pick.
3. Ucraft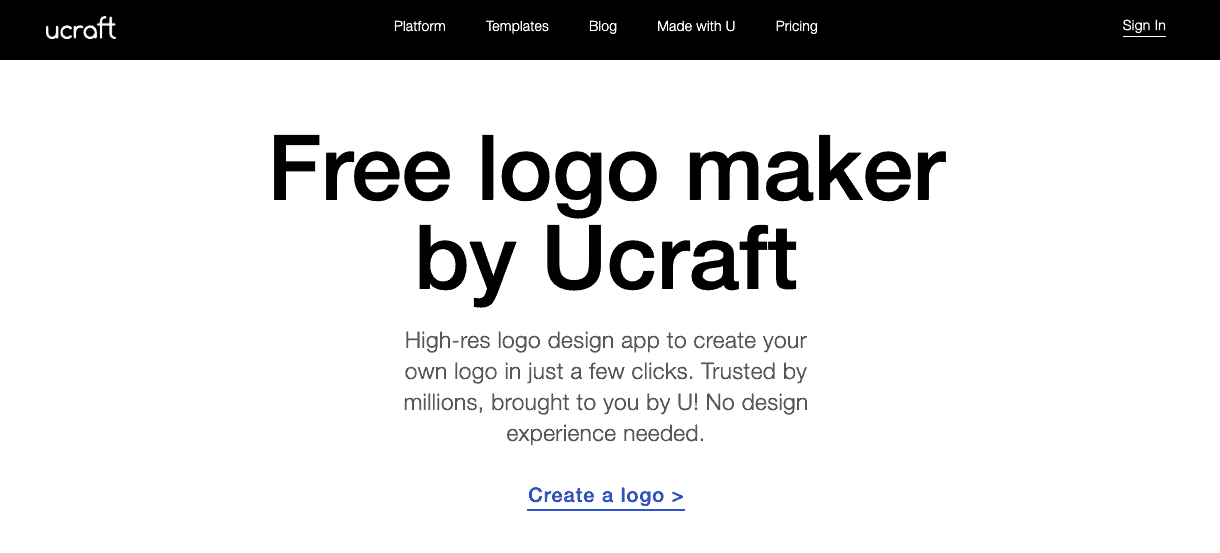 A few clicks are all it takes to establish your identity? Sign me up! Ucraft is another great software for logo making from scratch. It will take only a few minutes to create a masterpiece in high resolution free of charge! You can download it as a PNG file and play around with it as much as you want, and with over 2,000,000 icons, I can assure you that you will find what's yours and take it. If you prefer to download it as an SVG file, it will cost you only $12.
4. Squarespace

If you are a minimalist type of person, Squarespace is the way to go. It's the ultimate logo building website that will give you enough options to make it look memorable, unique, and versatile with an accent on simplicity. One of its cool features is that it automatically displays how your logo will look on a business card, website, or t-shirt, so you don't have to visualize it in your head. Files in low resolution can be downloaded for free, or you can go for the high quality for a fee of $10 (if you are a Squarespace customer, the high-quality file is free of charge).
5. Tailor Brands

If you are an inexperienced designer, or it's just not a part of your expertise, Tailor Brands steps up to save your day. You can easily achieve an elegant and luxurious look of your logo without a hustle. You only need to answer a few simple questions about your business and let the software guide you towards the perfect one. The pricing behind this deal starts at $4 for a basic monthly plan, up to $14 for the premium version.
6. GraphicSprings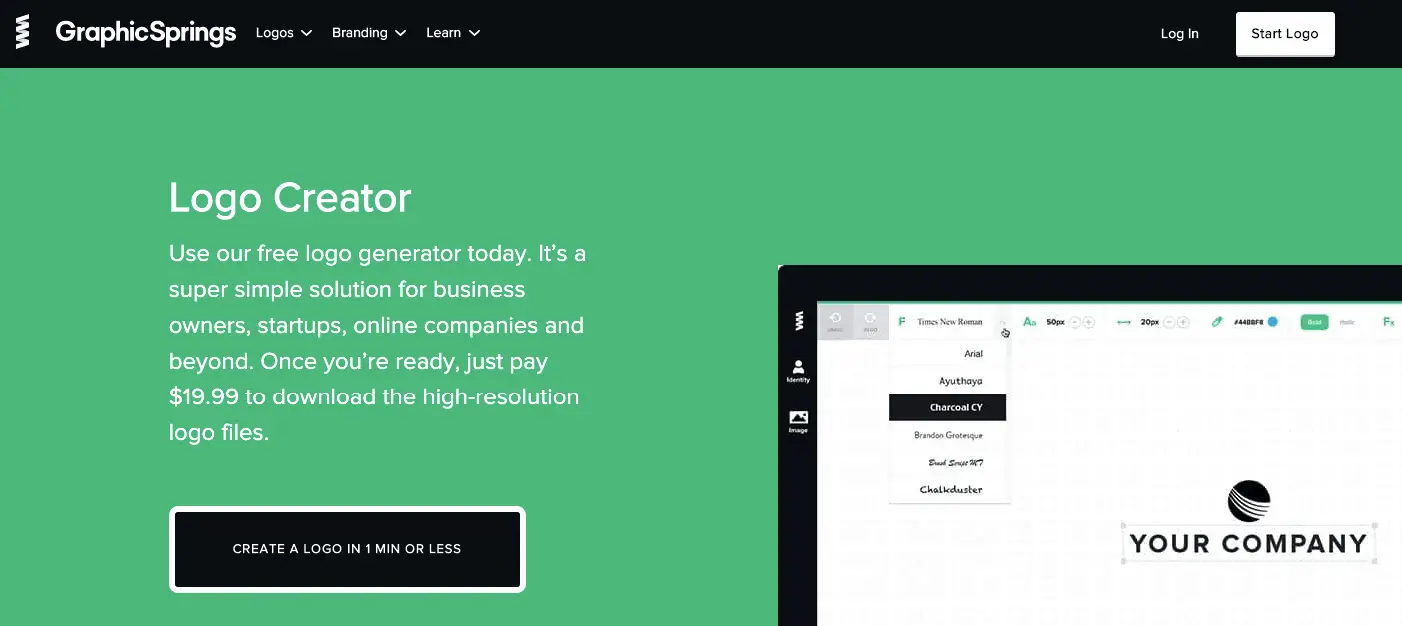 Full customization, unlimited downloads, and a huge library of templates are the key strengths of GraphicSprings. Regardless of the industry and look you are going after, this site will fulfill your needs with ease. If you are seeking a professional to help, you can hire one directly from the website. GraphicSprings offers an impressive amount of control, so it doesn't require any additional training. Play around, adjust, create, and download for an affordable price of $19.99.
7. Laughingbird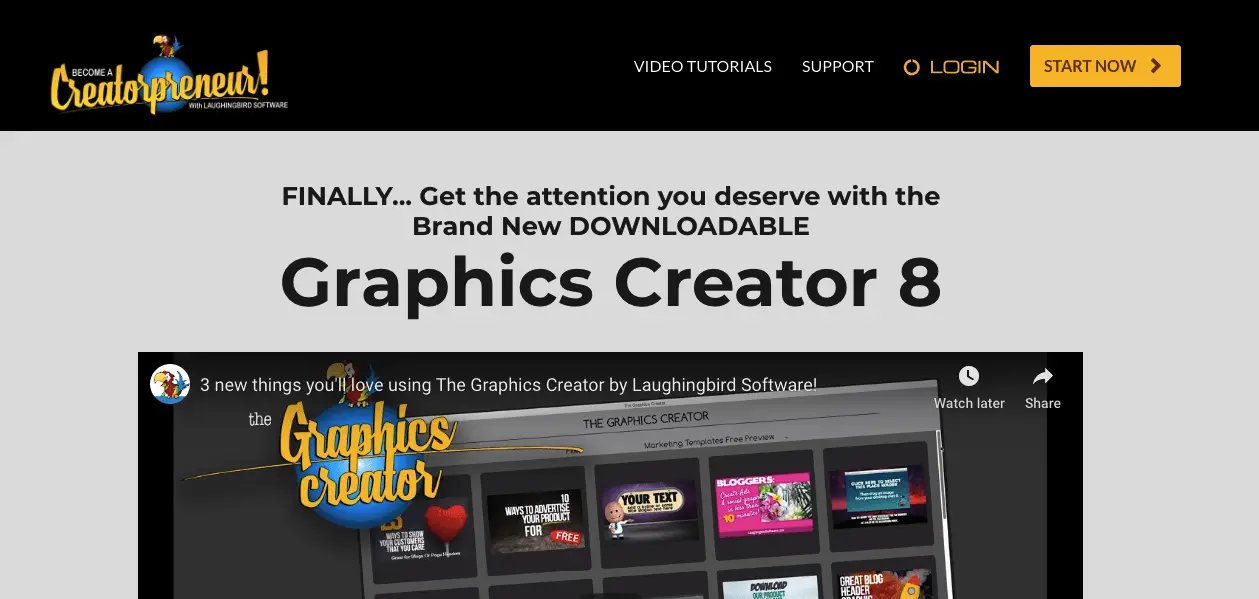 We complete the list with another awesome logo maker that does the work for you. Don't let the name deceive you. It might be cartoonish and cheerful, but when it comes to designing and achieving great results, they are dead serious. Numerous special effects and over 170 logo templates, Laughingbird will become your maker of choice as soon as you start using it.  It will bring all of the creativity out of you, and for a price of $37, permanently solve your logo making troubles.
All in all
The task of logo making can be frustrating and difficult if you don't reach for proper solutions. Forget about being a professional designer; all it takes is a little bit of creativity combined with following a few simple rules and using the right tools. Remember to make it unique and memorable, so it stands out among the mediocrity, but keep it simple and stylish, and if you use one of the listed websites, you can definitely achieve it. Find the one that works best for you and focus because it's time to start designing!