If you are paying any attention to the current trends in the business world, you can see that videos are becoming increasingly popular. They are becoming the best (and the most interesting) way to explain things to customers, co-workers, and viewers.
There are different types of videos and which one you create will depend on what you want to achieve. In this article, we will discuss animated explainer videos, which are short videos that contain a lot of information about a product, service, process, or your brand.
Creating an explainer video helps break down a complex amount of information into little pieces that can be easily understood.  It also makes the information look more appealing, and people are more likely to pay attention to it and come back to your website.
There are several different explainer video software that can help you create an amazing explainer video for your audience, and we will list 10 of them in this article.
1. Animaker

Animaker is an animation company that helps businesses make videos. It is a great platform for both beginners and professionals to create great videos and tap into the potential that video marketing has in today's world.
It comes with a lot of pre-built templates, characters, graphic elements, fonts, backgrounds, assets, and music soundtracks that you could need to create a perfect video. Its drag-and-drop builder makes it a great tool to use, even if you are a non-designer. It also gives you the option of instant resizing, so you can post your videos on different social platforms.
Many Fortune 500 companies use Animaker as their video software, such as Amazon, HP, Nokia, Phillips, Bosch, Mars, and it has more than 5 million users, which only proves that this is a great and reliable video software application.
Animaker has different pricing options. It is free for an individual user (can build two characters, have access to 10 music tracks an HD quality videos). There is the Starter option for individuals and teams that want to become more serious in the video making industry ($19/month), and the Pro option ($39/month), so it falls in the range of relatively cheap video software options, but you get great value for your money.
2. MySimpleShow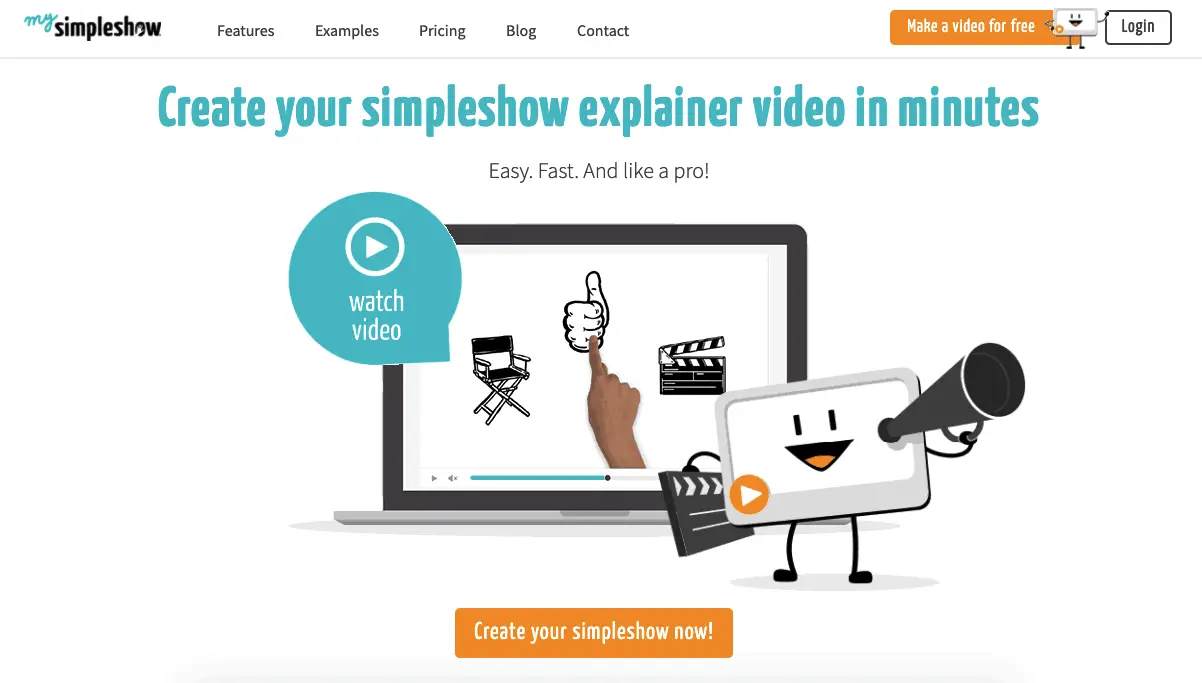 MySimpleShow is a great company that helps you create professional explainer videos with simple tools, so it is easy to create a video even if you are just starting to learn how to make videos.
MySimpleShow comes with numerous templates that you can choose from.  You can write down the script of how you want your video to go (you can look for inspiration in the example videos), and then the Explainer Engine software will finish the work for you and turn your script into an animated video. Later, you can even add your voice and do a voice-over on your videos, but don't worry as the explainer engine will make sure your voice is in sync with the video. If you are just starting, you can look at other companies' videos for inspiration so you can create your own great video that will explain your company, brand, or products in the best way.
There are different pricing options you can choose from based on your needs. There is the Business plan for $129/month (HD video quality, no watermark, you can add a voice-over and edit subtitles), the Pro plan for $499/month (add your own watermark, edit subtitles, use your own background music and transfer videos to a 3rd party). It is a bit more expensive, but its software makes it worth it as it creates amazing videos for you and your business.
Many companies are using MySimpleShow software to create videos, such as Bayer, Esprit, Miele, and Rossmann.
3. RawShorts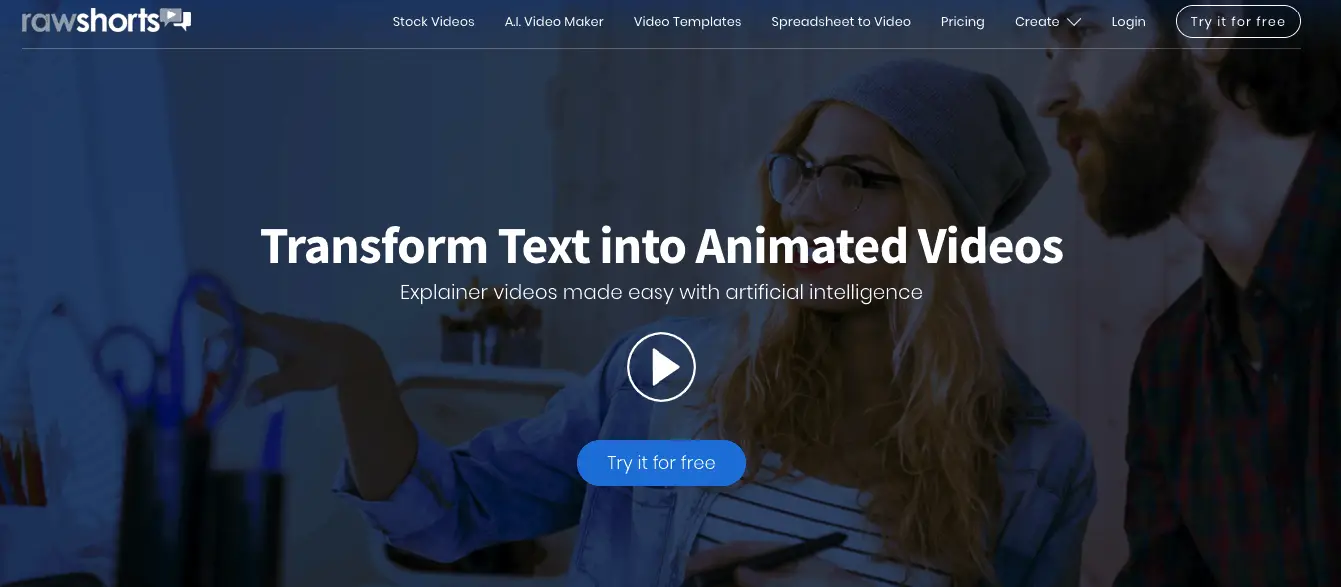 RawShorts is an artificial intelligence video editor and text to video maker that helps businesses create videos. It creates videos on a whiteboard, so it looks like the video is being drawn while the narrator tells the story.
To start, you simply upload a script for your video, and the platform will automatically process it into a short video form. RawShorts' engine will then select the main ideas of the videos and build a story around them. The AI will find different media assets that will match your script and generate voice narration for your explainer video. Then, you can drag-and-drop features for your video as needed and publish your video within minutes.
RawShorts offers several pricing plans, business for $59/month, essential for $39/month, and a starter free trial. Whichever plan you choose, make sure it will fit your needs.
To prove that this is a good software for whiteboard animation software, RawShorts is trusted by CapitalOne, IBM, Coca-Cola, Sony, and American Airlines.
4. Wideo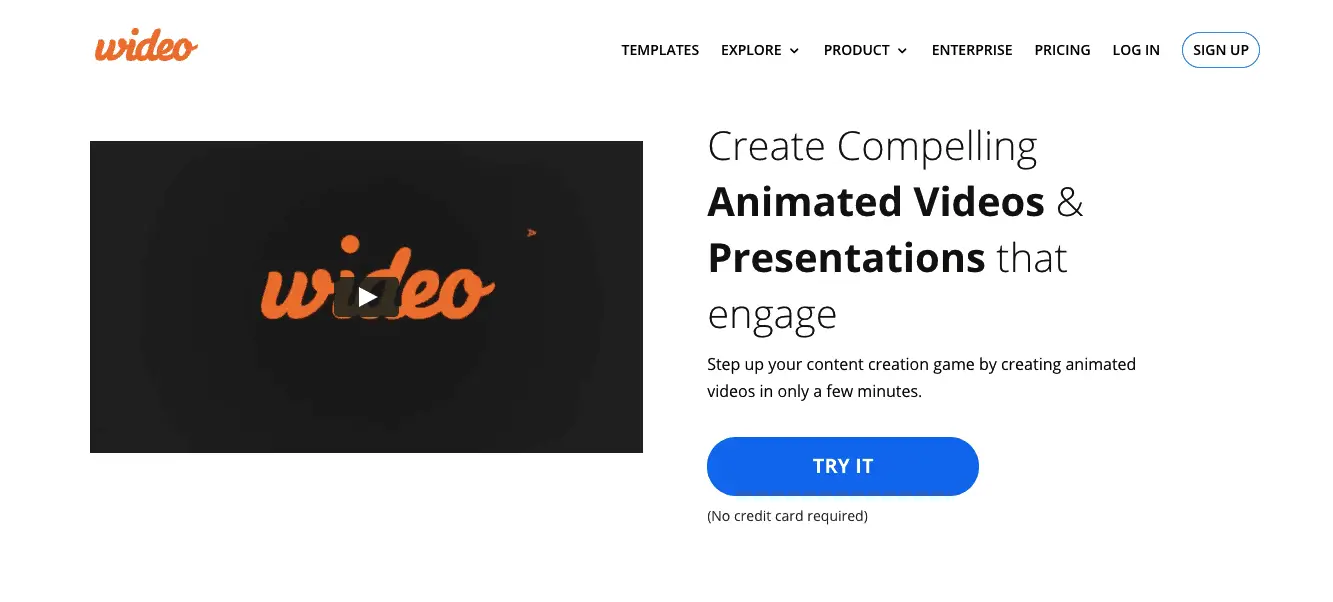 Wideo is a great software to create animated videos and engaging presentations. By using this software, you can create videos within minutes.
Wideo offers many ready-to-use video templates, whether you want to communicate something important to your co-workers or show your customers how to use a product or an app. After you choose a template, you can edit and customize it more with a drag-and-drop ability that makes it easy and convenient to polish the video. When you finish, you can share the video to Facebook or Youtube directly from the Wideo website. You can also download it as an MP4 format.
As other video software company, it has different pricing plans; Basic for $19/month, Pro for $39/month, and enterprise for $79/month, so it falls in the cheaper category of video software, but it still helps you create great explainer videos.
It is used by Sprint, Staples, Presentation Design Co., and the University of Toronto.
5. Vyond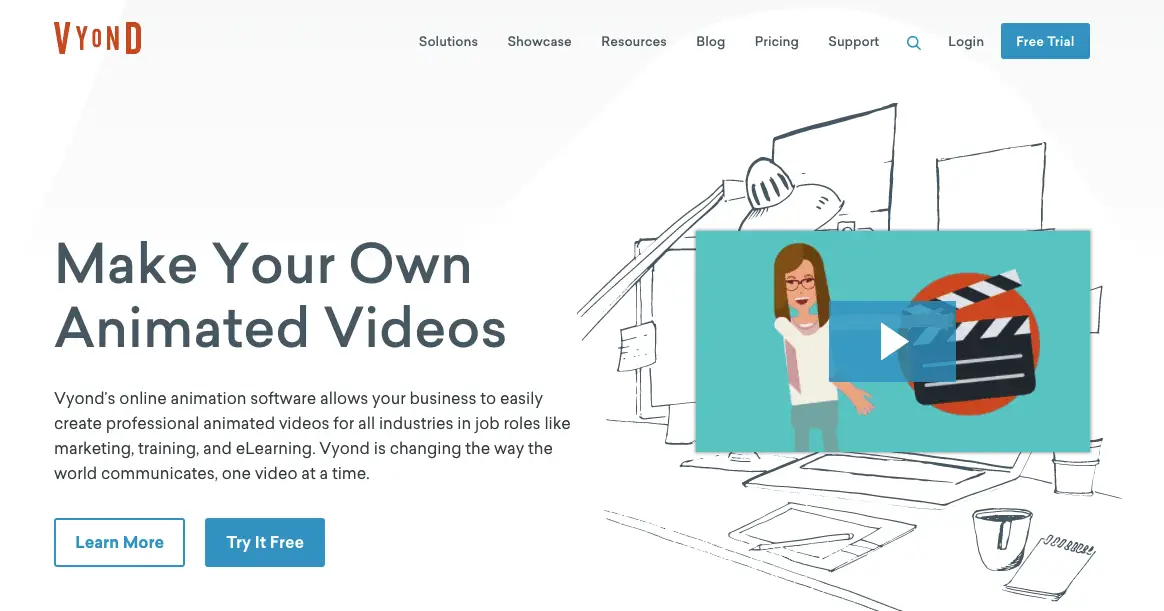 Vyond is an online tool for creating animated videos. It is great for anyone and any industry, HR departments or marketing departments, students or teachers, enterprises, or small business owners.
It comes with a rich library of pre-designed characters, templates, scenes, and audio tracks that you might want to use for your videos. You can also add realistic lip-sync and animation to make your videos realistic. Your characters will move like real people, and you can import brands, images, and logos to make your videos stand out and to get your viewers' attention about your brand and business. Moreover, you can choose from industry-specific templates, if you want to appear more professional and let your viewers feel like they can rely on you and trust your business.
Vyond has different pricing plans, whether it is for personal use, for businesses, or big enterprises.
6. Explaindio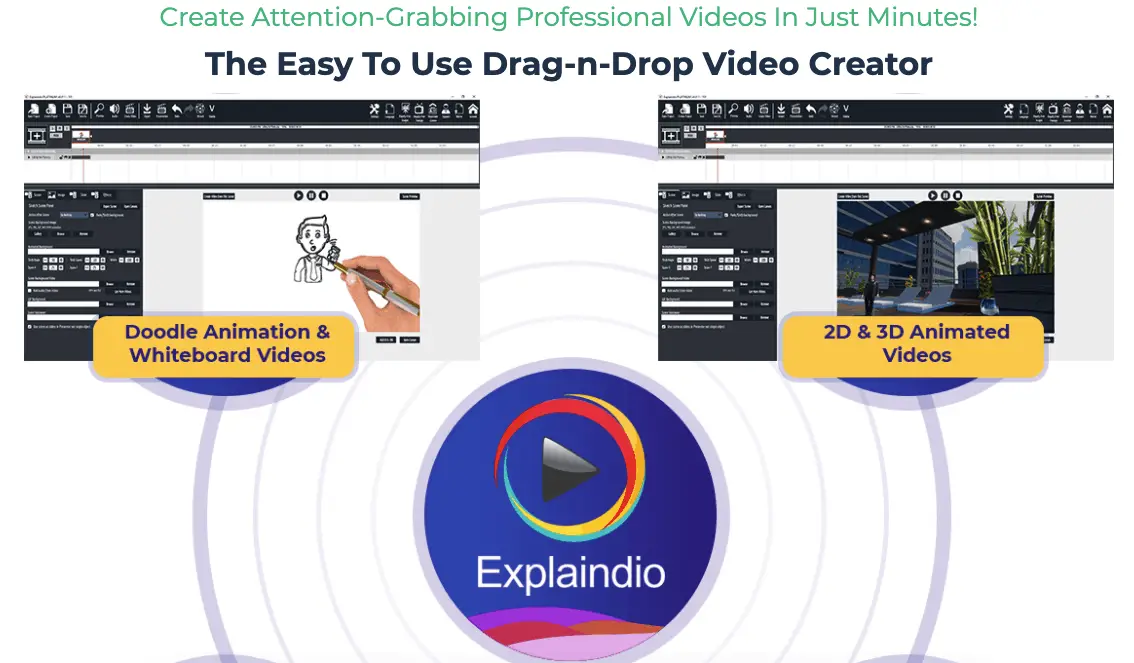 Explaindio is a 2D and 3D explainer video creator that will help you get the attention of your visitors and increase conversions. It has the ability to drag-and-drop features to create an explainer video. You can edit and personalize your message and customize the effects you want your video to have.
This software doesn't require you to spend hours in training to understand how to create videos, and you do not need to have special software or coding skills, either.
The desktop version is available both on Windows and Mac computers, so that makes it convenient to use. You can export as many videos as needed in different formats (AVI, WMV, FLV, MOV, and MP4), create full 3D animations, import images, and choose from hundreds of pre-made text animations and animated scenes. Background music is also available so your videos can stand out from your competition.
It comes in 3 pricing options, Creator Monthly for $37/month, Creator Annual for $67/year, and Creator One-Time for $497.
7. Biteable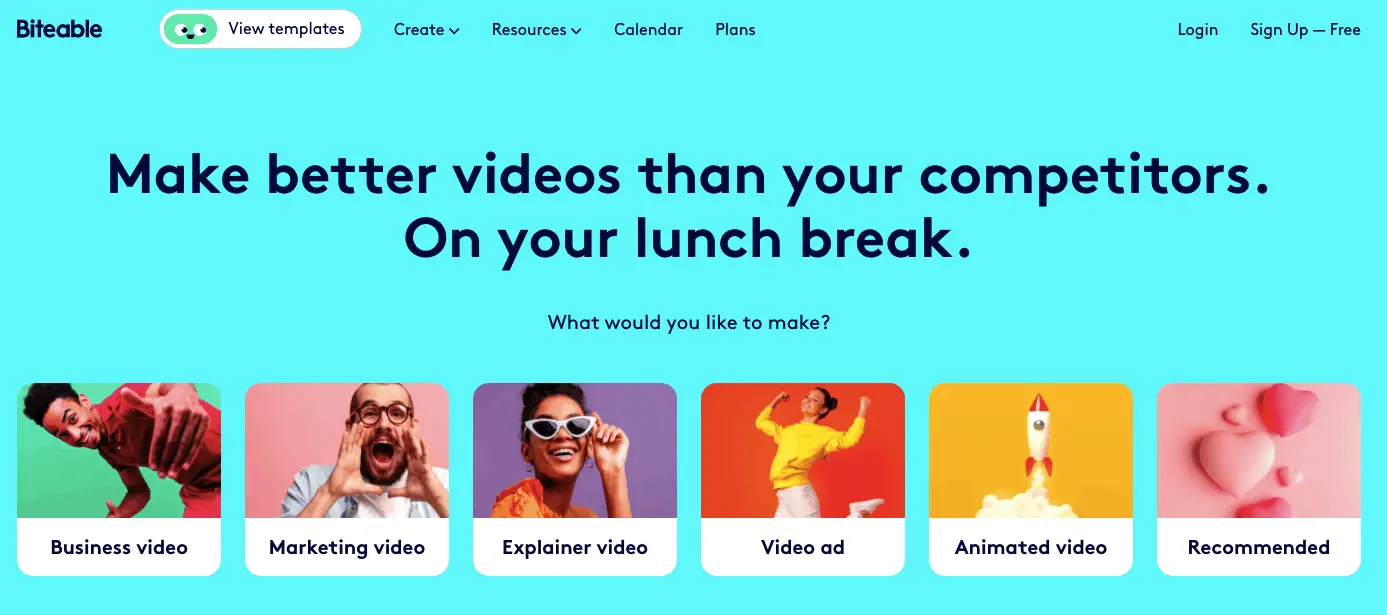 Biteable gives you a free light and minimal design explainer video software that makes your videos stand out for its minimalist features and easiness of explanation.
You start by choosing a popular video template, and then you can edit and customize your videos. You can add your text, background music, and colors to the video. You can add your own photos and clips, as well as different effects and animations to make it stand out. Lastly, you can even add your brand logo without other watermarks.
This software comes with more than 800 000 built-in footage clips and animations library. Lastly, you can share it, download it, and you are good to go.
Biteable has different plans and which one you choose depends on your needs. It has plans for small and big businesses, content creators, and personal use. Lastly, it is used by Airbus, Cisco, Panasonic, Microsoft, and Shopify, so it is definitely a video software that can be trusted to produce good videos.
8. PowToon

PowToon is a 2D animation tool to create explainer videos, and it has clients such as eBay, Starbucks, Costco, Coca-Cola, and is present in different industries, ranging from marketing and IT to HR training. Many companies use this platform to create short videos to increased employee retention, improve communication between departments, and achieve their goals.
PowToon has a wide variety of characters, sketches, and colored animations in its templates and features library. You can custom edit the text, add images, colors, and voice-over. You can personalize your videos based on the industry you operate in with the simple drag-and-drop ability, and your videos will be ready to be published in 20 minutes or less.
By signing up for PowToon, you can access live webinars and training centers and get the support you need. You can export your videos to YouTube, Facebook, Wistia, and Vimeo, as well as publish them as PPT and PDF. Lastly, you can change your screen ratios based on different social platforms.
Even if you have never created videos, don't worry. PowToon gives you the opportunity to learn with its many live webinars and training centers so you can tap into the potential that this video software has to offer.
9. Cinema 4D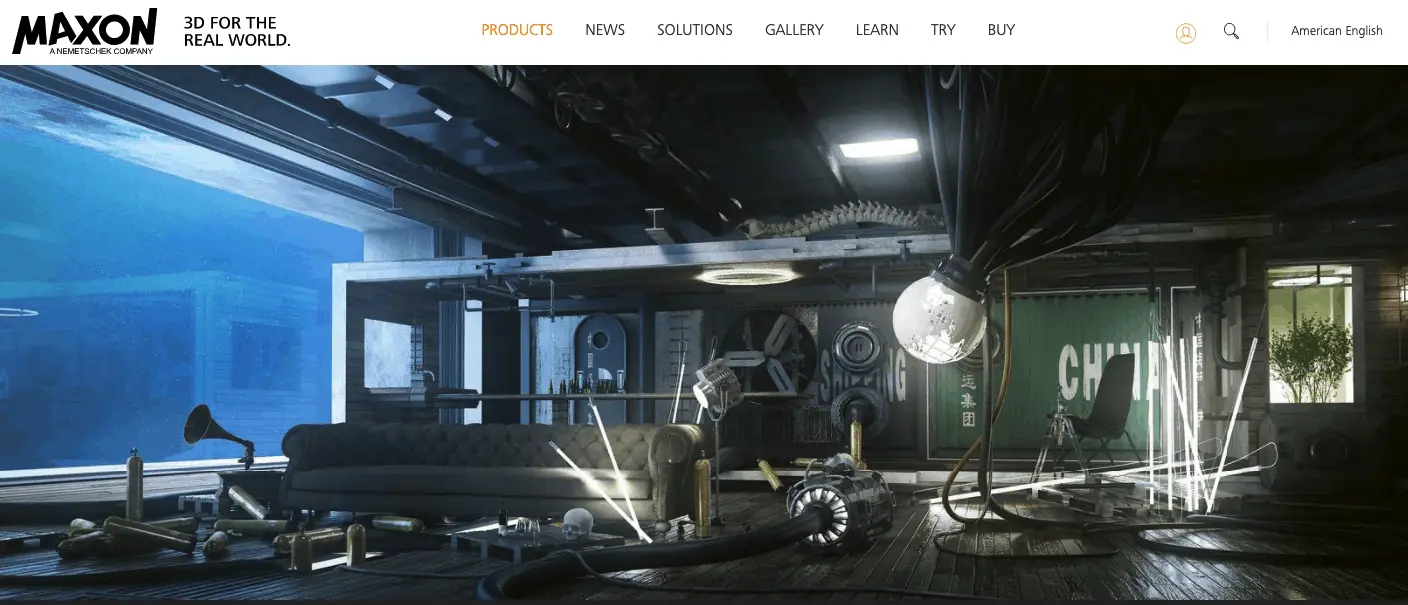 Cinema 4D is a 3D animation software that comes with everything you need to make an explainer video with 3D graphics.  If you are more experienced or really want to learn how to create videos in this software, you can create characters from scratch and build a whole video series, if that is what you need. You will also have access to a big library of scenes, materials, objects, and characters if you are just beginning to understand how to create explainer videos or do not have several hours to spare on learning how to use the software. It has an easy-to-use interface and intuitive process of video creation, so it is great for beginners and non-designers.
Cinema 4D has great support services, and any questions you have can be quickly answered.
It offers a free 14-day trial, so you can see for yourself if you really like this software and if it's worth the money, while the single user plan is $59.99/month and comes with increased storage and HD video quality. Check other pricing options here. You can also see the price for different regions in the world, based on where you are operating.
10. Animatron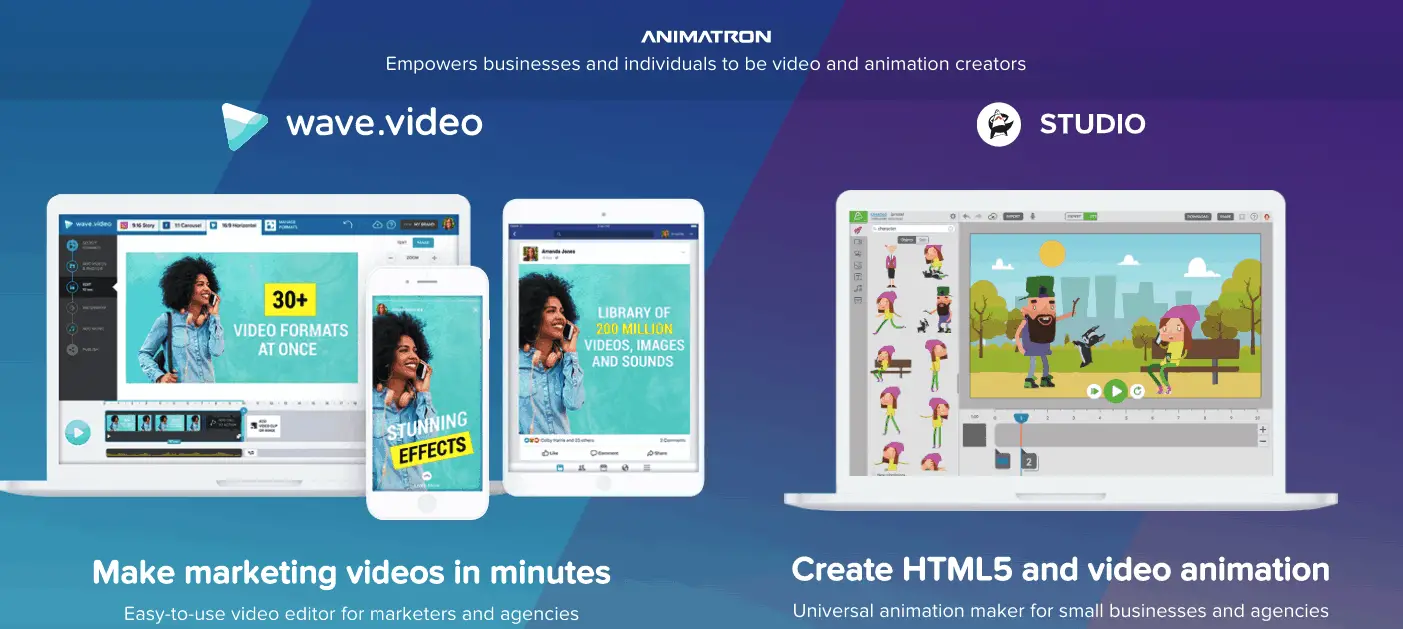 Animatron is a great animated explainer video maker. It comes with several pre-animated sets of characters, props, and backgrounds needed to make a perfect video. You can choose from pre-built animated characters and customize them based on your needs for the video, import images, audio, and fonts, and embed the video on any website or blog. You can create your videos in the whiteboard animation style and access your videos from anywhere on a cloud.
You can download your videos as HTML5, SVG, MP4, or GIF as well as share it on different social platforms, such as Facebook, YouTube, and Twitter.
Animatron comes with many tutorials that can help you learn how to use this software.
Naturally, there are different pricing plans; business at $30/month that comes with premium storage, 3rd party transfer rights, and HD1080 video quality, the Pro at $15/month, and there is a free version, so you can learn how to use different features and basics of video editing. It is a relatively cheap video software, and it is a great choice if you are just starting to create videos.
Conclusion
Having a great explainer video can help grow your conversions, increase the number of customers and visitors, and help generate more revenue for your business. Especially today, too many businesses are fighting to get customers' attention, and videos are proving to be a great way for that as they are more interesting, and customers are more likely to watch a video than read about it on your website blog.