Quizzes are an effective way to draw in more visitors and keep them glued to your site for more extended periods. Besides their primary function in business, they can also be used to collect leads or boost sales. Maybe a customer is looking for a perfect face cream, and they're not sure which one to choose.
Create a quiz where potential customers can answer a set of questions, and based on their answers, you can recommend the perfect product. It will entice the customer to go through with the purchase, as they will be more confident that the product will be effective.
The same goes for lead generation, creating a fun quiz that entices visitors to leave their information, or maybe collect customer impressions by asking them a few questions about their experience on the site. The possibilities are far more widespread than you might think.
In this article, we've collected the best tools for quiz creation that are functional and easy to work with. So, prepare your buzzers, and let's get straight into it.
1. Smart Quiz Builder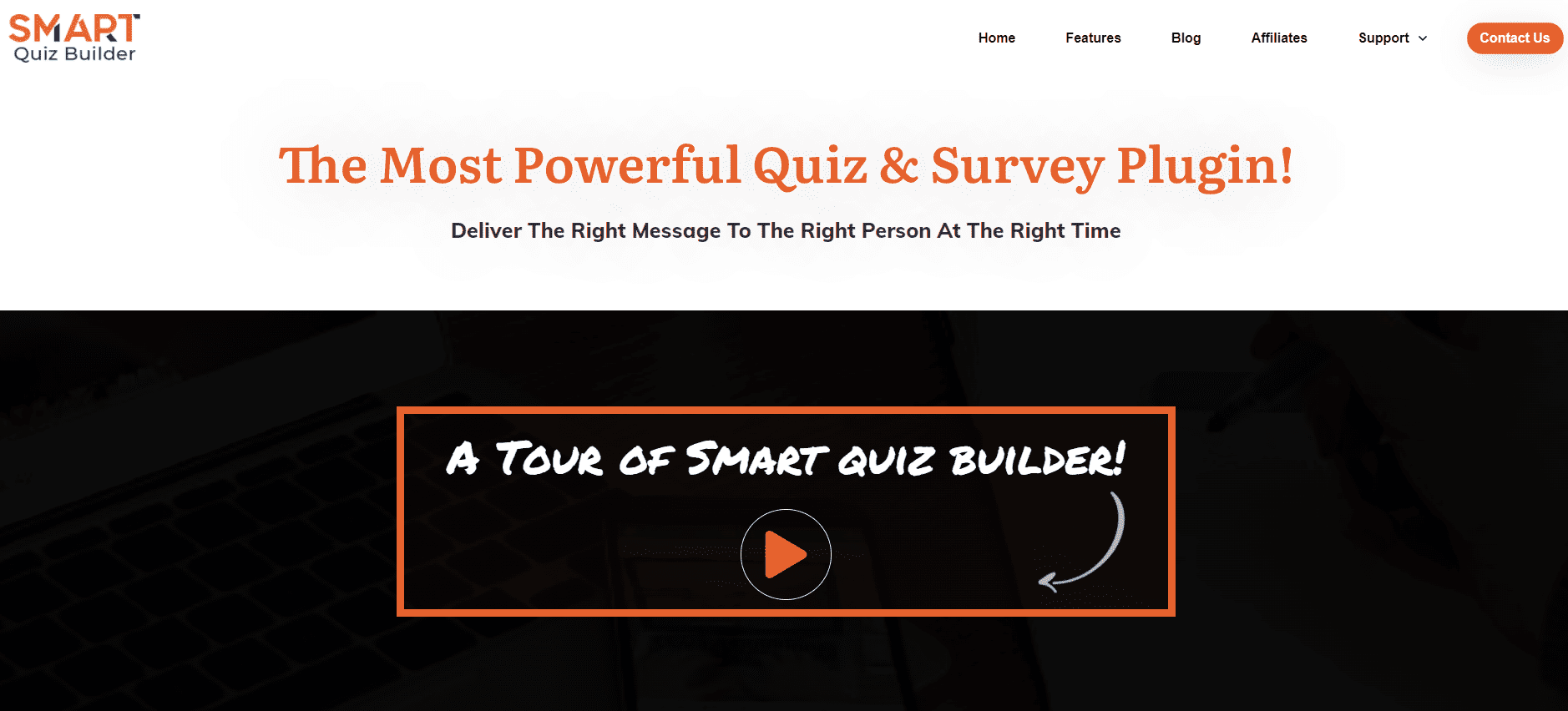 Smart Quiz Builder is our number one pick because it allows you to create exciting quizzes that not only create leads but also segment your audience. Visitors will automatically spend more time on the site, and you'll get more relevant data about potential customers. It's a win-win situation. The building process will only take a few minutes. Select the quiz type, pick a template, and connect it to your email platform – as easy as one, two, three.
The tool comes equipped with various question types ranging from multiple choice to rating scales. Once visitors complete the quiz, they can be automatically redirected to a product page recommendation based on the results – a great way to nurture leads. Plus, even though this is a WordPress plugin, you can publish the quizzes anywhere by embedding the code.
A bonus is that you can add custom branding to anything you create to make every quiz distinctly your own. We're talking about things like gifs, emojis, custom images, etc. Smart Quiz Builder also integrates with pretty much any marketing and email platform and is currently on sale. The lifetime deal costs only $59, but it is a time-limited offer.
2. Outgrow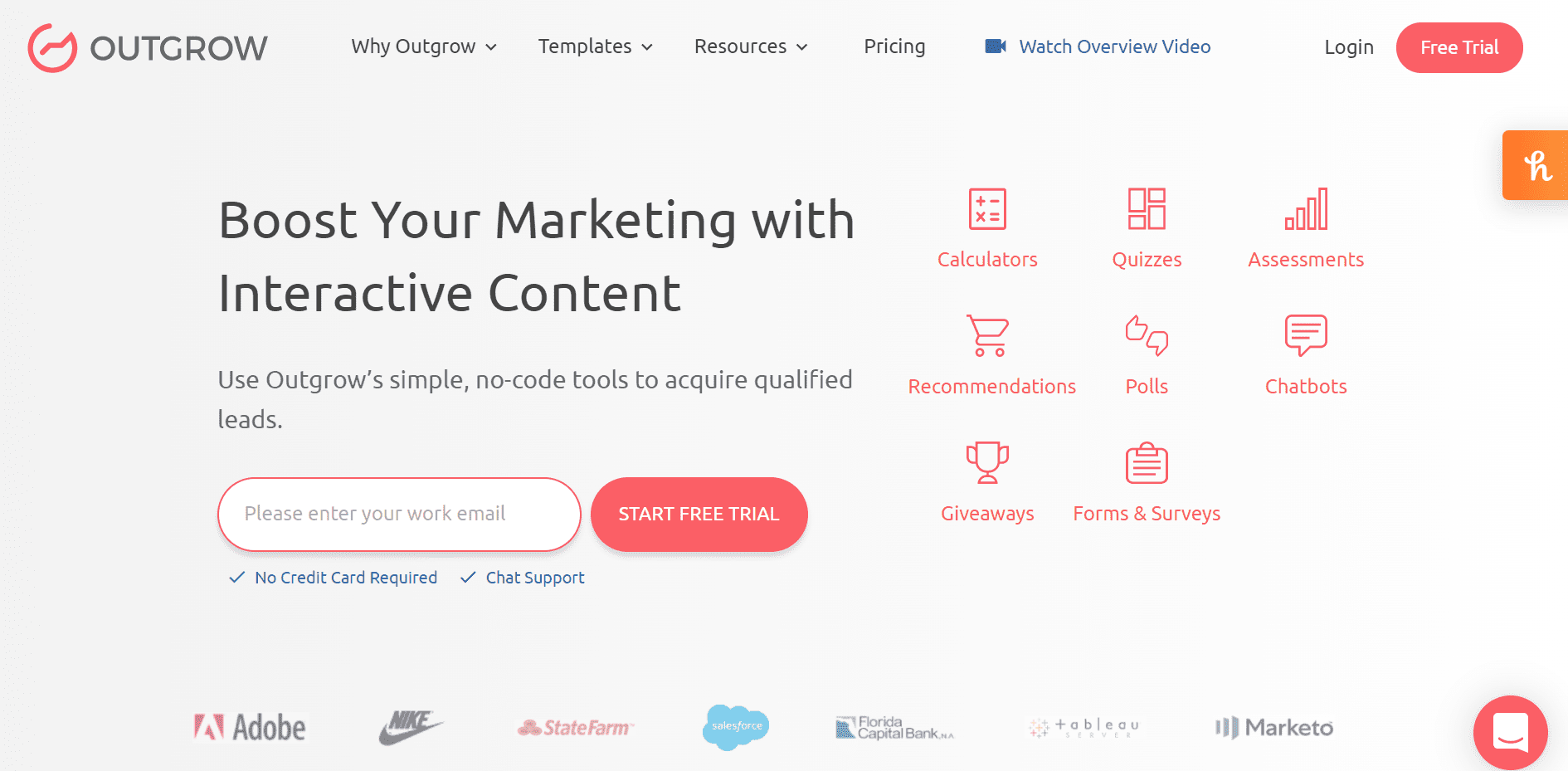 Outgrow can do so much more than create quizzes. Using this one-of-a-kind marketing tool, you'll be able to create polls, forms, giveaways, assessments, etc. The platform itself is very user-friendly, and quizzes can be made in mere minutes.
A selection of conversion-optimized templates comes included, as well as built-in analytics that help track how your quizzes are doing and just how much traffic they're bringing in. Outgrow is proven to boost conversion by 30% and is one of the best-rated such tools.
There is a free trial that requires no credit card information, but after those 30 days, you'll be looking at a monthly subscription. Prices range anywhere between $14/month, all the way to $600/month for large businesses. But, you can get a discount if you opt for an annual plan.
3. Thrive Quiz Builder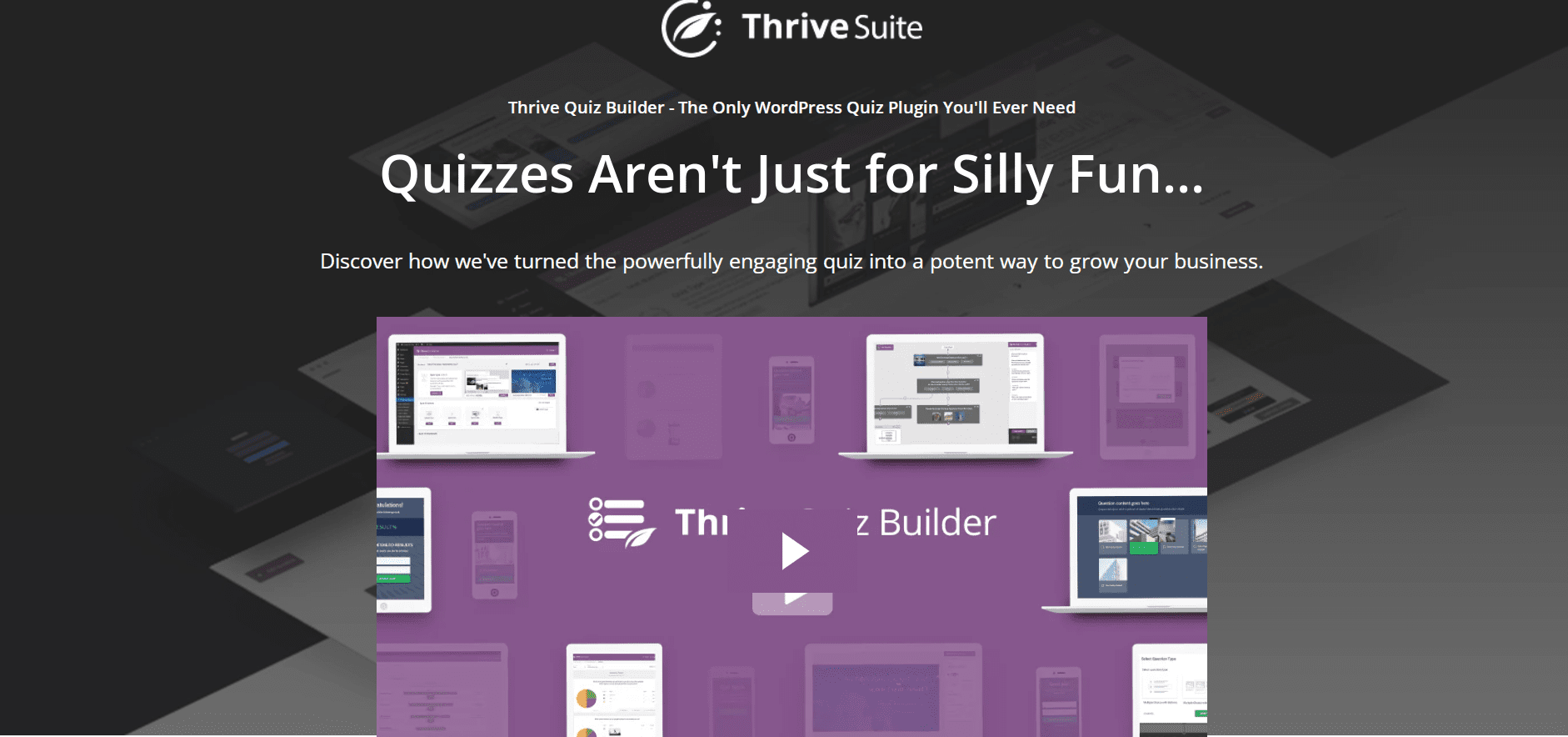 Thrive Quiz Builder is exclusively a WordPress plugin, and you can acquire it on its own or as part of the Thrive Suite. Aside from its basing function, which creates stunning quizzes in record time, Thrive Quiz Builder also comes with branching logic. The plugin offers four quiz types and three templates. All are designed with a different goal in mind.
While this plugin does come with fewer templates when compared to previous recommendations, it more than makes up for it with in-depth A/B testing. Like any other plugin of this kind, it integrates with plenty of email marketing tools and comes with built-in analytics to help you keep track of what's going on.
To purchase this plugin as part of the Thrive Suite, you'll be looking at a price tag of $19 per month. And, considering that the whole thing is cheaper than our previous recommendation, it's worth a look.
4. WP Quiz Pro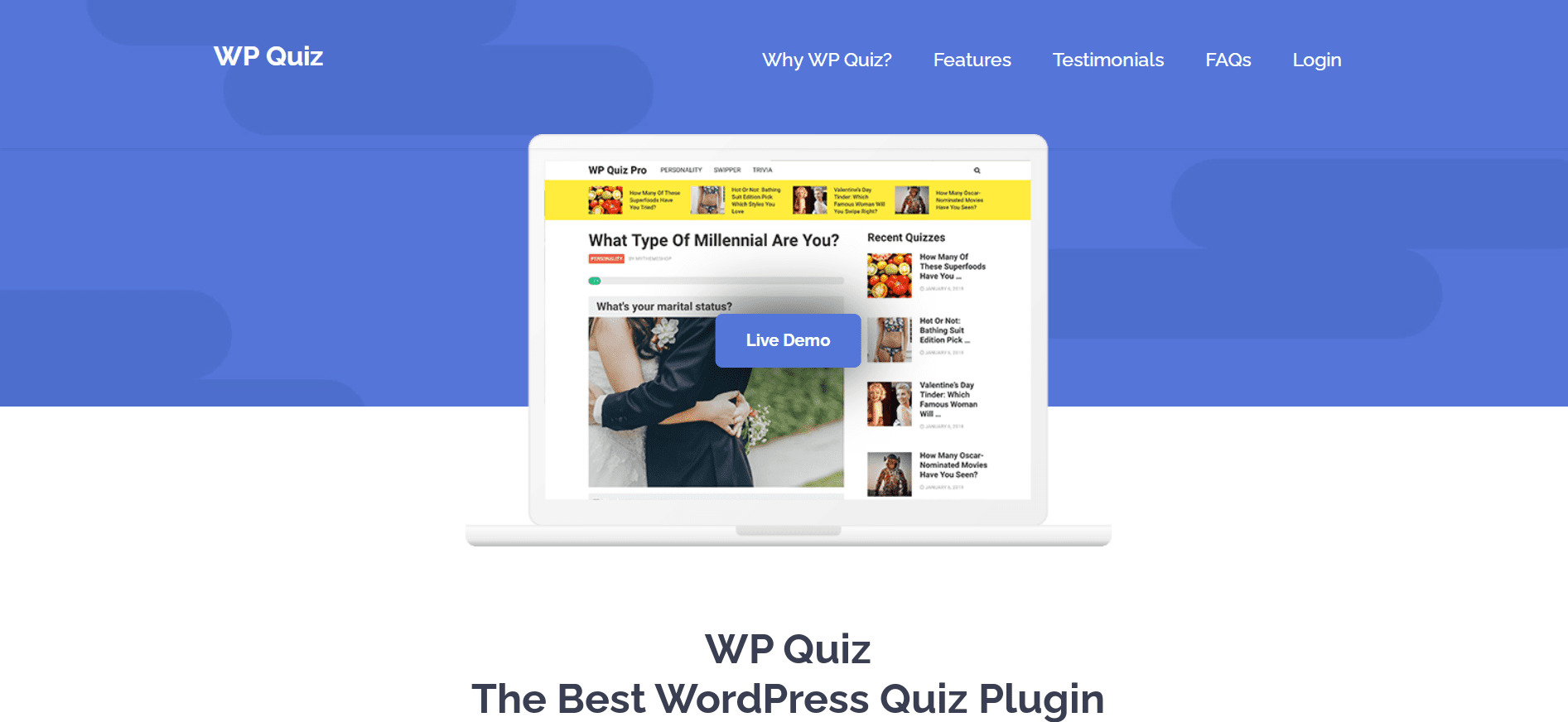 WP Quiz Pro is also a WordPress plugin, so be wary of that before making any decisions. With its help, you'll be able to create entertaining quizzes that'll keep visitors on the site and spend more time perusing around once they're done. It offers six different quiz types to choose from, including trivia, swiper, Facebook quizzes, and personality.
Personality quizzes seem to be the most popular kind on the Internet, so having them included by the plugin is a definite bonus. The whole process is done through your WordPress dashboard. Pick what you wish to create, add effects, set timers, randomize the question order, and release it into the wild with utmost confidence.
In addition, this plugin also includes pay-to-play quizzes, which can help with monetization, but if you're using quizzes for lead generation, this is not advisable. A one-year subscription costs $59, and you can use it on one site only. You can also get it in a bundle with other products, but this will cost significantly more.
Wrapping Up
This concludes our short list of the best online quiz makers for 2021. Remember, aside from just being fun for the users, quizzes can also be very beneficial for growing a business.
They can improve customer experience tremendously while providing you with insight data. Since they are so easy to make using any of the tools we listed above, why not give them a try. Who knows, maybe you'll have a little bit of fun yourself.