If you have a WordPress blog with loads of written content and/or multiple authors producing it, adding the author's biography at the bottom of each text can go a long way when it comes to connecting you with your readers.
But you don't have to write these things every single time when you publish an article. As is so often the case, there is a plugin for this sort of thing. There are plenty of them. So much so that it may be challenging to decide which one to use. Allow us to help you out with this list of best plugins to show the author's biography.
1. Simple Author Box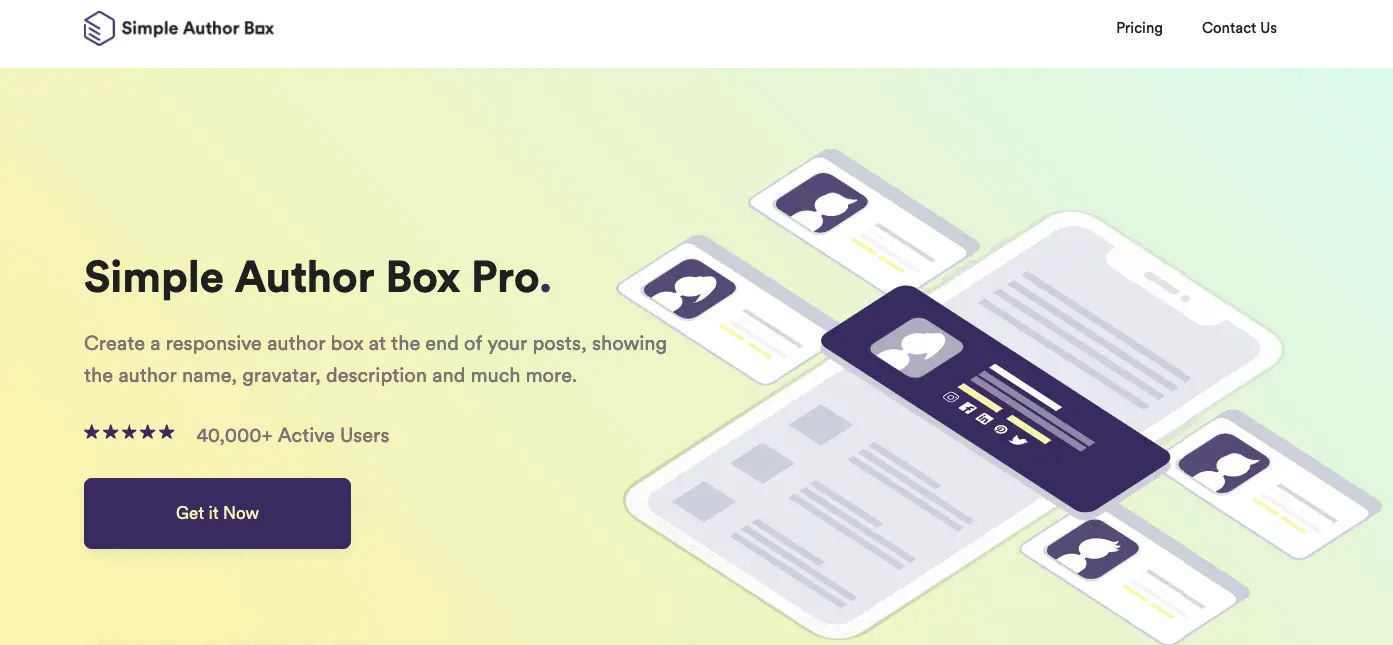 These things don't have to be complicated, and Simple Author Box is the best proof of that. This product will show the author's gravatar, website, description, and social icons in a box that can easily be customized to perfectly fit the overall design of your website. Therefore, what you do with this plugin will look good no matter which device you decide to use. The box can be inserted automatically at the end of your every post, but you can also put it in manually in a template file. RTL and AMP support are also available. Not bad, huh?
Wait till you realize that these are just the features you get in the FREE version. Oh yes, you can download this for free and start using it immediately. However, the premium version offers so much more: you can choose where the box appears, you can link the author's name to their website or personal page, you can change the color palette, add the rotating effect to various elements, change the font, introduce co-authors and guest authors and much, much more. There are three premium packages to choose from, and the only difference between them is how many websites they allow you to cover. The Mono package (29$ per year) covers just one site, the Trio package (69$ per year) covers three, and the Agency package (499$/yr) covers 30 different sites.
Oh, and you have a money-back guarantee that will last you for two weeks. In other words, you have two weeks to change your mind if you don't like the product, and you will get a full refund. So not only is this product excellent, its payment plan is pretty fair, too. What more could you want?
2. Author Bio Box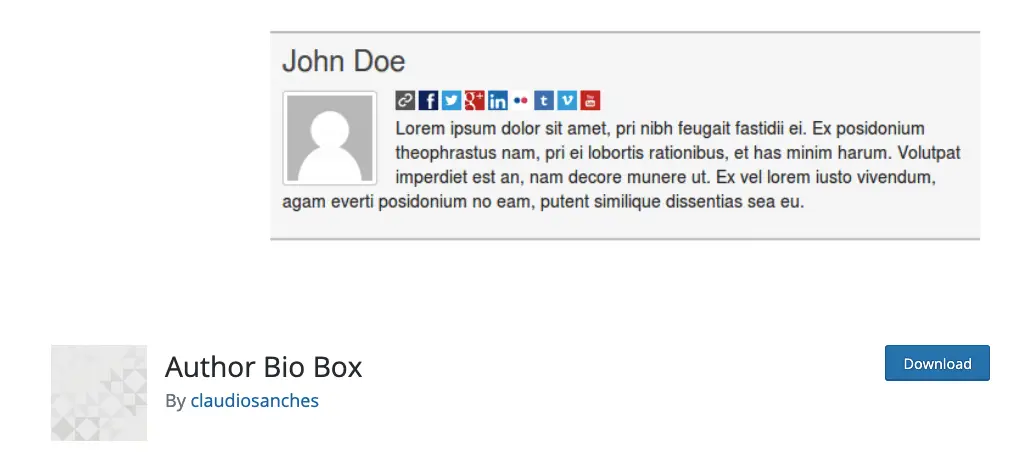 Author Bio Box is just about as straightforward as plugins can get. Photo, biography, and links to various social network profiles can all be implemented very quickly, and the result looks great no matter where you use this product. It is interesting to note that the plugin comes with an inbuilt shortcode to help you put the box on every post of your website. Naturally, the product is entirely free and belongs to the open-source category. So, if you want something that will allow you to insert author bio boxes without too much hassle, without any expenses, and with good results, this is a product you should seriously consider.
3. Sexy Author Bio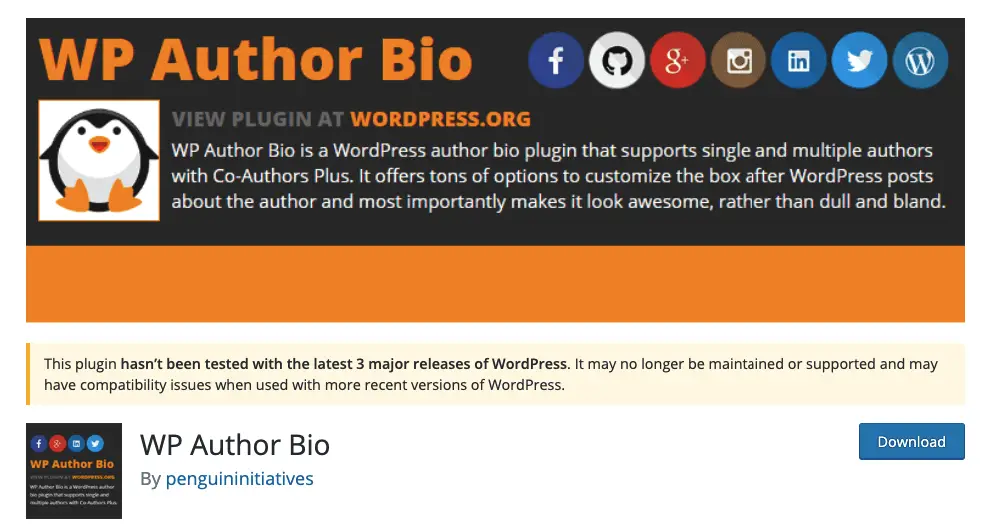 Talk about the right name for a plugin, eh? Don't worry, there's no mature content here, just an excellent and useful product. Sexy Author Bio (also known as WP Author Bio) offers plenty of options, most notable of which is the ability to include multiple authors in the same box if several people are working on the same article. Besides, the plugin has a very intuitive design and has icons for dozens of different social networks (impressive!) that you can include in the box. The settings give you plenty of options, from changing the font to setting the right background color for your box so that it looks – sexy. And since it's completely free, you can't lose much if you try it. If you don't like it, simply switch to another product.
4. Fanciest Author Box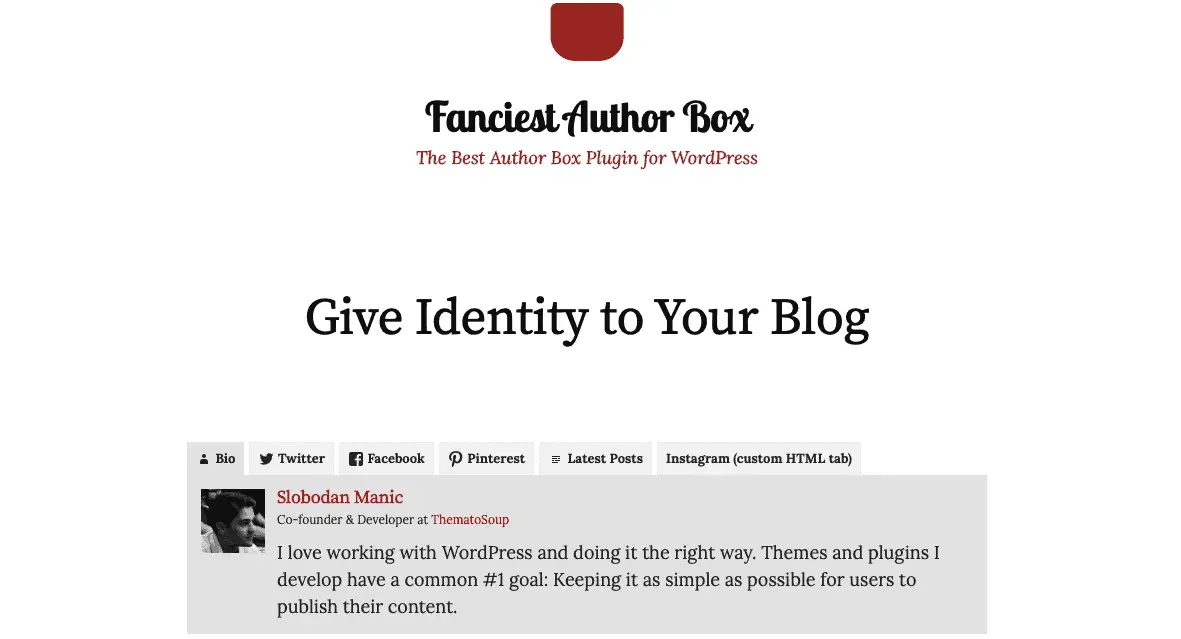 Another plugin with a pretty eye-catching name, this fancy author box, is all about getting your readers to engage more with the content they read on your website. That's why you can put Fanciest Author Box both before and after each post, and after you install the product, the bios become enabled on all of your posts automatically.
What is interesting here is that there are additional tabs through which users can see the author's latest posts and allow show customized URLs. Additionally, various social networks are presented through widgets, so a visitor to your website can immediately act on the author's latest post, subscribe to their YouTube channel, and maybe follow them on Facebook. What is particularly commendable is the fact that the plugin comes with the lazy load feature, which can benefit your page loading speed and thus help your SEO rank, among other things.
Keep in mind that this is NOT a free product, and purchasing it will set you back 17$. Not too bad, to be honest, which is why this plugin may very well be worth a shot.
5. Molongui Authorship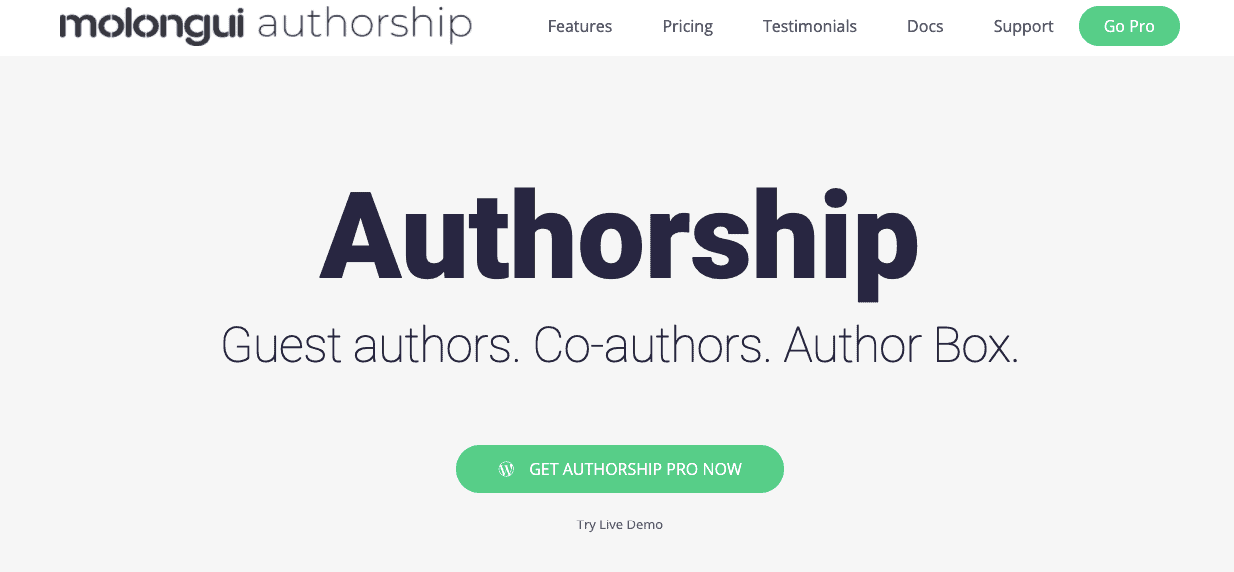 Molongui Authorship is another plugin that has a premium version on top of a free one. But the free version has quite a lot to offer seeing how you can include guest authors and multiple authors in the box, add about 70 different social networks, choose between different layouts, slip in related posts, and much more. Oh, and Google and Facebook authorships are also in the mix.
However, the premium version builds on that and starts adding other cool features such as 20 more social networks, introducing guest author archive pages, listing out all contributors to your website, and so forth. You can pay an annual subscription fee (28 EUR for one site), or you can buy the product for good, which will set you back 89 EUR for one website. Of course, you are not limited to just one site and can cover two or even five websites with this product (52 and 120 EUR, respectively). So if you're willing to invest in your author's bio box, this is an excellent plugin to consider.
6. Starbox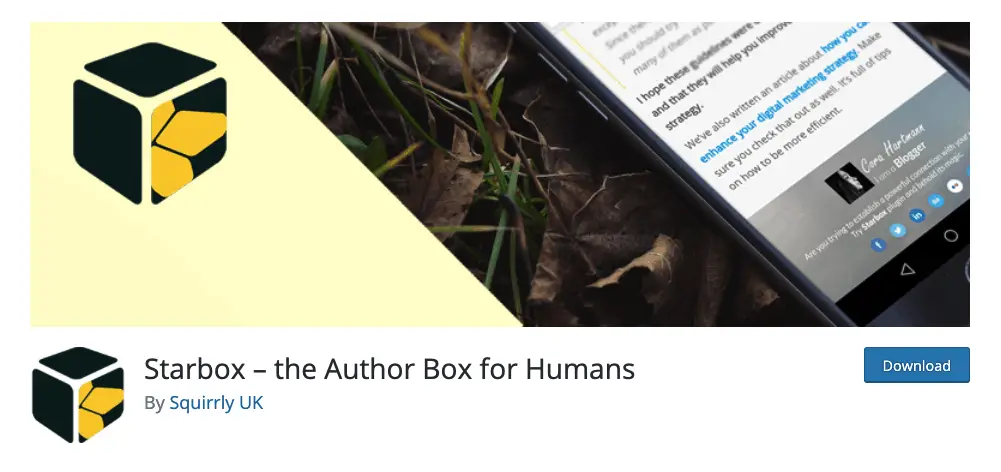 Here's another intriguingly named plugin for you to consider. Starbox does get you an excellent box for your author and does entice the reader to go through the whole thing, especially since you can put the box on top of the text as well as below it. This, too, will get you Google and Facebook authorships, but it will also get you Google Microformats to help you display Rich Snippets. A neat feature is that you can also include links to all other texts written by the same author.
What can be considered a flaw in this otherwise excellent product is that its free version doesn't give you much to work with: for example, only Twitter and Facebook profiles can be added. So, it is very likely that you will have to use the premium version in this case, which is currently on sale at 37.49$. So maybe not the best choice if looking for something free, but if you're willing to do some spending, check this out by all means.
7. WP About Author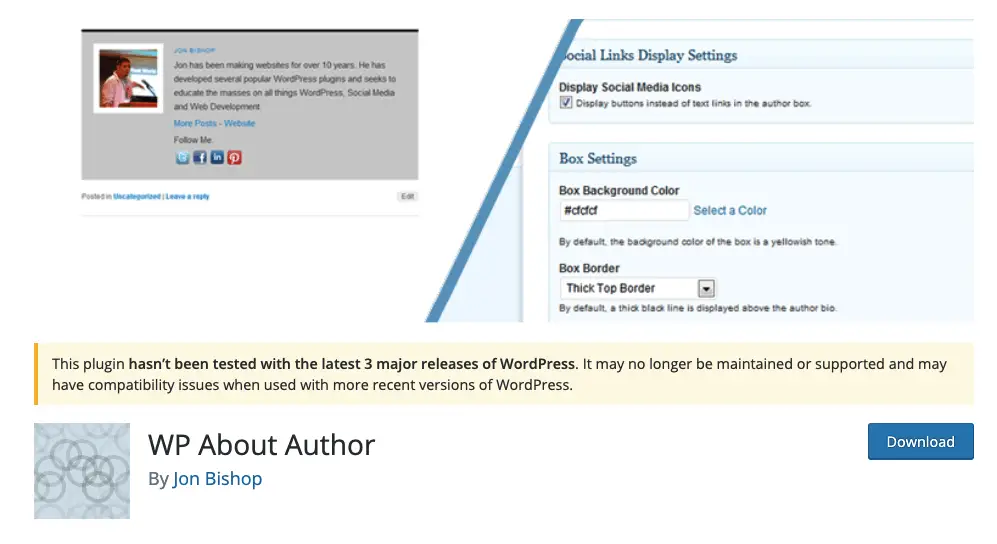 Last but not least, we have WP About Author. This is a free and fairly simple plugin, but it does the job really well, especially if you're not looking for something too fancy and want something functional that can be set up quickly. There are three border styles to choose from, and you can change the color, so the customization options are there, although maybe not as all-encompassing as with some other plugins.
But the neat thing is that you can easily change the size of your picture there, plus you can control when to actually display the bios and when not. Social media profiles are included and can be shown rather easily. So, as far as free author bio plugins are concerned, this one is more than up to the task.
Overall
And those are pretty much the best plugins to show author biography. As is always the case in this business, the main choice is between premium and free plugins. And given the huge difference between those two categories, if your website is even slightly on the more serious side, you really should consider investing in a good premium product. It can offer you loads of options to connect to the people who visit your website because there are loads of ways not just to make that box look good but also to cram a lot of useful and interesting stuff in that small part of your site.
On the other hand, if you just need something basic, you'll be pleased to know that there are some excellent products out there that only need to be downloaded. So, decide what you need, how much (if anything) you're willing to spend and choose one of these. You'll love what they can do for you.