Have you ever thought to yourself, how do all the major websites and platforms show ads and content that are always, in one way or another, related to something that you were just talking about, thinking about, or Googling?
There is a WordPress plugin that can harness data and change content based on the user looking at it. And that plugin is called If-So Dynamic Content.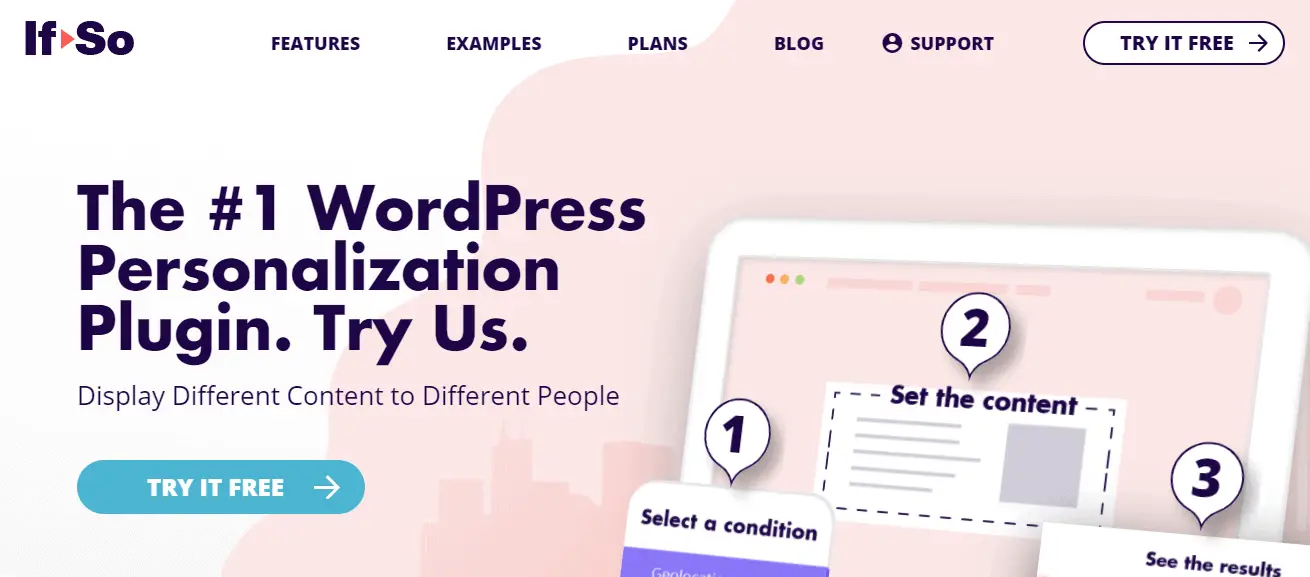 If-So Dynamic Content allows you to personalize the content on your website for each viewer based on their search history, the language that they speak, where they live, and many other factors. This is done very quickly, without any coding. And you can also track your progress by using the statistics feature provided by the plugin.
This type of plugin is best for digital marketing agencies and website owners that want to provide dynamic personalized content that every viewer deserves.
Now, I am going to explain how this plugin works and what features does it have.
How the plugin works and what are its features
In the introduction, I mentioned creating personalized content for every viewer of your website.
What I mean by this is that you can, for example, have different messages written on your website for the people that are opening it for the first time and for the ones that are coming back to it.
How can you do that? Well, it is quite simple. First, once you installed and opened the plugin, you will see a window displaying an "Add New Trigger" page. That is where you put in a title for internal use and then scroll down. Further down the page, you will see two sections in which you can type in a message.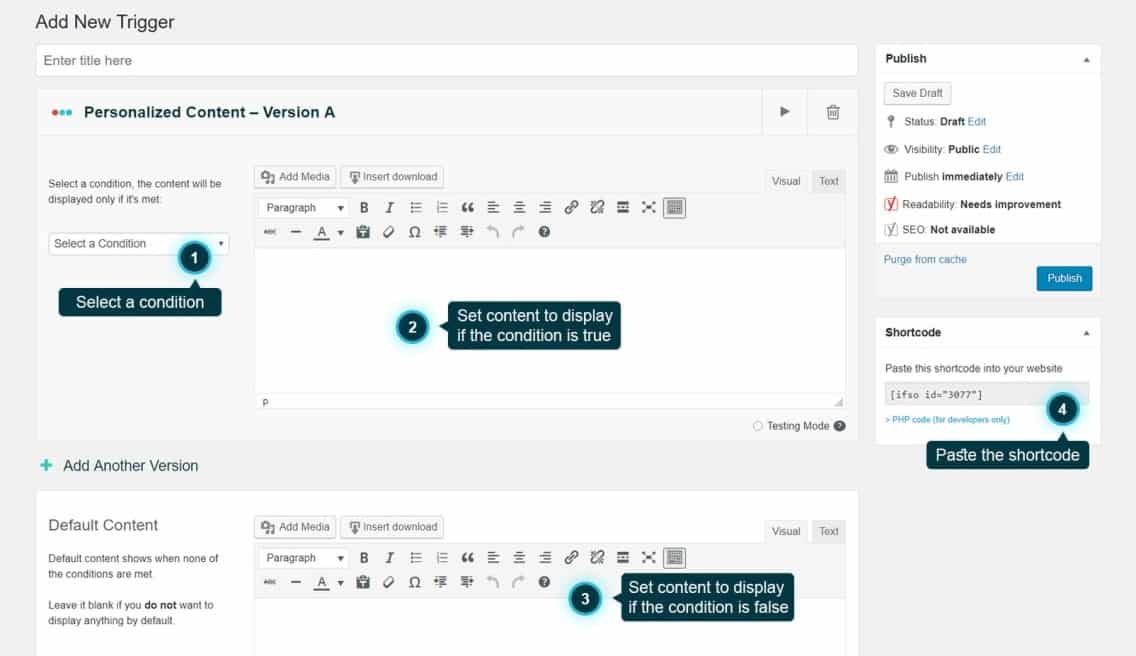 One is titled Personalized Content and the other is titled Default Content. The first one comes with a condition dropdown. If the condition that you selected is met, the message from the Personalized Content section will appear. And if the condition is not met, the message from the Default Content section will appear.
Another great thing about If-So Dynamic Content is that you can create as many personalized versions as you want by using the simplest of all methods – drag-and-drop. No coding whatsoever.
If you do not want to use some of the personalized versions anymore, you can either pause them, so they do not appear at all anymore, or you can just delete them. Above every version of personalized content, in the menu bar, there is a pause and a delete button. Both buttons are circled in the image below.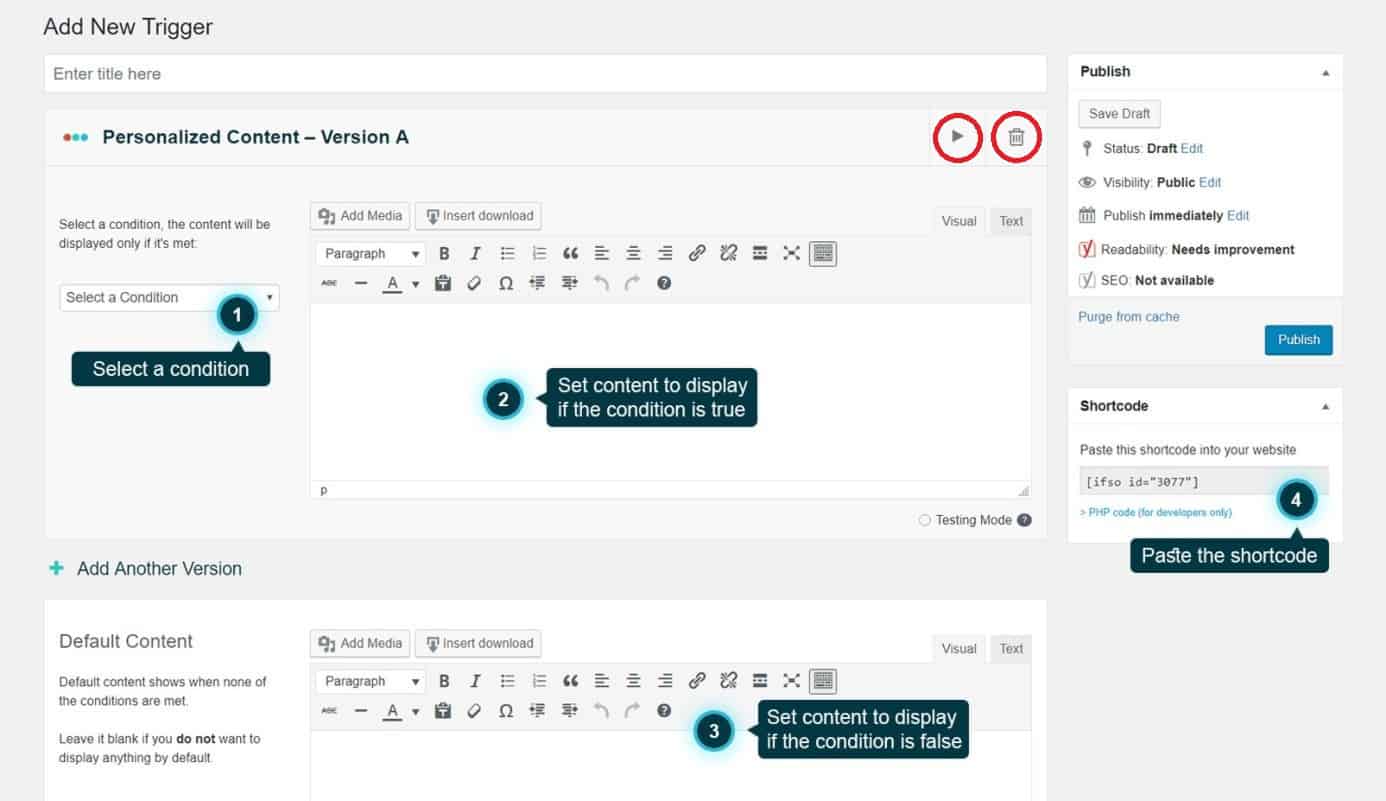 Now, let's talk about the different types of conditions you can choose in order for your dynamic content to be triggered.
The image below shows what the condition dropdown menu looks like and what conditions are there for you to choose from. If you choose, for instance, the Geolocation condition, you can then choose which viewer geolocation will activate which dynamic content, meaning that you can have multiple geolocations selected and each one will trigger a different message in a different language so that the viewers understand it even better.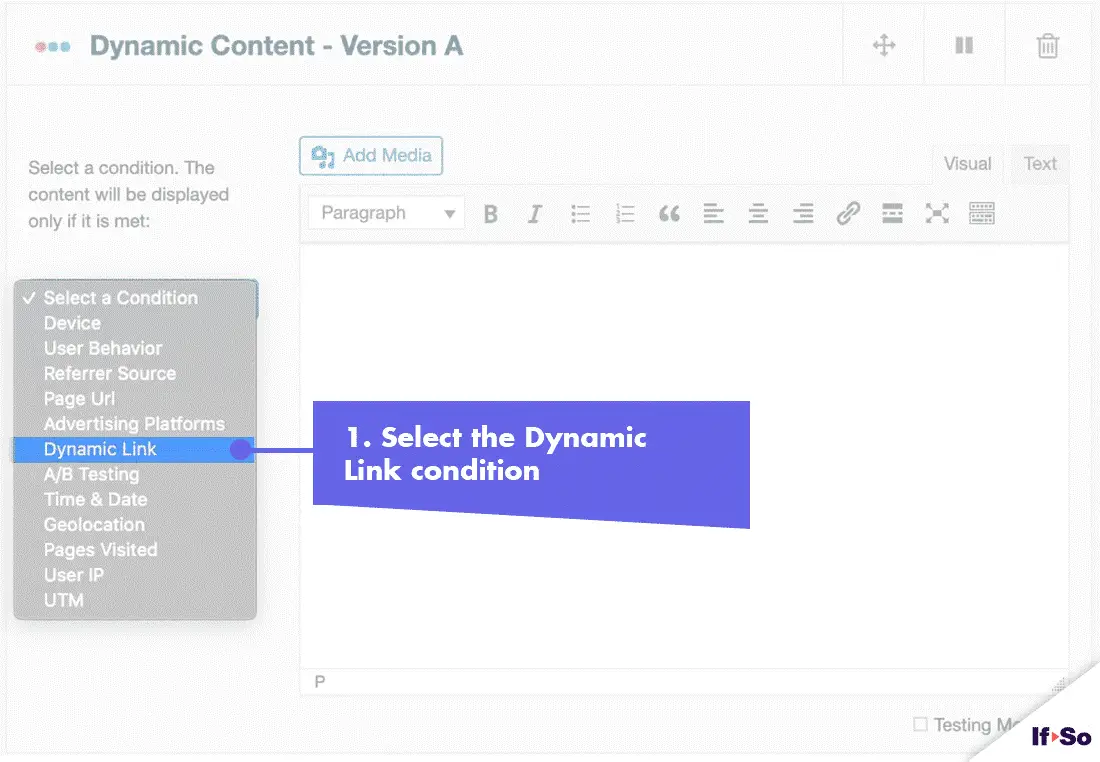 Once you have selected everything you need and want to get things running, all you have to do is find the Update button on the left side of the screen and click on it. Once you clicked on it, a shortcode will appear that you can copy and paste anywhere on your website. And that is it!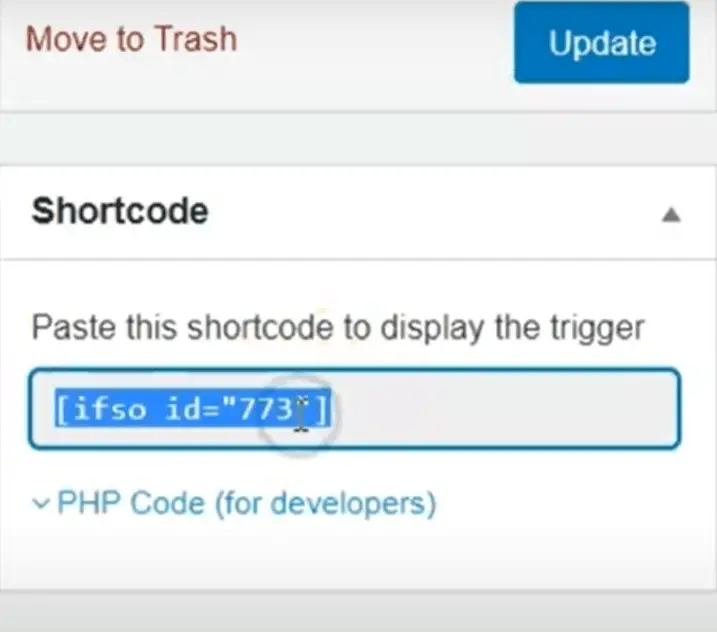 Also, it is fair to mention that If-So Dynamic Content is compatible not just with WordPress, but with any page builder such as Gutenberg, Divi, Elementor, and many more.
It even has built-in analytics that can help you track how your dynamic content is doing. The analytics show your data in the form of views, conversions, and conversions rate for every version of your dynamic content.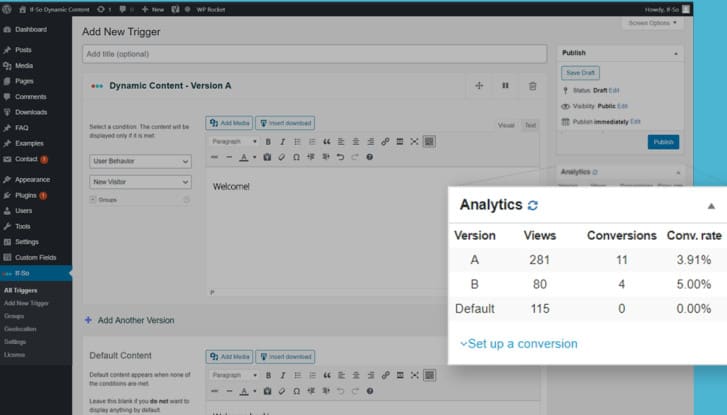 You can also choose to customize everything, from the dynamic content intended for first–time and returning visitors to which device the content will work on.
All in all, this is a great plugin for someone that does not want to deal with coding and is looking for something simple and inexpensive to improve their website.
Pricing
When talking about pricing, If-So Dynamic Content is a steal. This plugin is paid for annually, meaning that you pay one fee in an entire year.
The price is $149, but for that price, all of the features are included (no different types of deals offered like for most apps).
You can use the plugin on five different websites, there are a thousand geolocation sessions, the start and end date are set as the beginning and the end of the plugin usage, and there is a sixty-day money-back guarantee. This means that you can try the plugin out and if you end up not liking it (which I am sure will not be the case) or if you do not want to use it, you will get your money back, no questions asked!
Conclusion
Everyone loves getting personalized messages when they open a website, so why not add them to yours? If-So Dynamic Content is definitely a great choice for a plugin that can help you do just that.
It is easy to use, it will satisfy anyone who wants to do something along these lines on their website but does not want to go through the trouble of coding, it will show you how your messages are performing, and every single thing about the plugin is customizable.
On top of that, if you end up not needing it, the money that you paid will be refunded, no questions asked! So, stop having a generic website and start personalizing it with If-So Dynamic Content today!