Social media integration is one of the most important factors for your website's growth with the massive influence they have on your overall progress. Including them on your website is the most polite way of asking your users to share the amazing piece of content that they've just read, and since it's so subtle, it just can't backfire as opposed to some other more persuasive methods. Not to mention that those shares will improve your SEO game and strengthen your links, help you expand your list of users and subscribers, and give you the best kind of advertising known to mankind – free!
The list of benefits is packed, so it's clear that they need to be utilized, but there are a few factors to take into consideration since social media buttons require a few little but very important rules to be followed in order to maximize their impact. Their positioning should be carefully adjusted, ideally in the top right corner of your website, or if you are rocking the blog format, a sidebar will do the trick. Size does matter – they should all be the same size. Including a share, the button is also essential, where instead of just visiting your social media profiles, your users should be able to effortlessly share your content with that sweet 1-click option.
Those are some pretty well-known "hacks" that undoubtedly make a difference, but a lot of people tend to disregard the visual aspect that is just as important as any other rule. Our visual capabilities leave the other senses biting the dust, with 65% of people being visual learners, which is why this aspect has to be taken advantage of. Your website's theme and layout represent your general idea and must be compatible with optimizing the visual representation.
There are so many different variations that you're pretty much guaranteed to find the one that will compliment your website perfectly, and with many awesome ones being free of charge, you'll be able to play with countless possibilities.
Minimalistic, colorful, unique…everything that you might crave is in stock, and to help you with your choice, here are 13 best free social media icon vector packs:
1. Free Icon Pack: Vector 3D Social Icons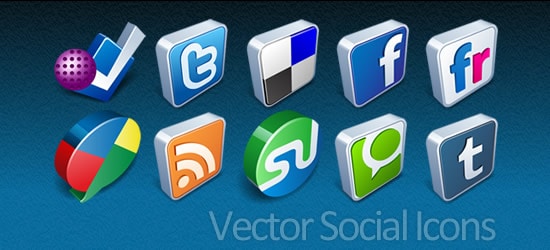 Free Icon Pack: Vector 3D Social Icons is a simple icon pack that offers a unique edge with the 3D design, suitable for websites, blogs, applications, and other formats. All icons are easily editable and scalable, with the default format being 256×256 pixels.
2. Vintage Icon Set For Bloggers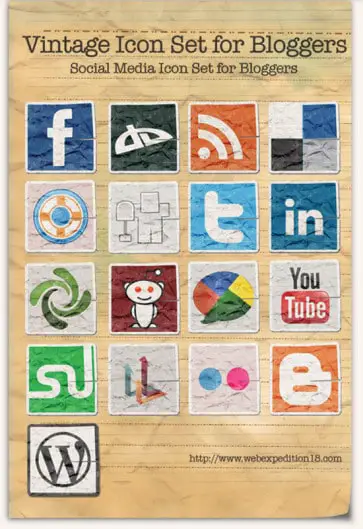 If you want to rock those roaring 20s in the new decade, no better way of doing it than by introducing Vintage Icon Set for Bloggers – very stylish, vintage icons that will perfectly suit your business, photography or many other types of blog. Simple, classy, and elegant.
3. Free Social Media Icon Set by ElegantThemes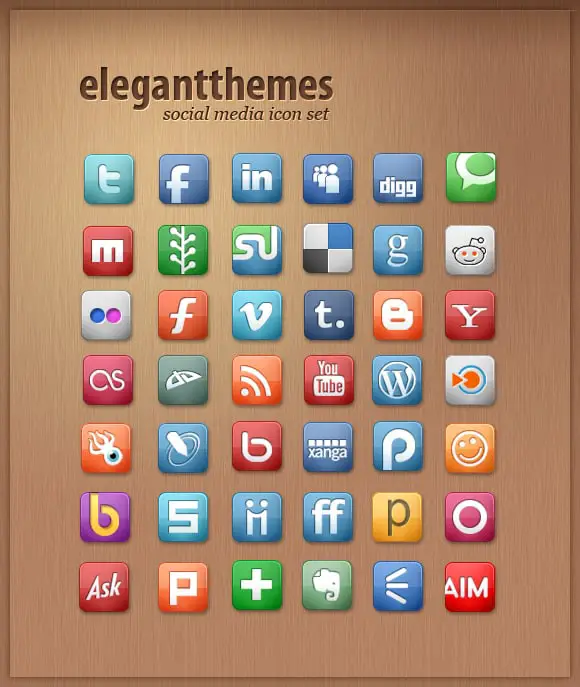 Brought to you by a well-known name in the business, the Free Social Media Icon Set icon pack introduces freshness and sharpness in your social media section. A whooping 42 icons are included in the 64×64 dimensions in both PNG and PSD formats.
4. Circular Icons with Hover Effect by WebDev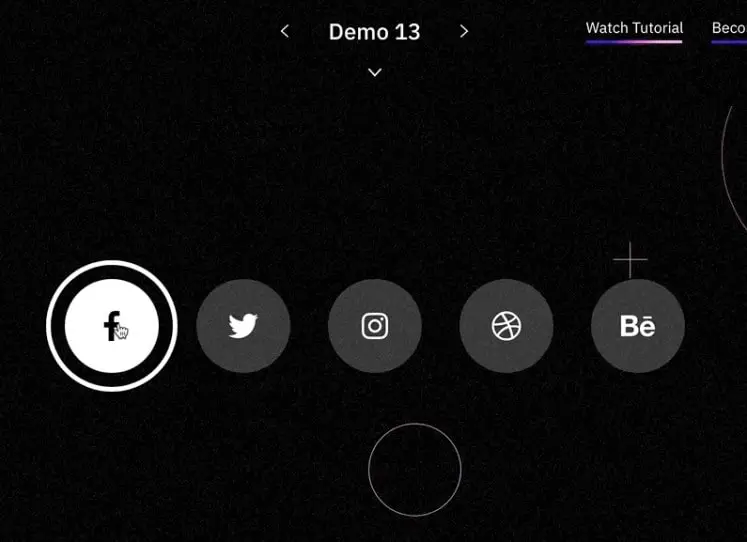 Black and white have always been a stamp of class, and with the unique circular design with the insanely cool hoover effect, The Circular Icons with Hover Effect by WebDev pack might be exactly what you're looking for. Minimalist but super effective.
5. Social Rounded icons by Amit Jain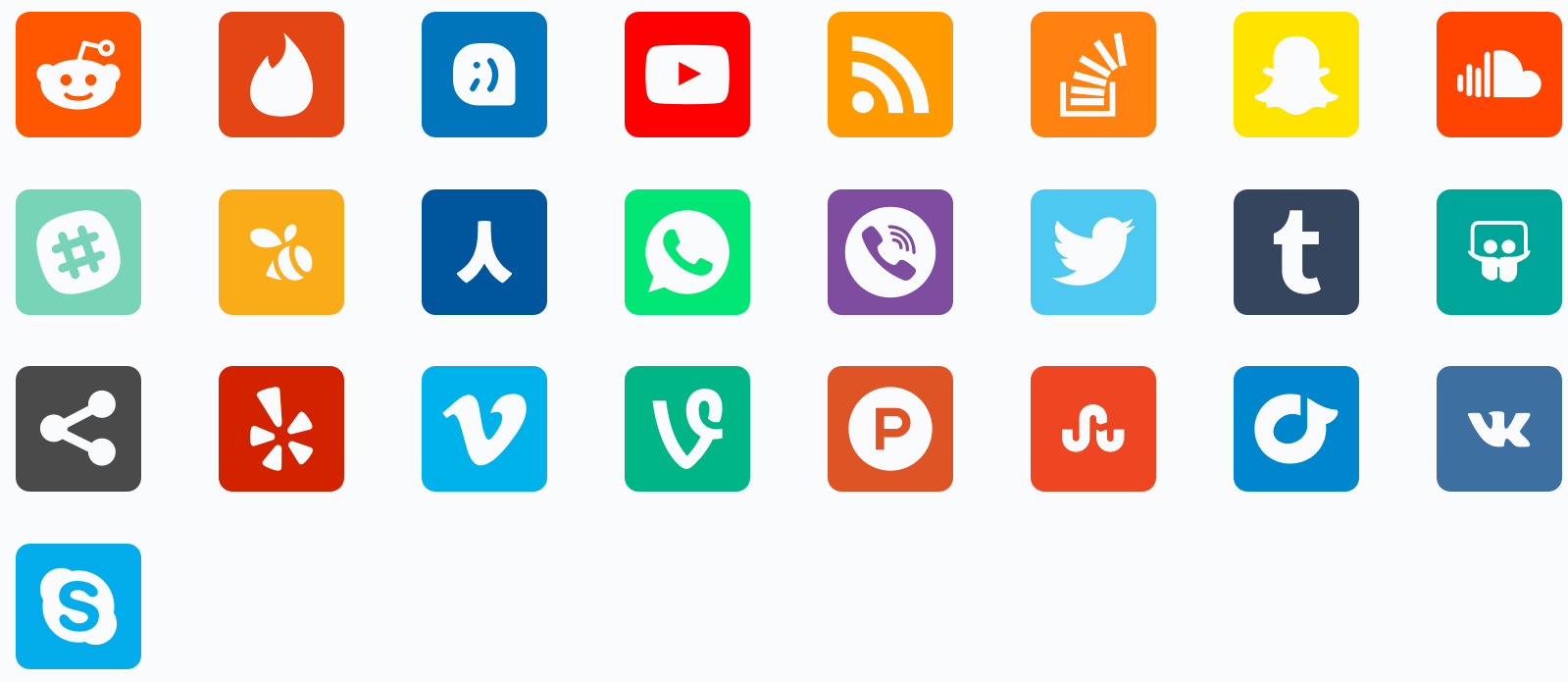 When you want to stick to the basics but still include something modern and vibrant, downloading Social Rounded icons by Amit Jain icon pack would be the right call. Smoothly rounded edges simply attract the visitors to give them a click, and with 25 different icons available, you'll have no trouble finding everything you need.
6. I Am Paddy >> Web2.0rigami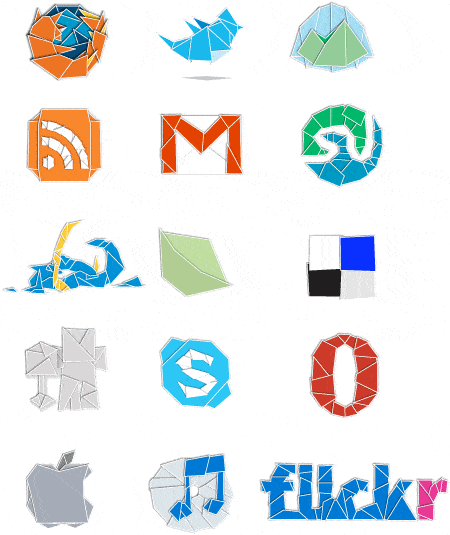 If you are on the hunt for something playful and close to the eastern cultures, then you'll dig I Am Paddy >> Web2.0rigami icon pack. Truth be told, it is kind of limited when it comes to social media, but it just had to be included since it's so edgy and adorable. They come in a variety of sizes, with PNG, PSD, and ESP formats included.
7. Flat Social Icon Set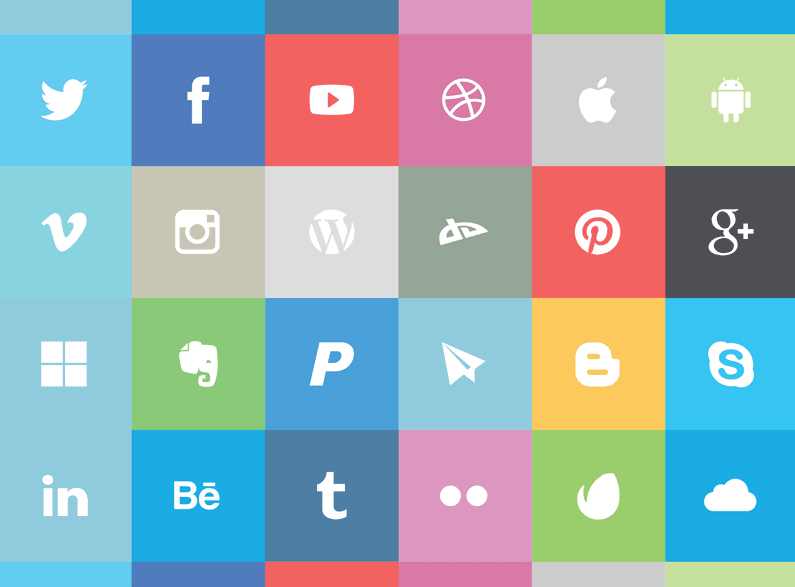 Square, circular, light rounded corners or dark rounded corners… with Flat Social Icon Set, you definitely won't lack versatility and adaptation to your respective style. It comes with 24 different icons with five different sizes (ranging from 16px to 512px) supported in PNG, EPS, and AI formats.
8. Social Media Icons Large Set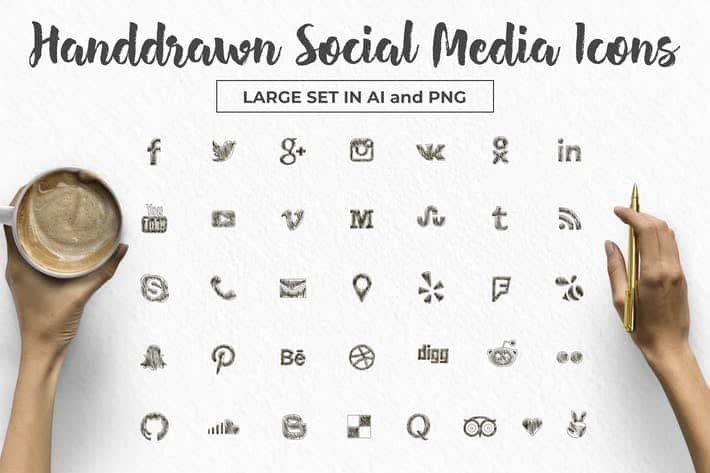 Do you agree that a hand-drawn style possesses an insane amount of elegance and, as such, draws attention in a heartbeat? If the answer is yes, you'll have to try Social Media Icons Large Set one out! Apart from evoking curiosity in your users, it's supported in PNG, EPS, and AI formats, and you'll have no difficulties changing the colors in software editors. There are 36 social media icons available, with all of the most popular choices covered.
9. Social Media Icon Stickers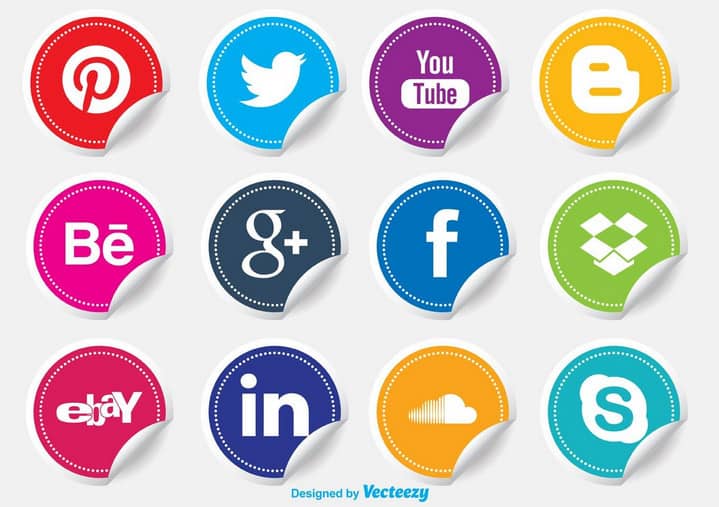 Stickers are becoming more popular every day, and it's only a matter of time before you include them in your work. Why not today with these very simple but irresistible icons from Social Media Icon Stickers?
10. Neon Social Media Icons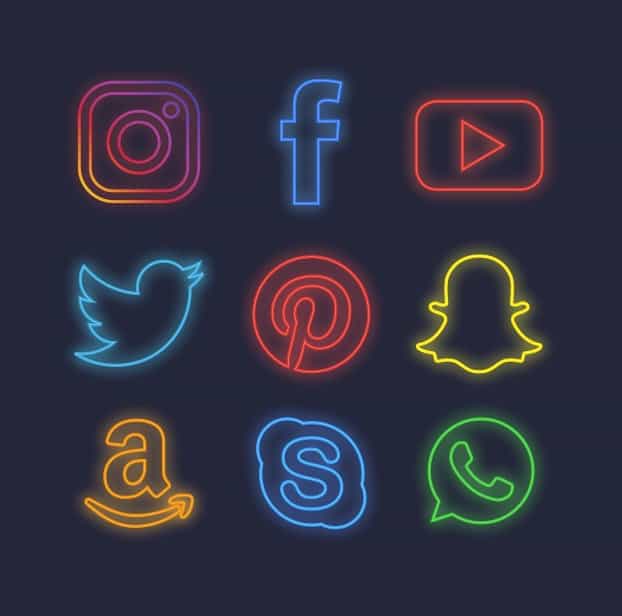 If spicing things up with something colorful and innovative sounds like your style, then these neon social media icons will suit you perfectly. They are available in the EPS format, so you'll have to use a vector editing software, but since the procedure is so simple, you'll be able to convert them and utilize them in a matter of minutes.
11. Social Media Vector Icons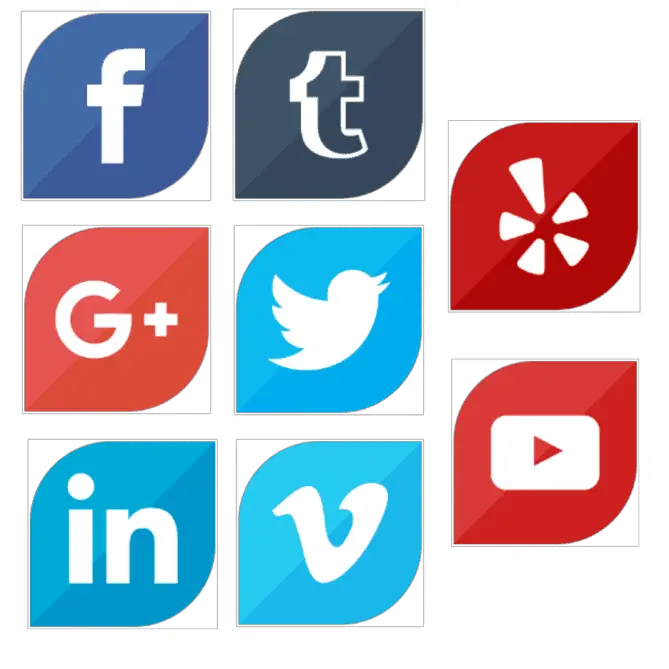 Very refreshing and cool would be the epithets to describe the Social Media Vector Icons pack that delivers simplicity with a stamp of modern design. There are eight icons in total with all of the essentials covered, available in PNG and EPS formats.
12. iOS Style Social Media Icons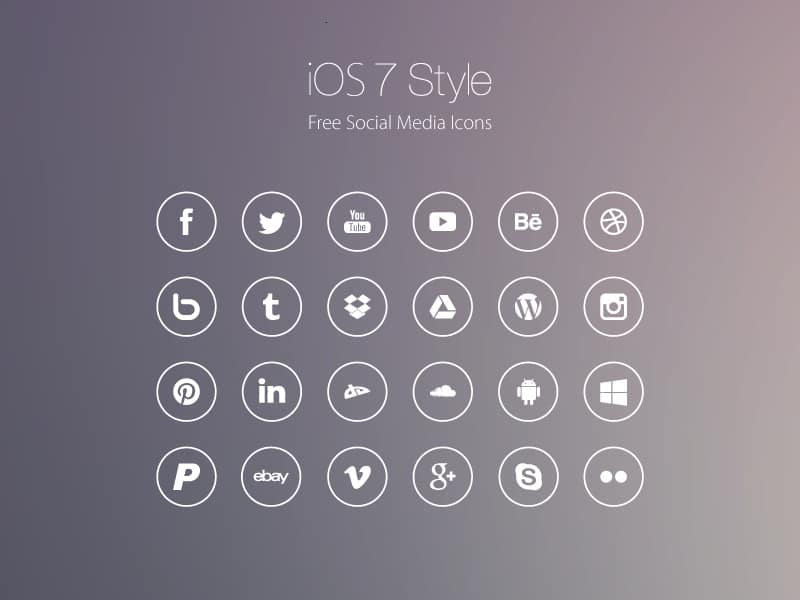 If you are a loyal Android user, then you'll probably skip iOS Style Social Media Icons immediately, but you will have to admit that when it comes to producing polished and elegant visuals, iOS is on top of its game.
13. Social Media Thin Icon Set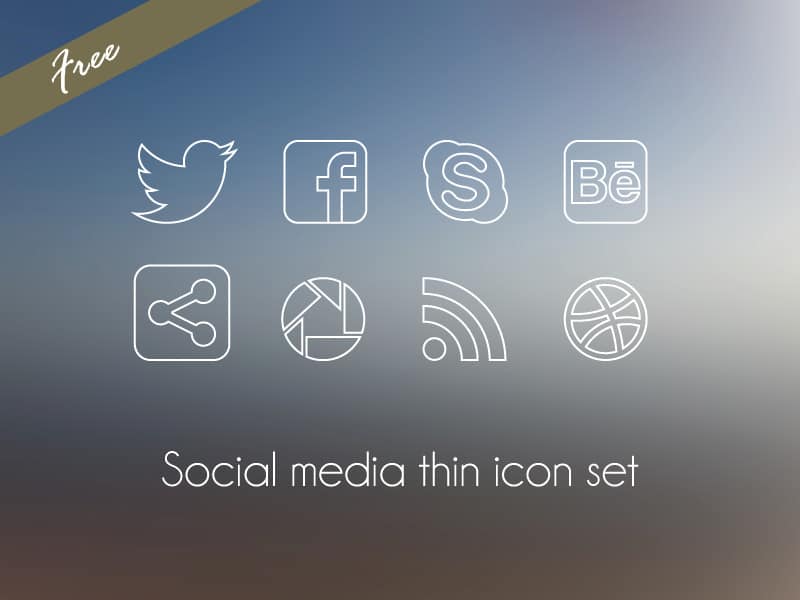 Next, we've decided to include something very unique and ready to become your icon pack of choice – Social Media Thin Icon Set is a collection of transparent icons with a minimalistic design, but still very appealing and refreshing, with 32 social media vector icons locked and loaded.
14. Social Media Icons by Iconscout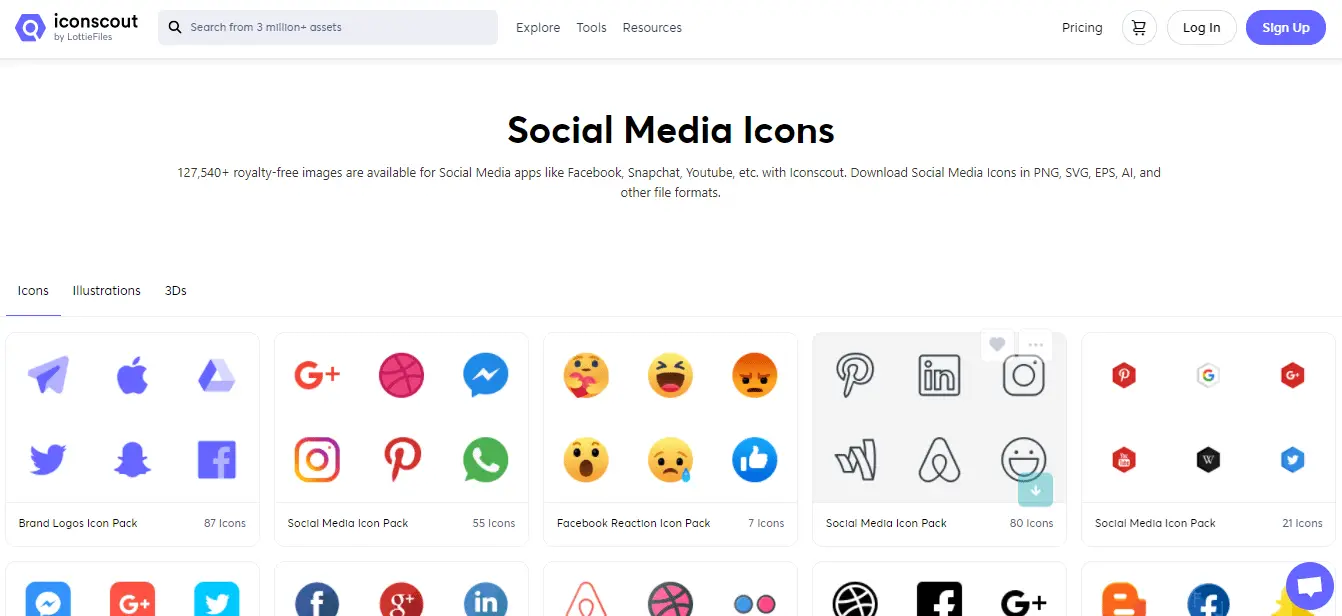 Last but not least, we have Social Media Icons by Iconscout. Here you can find 127,540+ royalty-free images for all your social media apps. The images, more specifically the icons, can be downloaded in formats such as PNG, SVG, EPS, AI, and so on.
You can pick from many different styles and icon packs. And most importantly, every single one will be of high quality!
Overall
Whichever pack you choose, make sure that it fits the overall vibe of your whole website. After all, with the increasing importance of Social Media, you need your social media icons to stand out as much as possible, and to be as clickable as possible, too!