If you own a website, blog, or similar, you want to provide your audience with quality content. However, ideas for interesting and relevant content might sometimes be hard to come by. Good, in-depth scouring for the best possible keywords, brainstorming, and analyzing what you should post can last for days.
That's a lot of time you could be spending on something else. And we all know pictures say way more than words. Everything is more accessible when you have visual aid on your side. If only you could find a way to manage all of your ideas neatly…
This is where ContextMinds comes in. It can offer you the perfect solution to all your content idea-related problems. It provides a cyber-whiteboard where you can systematically manage your ideas using visuals such as outlines, maps, and boards. Content creators, marketers, and bloggers will be delighted with this simple but efficient service.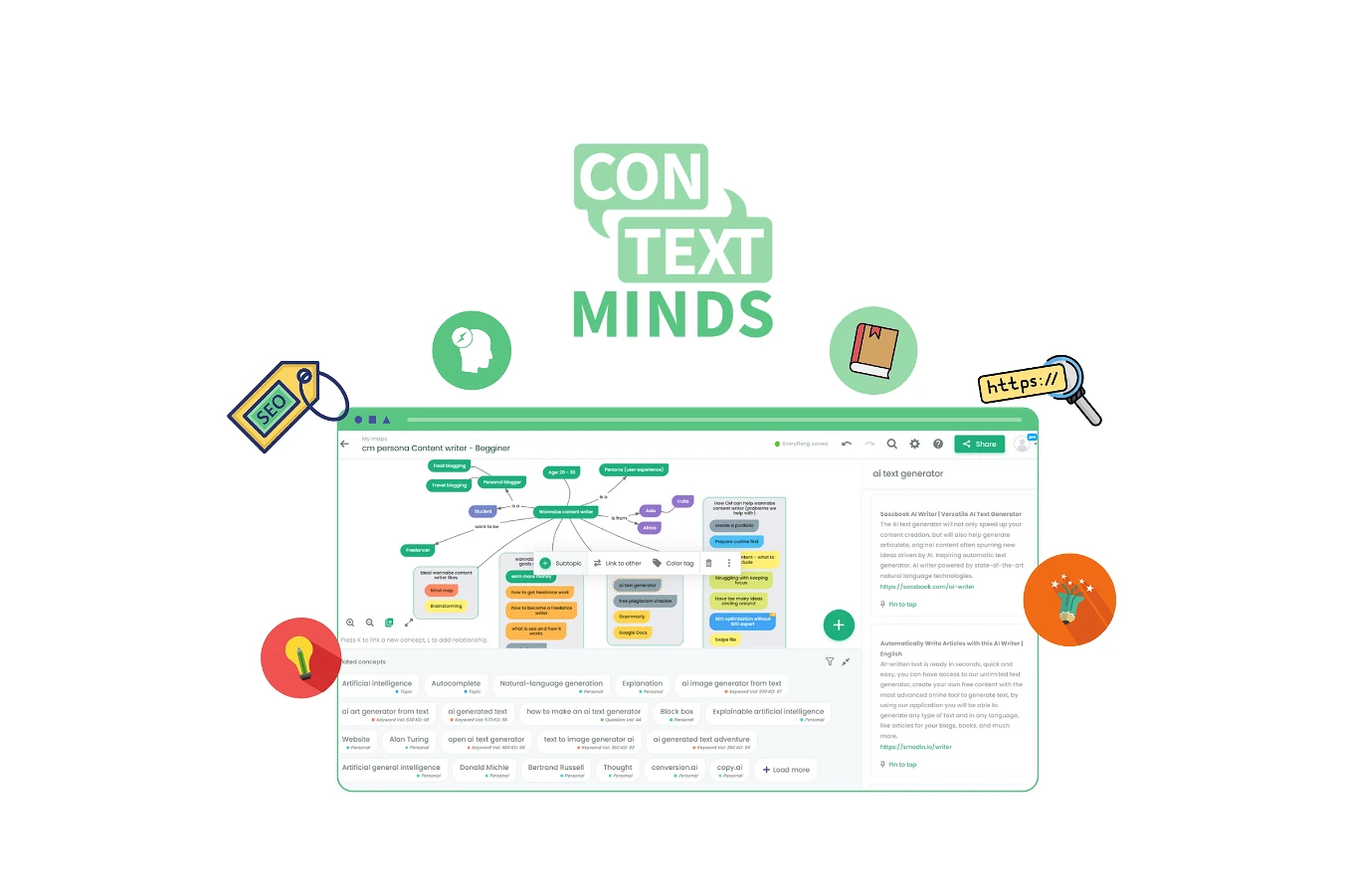 While using the service, the topics and keywords for your ideas are spawned automatically in real time. You also get valuable analytics on both keyword complexity and search volume. It is a piece of cake to use since you must drag and drop the suggestions ContextMinds provides. Just chuck them anywhere on the whiteboard and then put them together as you deem fit.
The mind map feature lets you make a stunning visual mind map from AI-suggested keywords and topics that you can use for your blog or web content purposes. The tool's AI research assistant aids you with detailed investigations into any keyword or topic using a single click of your mouse. This is where you can find more about SERP results, relevant academic papers, and keyword metrics. Not to mention it can also slide you some AI-generated paragraphs.
Another feature it offers is pinned notes, so your data stays neatly organized. You can pin videos, mind maps, notes, and more. This way, you always know exactly where you stand with your research. You can save notes, too.
Letting your team and clients know how far you've come with your work is easy since sharing mind maps is quick and easy with the help of export to PDF, SVG, PNG, or text formats. This guarantees everyone involved can get a visual representation of your content. They can check it out anytime they'd like. Sharing links is also an option that makes everything extra efficient.
The content ideas you get with ContextMinds are all SEO-optimized, meaning you won't struggle to find the right things to do or say to get more traffic.
Conclusion
The organization is critical, and visuals help. That's why ContextMinds uses both so you can be your most efficient when managing your content ideas.
The interface is nice and clean, it has quite a few nifty features, and using it is as easy as ABC. So, if you are looking for help in that department, check it out.