Keeping track of different marketing strategies can sometimes be time-consuming and complex, but it's still essential. Regardless of your marketing goals, you will want to leverage a real-time analytics dashboard along with valuable tools to track your success.
Furthermore, there are lots of digital marketing dashboards that will suit your needs. Some of them utilize Excel spreadsheets, PowerPoint presentations, and charts, while others rely on Google Analytics or automated marketing reporting tools.
First, however, you'll need to track your data, and to achieve that, here's a list of five helpful dashboard tools.
1. GoodData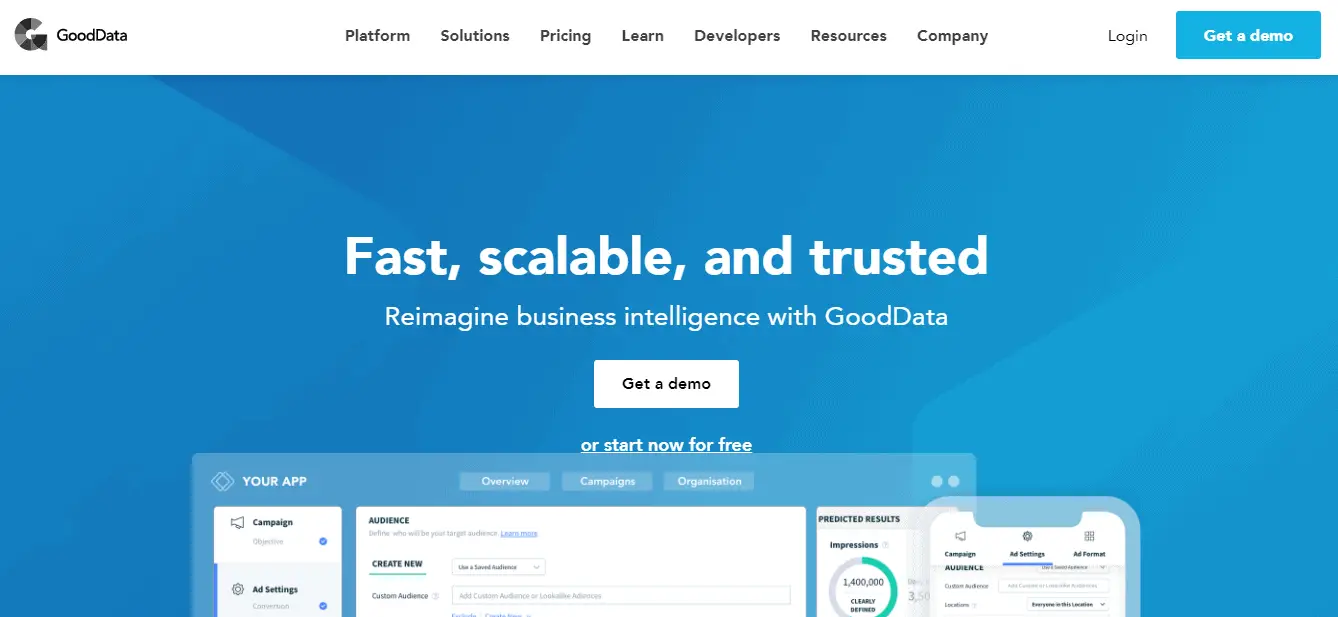 GoodData provides cloud-based data solutions to deliver you a detailed growth analysis. Moreover, it's the only platform that offers the creation, delivery, and automated management of analytics at any scale.
Analyzing data and drawing meaningful conclusions helps users understand the patterns of requests and help understand what customers' exact pain points are and how to solve them.
This tool is super friendly and in line with lots of industry-standard data analysis and reporting tools. If you decide to go with GoodData, you have three plans to choose from – the Free plan, the Growth plan (priced at $20/month), and the Enterprise plan (which has custom pricing depending on your needs).
2. Grow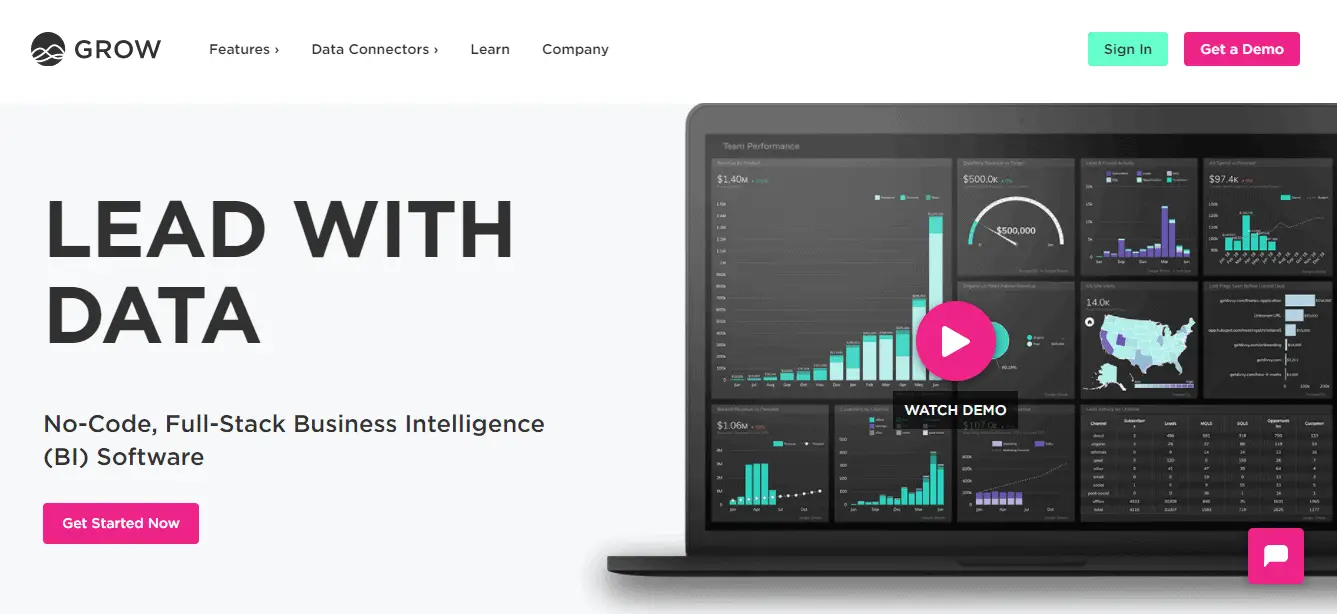 Grow is the next-in-line cloud-based marketing and reporting solution aimed primarily at small and midsize organizations. It enables users to create fully customizable dashboards for monitoring all of their business workflows at once.
Furthermore, Grow supports connections with Salesforce, Twitter, MySQL, Dropbox, Google Analytics, and many other sources that include dynamic databases and spreadsheets.
What is more, it supports mashing, blending, filtering, and comparing data sets from single or multiple sources. As a result, end-users can access their Android or iOS mobile device dashboard and monitor the work on the go.
3. Domo
Domo is a business cloud that empowers organizations of all sizes with BI leverage at a cloud-scale. Moreover, BI-critical processes that usually take weeks or months with Domo can be done within minutes, which helps teams and organizations grow fast and go big.
Also, this tool can see real-time data by utilizing a single dashboard that is visually appealing and easy to use. What is also great about this tool is that it allows users to customize and combine different data sets with standard SQLs or build their models.
Business access to many social sharing features is another powerful feature you get by using the Domo tool. With this dashboard, you're easily connected with everyone and everything inside your organization; you get a friendly and detailed visualization of the most relevant information in a single cloud-based system solution for your business.
Domo's complete app ecosystem provides packaged offerings that will surely meet any business needs.
4. Qlik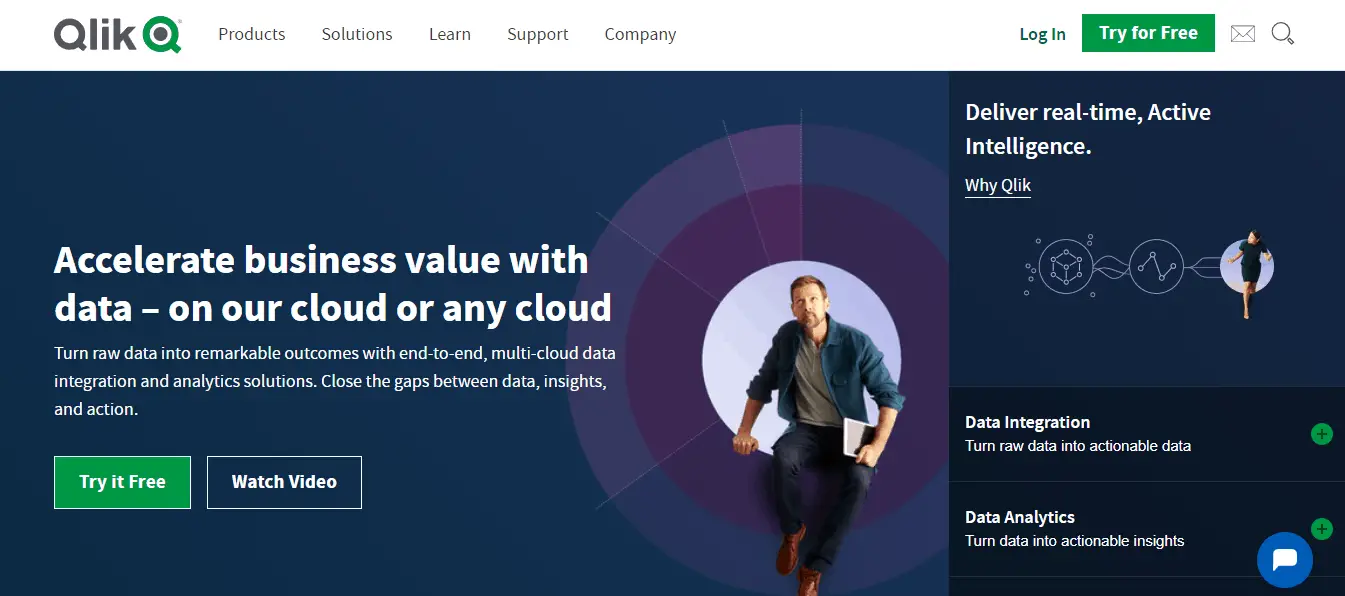 Qlik is a next-generation platform for modern, self-service analytics and data literacy for all types of users and organizations. This tool supports a wide range of powerful analytics tools that help you visualize and explore your business even more.
Some of the features that Qlik provides you with are innovative visualizations, self-service creation and data preparation, geographic and advanced analytics, collaborations, reporting, and much more.
Suppose you decide that this is not enough for you and your organization. In that case, you can choose an enterprise – Qlik Sense which includes open and standard APIs for customization and extension, robust data integration, broad data connectivity, etc.
Moreover, Qlik Sense runs on the patented Qlik associative engine, allowing users (regardless of their skill level) to explore additional information without any limitations of query-based tools freely. It's available for both on-premise and multi-cloud deployment.
With this tool, you get to choose one of two paid plans – Qlik Sense Business plan, priced at $30/month, and Qlik Sense Enterprise, priced in a range from $40 to $70/month, depending on the type of features you need.
5. Looker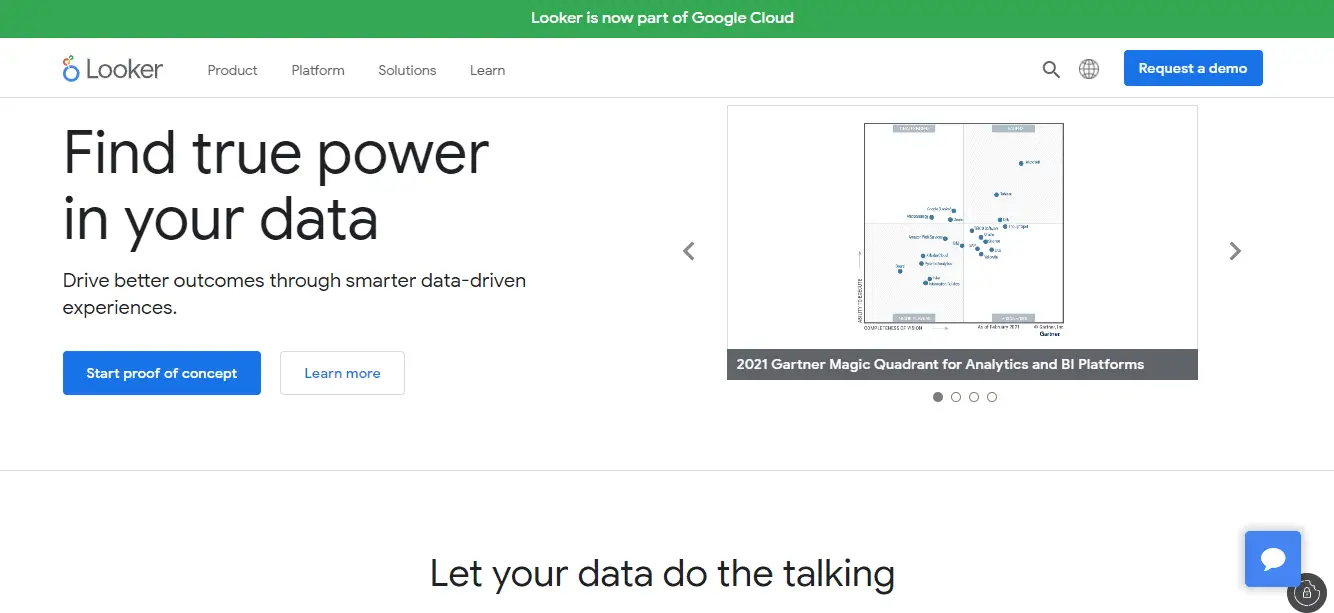 Looker is a BI solution for modern companies and organizations. In combination with Google Cloud's data analytics tool, this tool provides more valuable options to help you deliver more through the use of solid and detailed reports.
Furthermore, Looker works in a similar way the web does – it's browser-based, it has a unique modeling language that lets employee leverage the work of your best data analysts.
Some of the features of Looker are data-driven workflows, custom applications, integrated insights, modern BI & analytics, and much more. In addition, you're able to choose from various types of databases supported by this tool and choose your cloud and your workflow.
You can also make the dashboard interactive so that users can filter it and find specific data they're interested in. As a result, Looker will meet all of your business needs on one unique platform and more intelligent operating options.
Conclusion
Maintaining your users and business is not an easy thing to do. If you haven't used any marketing tools, we surely hope that one from the list above will meet your interests and needs and help you track your workflow even better.