Cryptocurrencies are getting more and more popular with everyone. They are a popular form of investment where even teenagers are making huge profits with some research and luck. Some experts even believe that cryptocurrencies like Bitcoin, Ethereum, Litecoin, etc., will become even more used than actual money.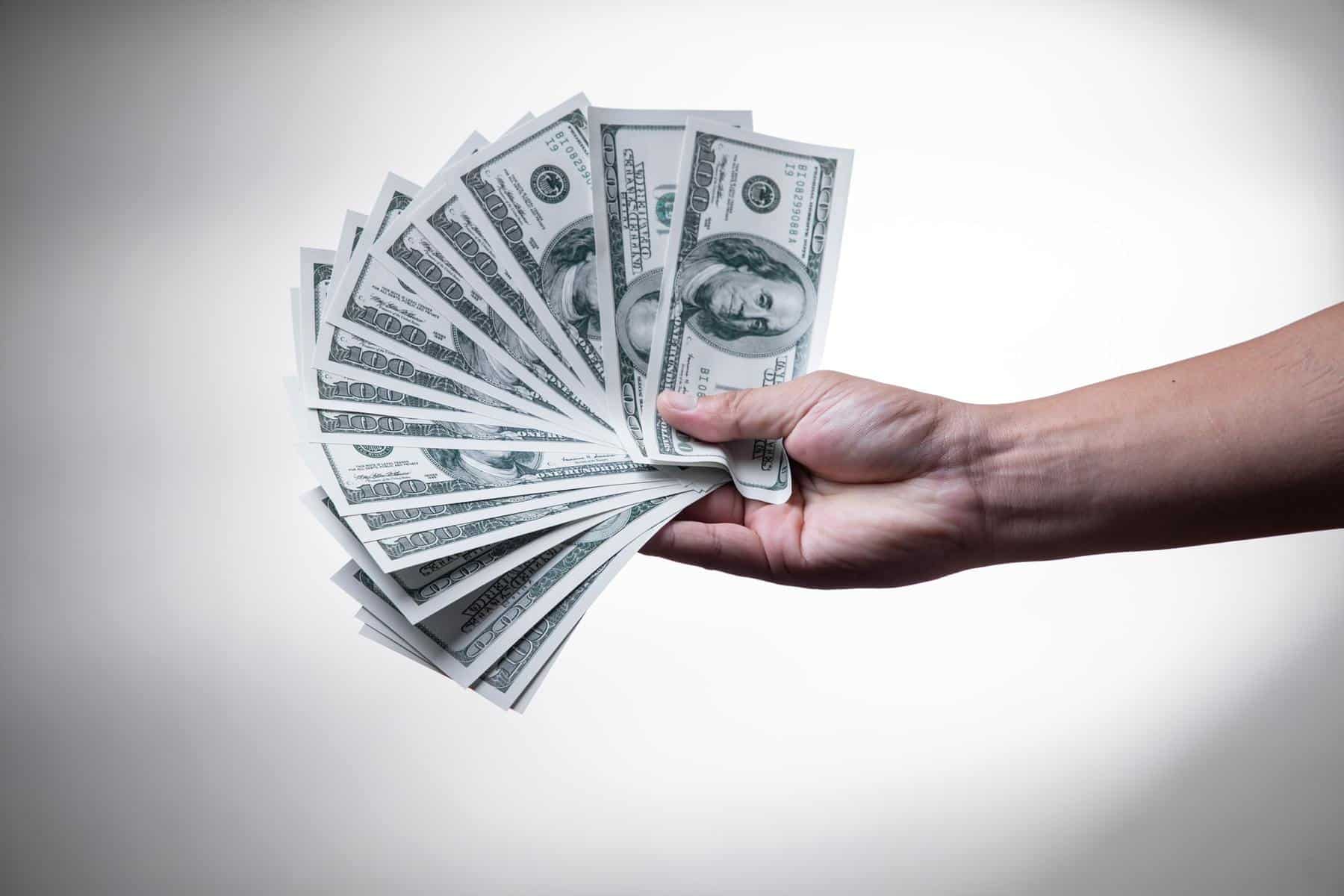 So, it's no wonder then that cryptocurrencies are a hot topic right now and that more and more people want to learn more about them. WordPress can be used to make any website, and cryptocurrencies are not an exception. There is a wide variety of plugins and themes available that will enable you to make a cryptocurrency website, so you can start working on your website without any prior knowledge on creating a website.
The themes on this list were chosen by their ease of use, available features, compatibility with other plugins, and overall design. These are all themes with modern techniques and advanced features that are easy to use, so choosing your perfect theme might just come down to the price and available template designs.
1. Crypterio
Crypterio is a theme designed by the Stylemix Themes team. It provides a variety of stylish and responsive templates that you can edit to your preferences. There are landing pages available for a wide range of Cryptocurrency related categories.
2. Pursuit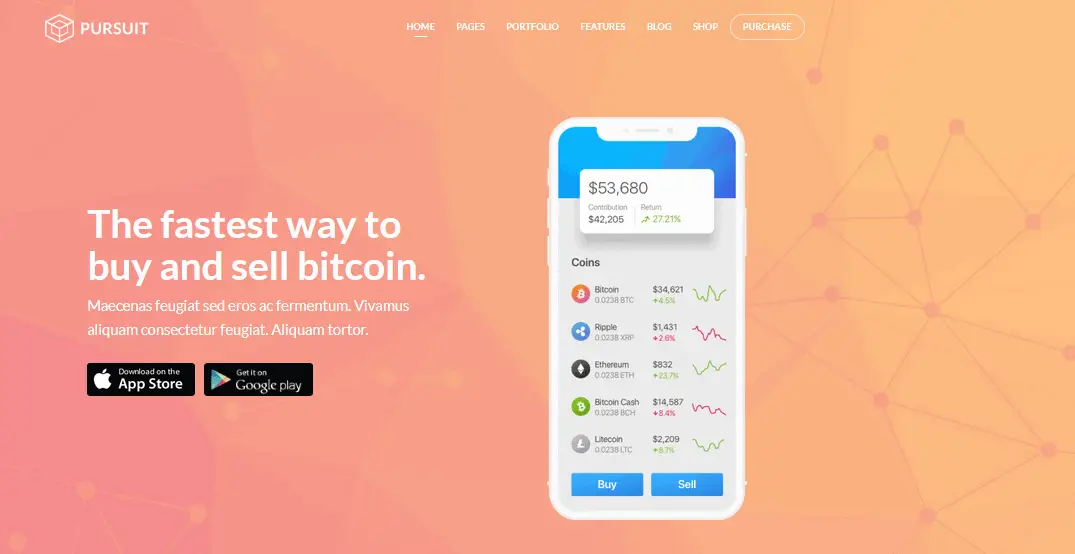 Pursuit is a premium theme designed by Themovation. It was made especially for finance-related companies. It offers modern templates for cryptocurrency websites that are easy to create and personalize using their drag-and-drop builder.
3. Cryptico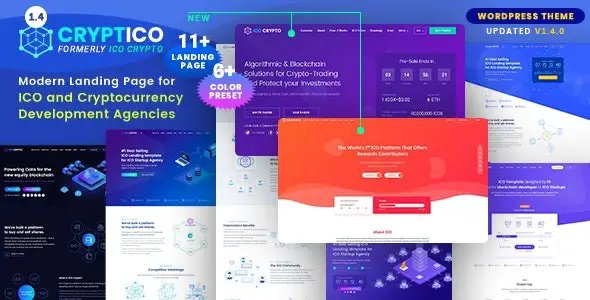 Cryptico was designed as a template for ICO Agencies and cryptocurrency investment companies. It was made by OcenThemes using the latest web technologies available. It offers a wide range of features to create the perfect website for you. It's also regularly updated, so there is always something new.
4. Crypton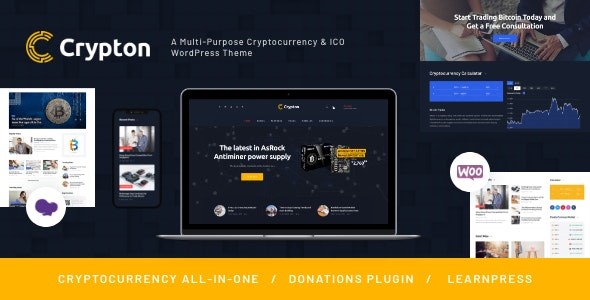 Crypton is a multi-purpose cryptocurrency theme designed by CodexThemes. It offers modern website styles for any cryptocurrency-related website. It's responsive and compatible with most popular WordPress plugins, so you don't have to worry about unnecessary crashes.
5. Coinex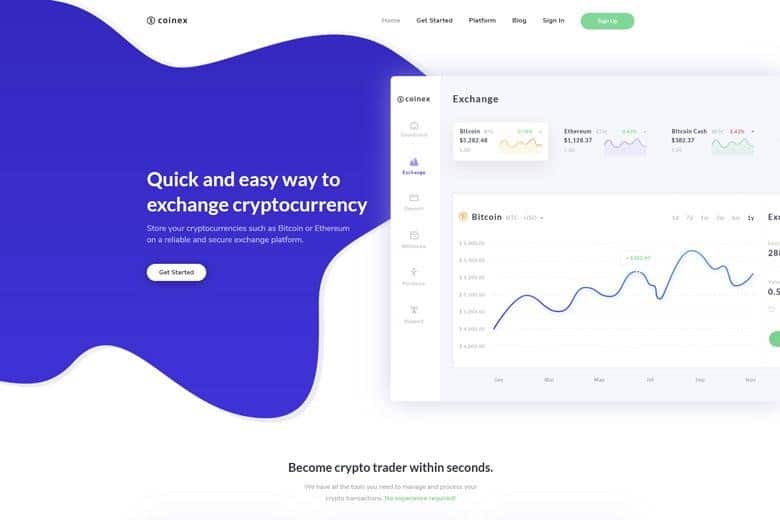 Designed by IqonicDesign, CoinEx was made for the types of websites dealing with digital currency, cryptocurrencies, finances, mining equipment, and consulting. Different types of website styles are available, and they can all be personalized to your liking.
6. Jevelin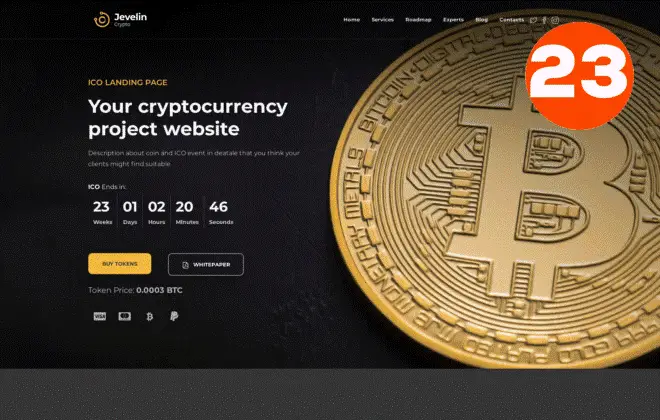 Jevelin is a multi-purpose theme designed for business, freelance, and private use. It offers e-commerce support with an integrated WooCommerce plugin, so you can even integrate a shop into your website. The theme was designed by ShuffleHound to be more than just another cryptocurrency-related theme.
7. Bitpal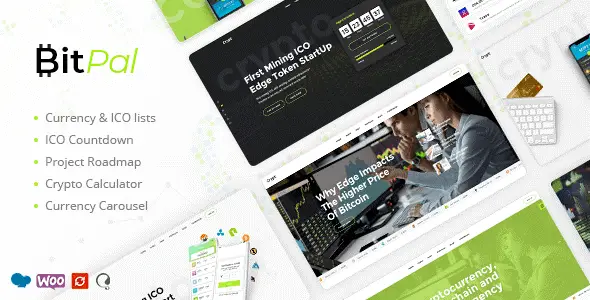 Bitpal is a professional theme made by Edge-Themes for every crypto startup. Stylish and modern templates are available for you to choose from.
You can easily personalize them even more to create a website that suits your liking. It's fully compatible with WooCommerce so that you can widen your business range even more.
8. Cryptic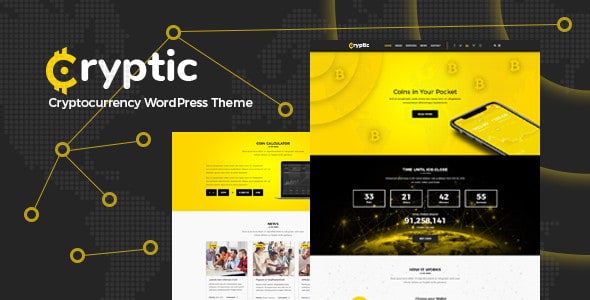 Cryptic was made by ModelTheme as an option for both beginners and advanced users. The wide range of features can easily make your website look professional without worrying about learning how to design a website.
9. Tolarcek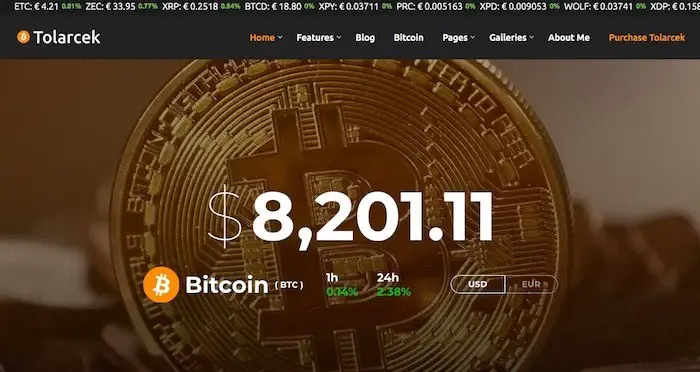 Tolarcek is a bitcoin-focused cryptocurrency theme designed by Gljivec. Tolarcek was intended to be stylish and straightforward; even total beginners can use the theme to its full potential. It's a simple-to-install theme where you can create your perfect website in a few minutes.
10. Cryptonite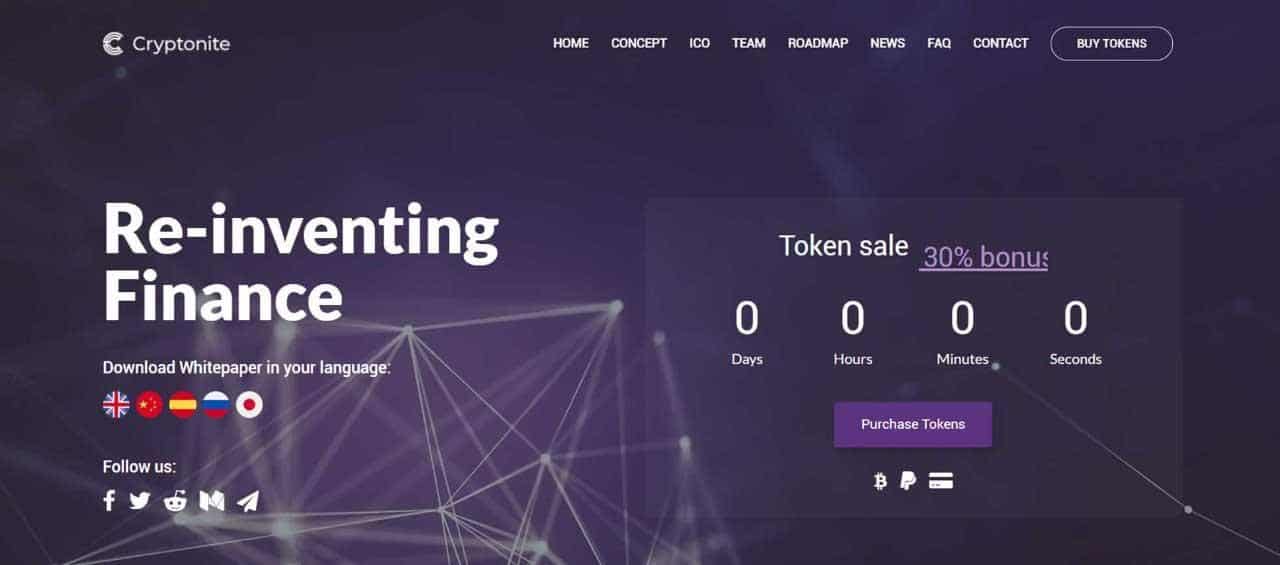 Cryptonite is a fast-growing WordPress theme made for building cryptocurrency websites. It was developed by MNKY based on research of the most successful industry websites.
It's suitable for both beginners and advanced users. It's super easy to install, offers a wide range of features, and it's fully customizable. It has got everything you need.
11. Financity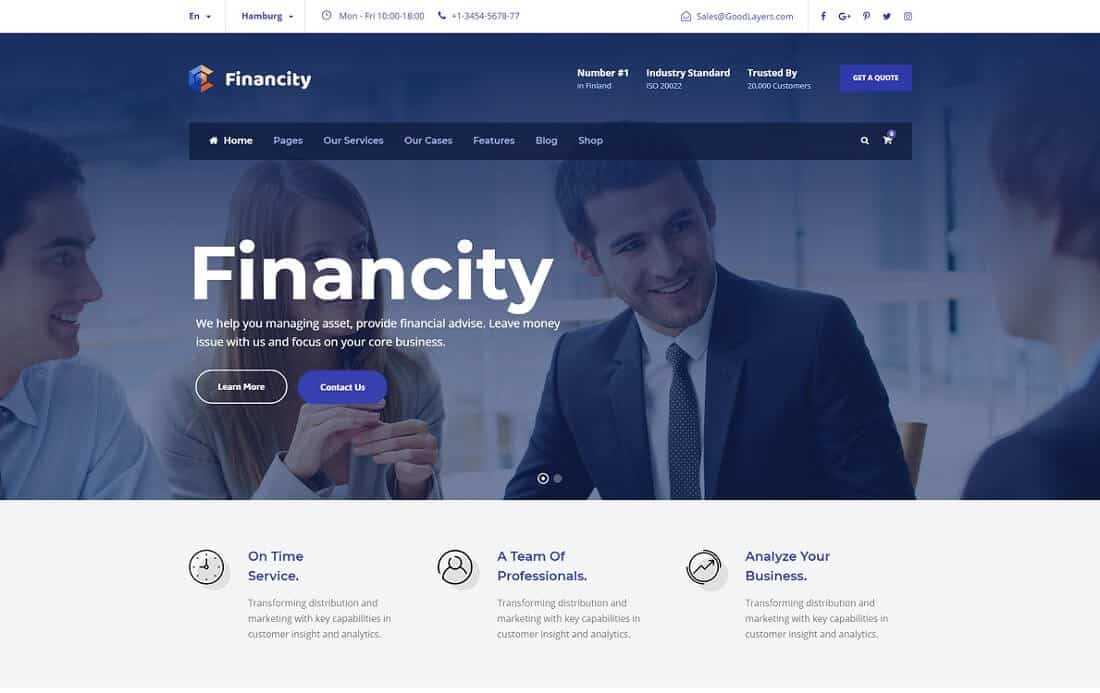 Financity is a WordPress theme designed for finance websites, but a finance website can easily be transformed into a cryptocurrency website. It's pretty straightforward to use and offers many valuable features. With Financity, you can make your cryptocurrency website more finance-based and get the best of both worlds.
12. Divi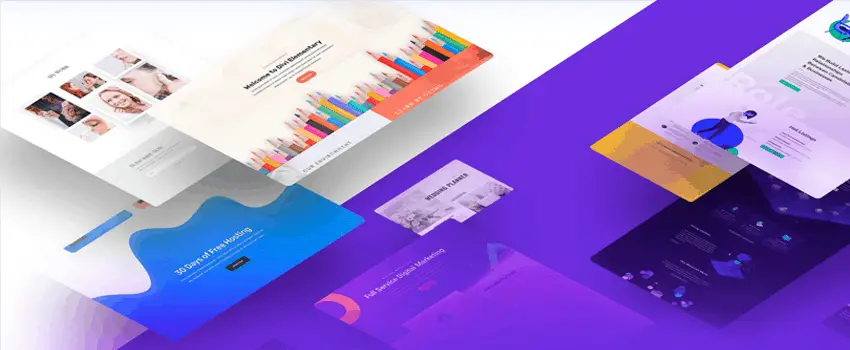 Divi is one of the most popular WordPress themes in the world. It was designed to be an all-purpose theme, so you can also use it for your cryptocurrency website.
It also includes a website builder that can make any style of website you want. It's one of the best tools for designing your WordPress website, and it may just be a good choice for you.
13. Coinster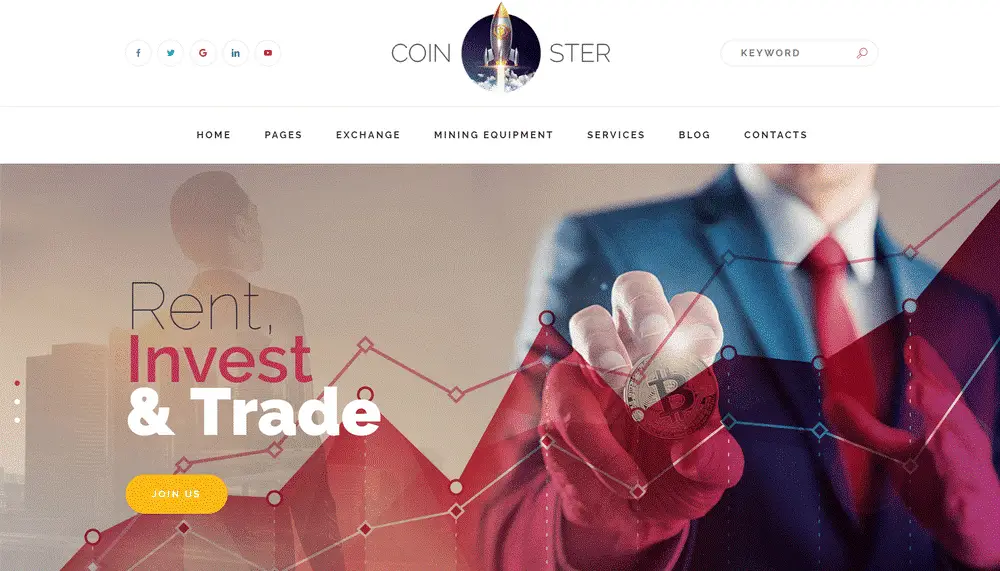 Coinster was designed to deal with bitcoin, but it's a good pick for any cryptocurrency. It was made by MWTemplates. Many practical features are available, and it's compatible with most popular WordPress plugins, including WooCommerce.
14. CryptApp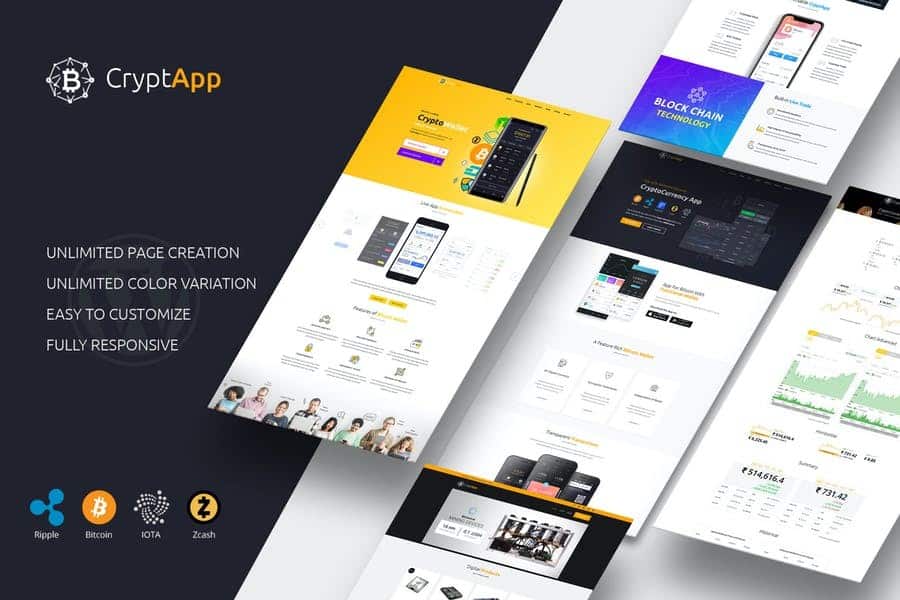 CryptApp is a WordPress landing page theme made by DesignThemes. It was made for the financial segment of cryptocurrencies. You can easily create informative one-page websites. It's most helpful in creating informative websites about cryptocurrencies, but you can create anything you want to.
15. ChainPress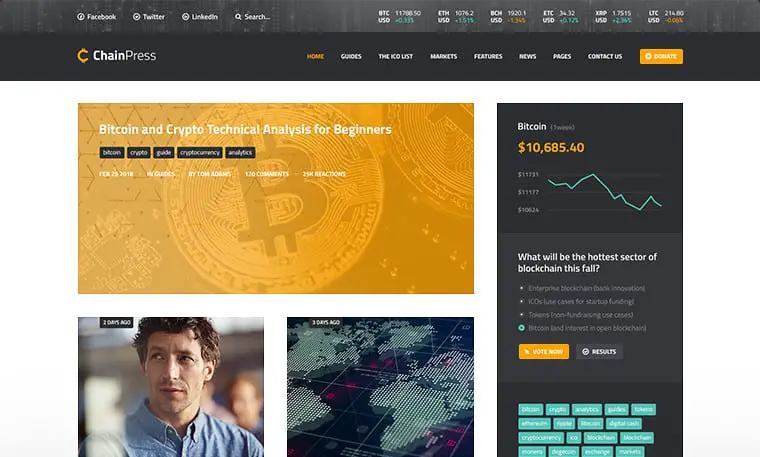 ChainPress is another WordPress theme mainly focused on finance. It's a multi-purpose theme that helps you create any website related to finance, investments, consulting, etc. It's an easy way to create a website that can teach your visitors about cryptocurrencies and the finances behind them.
To Sum Up
When it comes to WordPress themes, it's tough to pick the perfect one. Many themes offer the same features and compatibility with other plugins, so the primary decision you have to make is mostly just what designs you prefer and what price range suits you.
The themes mentioned here are some of the best on the market, and most of them offer you the most advanced features with a minimal learning curve. Many of them also have specific parts of cryptocurrencies and finance that they're focused on, so there is undoubtedly an option that will fit all of your needs.