Nowadays, you can't really expect to create a successful, functioning WordPress website without it visually knocking your users' socks off, am I right?
And that's where the WordPress gallery plugins come into the picture!
Lucky for you, we know just how important gallery plugins are and how visually enticing you expect (and rightfully so) your WordPress website to be.
After all, the images are the first thing the visitors to your website will see, so you might as well awaken their curiosity and keep them glued to your site.
And how do you do that?
By knowing which gallery plugins to use. See, WordPress has a pretty good gallery feature in place, but you need a plugin that meets all of your needs.
Firstly, you need it to work like a charm with zero issues with speed and loading. Secondly, aesthetically, it needs to be ravishing.
How else are you going to showcase your products and get people to stay on your site?
So before making a final decision on your gallery plugin, pay attention to the following:
Do the features meet all of your needs and want?
Before installing a WordPress gallery plugin, it's important to evaluate all of its features and how they fare in your requirements list.  Clearly, you can't download a plugin before finding out if it has everything you need and if it functions seamlessly. Only after checking these boxes can you consider making a decision.
Will the speed slow down your WordPress website?
Clearly, speed is of the essence here. It needs to work in your favor, not against it. Regardless of your profession, the images on your site must load promptly and fast, and not be detrimental to your website's functionality. So when you're picking a plugin, be sure it doesn't hurt your website's speed.
Is the image gallery plugin in sync with the new releases of WordPress?
Before downloading an image gallery plugin, you should be certain that it is compatible with the new releases of WordPress. You can't afford to have update difficulties, so make sure it updates regularly and by a trustworthy team.
Now, to present the galleries
Having said all that, it's time to check out some of the most popular image gallery plugins for your WordPress website and find the one that will blow you away with all that it can offer. So here are some of the best ones out there, along with the most prominent features explained.
1. NextGEN Gallery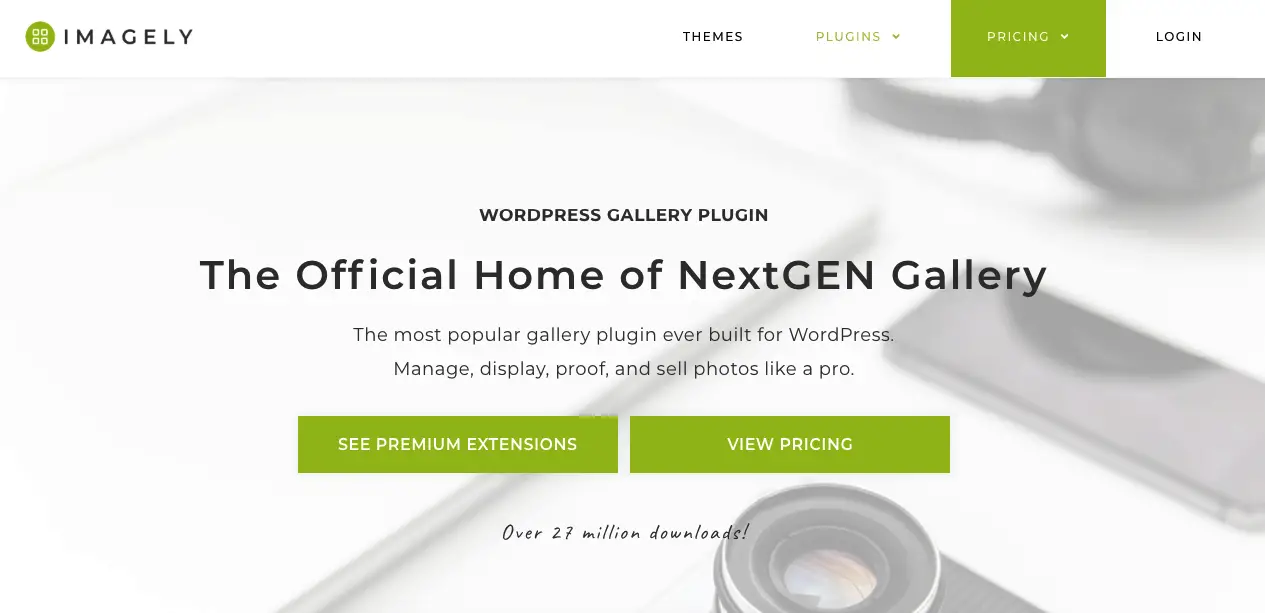 To make you see how incredibly popular this plugin is, we'll just casually mention that it currently has no less than 1 million active installs! If this doesn't say something about how fantastic and useful NextGEN Gallery is, nothing does.
All the features you're probably thinking of right now, it has them all straight out of the box! Now, the free version offers two key gallery features with two differently styled albums.
But if you choose to go with the premium version, you won't be disappointed with even more amazingly functional gallery styles, pro lightbox display with the possibility of leaving comments on your images, and naturally, the always welcome social media sharing option.
Cool things to mention:
NextGEN Gallery plugin offers you the option to upload multiple images to your website at the same time
It imports all of the metadata from your images
You can assemble any and all of your galleries into photo albums
When you've uploaded the images, you can create a beautiful slideshow out of them
2. Portfolio Designer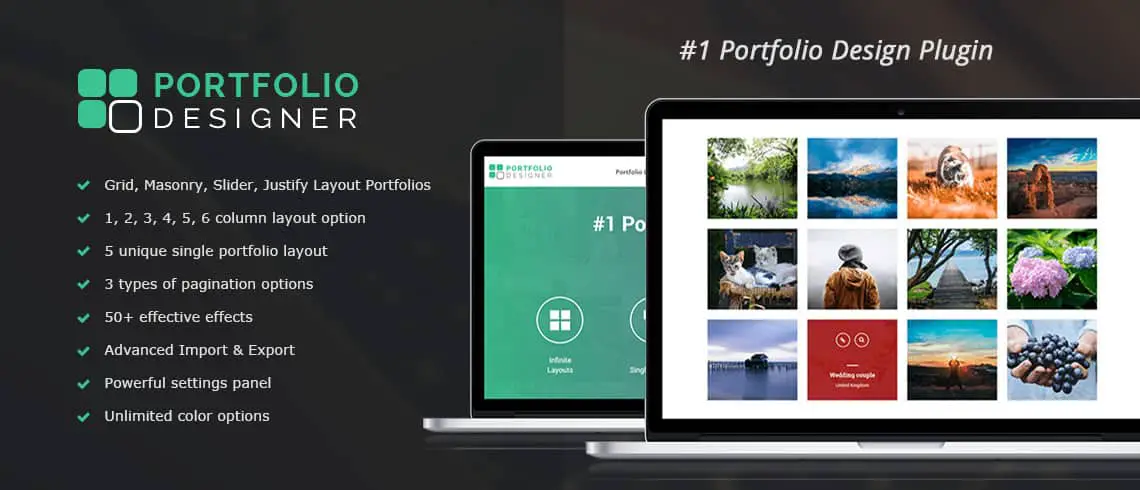 Portfolio Designer is another fantastic plugin that gives a total solution for building an exquisite portfolio, galleries, showcase team members or logo, etc. The plugin has enormous functionalities that create a marvelous look that captivates the website visitor's attention.
The plugin has in-built 50+ hover and animation effects that an admin can apply to various images and galleries. Moreover, it is very well compatible with the WooCommerce and Easy Digital Download plugin that adds the selling functionality with beautiful layouts.
The plugin has 4 layout styles and unlimited designs with import-export functionalities. A user can also create a gallery of audio and video playlists. Moreover, a user can display it on any website page using shortcodes.
With so many customization options, a user can modify paginations, filtration, multiple popup box options, unlimited custom fields, color and design options, etc.
Additionally, a user can use Portfolio designer to create a blog, portfolio, image gallery, audio/video playlists, events, eCommerce, logo showcase, and so on. It's a worthy WordPress portfolio plugin!
3. FooGallery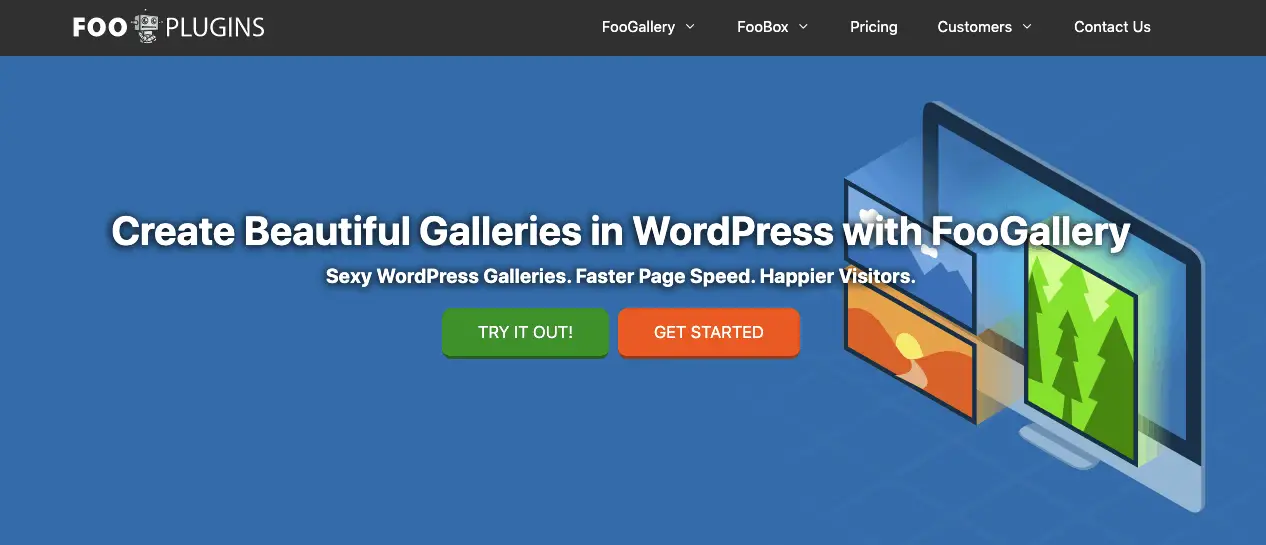 You can download this amazing plugin straight from the WordPress plugin repository due to the super cool lite version of the plugin. Not to mention, FooGallery is one of the most popular gallery plugins for WordPress as well.
The drag and drop feature doesn't disappoint here either as it allows you to rearrange all of your images as you wish with its amazing reordering option.
With FooGallery, you don't have to bother yourself with building a brand new gallery every time, as it offers you a gallery template that suits your current needs.
Something worth mentioning is that in case you're using the NextGEN gallery plugin on your WordPress website right now, you can easily incorporate all of your current galleries you've created there with FooGallery in just a few easy clicks!
Also, it's a very well documented plugin with a variety of different hooks and filters that will allow you to satisfy any of your client's demands.
4. Modula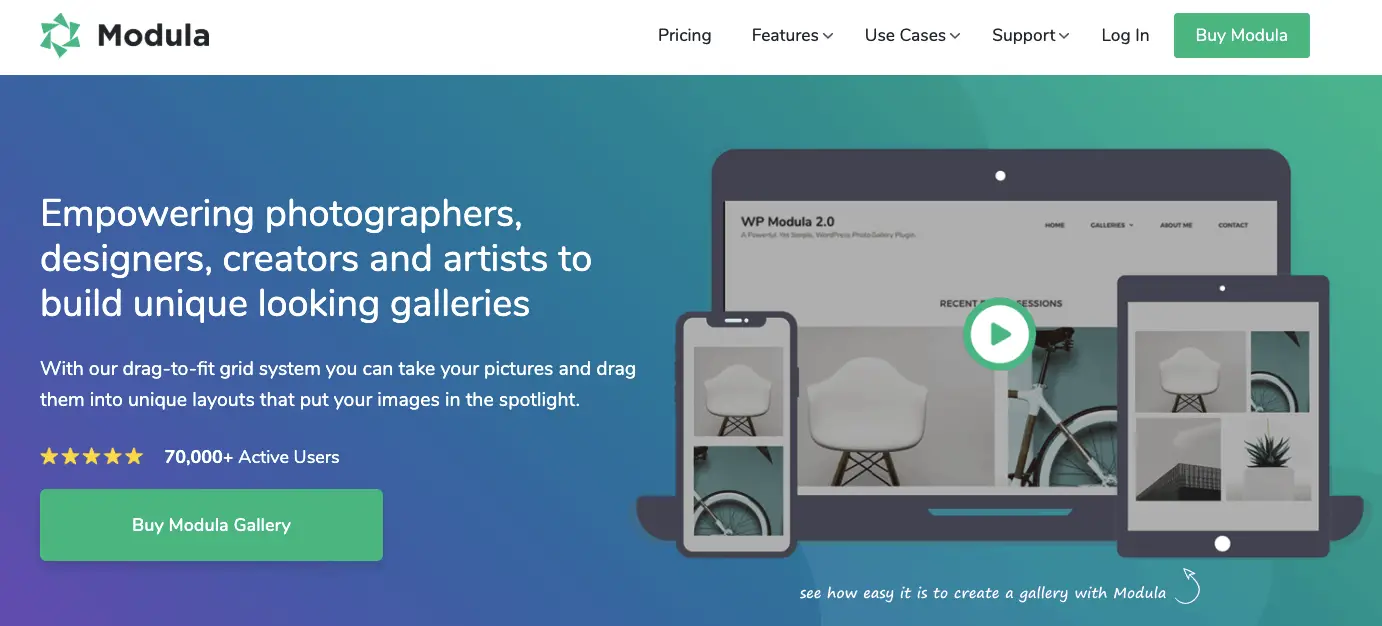 Among many other image gallery plugins for WordPress, Modula stands out with its unique and very convenient option to resize your images in order to choose the ones you want to take the center spot on your website.
After all, it's important how your clients perceive your site and what the first thing their eye goes to is, right? So choose this plugin if you want to make sure they're stunned the second they enter your site.
One other super amazing feature Modula offers is the preview of all of the image changes you want to make, which obviously makes the whole switching from one to the other redundant. Simply preview your changes and decide if you want to move forward with them or not.
If you visit the WordPress.org directory, you'll find the free version of Modula, which you can immediately download, along with its restricted features. But should the need arise for a more elaborate version, you can always choose the Pro version!
It'll cost you $29 for one website, and if you're willing to lose $99, you get to use it for a limitless amount of websites.
5. WP Photo Album Plus

With this astonishing image gallery plugin, you're in a whole another realm of possibilities. Here, the users are actually able to grade and leave comments on your photos!
Compared to other WordPress image gallery plugins, this one allows you more options with its customization abilities, even though the setup itself isn't as simple as with some other plugins.
The great thing with WP Photo Album Plus is that you are the sole controller of the metadata, like EXIF (Exchangeable Image File Format), and you're also in charge of the size of the display images.
Another cool option you get with this gallery plugin is the ability to upload images straight from the front side of your website, along with a bunch of other really handy existing features, such as the lightbox overlay system, Google Maps and plenty of search options.
This amazing plugin truly offers you some unique and noteworthy features, and downloading it will prove to be a smart move to any user who chooses it. You get so many options that make it so easy to use and reduce the need for ever downloading a different gallery plugin.
Want to hear about one other fantastic feature? It allows you to add 20 additional, amazing widgets to your site, some of which are Photo of the day, Photo rating, Featured photos, and so many more you'll surely be amazed by!
6. Grand Flagallery

This awesome gallery plugin was created by CodeEasily (they are a UK team whose main specialty is creating gallery plugins for WordPress websites).
Other than allowing you to upload amazing galleries to your site, you also get the option of making music playlists as well!
You can also easily organize your images with Grand Flagallery, and use the handy options of batch uploading. There's one central location where you can assemble and arrange all of your gallery images.
With regards to the premium pricing plans, it's going to cost you a fair $14.99 for unlimited access for one site. But should you choose it for a few sites, you'll have to buy the license key one by one.
This is a very neat media plugin for those who enjoy both music and images. If you're into music and you like creating video playlists, this media gallery plugin is definitely your cup of tea.
7. Photo Gallery by WD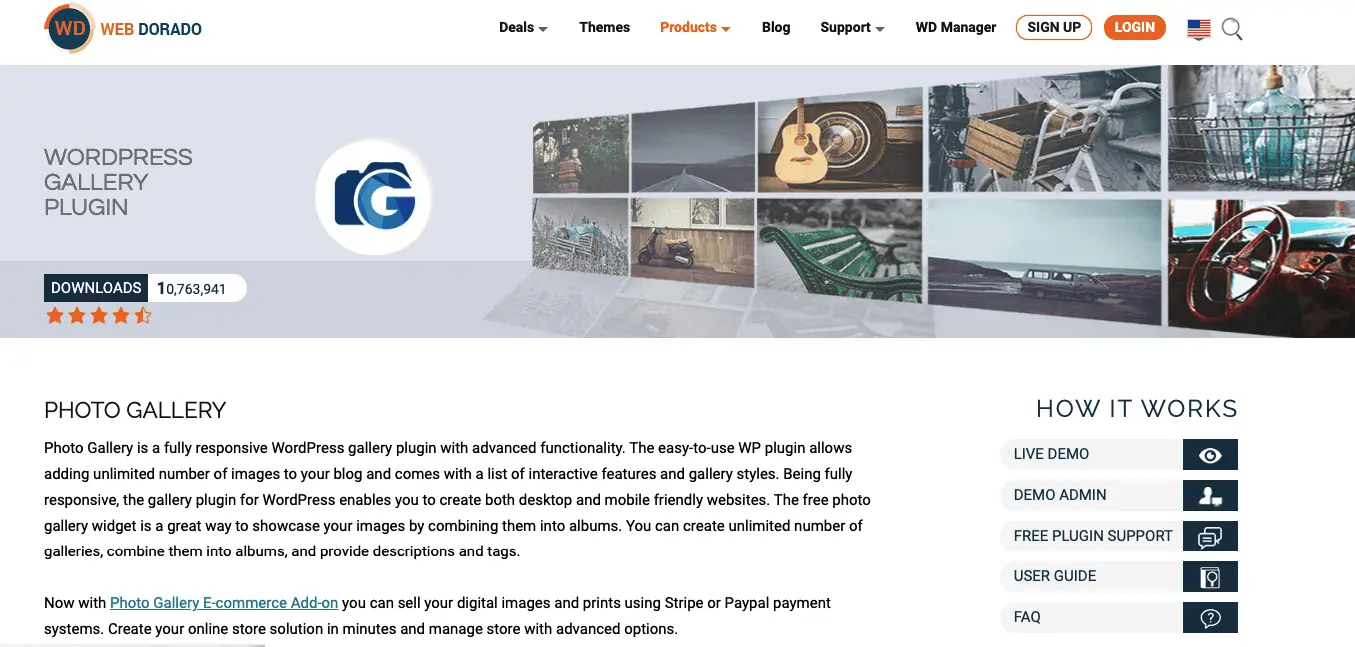 If you're looking for a responsive image gallery plugin for your WordPress site, this one should fit all of your needs. It allows you to display synergistic multimedia galleries, and with each one, you get the option to add not only images but also videos.
Photo Gallery also has four different widgets that are really simple and functional and go along beautifully with WordPress themes!
You'll be really impressed with the following features:
Here, you'll have the amazing option of exhibiting your galleries in all of 10 different views totally to your choosing (mosaic, thumbnails, slideshow, masonry, and many more!)
All of your media will be safely protected with the simple use of watermarking! You choose the position and the size of the text of the watermark.
Ecommerce add-on: if you want to sell any of your images, you can easily do so by using the simple eCommerce add-on.
For a single site, the price of the Photo Gallery starts at $30. It's a fair price when you take into account all of the impressive features listed above, but you know your needs best, so choose it only if it works with your vision for your WordPress website.
Have you found your ideal image gallery plugin?
Surely, by browsing through the seven plugins listed here, you've managed to stumble upon at least a few that have caught your eye. After all, you need to make a decision that is going to affect the quality of your WordPress website and the functionality that it provides.
Your users need to find what they seek in a few short steps, and the things they're most interested in should be at the center stage, blowing them away. And here, you'll be able to find at least a few plugins that will accommodate those needs!
Some of these plugins offer more than just taking care of your photo gallery needs; they also provide you with the ability to create and display your music and video playlists, which is a cool feature that all avid music lovers will find refreshing.
Hopefully, you've managed to find the gallery plugin that satisfies all of your website's needs and creates an inviting environment that will make your clients want to stick around. Good luck in choosing the right one, as I'm sure you can't go wrong whichever one you end up going with!