Before we start explaining the benefits and different types of flowchart software, here is a definition of what flowchart even is: it is a diagrammatic representation of the order of different operations that need to be performed so a problem can be resolved. You may recall them from programming or economics homework in school.
A flowchart can be divided into:
Flow- series of logic operations that need to be executed so a requirement can be met
Chart- written description of parts of the flow
To simplify this, a flowchart shows how a process needs to be done by following different steps and requirements. Using a flowchart helps clarify how the current situation can be improved. It helps draw clear lines between processes or functions and establish an understanding of the process.
Flowcharts are a powerful tool for businesses and should be used if; an important process or a part of a business needs to be explained and understood by co-workers, if there are potential hypotheses of how a problem can be solved, and to examine and explain the flow of information or other important processes for the business.
There are several types of flowcharts and which one you use will depend on what you need the flowchart for (for example, project planning, documenting a process, auditing a process, data management, etc.).
Most of the software will already have a predefined library of flowchart symbols; you just need to drag and drop the symbols you need and connect them with lines and arrows. Moreover, these symbols can be customized.
Before, the flowcharts used to be made by pen and paper. Luckily, today we have different software options that help create these flowcharts quickly and easily.
Here is the list of top 5 flowchart software we recommend:
1. SmartDraw
SmartDraw is a popular choice, especially among big businesses, which include many from the Fortune 500 companies and more than 250 000 public and private enterprises. Some of the companies that use it are SAP, FedEx, Pepsi, Tesla, Nestle, and more.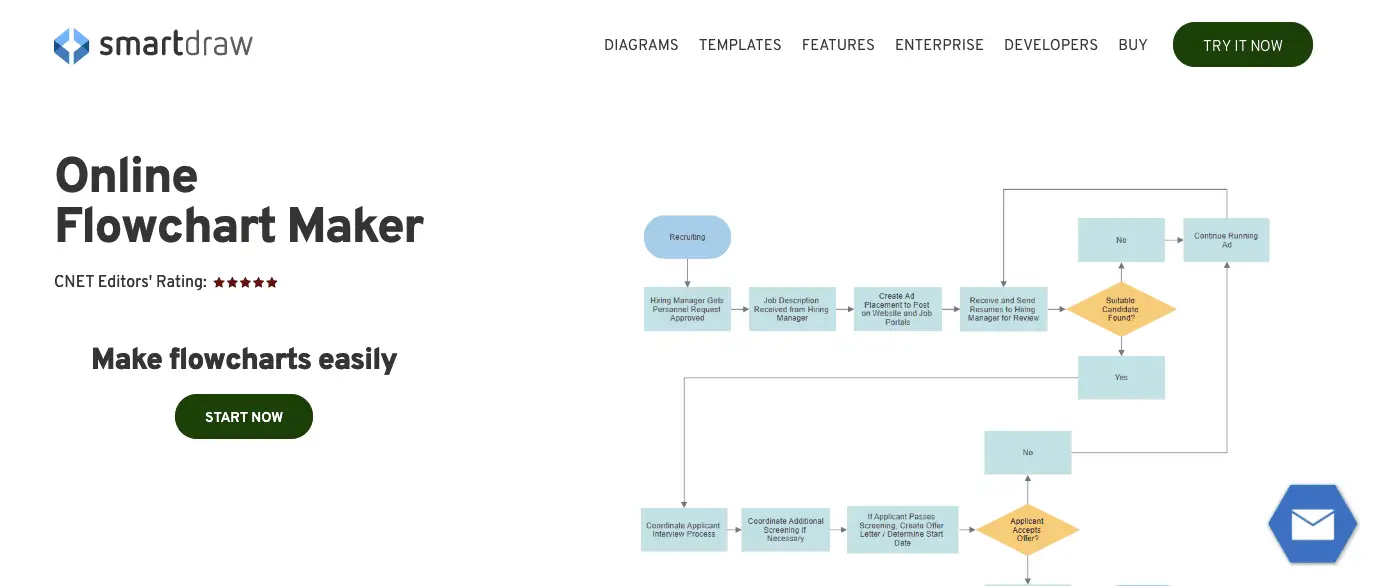 This software can be used online or as a Windows application (which is one of the few drawbacks as it is available only on Windows and is relatively expensive as it offers a single-user license for $297 and multi-user licenses for $595).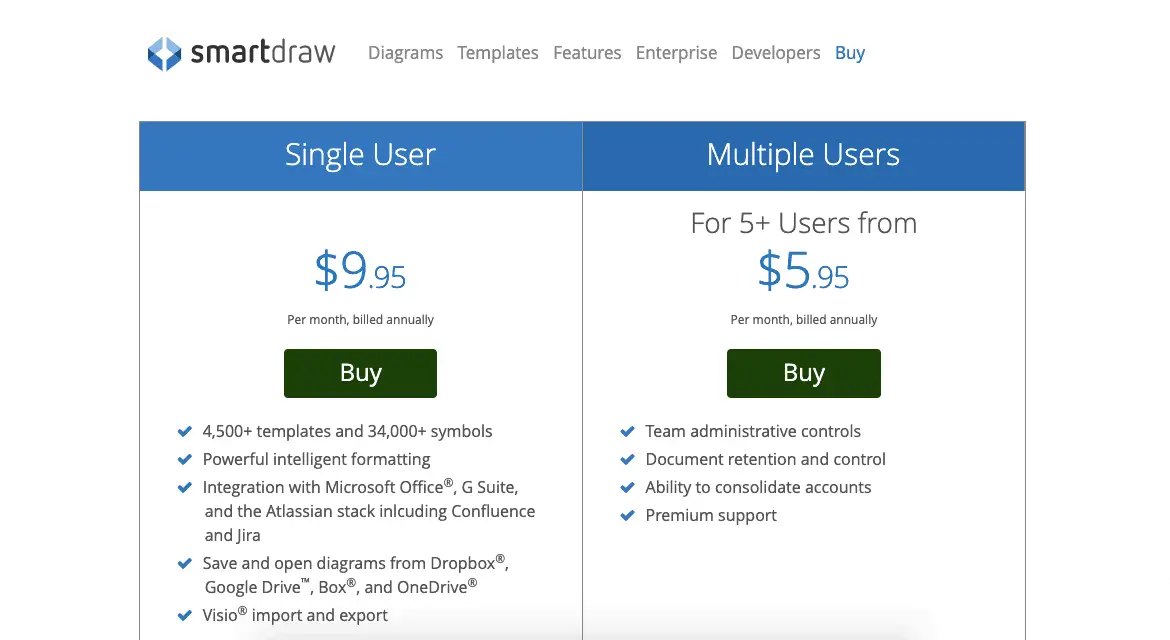 It also supports different team applications, such as Trello and Google GSuite. It is also compatible with Visio, and you can import and export charts as needed. It is integrated with Microsoft Office (Word, Excel, PowerPoint), Google Docs, Jira, and Confluence. You can also share files with non-SmartDraw users by emailing them a link, which is great for cross-team collaboration.
This software is great for business people who are not trained graphic designers (although we do not stop you from using this software if you are) as it's best features comes from having a great choice of simple templates, which is great for simple charts, and not for the creation of complex diagrams. It has more than 4,500 pre-installed templates and over 34,000 built-in symbols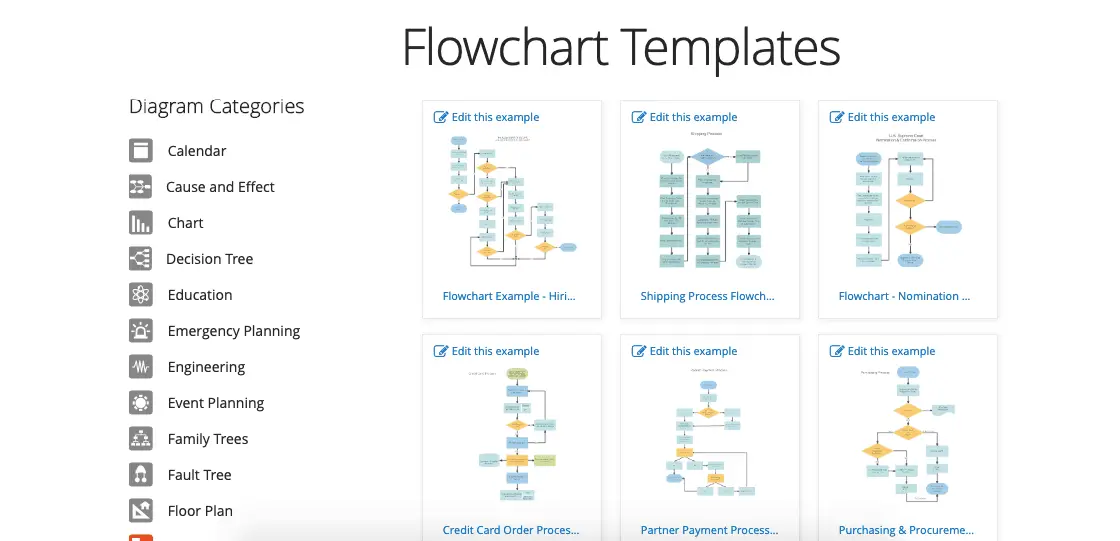 There are several types of flowcharts you can make: basic charts, yes/no charts, swimlane, decision charts, process charts, and others. The software automation draws the chart for you, and it has a very simple user interface, so it is a great tool for beginners.
2. LucidChart
LucidChart is popular (more than 15 million users) and inexpensive charting software. It is an online app that works with any Operating System, and it can be integrated with other apps and services.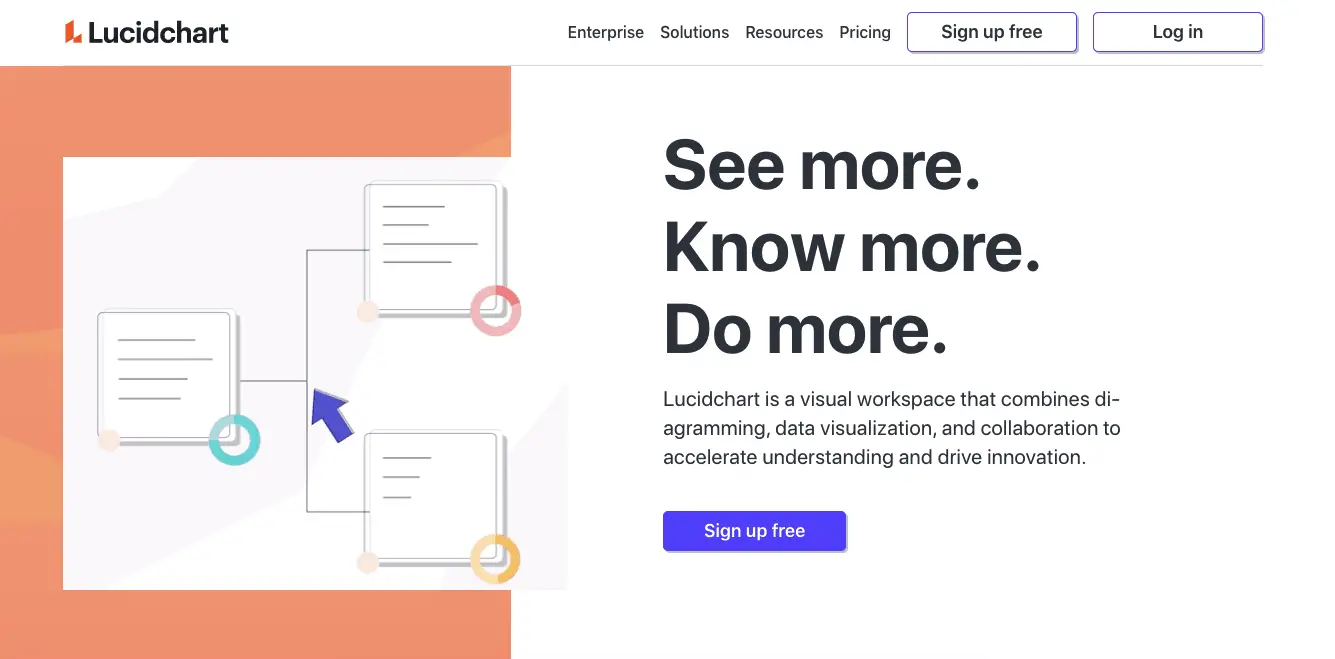 Licensing starts at $7.95/month for a Personal user (can also use a free option, has 100 templates), and a $927/month for three users with a Team Business Plan. There is also a free trial that is not time-limited but instead is restricted to a maximum of 60 objects, which still gives you a chance to explore its features.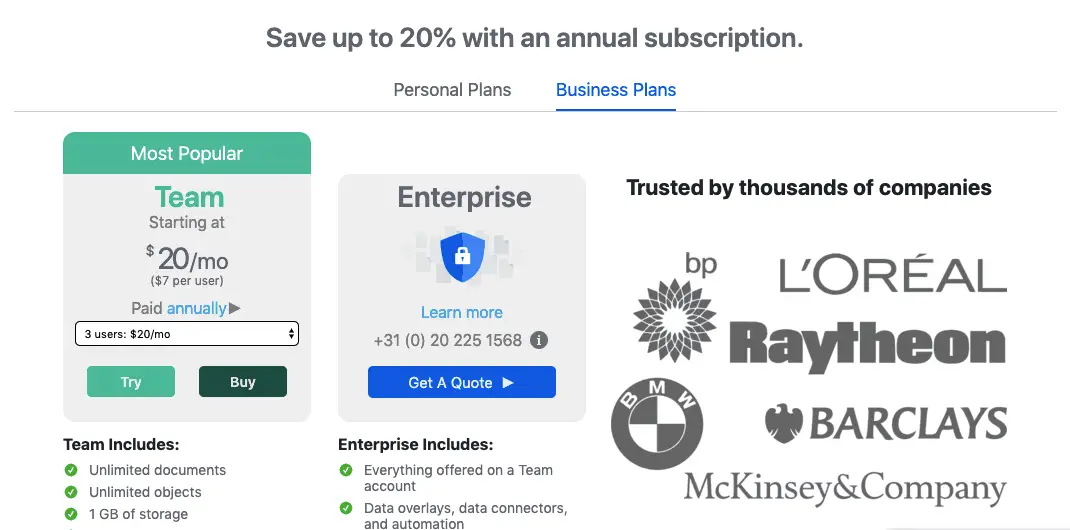 You can import and export Vision files, share your flowcharts and files with a link with other co-workers, save your work to Google Drive, and it is integrated with Jira, Confluence, and GSusite. It also works on any major browser and any device. It gives you the option of having a group chat and commenting on the document. All of your diagrams are automatically saved and backed up hourly, so you don't need to worry about any hard drive failures or lost documents.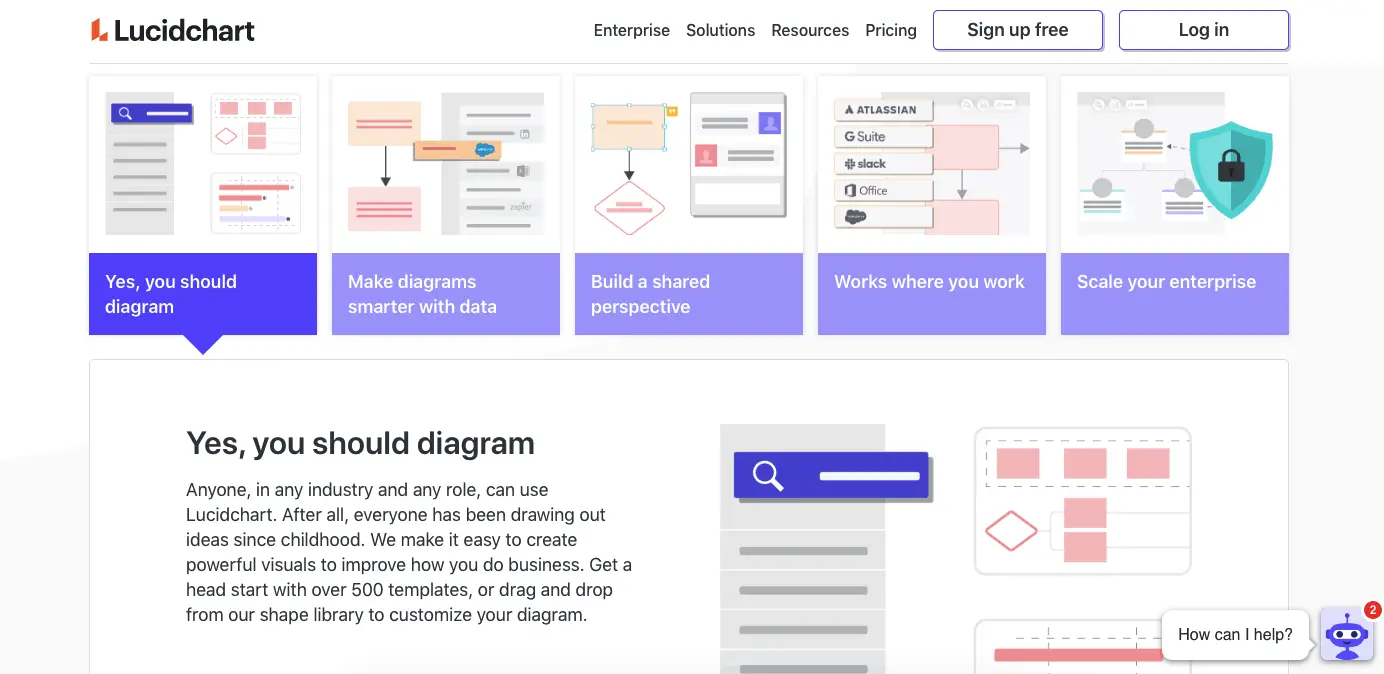 Some of the companies that use this software are Amazon, Adobe, Microsoft, Wells Fargo, and Cisco.
3. Draw.io
Draw.io is a software that is designed mostly for developers, designers, process analysts, and IT admins. It can be used on both the Windows and Mac OS. You can export files in different formats, such as PDF, JPEG, PDF, and HTML. You can save your work to Google Drive and Microsoft OneDrive, and it is integrated with Confluence and Jira.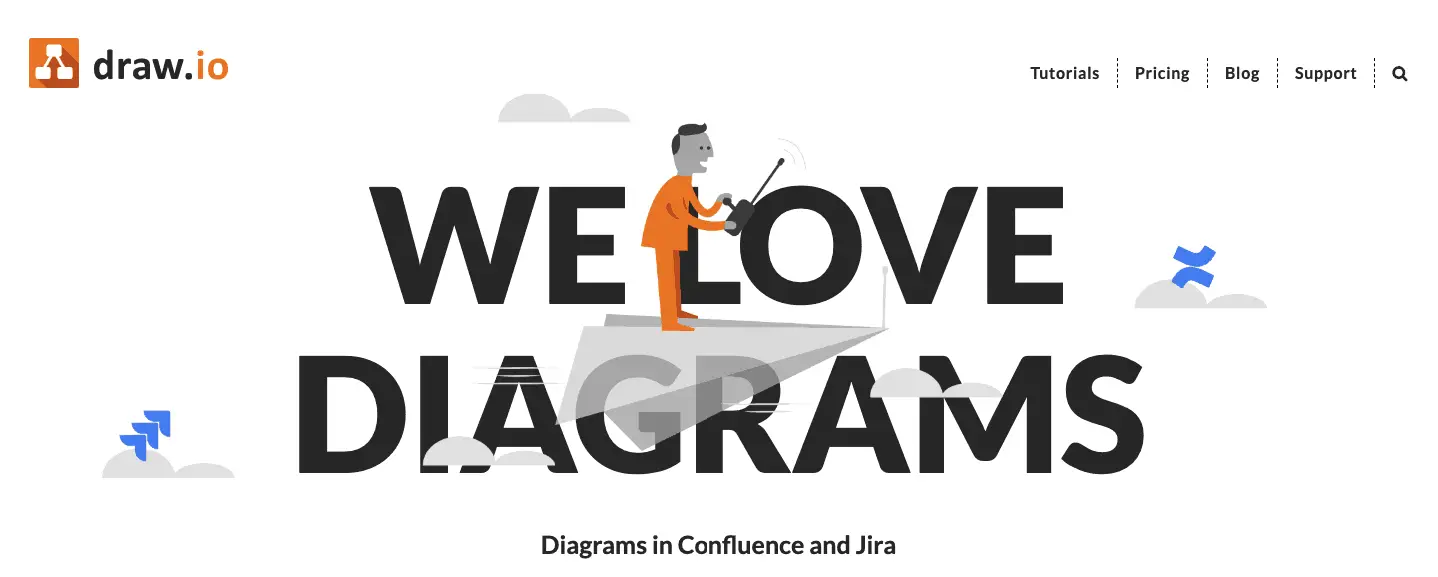 There are different pricing options, whether you want the data, cloud, or server pricing plans. For the server, for example, the pricing starts at $10/month for ten users and goes up to $13,00 for 10,001 users and more.
It is great for both beginners and experienced users as it comes with pre-installed templates, but it also gives you the option of building a diagram yourself.  The only drawback is that it has a limited number of templates and shapes, but the basic ones are covered. You can simply drag-and-drop shapes and templates to build the flowcharts you need.
It is used by companies like Canon, HP, Toyota, Oracle, Panasonic, Visa, Intel, and more.
4. Creately
Creately comes with thousands of templates and shapes that are pre-installed, as well as with intuitive drawing tools, which make it a great option for flowcharts. You can access it both online and as a Windows app.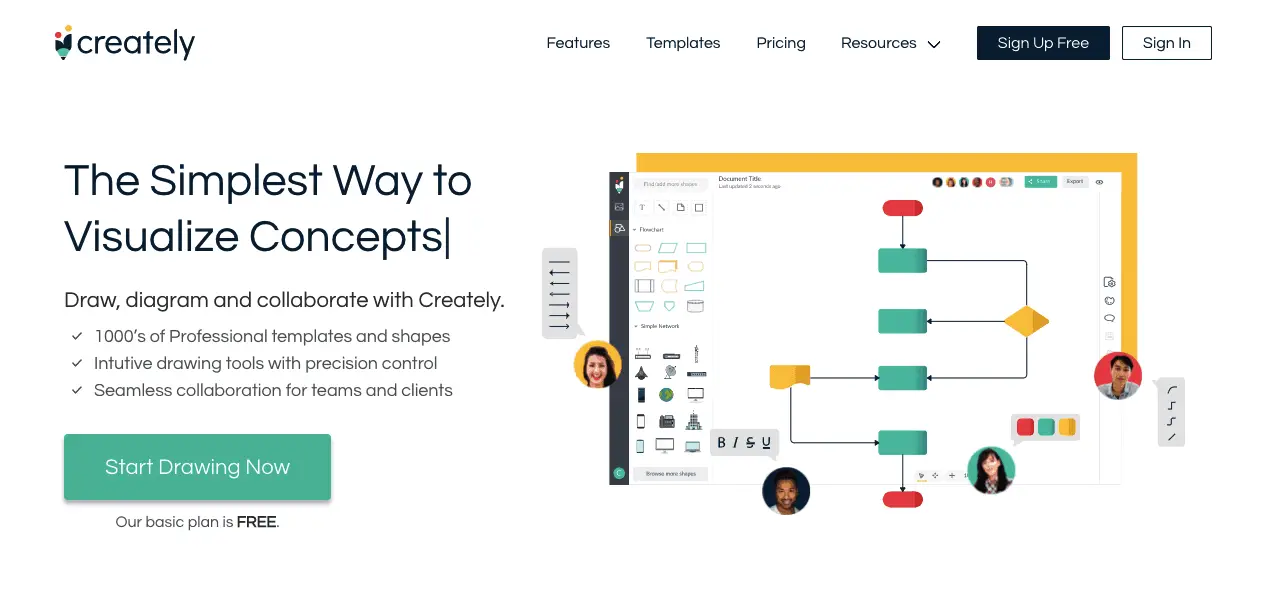 It has a clean and easy to navigate interface with a straight-forward design, and it works both online and offline. You can also comment on the document and collaborate with other users and change your styles and formatting options to make your content stand out. You can export your files like PNG, SVG, and JPEG formats and create different types of flowcharts and diagrams, based on your needs (concept map, storyboards, mind maps, organizational charts, and more).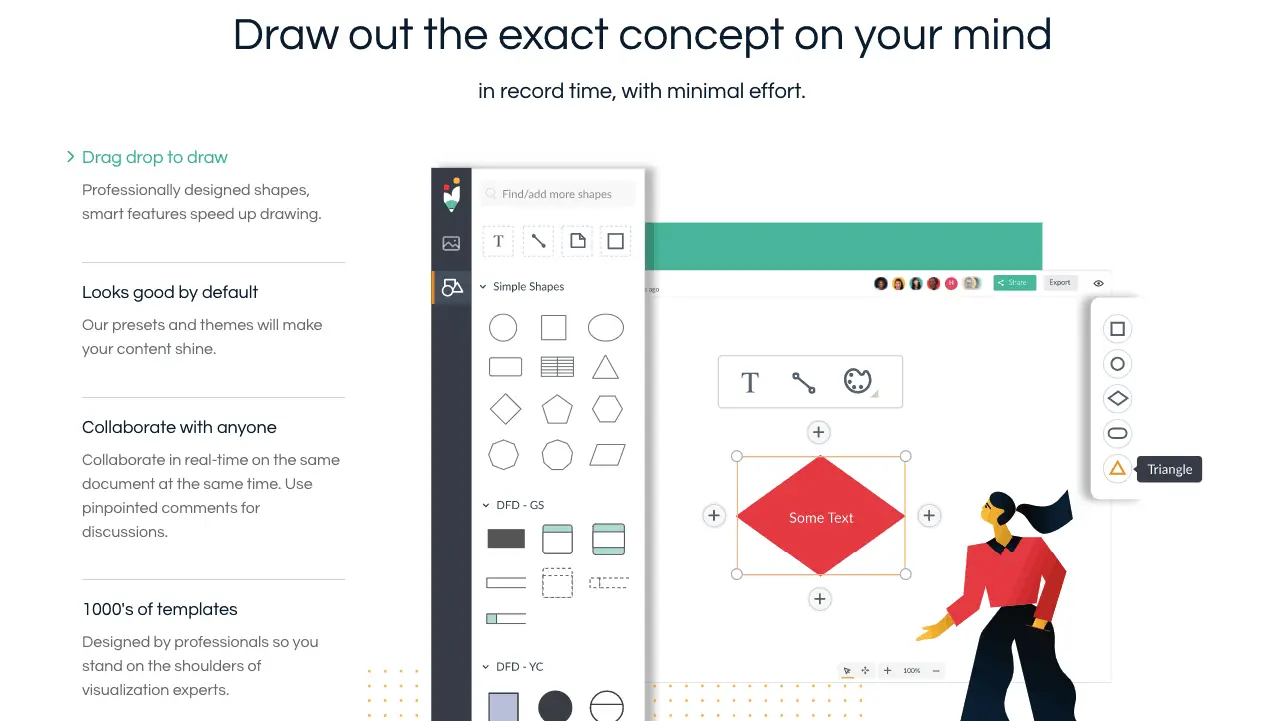 It can be integrated with GSuite and Confluences. It comes in a free public version and a premium version ($12/month for three team members and $400/month for 100 users), and you can choose between a cloud and a desktop version.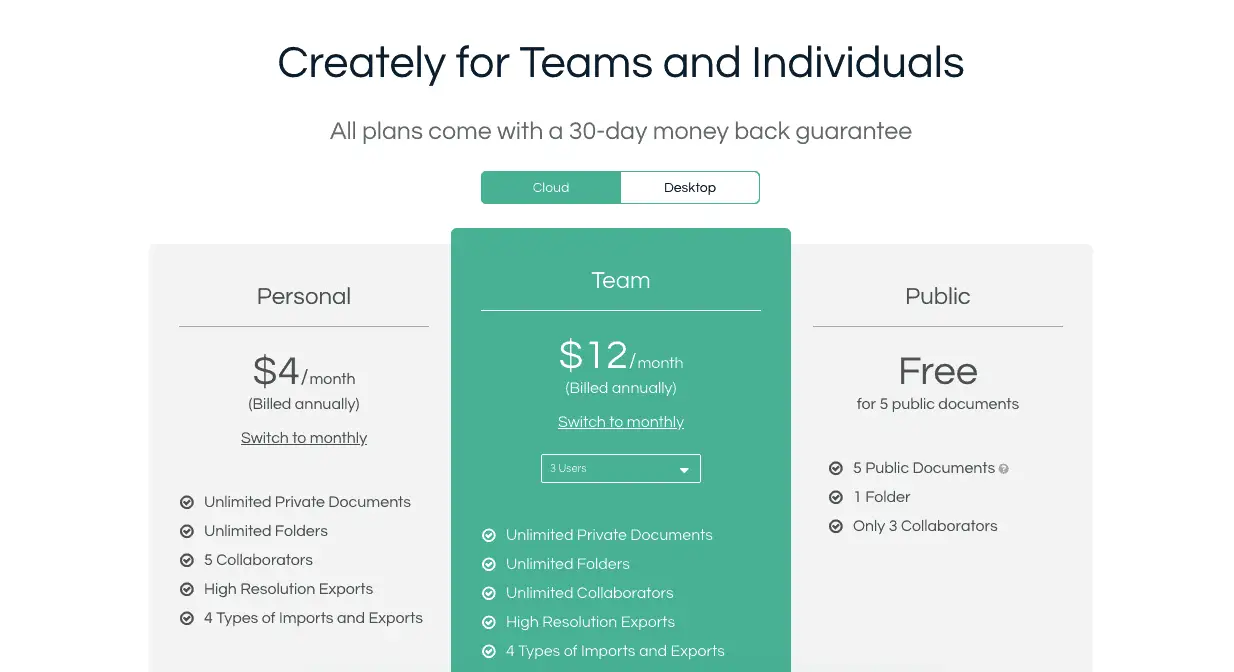 Companies like PayPal, NASA, eBay, and National Geographic use it.
5. Cacoo
Cacoo is best if used for quickly drawing diagrams with already pre-installed templates and custom charts.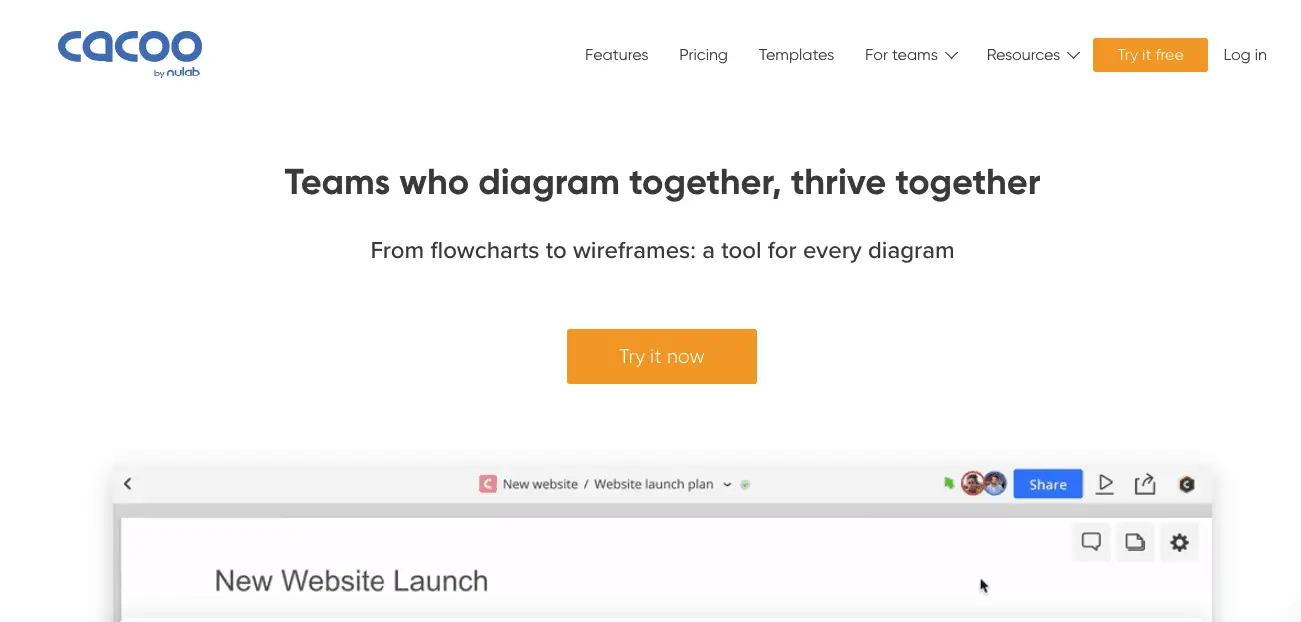 It has a simple user interface and many different templates to choose from (AWS Network Diagram, Azure Icons, Azure Retail, Matrix Organizational Chart, Basic Organizational Chart). You can also create mind maps, calendars, and different types of diagrams, as well as pie and bar charts.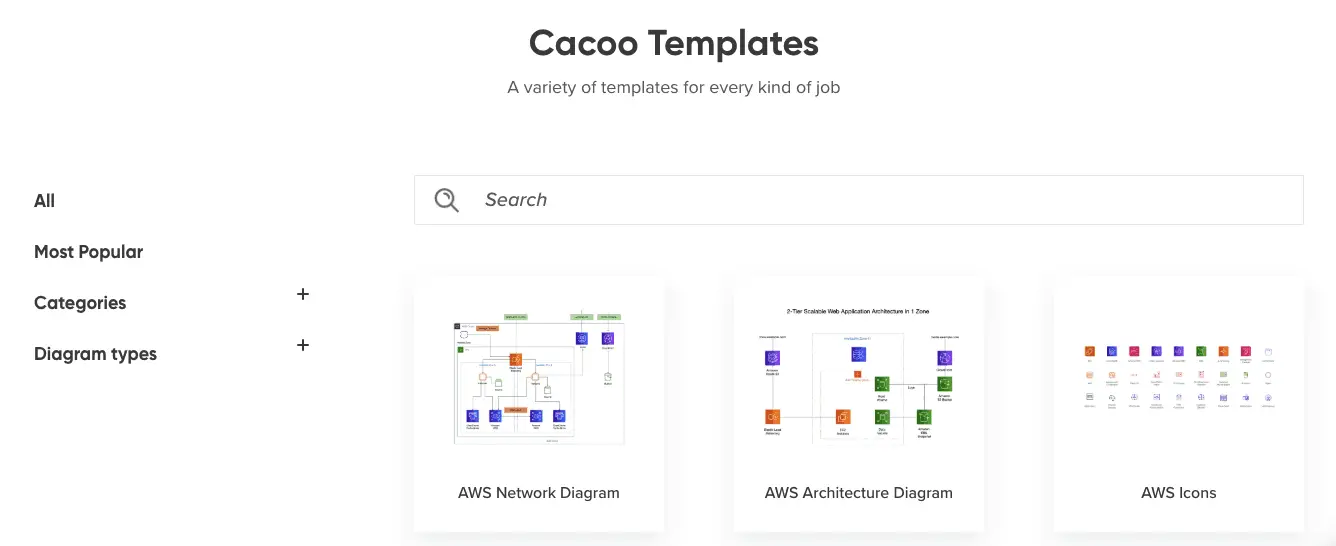 It is an inexpensive tool ($5/per user per month). It is easy to learn and navigate, so you do not have to be a tech genius to learn how to use it.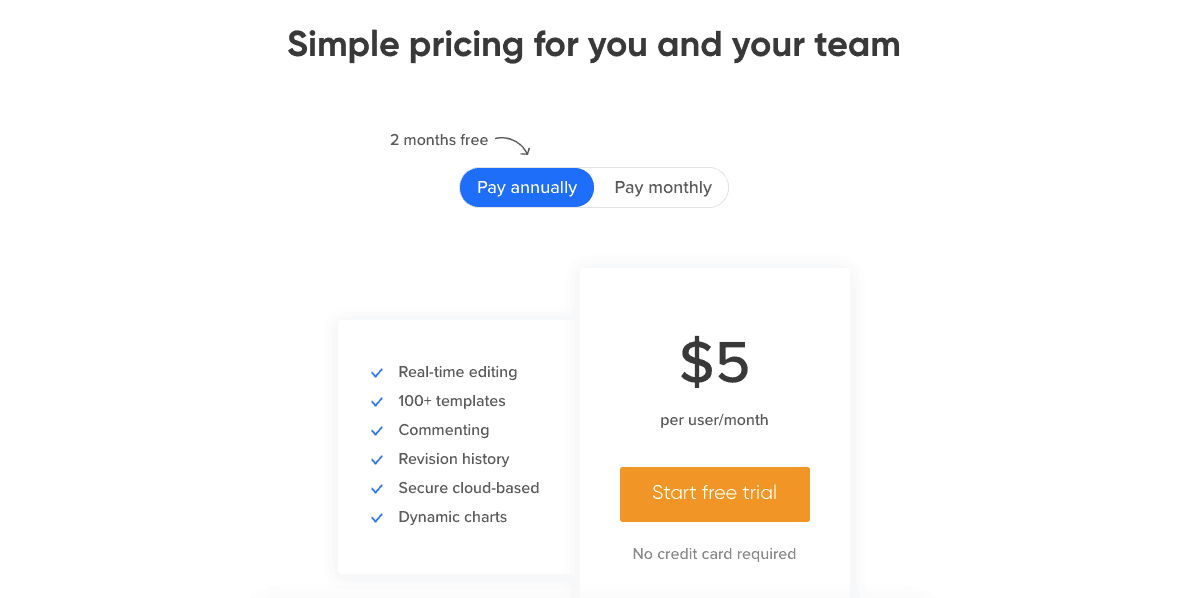 You can export and import files to Visio, PowerPoint, and images. It is integrated with Slack if you are working as a team, as well as Google Drive, AWS, Adobe Creative Could, Dropbox, and Confluence.  If you work as a team, you can reply and leave comments on your canvas and share your files and ideas.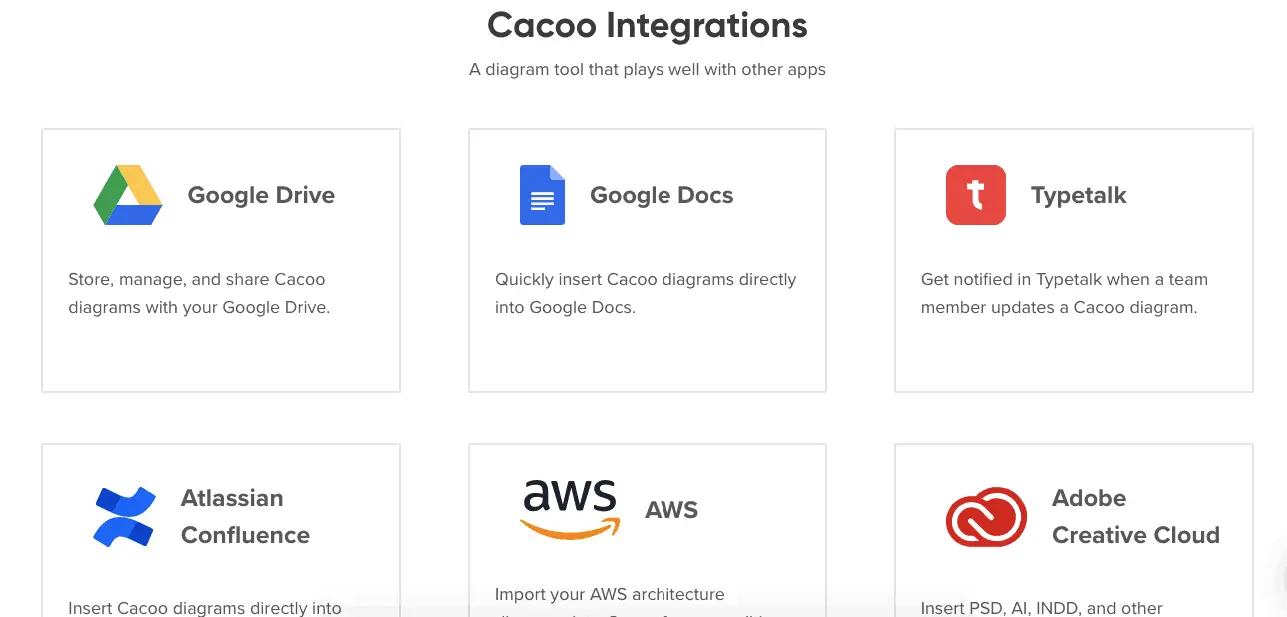 Different co-workers across departments can use it (marketing, project management, design, and development). This software offers something for everybody.
Some of the drawbacks include the inability to save to PDF formats and a clunky zoom-in function.
Conclusion
A business process can mean different activities, from managing workflow to learning how to do a specific task and improve the quality of the process. It can include several simple tasks or numerous complex decisions that need to be made for the business. Doing these processes in a flowchart form is done, so a consistent and predictable outcome can be expected. It makes it easier for everyone to see and understand the process and the requirements for it.
We hope this article helped you decide which flowchart software is best for you and your business.