This widely-known photo-sharing website is your classic success story: from modest beginnings to acknowledgment around the world. The team behind the site claims they have always had one leading idea – helping and boosting the creativity of the Unsplash community.
The story of this website began in 2013 when the crew was working on a set of tailored pictures necessary for a project on which they were working at the time. One of the photos made during this photoshoot was used for the project in question. The remainder of them was rejected and would have been just stored away in an obscure folder and forgotten.
That's why they've set up a new Tumblr theme, uploaded these photos, and made them free for download and use for anyone who wants or needs them. So, instead of setting up another commercial photography platform, they've decided to make their work publicly available and contribute to other people's creative process. It remains to this day a platform for free upload and download of photos with the widest range of photo topics suitable for any purpose – personal or business, commercial or non-commercial.
A Few Astonishing Figures
This concept became wholeheartedly accepted by people around the world. Today, this website has over one million photos in its open-source library. Various photographic works have so far been downloaded over one billion times.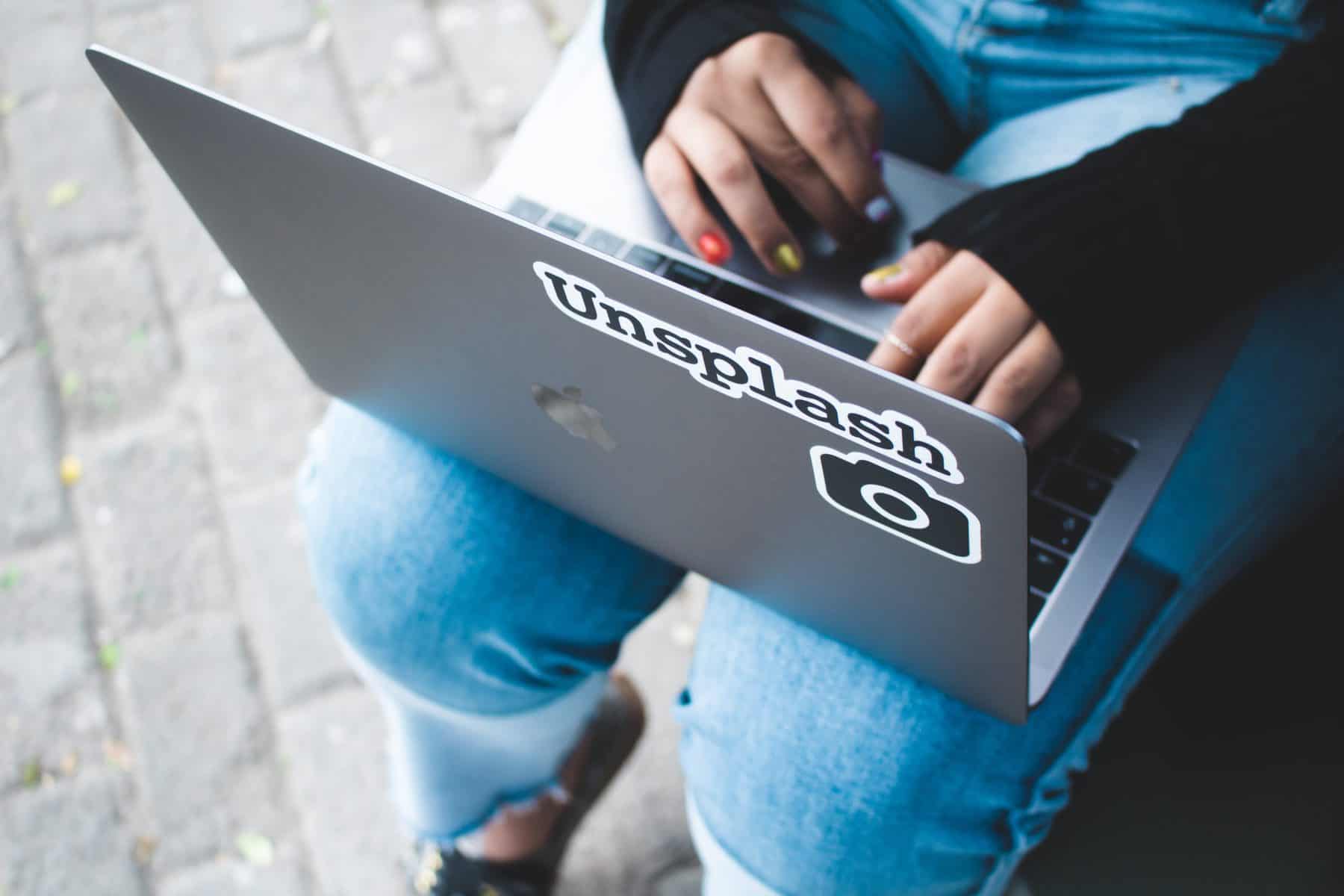 Still, although anyone can contribute, there is a strict selection of photos that can make it to the publishing point. The main criterion in the selection process is the quality of the file. Hence, only high-resolution images will be accepted. This way, they make sure that the uploaded photos can actually be useful for the members. Yet, even with this strict selection method, the community has made it to hundreds of thousands of contributions.
However, it is not a wonder that there are so many new uploads when the number of contributors keeps growing, and the website is currently heading towards 157,900 active members. Whether a hobbyist, professional, or an emerging brand, you can join and start publishing your work. Anyone can join this creative community and introduce the world to their art.
Advantages of Using Unsplash
Joining this platform gives you access to a whole universe of possibilities, and the most prominent one is the huge audience. Unsplash has become an established name, so what a better way to showcase your work than through such a renowned platform.
The most prominent advantage of joining this website is the international community of helpful and communicative artists. They create the environment beneficial for beginners as well as for the experienced pros.
In addition to this, there are many other valuable features that can facilitate your development as a photographer.
Supportive Community for New Photographers
Unsplash atmosphere is particularly advantageous for ambitious hobbyists or budding artists. Primarily due to the support and tons of advice, they can source from the platform.
Additionally, they won't need a DSRL to launch their Unsplash profile. On the contrary, – regular smartphones would do just as fine as their artistic tool. On top of this, there is an easily accessible link to the Unsplash blog post that is filled with advice on how to put your phone to the best use for your development as a photographer. We are not talking about mere theorizing, but about actually tested advice from experienced photographers and members of the Unsplash community. So, your beginnings will be as smooth as possible.
Networking Opportunities for Experienced Artists
Besides this mentioned mobile photography instructional post, the blog is filled with all other kinds of tips and suggestions on how to perfect your craft and get better day by day, step by step.
The blog has five sections, plus a help section.
Articles section has a variety of texts on photography improvement hacks or Unsplash-related advice.
Launches are a news section about all innovations the team behind the site has recently introduced.
Partners section notifies you on new cooperations the website has initiated with various companies.
Lastly, but most importantly, Events and Hosts sections are where you can get info on the future (or previous) gatherings of Unsplash community, and the members who have organized those events. Attending these events is an exceptional way to get in touch with other photography enthusiasts from all corners of the world. Being an artist usually means working alone. That's why these events are truly important – they reinforce the sense of community and support all artists, but especially novices, certainly need.
Yet another channel of communication the Unsplash community uses is Slack. This is a great way to maintain contact with other photographers interested in the same topics. In addition, it is an amazing source of first-hand tips and expert help for all your questions regarding the photography basics. You can also ask for some feedback on your work from your fellow artists and thus get another perspective on what and how you could improve.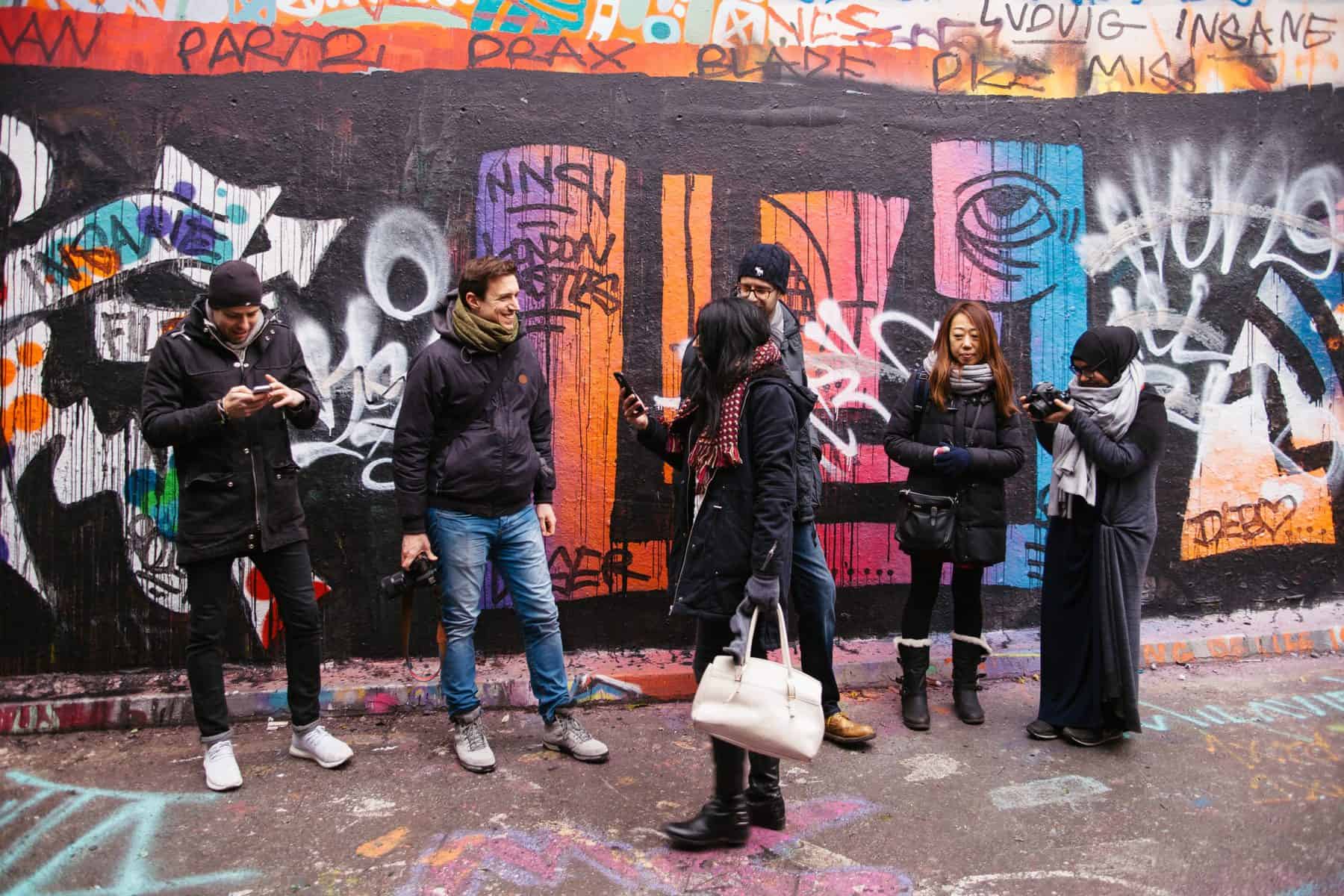 Other Valuable Features
·      Likes
An earlier version of the site had a counter of the likes your works get. However, it was deemed incorrect when it comes to measuring the impression photos made on the observers. So, it remains active in a sense that liking a photo automatically saves it onto your account and makes it easier to access later. Otherwise, the number of likes makes no impact on the artists' creative process. So, no harm is done there. On the contrary – your photos that someone liked can serve as an inspiration for their own projects, whereas you are not bothered by the number of likes.
·      Remixes
The lack of like counter doesn't mean you can't see if your work has influenced someone else's or served as the basis of their creative process.
Unsplash values transparency, so there is a Remixes page where you can see the works published on Unsplash that were later on used by other community members to create their own works of art.
This mostly refers to heavily edited photos that belong to a whole other form of art.
·      Following
For additional inspiration, you can follow some of the artists you've noticed. You will be notified when they make a contribution, so you'll always keep up with their work and receive a fresh dose of inspiration form their publications. Just like with likes, they won't be under pressure to keep score of their followers as these numbers don't show up anywhere.
·      Search Trends
If you are new on Unsplash or just dealing with a creative block, you might find the Search Trends section useful. There, you can see the most sought-after topics, and these suggestions might spark your inspiration in a fresh new direction.
·      Collections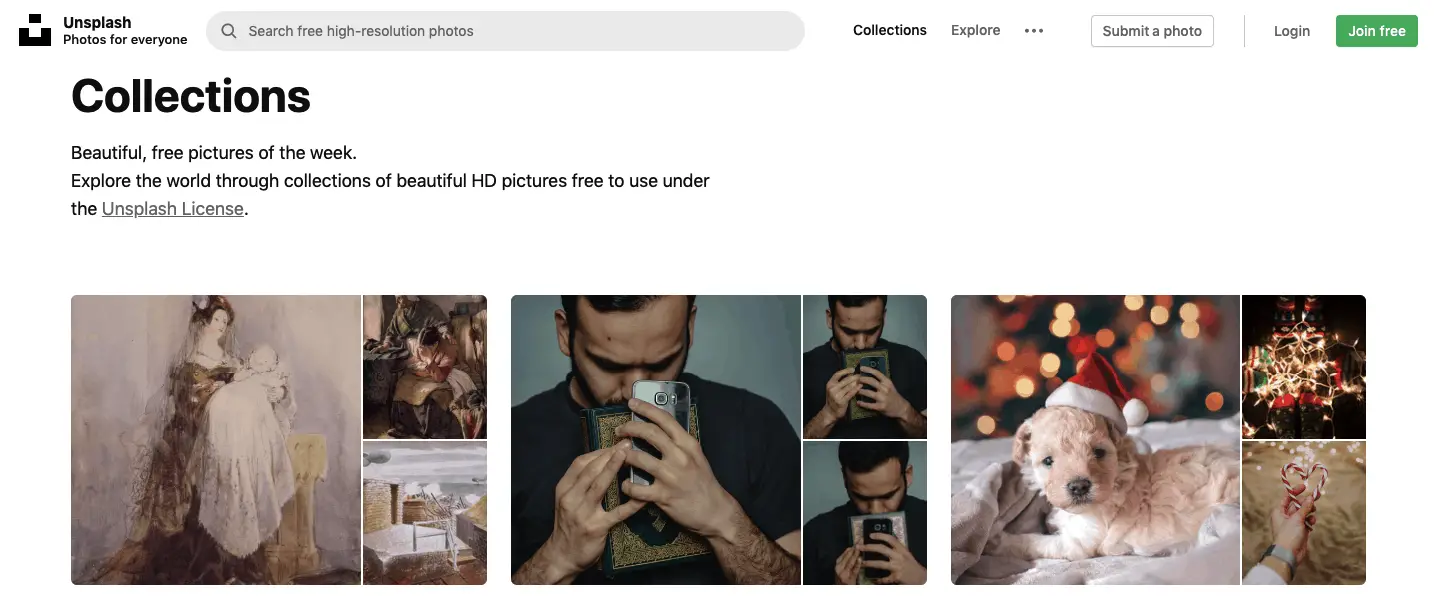 This is an alternative inspiration source. On the Collections page, you can just scroll through the endless list of photo collections on different topics and source your ideas from there.
·      Help
Once you finally upload your images, you'll find great instructions in the help section of the website. It has numerous topics and subtopics that answer most of the questions that novices might have when starting and updating their account.
·      Free Download and Usage
Here is one of the most controversial features of Unsplash. Namely, once you download someone else's photography, Unsplash license allows you to use it for non-profit and profit purposes without naming the author. Unsplash team is working hard on maintaining the positive energy and appreciation of other people's work across the community. This is why download guidelines emphasize that naming the author for each photography is valued highly and considered a good practice.
Additionally, beware when downloading photos uploaded by certain brands. For some of them, you might actually have to request permission for usage.
Keep this in mind in order to avoid some unpleasant copyright-related situations.
Other than brand photos, you shouldn't worry about permissions. Rather, make an effort to keep a good relationship with the fellow Unsplashers and thank them for sharing their work with the world. And what a better way to thank someone for their contribution than to give them recognition and steer the attention of the professional public towards their name and talent.
Success Stories
Unsplash team maintains strong ties with the users who have formed their own brands and launched products by relying on Unsplash as the photo source. Here is a couple of stories about the entrepreneurs who are making their "products" with photos from Unsplash.
Station Seven
The Station Seven business is founded and led by a married duo, Brittni and Mike. They have worked 9-5 for several years and felt deeply dissatisfied with their lives. Then, after reading a self-help book on how to make your life more than just work and commute, they decided to leave everything, move across the world, and start an online business.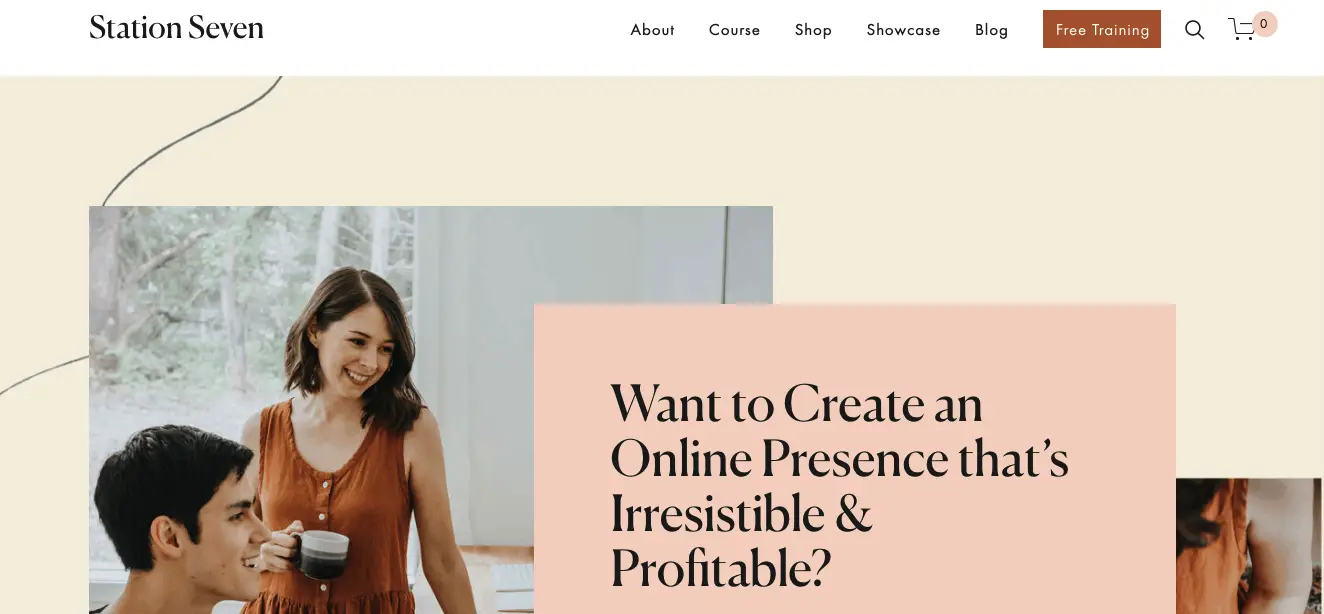 They knew very little about the field they were about to step into, which was website SEO and design. Still, they worked hard, educated themselves, and finally, their business took off. Today they are successful entrepreneurs living a life they love and working exclusively online.
As their business focuses on the creation of optimized, well designed, and attractive themes and websites, they need a reliable source of photos they might need for their designs. Since Unsplash offers a myriad of free photos available for commercial use, it helps the daily creative process of people like them in a couple of ways. First, it saves them the time on the search for the appropriate photos on various online services. Secondly, the huge selection lowers the risk of them picking an already over-used photo. Thus, they have their photography-related issues sorted out in just a few clicks.
Firefly Lights Design
Firefly Lights Design is a one-woman business endeavor. Lindsay Turner is an artist in the first place. She has graduated from the Minneapolis College of Art and Design and since dedicated her time to painting, illustrating, and branding, as well as product design and social media marketing.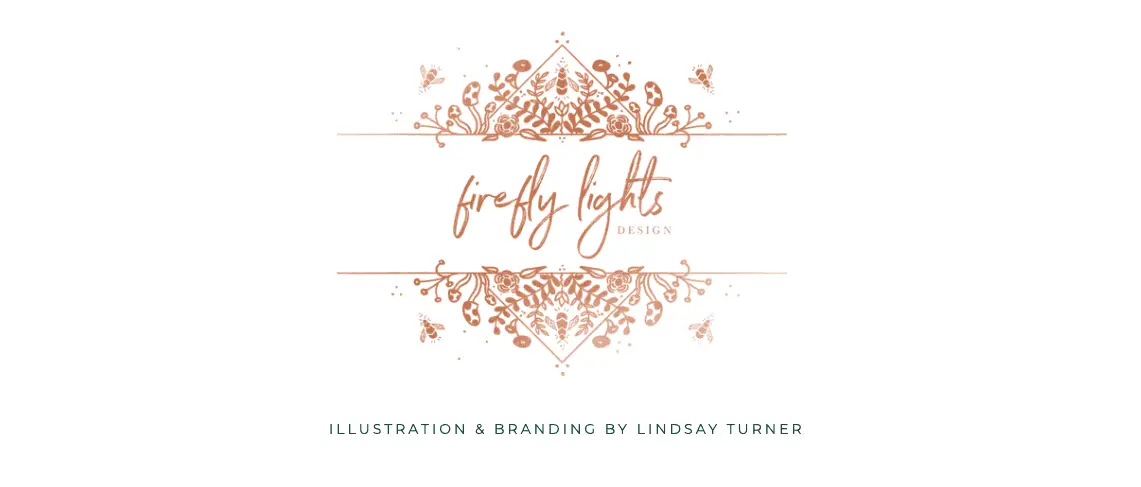 Unlike her painting and illustrating projects where she does all the work, her branding and marketing efforts aren't necessarily based solely on her artwork. This is where she needs actual photographs, which she edits depending on the aim of the campaign.
Searching for appropriate, free, and licensed photos are much easier when they are all in one place. This is why people like her choose to source the necessary photographic artwork from Unsplash. Most importantly, once they use some of the Unsplash photos, they don't have to worry about whether they'll face any copyright infringement accusations in the future, and that is a huge relief for busy and thriving entrepreneurs who are building their reputation.
How to Upload Photos on Unsplash
You'll be able to access your account from any device and upload your photos. This process is pretty simple. It's the pre-upload preparation to which you should pay more attention. We'll discuss this whole procedure and requirements here so you can relax, knowing you have understood everything and avoided the common rookie mistakes.
Guidelines for Uploading Photos
We will quickly go through several Unsplash criteria before we move on to the upload process.

·      Appropriate Size
They have a minimum size requirement, which is 5 megapixels. This means at least 2500 by 2000 pixels for a photo that has a horizontal orientation.
·      Originality
You should only consider actual original photos. So, no screenshots, or any other similar visuals. Also, they will not accept any composite art done through editing platforms instead of, well… a camera.
·      Clarity
Photos that are too blurry because of noise, filthy lens, or unclear because the angle is too unconventional won't be selected for publishing. Selfies also belong in the unacceptable slot.
·      Moderate Editing
The measure is highly valued when it comes to editing the photos you are planning to share on Unsplash. Here are a few criteria they follow when evaluating whether a picture could be characterized as over-edited:
If it's heavily vignetted
If it's too sharp
If saturation is too obvious
If there is a single color popping out on a black and white photo
Still, you don't have to strictly stick with traditional settings and styles. Not all atypical compositions or editing choices are frowned upon in Unsplash curating department. For example, using double exposure, kaleidoscope lens, and similar styles is welcome, and you shouldn't worry about this type of photos being rejected for publishing.
·      No Nudity
Unsplash is run as an appropriate family website, so they are not publishing photos, which include nudity.
·      No Violence
For violent content goes the same criterion as for nudity – there is no place for it on a family-friendly website such as Unsplash.
·      No Duplicates
Duplicates of the photos you have already sent in for evaluation will not be accepted. This includes:
The same photo in a black and white version,
Several mock-up style photographs,
Cropped versions of already filed photos.
·      No Added Graphics
No photos with overlaid text, watermarks, borders, or graphics will be accepted. This is the mistake that most of the Unsplash beginners make. Here are the types of photos that don't make the final selection:
Pictures with any type of text, including time stamps and hand lettering;
Photos with watermarks in any form will be refused;
Images with full or partial borders in any color;
Photos with elements such as logos, clipart, etc. which have been added to the photo which originally doesn't contain them.
·      You Are the Owner
You can upload only the photos that you have created – and therefore own them – or the ones for which you have permission to use as your own.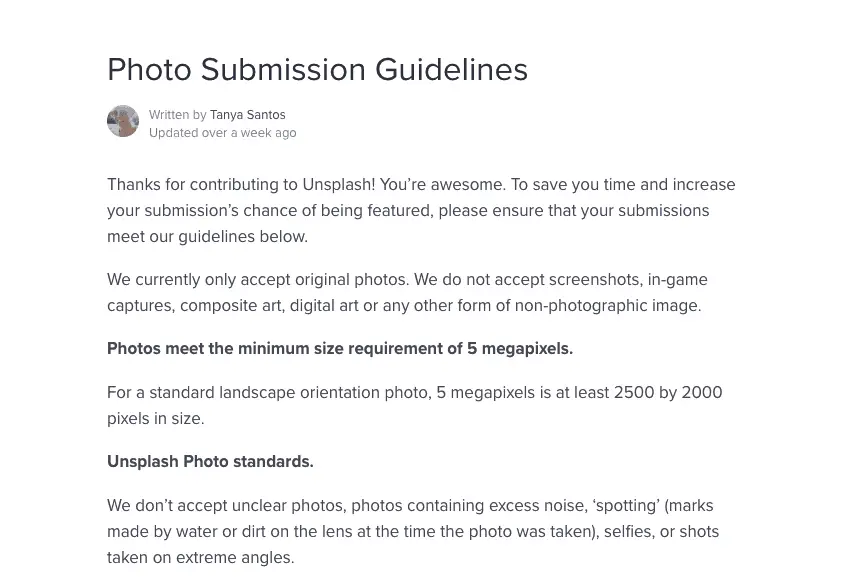 Photo Uploading Process
You can conduct the upload of your photos through any operating system and device. Below, we will show what the process looks like for different devices. However, regardless of your preferred device, the first step is, of course, logging into your account.
·      Desktop Upload
Upon logging in, in the top right corner of your screen, you will find a button that says, "Submit a photo."
Click on this and follow simple instructions to upload your photos.
·      Mobile Upload
In the upper navigation bar, you can find a "+" icon. Once you click on it, you'll be able to easily upload your images by following the simple directions.
·      iOS Upload
Once you've logged in, you need to click on the profile thumbnail. You'll find a "+" sign in the top right corner. Click on this, and you will be able to access and follow easy guidelines and upload your photos.
The Catch
As a fresh user, you will face an upload limit of 10 photos per week. The decision to grant unlimited uploads is entrusted to an algorithm. It takes into consideration the engagement and dedication you are showing when it comes to contributing to Unsplash community.
Whether you will be allowed to upload more than ten photos per week depends on multiple criteria, and there are no straightforward requirements that you can try to fulfill in order to be granted unlimited upload.
On top of this, once you gain permission to upload an unlimited number of photographs, be careful when choosing which photos to submit. You can be downgraded to 10 images per week if more than 10 of your photos don't follow the submission guidelines we have previously mentioned.
Further Steps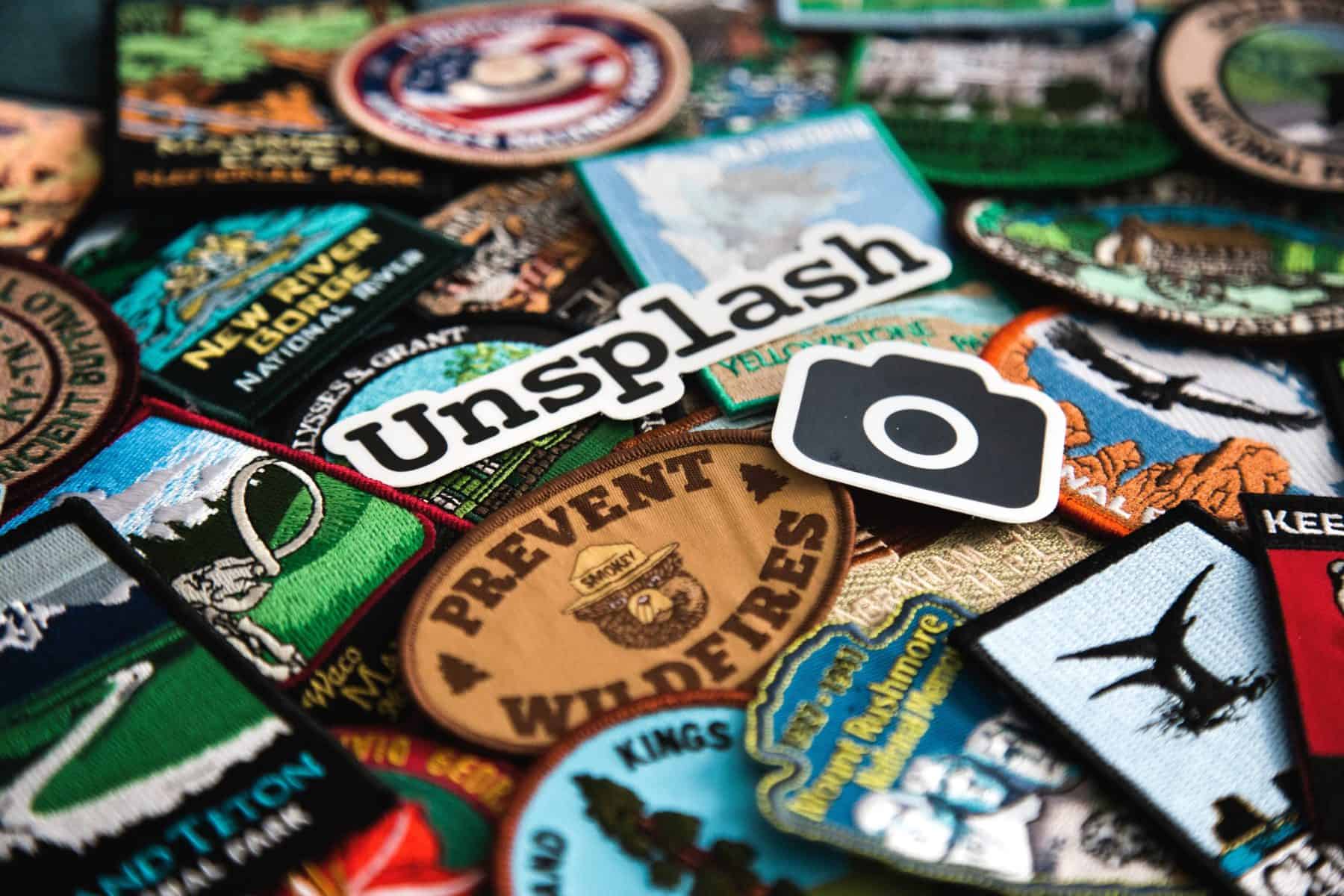 Once you have your photos published, it's not all over when it comes to editing, nor are they stuck online forever. There are dedicated sections of Help Centre dedicated individually to edit your posts and to remove them from Unsplash. The instructions are fairly straightforward and should lead you smoothly through the editing or removing process.
Conclusion
Once you have established your account and became a member of Unsplash community, you can start developing your artistic expression and style. Join a Slack conversation for some feedback, reach out to the artists you admire for a piece of advice, or just simply scroll through the beautiful photos for that spark of inspiration. Simply, enjoy in your development as an artist with the support from the Unsplash caring community.