What is the most important step leading towards the improvement of your work? Feedback! If you immediately shouted out that word, congratulations – you are way ahead of your competition. If you didn't, no biggie, we're going to dive into the analysis to figure out why it should be the first factor in line when it comes to your growth.
Blogging, development, eCommerce, design…it's irrelevant which one (if any/any other) is your field of expertise because your progress depends on the returning information from your loyal users. Don't get me wrong, I'm not questioning your expertise, but it's important to look at your service from both ends – the website holder's and the customer's. When you craft a masterpiece that is your website, you understand why did you do it in a certain way, and everything has a purpose. But do the users dig it as well?
Those opinions can vary drastically, especially considering that we all tend to overcomplicate things sometimes. For achieving the best possible results, you get through all of the tutorials, find the best possible plugins, throw in the themes, customize, design, adjust, insert buttons, banners, scripts…those are not unwelcome, quite the contrary, but it doesn't necessarily mean that everyone's cookie crumbles the way you imagine.
Piling it all up can dramatically decrease your website's speed, make it too tacky and confusing, or maybe too complicated to navigate with the details jumping ahead of the actual content. But don't lose your spirit! Mistakes are a consequence of hard work, and by making them and being open to correct them, you are definitely on the right path, and your users are there to help you. And how do you extract their observations? With surveys, of course!
You will gain insights on their satisfaction levels, get feedback on your products or content, find out where are you missing out or what doesn't work properly and in the end channel your efforts towards upgrading your status, getting even better marketing results with more precise targeting and reaching top-notch results of course. Stepping aside from the website sphere, you can implement the survey method with your employees, for example, and find out their satisfactory levels.
The bottom line, surveys offer so many benefits that directly influence your success, which is why you need to exploit them ASAP. Add to that a few more factors, such as:
Cheaper than other methods
Provide accurate and extensive information
Customizable to your exact preferences
Easy to use and operate
and so many more. Their usefulness and importance is undisputed, but which service should you use to gain maximum profit? Let's get right into it and examine the top 8 online survey tools:
1. Google Forms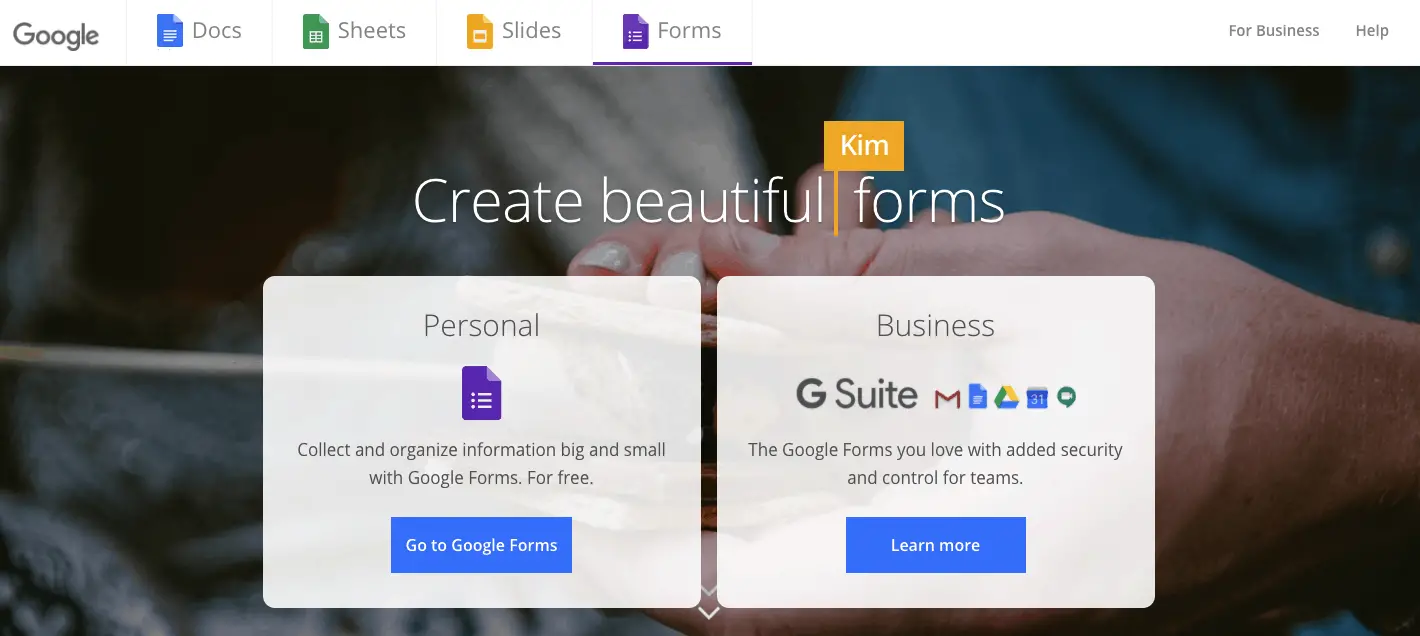 Kicking things off with a solution offered by Google and, as such, leaves no room for failure. A survey created by Google Forms works flawlessly on every platform, so regardless of the users taking it via desktop or mobile, regardless of the system they're running, there will be no issues. The results are collected in real-time so you can track the progress as easy as it gets. Everything is customizable with featured themes and layouts to compliment your brand perfectly. The number of surveys, questions, and answers is unlimited. And the cherry on top – it's completely free.
2. SoGoSurvey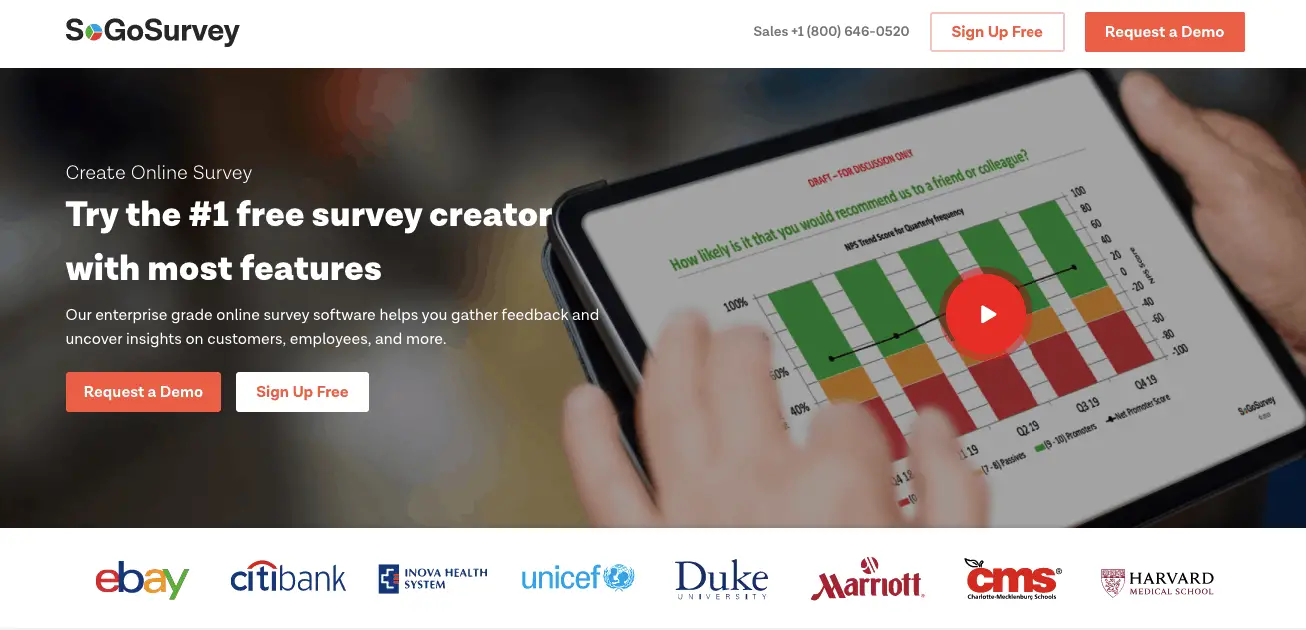 You run a large business or still at the startup level, beginner or a pro, demanding or simple…it doesn't matter with SoGoSurvey because it will fulfill your needs exactly how you want it. The interface is based on a drag-and-drop concept, which makes it super easy to learn and master. It's packed with features, such as bulk editing mode, templates, and customizations of themes, fonts or colors, unlimited surveys, custom messages, and many more. It comes as free software with an option to go pro and unlock more features, with prices ranging from $25 per month to $99 per month.
3. Typeform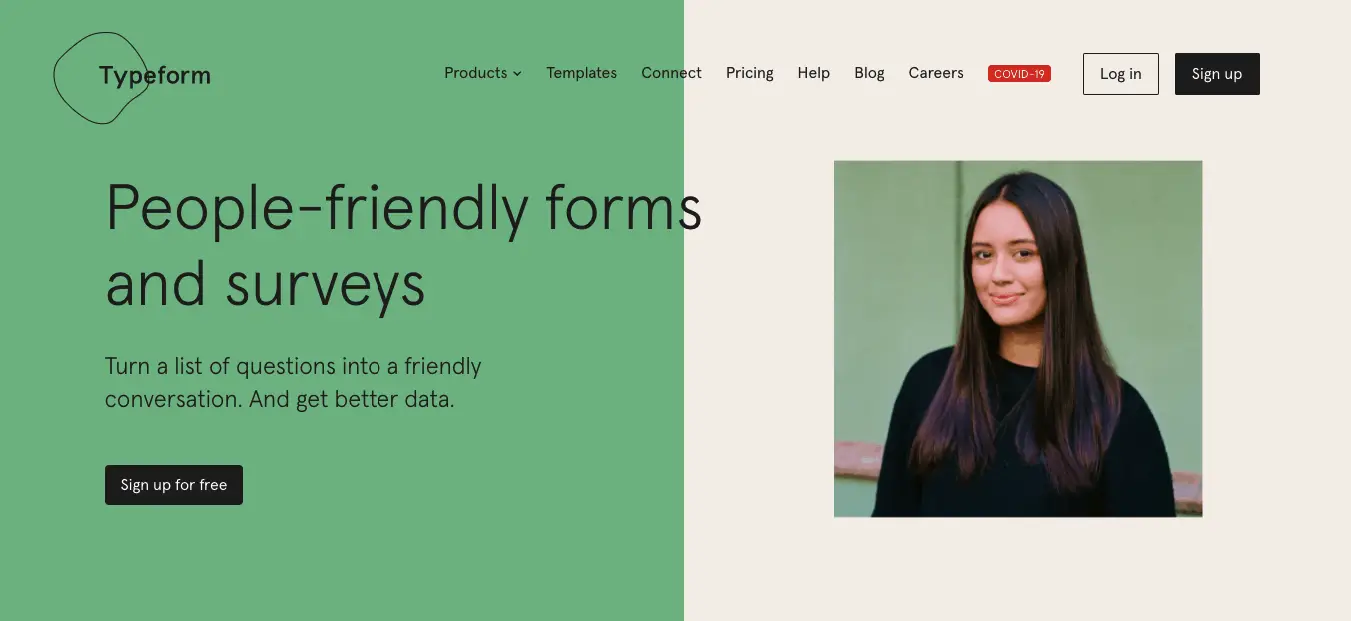 A survey making software that puts emphasis on creativity and fun for doing remarkable surveys in a stylish and elegant manner is what Typeform is all about. If you are prowling for a software that offers a free plan with rich features, you'll be happy to find out that you can create unlimited surveys with a free account. It offers great flexibility and versatility with features like answer piping, templates, themes, connectable with over 200 services through Zapier, and ultimately makes the whole experience fun for both you and the users.
4. SurveyLegend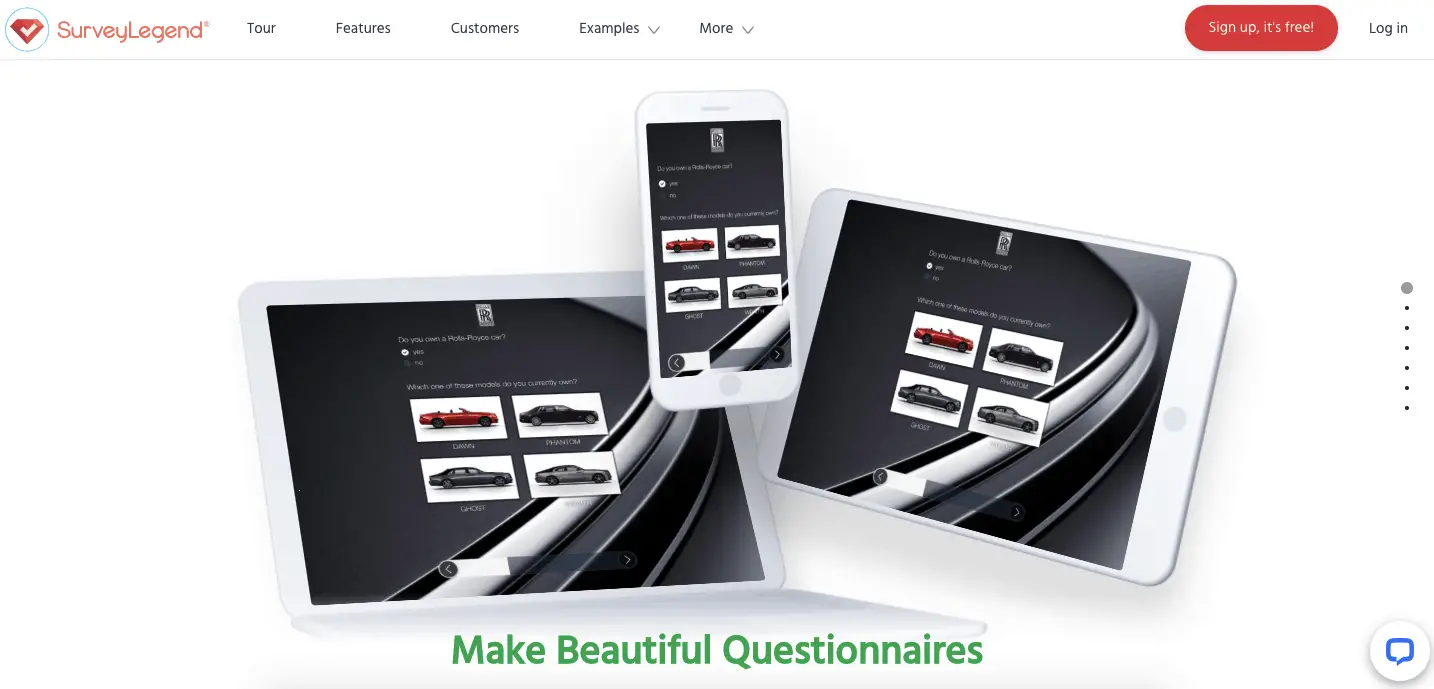 Created for both small and large businesses, simple, effective, and delivers great end results – SurveyLegend is the full package! As well as SoGoSurvey, it operates on a drag-and-drop concept making it easy and approachable, with countless customizations at your disposal. With proper manufacturing, it looks remarkable on both desktop and mobile, and with detailed graphics, extensive templates, and designs, doing outstanding surveys becomes a walk in the park. It comes in free and paid programs for you to choose which one suits you better.
5. Survey Planet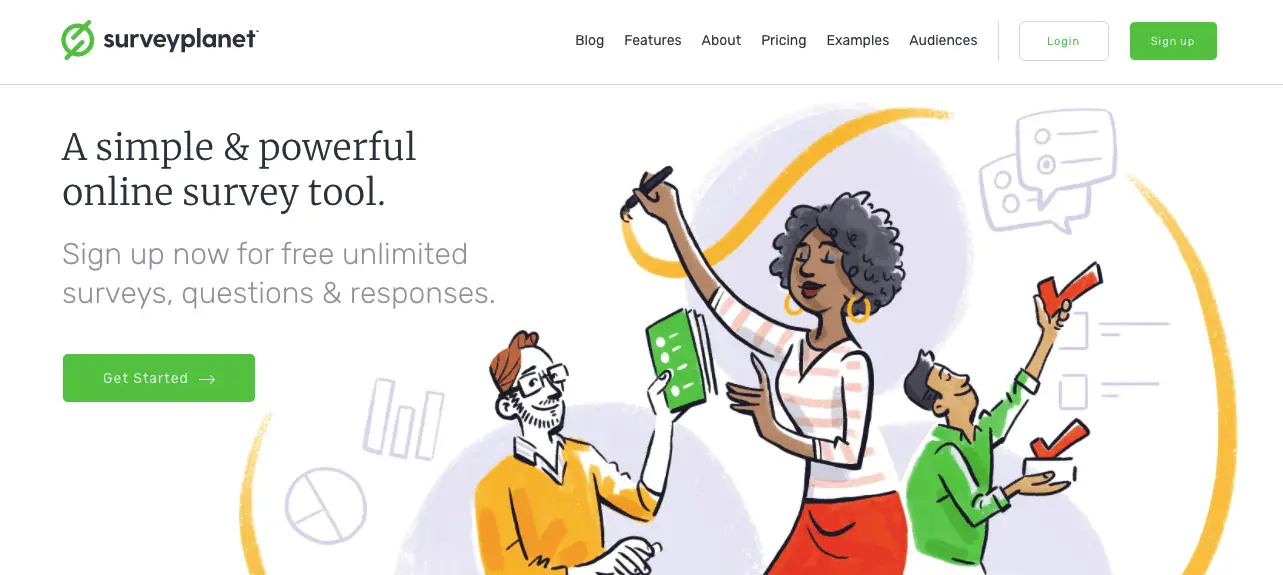 Simplicity combined with power is what makes Survey Planet an amazing survey making tool that you'll love from the first usage. Some of the features that you can expect from this software include: Custom themes with ten templates available and a theme maker in the pro package, question branching for a skip logic that sorts from asking additional or skipping questions, custom branding for custom logos and URLs, pre-written questions for editing and combining them and many more. It's a simple tool that makes the usage a piece of cake but still packed with features that guarantee maximum efficiency.
6. Survey Monkey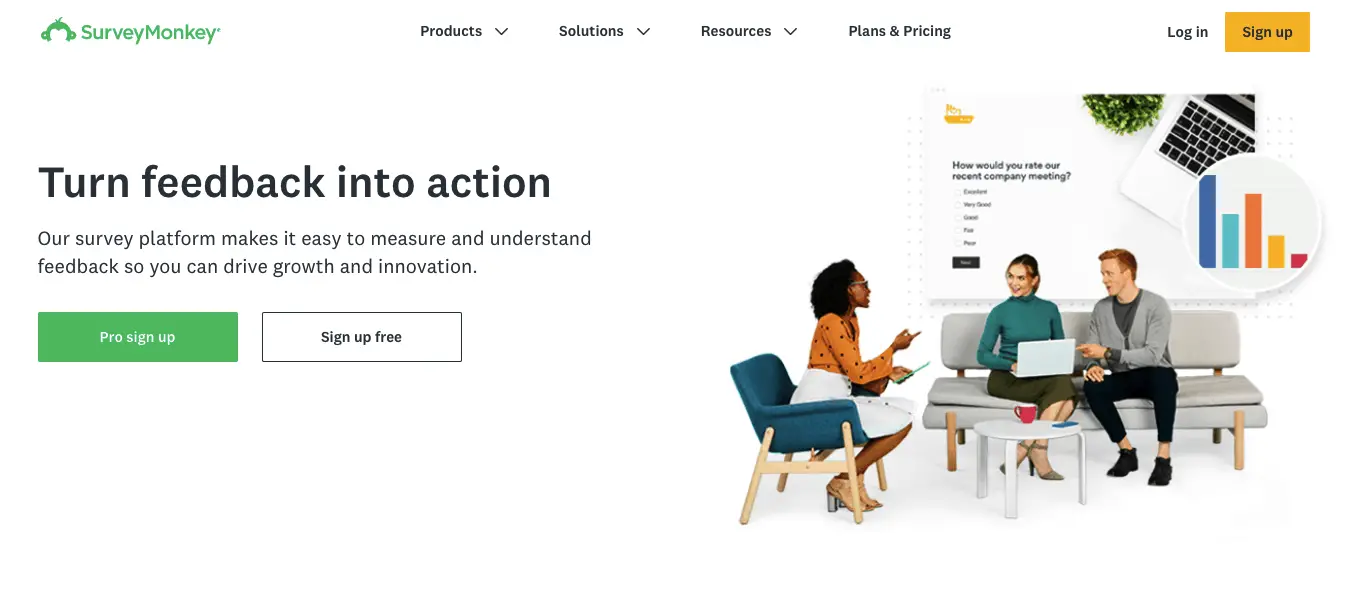 One of the most popular names in the survey making world is definitely Survey Monkey, and for a few good reasons. It's used as a web application and extremely easy to handle so everything can be done in a matter of minutes. The beauty of this software is that you can customize pretty much anything; add obligatory or optional questions, multiple-choice, open-ended, etc. Add to that survey question logic, preferences for matching your target audience, real-time results…the list goes on and on. You can choose between a free and paid plan, with the free being mildly limited but still able to get the job done and the paid plan with all features unlocked with a price starting at $32 per month.
7. SurveyNuts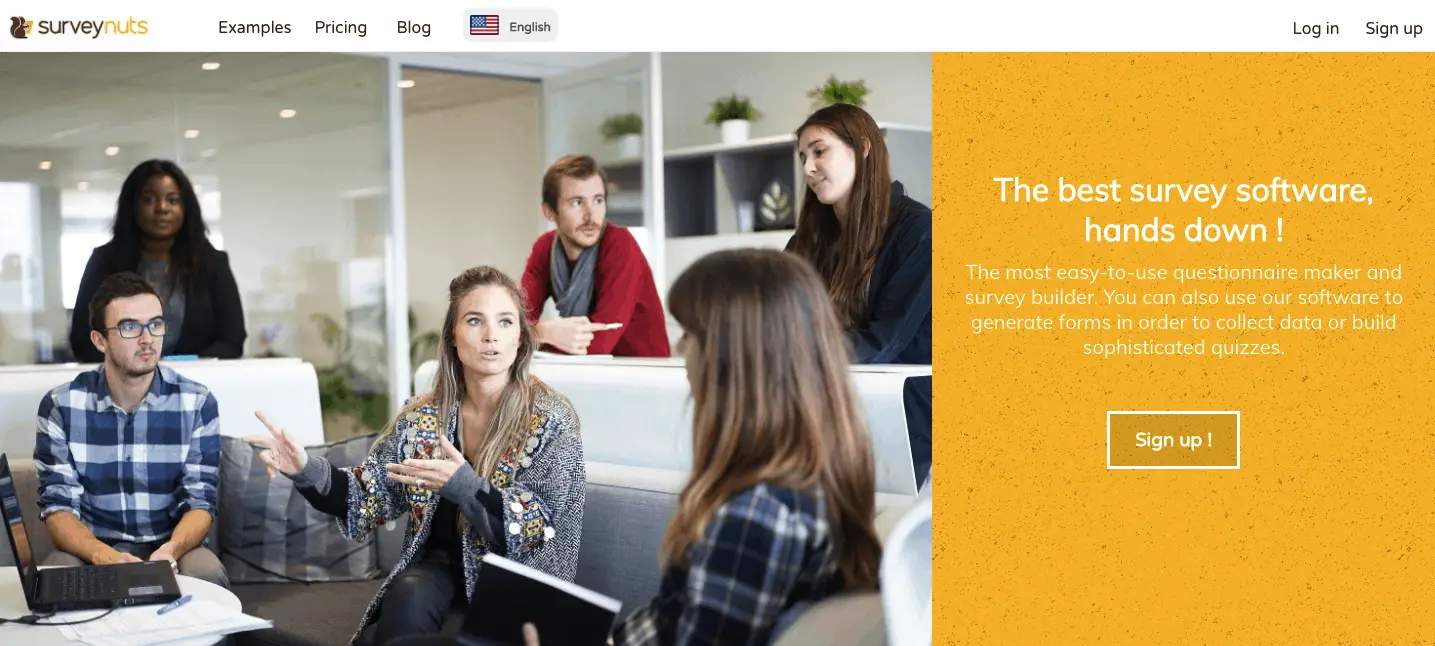 Creating visually appealing surveys in record time is a sign that you've been using the SurveyNuts software. Everything remains light and straightforward, but don't let that fool you – it has hefty supplies of features to make sure you don't miss out on anything. Adding pictures to your questions – check. Interactive survey editor – check. Open-ended questions – check. A dozen design themes – check. Hell, your respondents can even attach files in their answers. If you are after a speedy solution for creating a survey, you can get it easily done with the free version, or reach out for the pro plan and obtain all of the features, starting at $25 per month.
8. Zoho Survey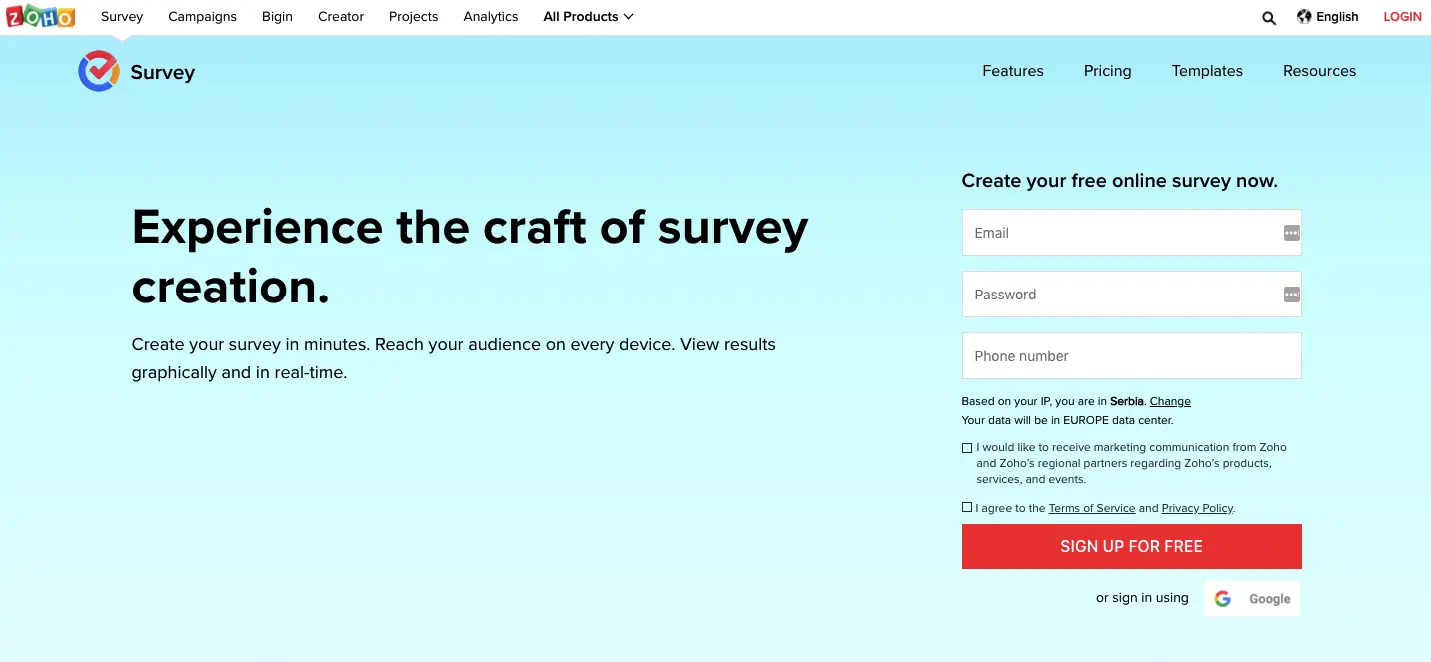 To end on a great note, we complete the list with Zoho Survey. Check this out: over 200 templates, custom variables, piping, logo upload, custom domain links, real-time reports, filtered responses, and more and more and more…The features speak for themselves, and when you peak through and acknowledge all of them, you won't be able to say no to this software. Bear in mind that most of them are included in the paid package, and for free, you'll obtain unlimited surveys with 15 questions and 150 responses.
To wrap things up
Surveys play a huge role in your professional advancement, and by implementing them, you will get precious insights on your standing point and all burning fields that need extinguishing. People tend to be lazy when it comes to filling them out, but when you create a masterpiece by using one of these options, those responses will start arriving before you can say success. Pick the one that suits you best and start asking!