In the last couple of years, streaming has become an incredibly popular way to present yourself, your work, and ideas, as well as make some money. Video streaming is widely used by gamers today, and we mostly associate live streams with them or sports events. But the fact is, that streaming has become a part of almost every business connected to the IT sector and beyond.
All you need to stream videos is a solid internet connection, and a proper broadcasting tool or service. Thanks to the advanced development of video streaming technologies today, you can stream almost anything, anywhere.
Naturally, many people recognized the potential of video streaming and started using it for various purposes. For example, businesses use it for product showcasing and advertising. It is also used for educational purposes, video conferences, webinars, and so on.
Video streaming gained a lot of importance with the development of the Covid-19 crisis which caused every possible activity to move online. This led to many people searching up video streaming tools that are most compatible with their needs. Finding such a tool is not an easy task, especially if you don't know what you are looking for. But we are here to help you narrow down the search, by showing you the best tools for video streaming available right now.

Videolinq has everything you ever needed for managing successful and profitable video streams on multiple platforms simultaneously at a low cost. Now, there are many reasons why this tool is cherry-picked by streamers, but definitely, the ease of broadcasting your content on multiple social platforms at the same time is one of the main perks of Videolinq.
All you have to do is connect your webcam or some hardware/software media encoder, select your destinations (social platforms on which you want to stream), hit Go Live, and voila, magic happens. After the watch party, you get insights on your performance and can track viewer engagement in all destinations.
This tool allows you to stream on more than 20 platforms at the same time, including famous social media platforms like Facebook, Instagram, and Twitch. Videolinq also offers you more options like the ability to add subtitles, real-time closed captioning, a scheduler tool, etc.
It is a perfect symbiosis of different streaming options, a truly unique idea, and a perfectly executed one. With this tool, everything you have to do is go live and stream.

This is an amazing streaming tool that allows you to broadcast, with embedded content, on Facebook, YouTube, and your website. To do that, all you need is to drag-and-drop slides and logos and manage them during the live stream session.
To make everything easier for you, Livapp works perfectly on mobile. And besides the fact that it is a mobile-friendly app, which is not something you often find when dealing with these tools, Livapp also offers plenty of features like the ability to add slideshow presentations, logos, names of speakers, and the ability to modify info on participants, all depending on the tone and topic of your live stream.
Livapp also gives you the ability to zoom in everything you film, with its camera mode. This and plenty of other features make Livapp a must-have for all streamers no matter how experienced they are.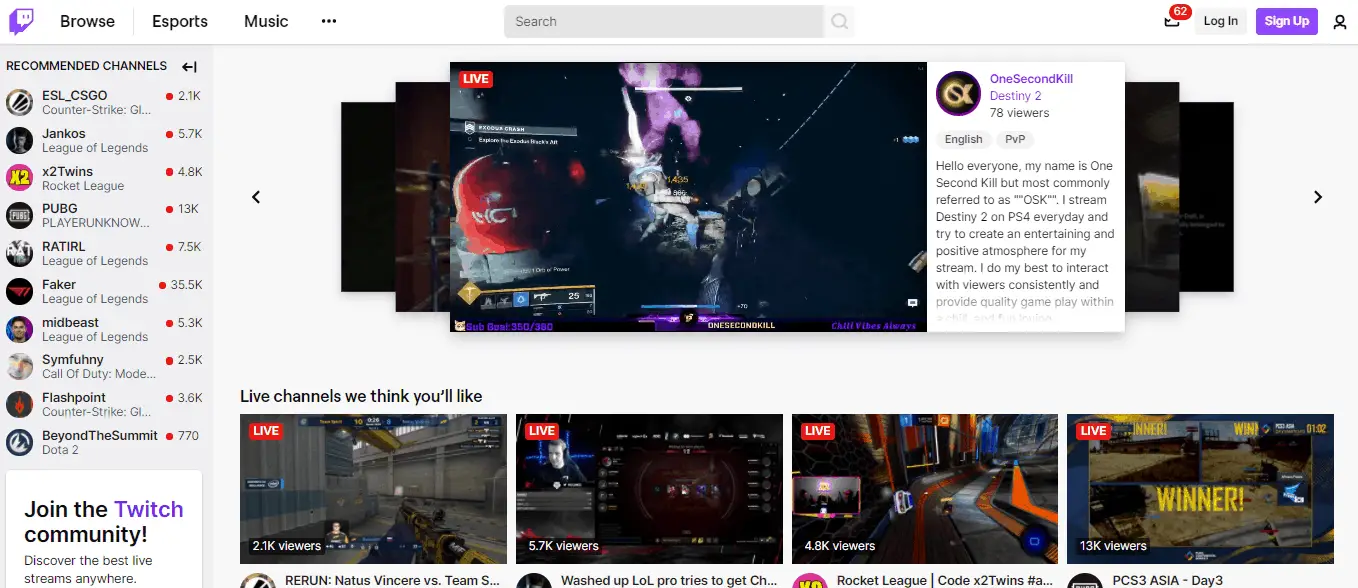 Twitch is one popular and highly appreciated platform, widely used by many nowadays. This live streaming service gained its fame mostly through video game streaming, but it is used for other streaming purposes as well, like podcasts, music, esports, etc.
On this platform, you can see videos live or on-demand, many extensions are offered as well using which developers can create live apps that interact with streams. Also, on Twitch, you can monetize your content through a few options like; bits, subscriptions, ads, and sponsorships.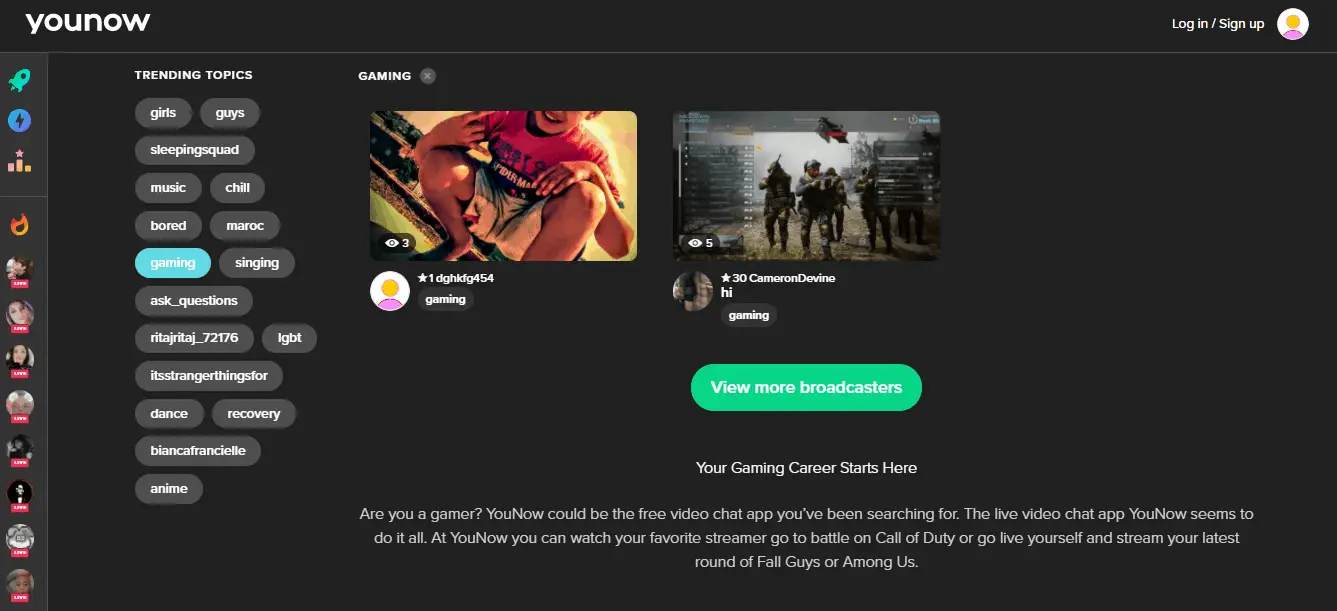 YouNow is yet another good and interesting broadcasting service. At first, it was designed as some sort of video social network, where users could interact with each other over live videos, but eventually, it grew into a streaming tool and service.
With this platform, you can broadcast events from multiple vantage points, screen share when using the desktop version (for that you will have to download the desktop app), do audience interaction, and so much more.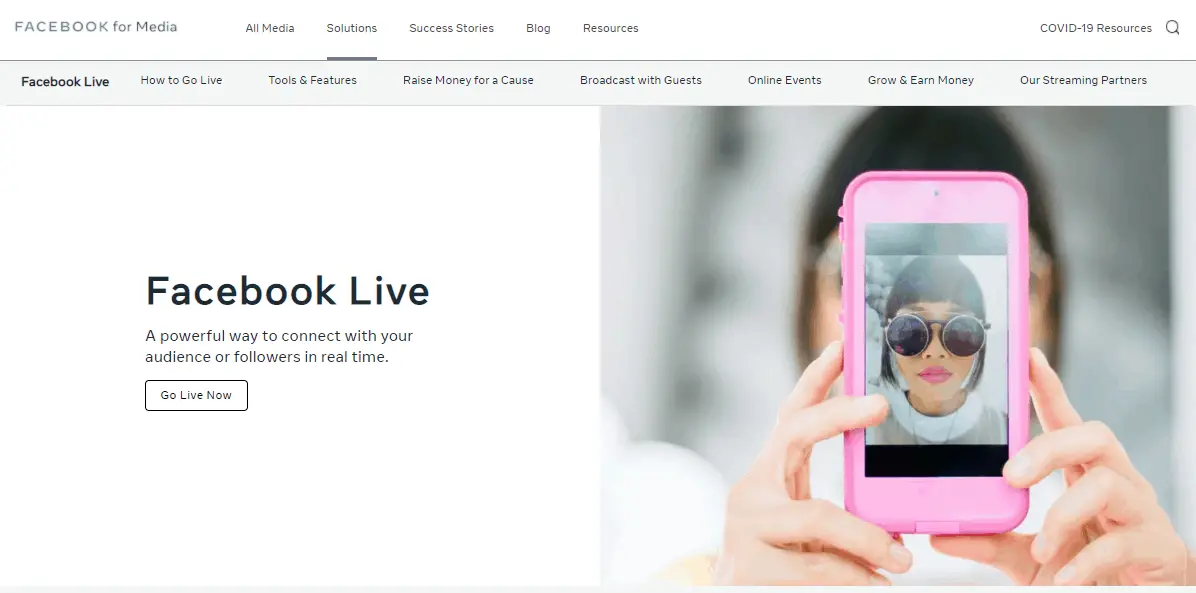 Facebook Live presents one easy way to start video streaming. Having in mind just how big and influential Facebook is, it is not surprising that its streaming tool became one of the most used and popular as well.
Some of the things that distinguish this tool from other streaming services include no complexity when using it, no need for installing any extensions, and an already built viewer base composed mostly of your friends and followers on Facebook. So basically, all you need is a Facebook account and your streaming can start.

The story of this tool is in many ways similar to the one of Facebook Live, it only started much earlier which makes sense, having in mind that YouTube is a video-sharing platform. They started the development of this video streaming tool more than 10 years ago, and it turned out well.
YouTube Live is constantly upgraded, offers many features, and provides great functionality. With this tool, you can easily customize your stream, schedule it in advance, and once your live stream ends, you can save it automatically onto your channel for others to watch (you can, of course, turn off this option).
So in a nutshell, YouTube Live is one of the most popular video streaming services and is highly praised among its users.
Conclusion
Video streaming is today a profitable and important part of IT, with its number of users reaching incomparable heights.
While it is not easy to find a streaming tool 100% tailored for you, tools like Videolinq, and Livapp will work amazingly well.
And what is more important, these two give you the ability to broaden your reach and not limit yourself to just one streaming service. Thus helping you to gain more audience members and achieve your goals.