Nowadays, every single business should have a site. Heck, even individual professionals should have one, too! Are you looking to get a job? Make an online portfolio! Your dog or cat is super cute and is becoming popular on Instagram? Maybe they need, or could use a site, too!
Still, creating a website is not everyone's number one priority. Mainly because it is so heavily associated with a considerable development team grinding 24/7 to create it, while at the same time requesting a ping-pong table and fresh fruit at the office (or garage), and then delivering impossible bills at the end of the month.
Then, you figure out that WordPress as a platform exists, and that you can do so much on it yourself! No need for expensive developers, deadlines, and your savings to go through the window.
From a simple blog to complex e-commerce stores and solutions, WordPress can support them all. You don't have to know a single line of code to create what you need with WordPress.
With Gutenberg, plenty of plugins and themes that are available, as well as a vast community that is continuously and generously working and improving WordPress, it's almost effortless. You can create a beautiful and functional website without coding whatsoever.
While you can do just that, we have to warn you – it can be a steep learning curve, unless you are a natural, of course. Gutenberg editor, as powerful as it is, takes time to get a grip on, and it can be a bit traumatizing to create what you have envisioned if you have never used it before.
Plugins are of great help, but there is a sea of them, and getting them to work as you want them to takes time.
This is where Visual Page Builder Plugins come to the rescue!
Why go with Visual Page Builders?
First and most importantly, you will be able to get the website you envisioned in a much faster and more straightforward manner. Why?
Visual Page Builders mostly work on a Drag and Drop method, which allows you to easily select, arrange, modify, and further customize every aspect of your site. They also come with a live-preview, so that you can instantly see all the changes you are making, which is a great help if you are building a site for the first time.
Most importantly, these plugins also come with a set of pre-created templates, that will do just fine by themselves if you are not looking to customize your site to perfection, but rather to have a decent online presence.
As these Visual Page Builders are the best way for beginners and do-it-yourself enthusiasts to create their first site, we've gathered the three most popular and widely-used plugins of this sort.
Pick one and get to work!
1. Elementor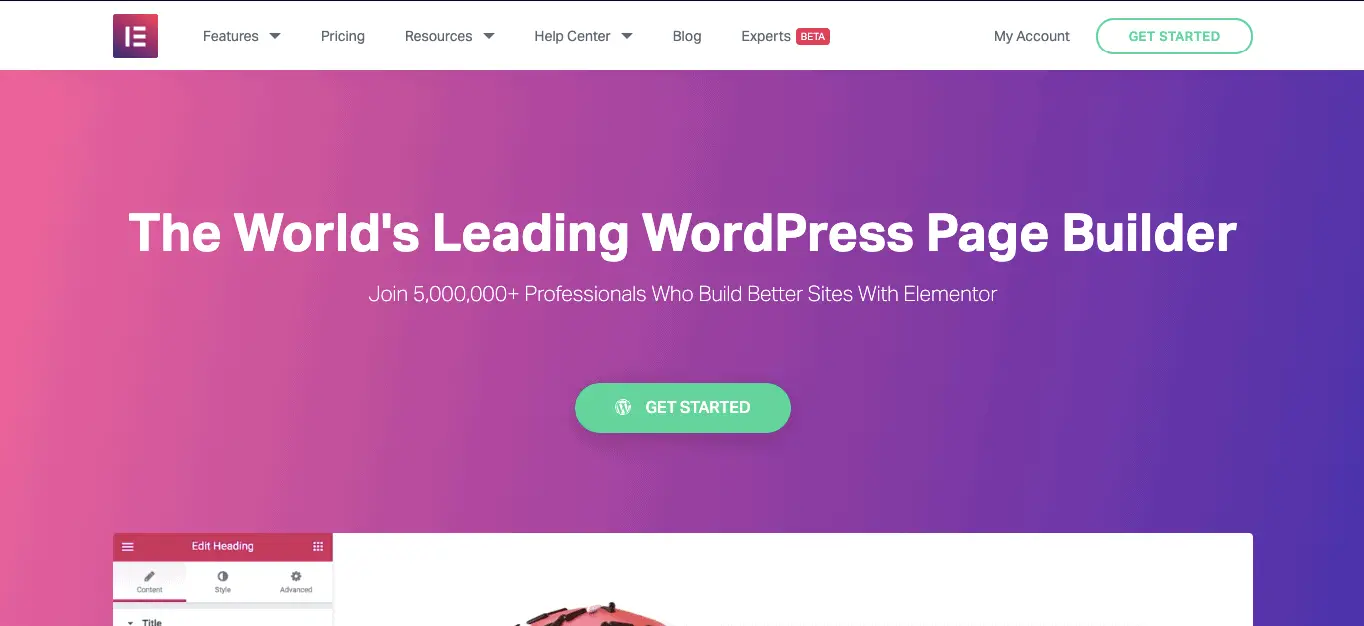 Elementor markets itself as the #1 builder plugin for WordPress out there, and they are not much biased – their users tend to agree with them!
Why? For starters, this powerful drag and drop builder comes with a huge number of templates you can use to create your site. Free and PRO versions combined have over 450 pre-made templates that you could use as a basis for your website. Or, use them as your site. Rebrand one of them a bit and add your content – your site could be ready to go live.
For those looking to create unique websites, there are plenty of elements that you can use to create your site – almost a hundred of them! They include everything you might need for a website, buttons, headings, social icons, testimonials, Google Maps for your brick and mortar store, and much more. If you need an element for your site, you will find it here!
Apart from being able to build your website effortlessly, you can create all the elements you need to increase conversions – from forms, pop-ups to landing pages, Elementor has you covered. It will also play nice with most used marketing tools, as it will integrate with them in no time.
Elementor Experts is another feature to look out for – which is a community of experts that can help you grow your business!
2. Divi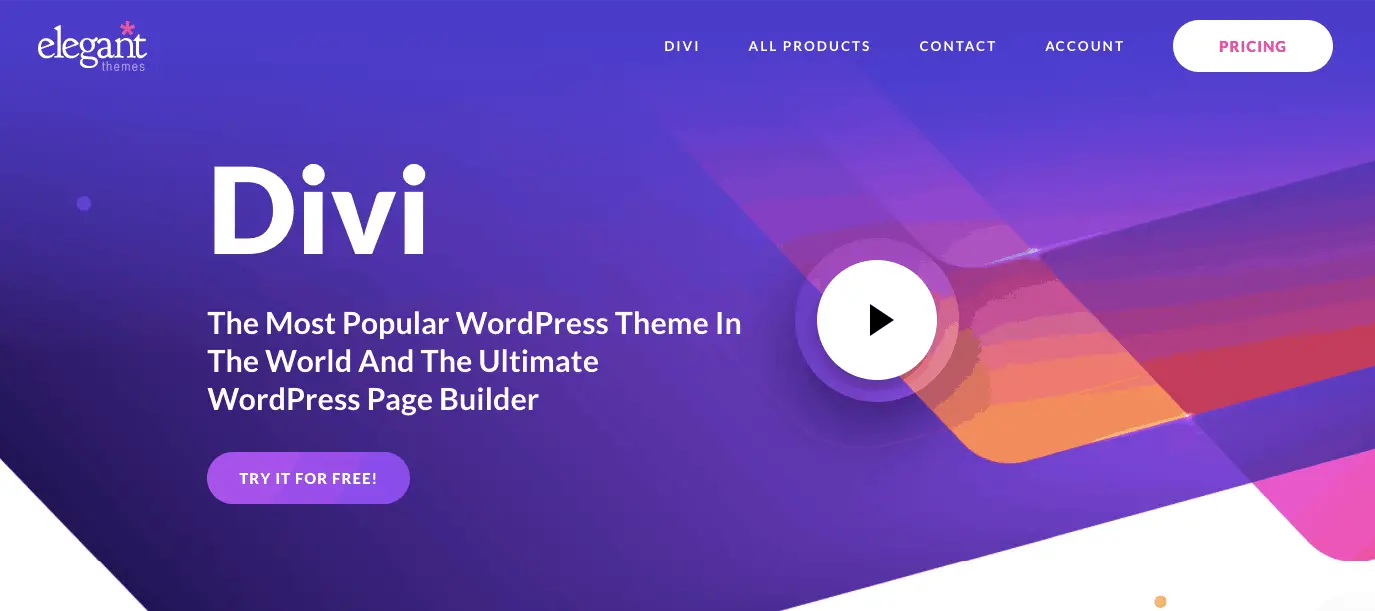 The next stop is Divi, which is incredible in its own right and is another quite popular builder. What makes Divi stand apart is the enormous gallery of templates that you could benefit from.
It allows you to skip on customizations entirely – with over 800 templates to choose from, your site would look far from generic even if you don't customize anything!
Divi also offers over 100 full website packs – yes, you have read that right. Divi has your back if you are looking to put in the least amount of work possible for a website. Choose a pack, and you are good to go.
Even if you decide to micromanage everything, you won't feel limited with over 40 elements, and quite a power over their customization – fully customizable stands true for each component.
Just like with Elementor, you can rely on Divi to help you out with your marketing, and it has a high number of users.
3. Beaver Builder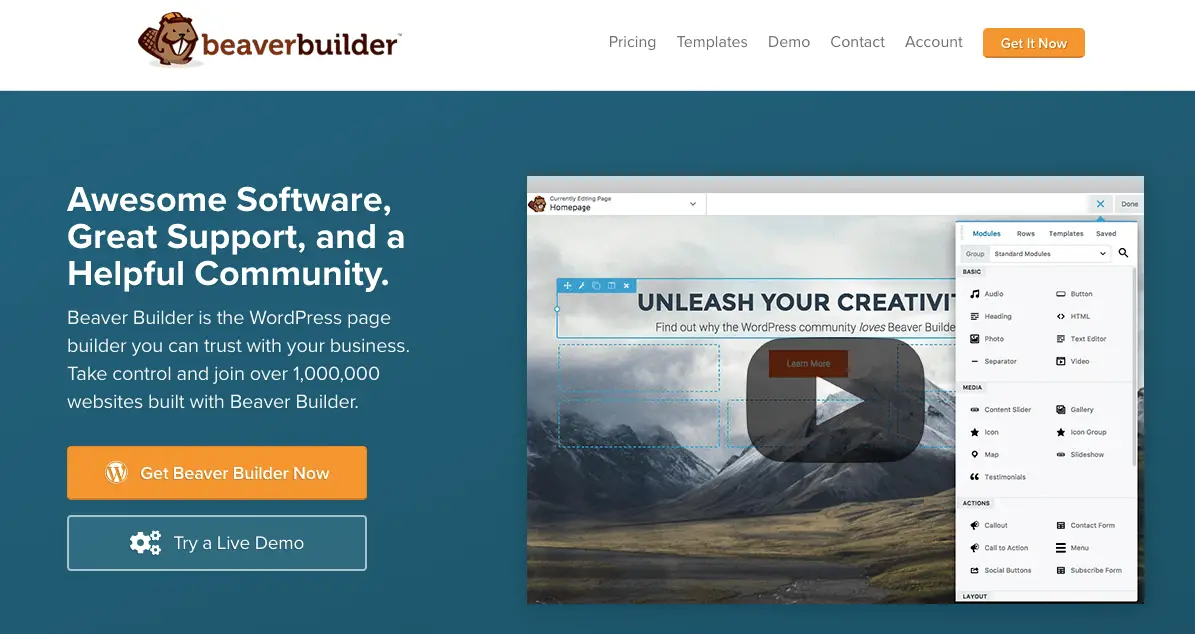 Beaver Builder is as reliable Visual Page Builder just like the two above-mentioned. Still, its logo is much, much cuter.
Beaver Builder is an exceptional solution coming in the form of a plugin as well as a theme. It is created for those who are looking for a simple way to build their site.
Plenty of templates will not leave you longing, and you will be able to see the changes thanks to the live preview.
Just like with Elementor and Divi, Beaver Builder, too, is responsive, so you can rest assured that it will look just as gorgeous on any device. The SEO-ready aspect of it will help you land better results with Google, which is equally important!
Overall
It is essential to mention that apart from these very famous plugins, there are plenty of others that could help you create gorgeous websites in a very short timeframe. From WP Bakery to Site Origin, and all those in between, you are welcome to take your pick!
The good news is that some of these are entirely free, and others have demos – it could help you tremendously to check all of them out before committing to a single one. While they all add an incredible amount of ease to the process of building your site, your vision comes first.
If you are looking for a quick no-brain solution to having an online presence, then any of the free plugins will do the trick in a matter of minutes.
However, if you want to build something specific and dedicate some time to it, it is fundamental to get the plugin that can provide you with what you need.
Go ahead and give them a try! Which one fits your excellent idea for your gorgeous site? Let us know in the comments below!