Even though the old saying "bigger is better" holds true in many cases, when it comes to using images on your website, that isn't necessarily so. While images with a better resolution and consequently bigger file size look sharper, they add unnecessary loading time to your website. So how do we mitigate this problem? The most common tactic is using high-resolution images and compressing them down to an acceptable size without losing too much quality.
This is usually achieved with the help of professional image editing software like Photoshop. But in most cases, this type of software isn't suitable for the average web developer, as licensing costs are relatively high. Not to mention that software like this is quite complicated and requires months of practice to master.
Therefore, this article will provide you with alternative options that will get the job done without charging a penny.
1. ShortPixel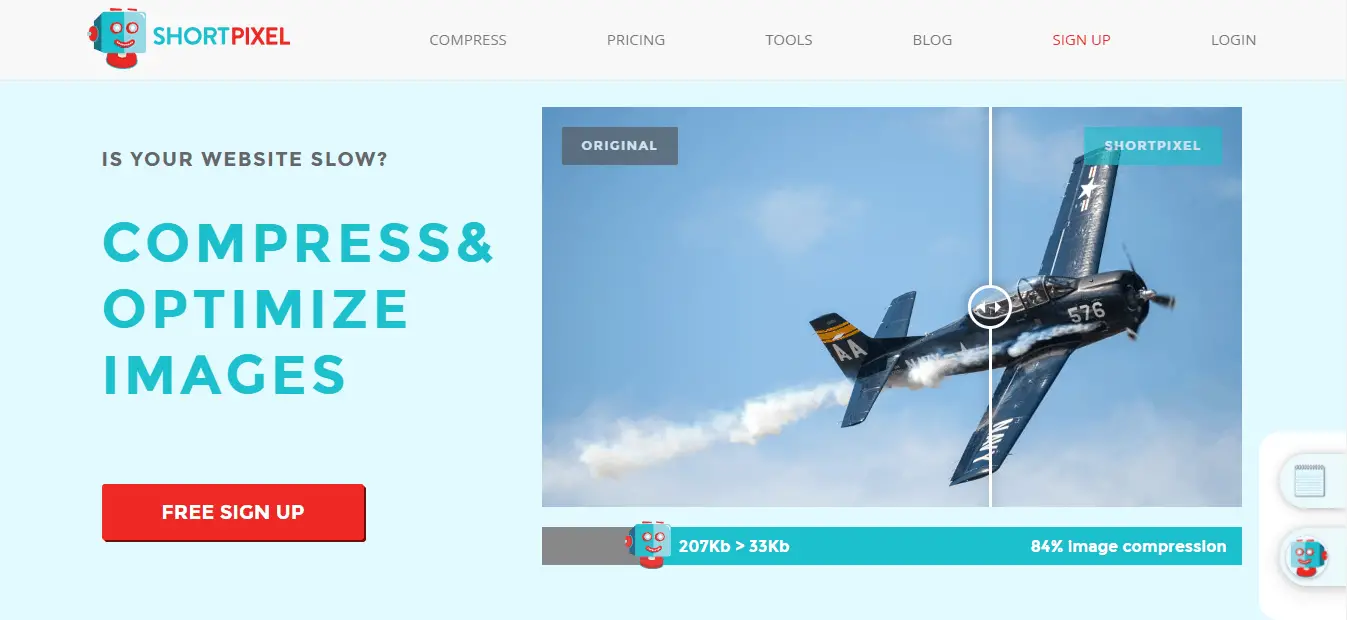 In case you're using WordPress, and you want a plugin to do the job, then look no further than ShortPixel. Equipped with all of the features that any standalone image compression tool has, ShortPixel also has the added benefit of being integrated with WordPress.
Because of this, ShortPixel provides a fast and seamless work experience. With the ability to process multiple images of the most popular image types, there is nothing that this plugin can't do.
The main drawback of this software is the fact that it's only compatible with WordPress, so if you are using any other CMS, you are out of luck. It also has both a free and a premium version, so some features are locked behind a paywall. Still, if you are looking for a WordPress plugin that can get the job done, ShortPixel is the best option.
2. GIMP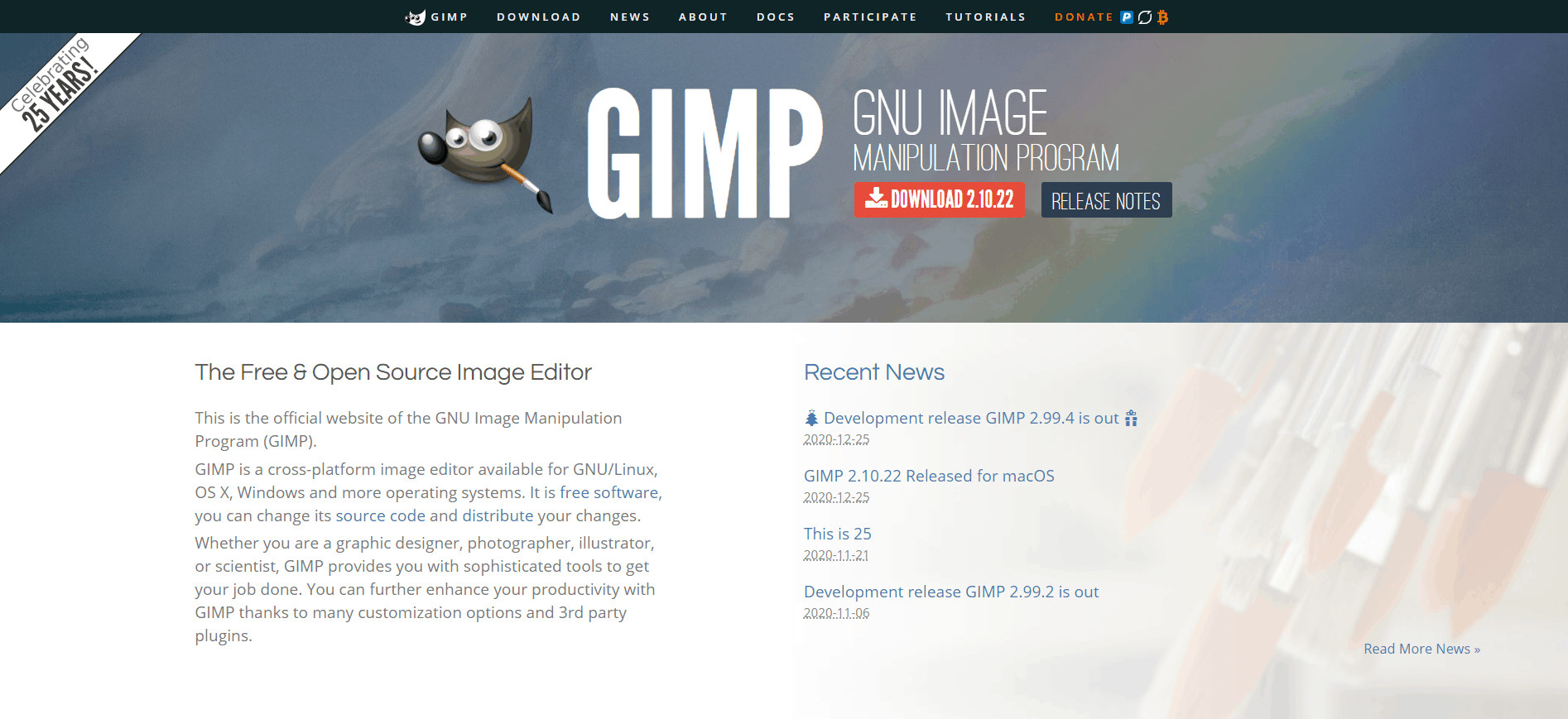 When it comes to free Photoshop alternatives, the most common software that gets mentioned is GIMP. GIMP is an open-source image editing software and is rather similar to Photoshop. As we already mentioned, this is a double-edged sword. Learning to use GIMP takes time. And so, it might not be best suited for people looking for a quick solution.
Still, if you have the time to master it, you shall be greatly rewarded. The amount of features that GIMP provides to its user is astounding. And all of that is packed into a beautiful-looking interface that can be customized.
Another great thing about GIMP is the fact that it is open-source. This means that its code is up for grabs and that anyone with the technical know-how can alter it to suit their liking.
With a dedicated user base that frequently posts tutorials and their code customizations online, GIMP is a program worth keeping an eye on.
3. Caesium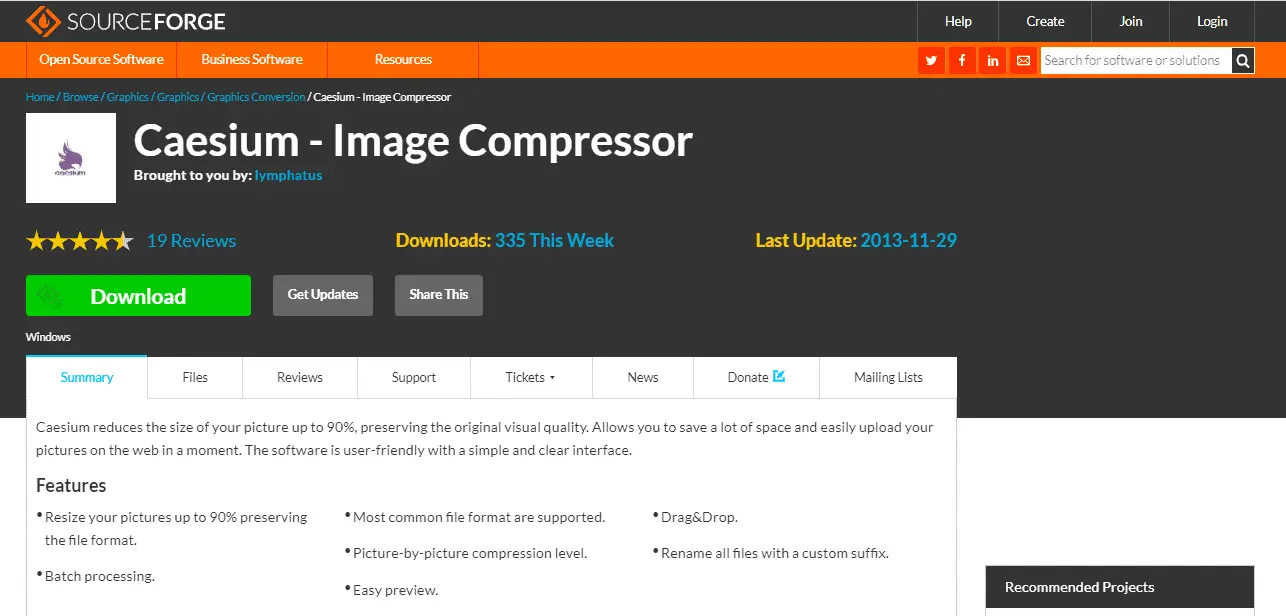 Now that we mentioned the best all-rounder programs, it's time to get a bit more into the niche options. To kick things off, we have Caesium, a simple image compression program. It's rather straightforward but performs really well. It achieves around a 90% compression rate without sacrificing quality. Caesium manages to do this by focusing on only one thing, and that is image compression.
Unlike GIMP, the learning curve for Caesium is non-existent. With its simple drag-and-drop mechanism, the only thing you need to do is decide how much you want to compress an image. And in case you're not really sure what you actually want to do, this tool has a built-in preview feature that will allow you to check the quality before taking action.
The main drawbacks of Caesium are its lack of other features and its old-fashion interface. However, this really shouldn't be a dealbreaker if all you're looking for is image compression.
4. ImageOptim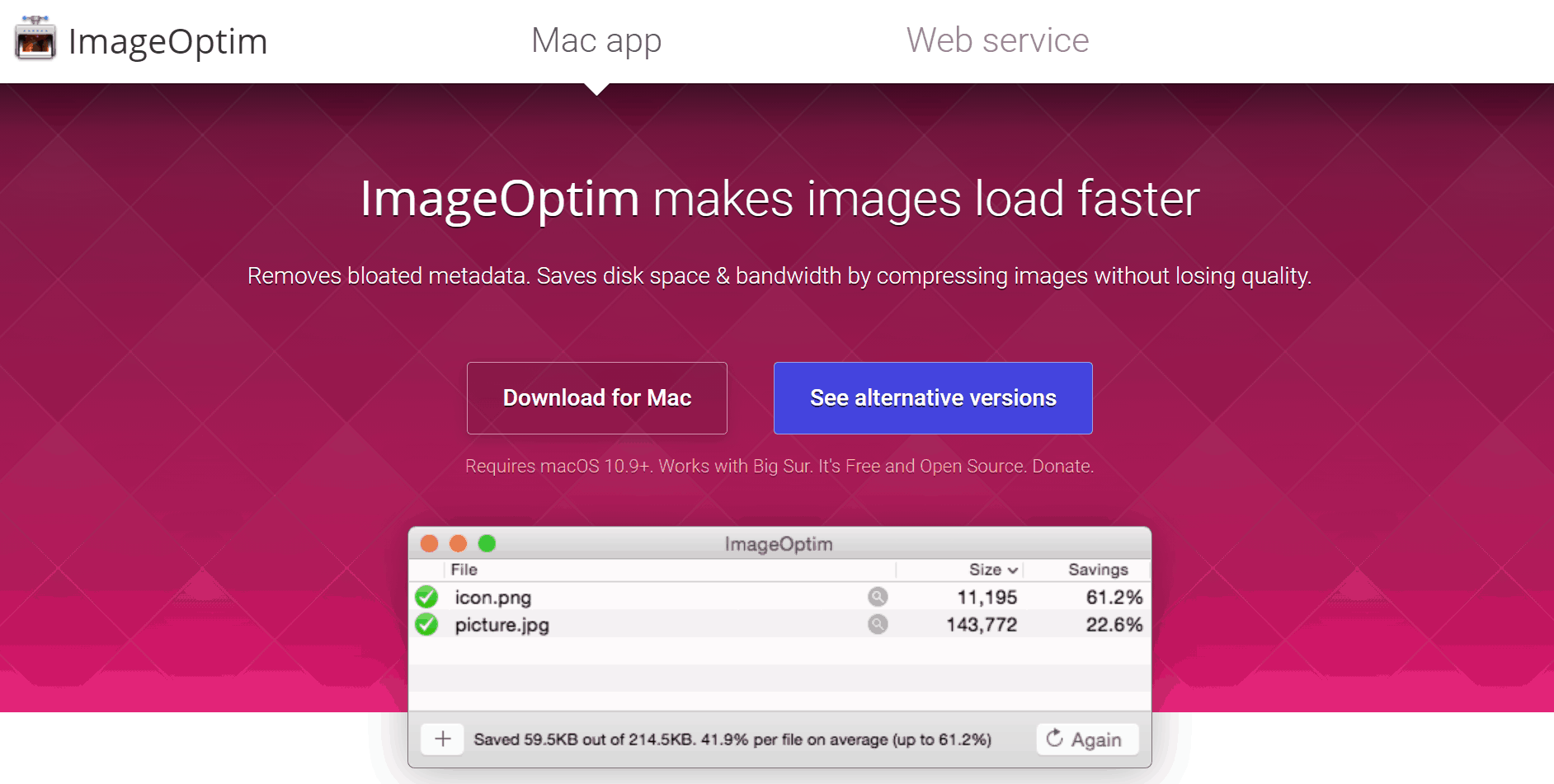 Just like our previous entry, ImageOptim is an image compression tool. The most significant difference between these two is the OS they can run on. With a great-looking and simple-to-use interface, ImageOptim should be the go-to choice for anyone that is running macOS. Still, it is fair to mention that ImageOptim also has a web service for image compression.
A great thing about this tool is that it can remove invisible metadata from images such as embedded thumbnails and unnecessary profiles. In all other aspects, ImageOptim is much like our other recommendations, really simple, but it gets the job done.
5. ImageMagick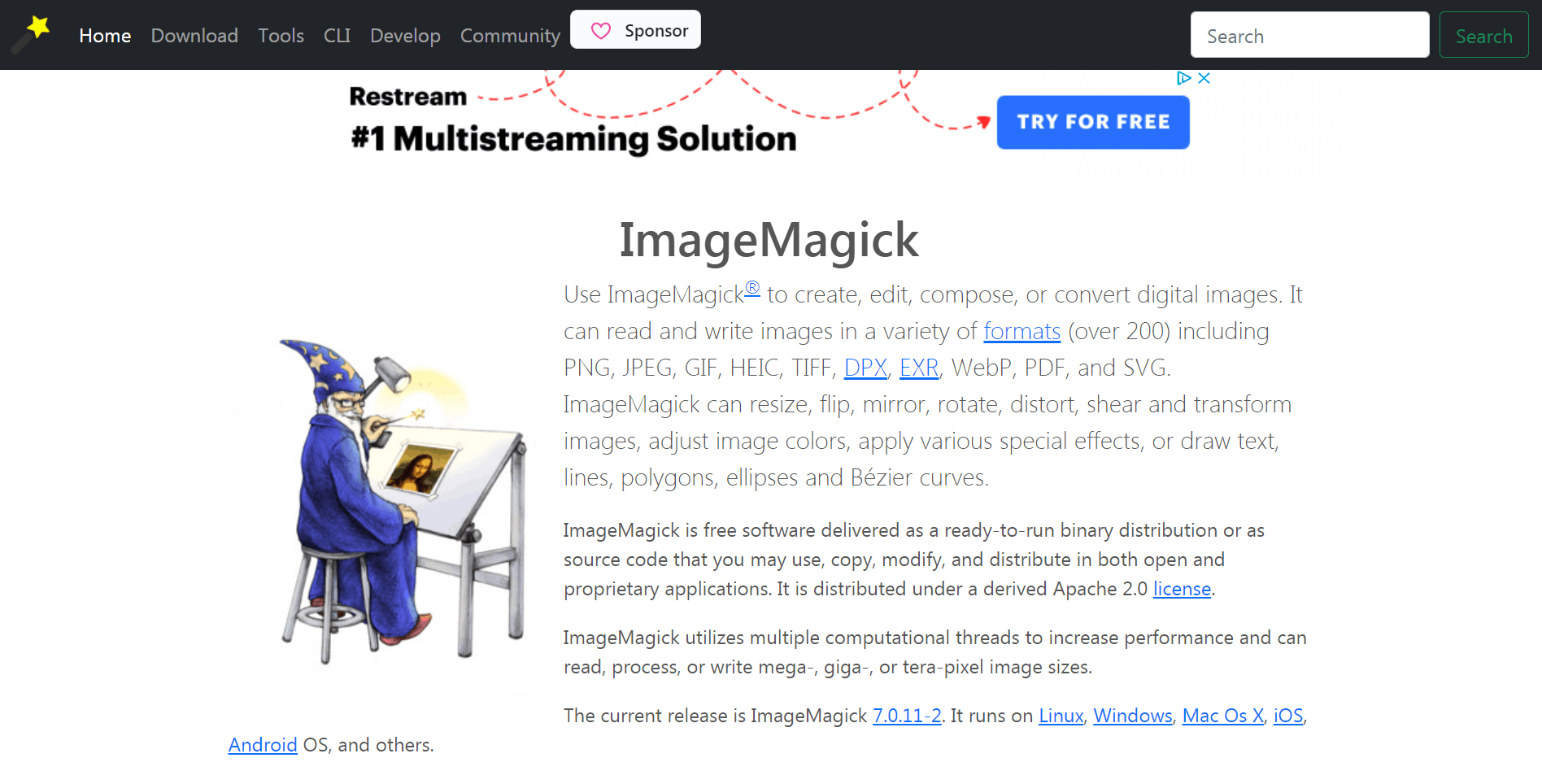 ImageMagick is a little bit old school, but it still works swimmingly. With it, you can edit images in any way you want to, and compressing them is also simple. Now, you might be saying to yourself, "Hey, this sounds a lot like GIMP!", but boy, would you be wrong. Unlike all of the aforementioned software, ImageMagick doesn't have a GUI. This means that the only way for you to manipulate images is through the use of a command line.
This certainly has its fair share of problems. But, for those who don't mind using a command line, and are in fact, looking for something without a GUI, ImageMagick would be the best choice.
The amount of control you have over compression with this tool is staggering. And since it's not limited by a GUI, you are more than free to create scripts to speed up your image editing process and make your work a breeze.
Still, this program is definitely not for the faint of heart, so be warned.
6. Compressor.io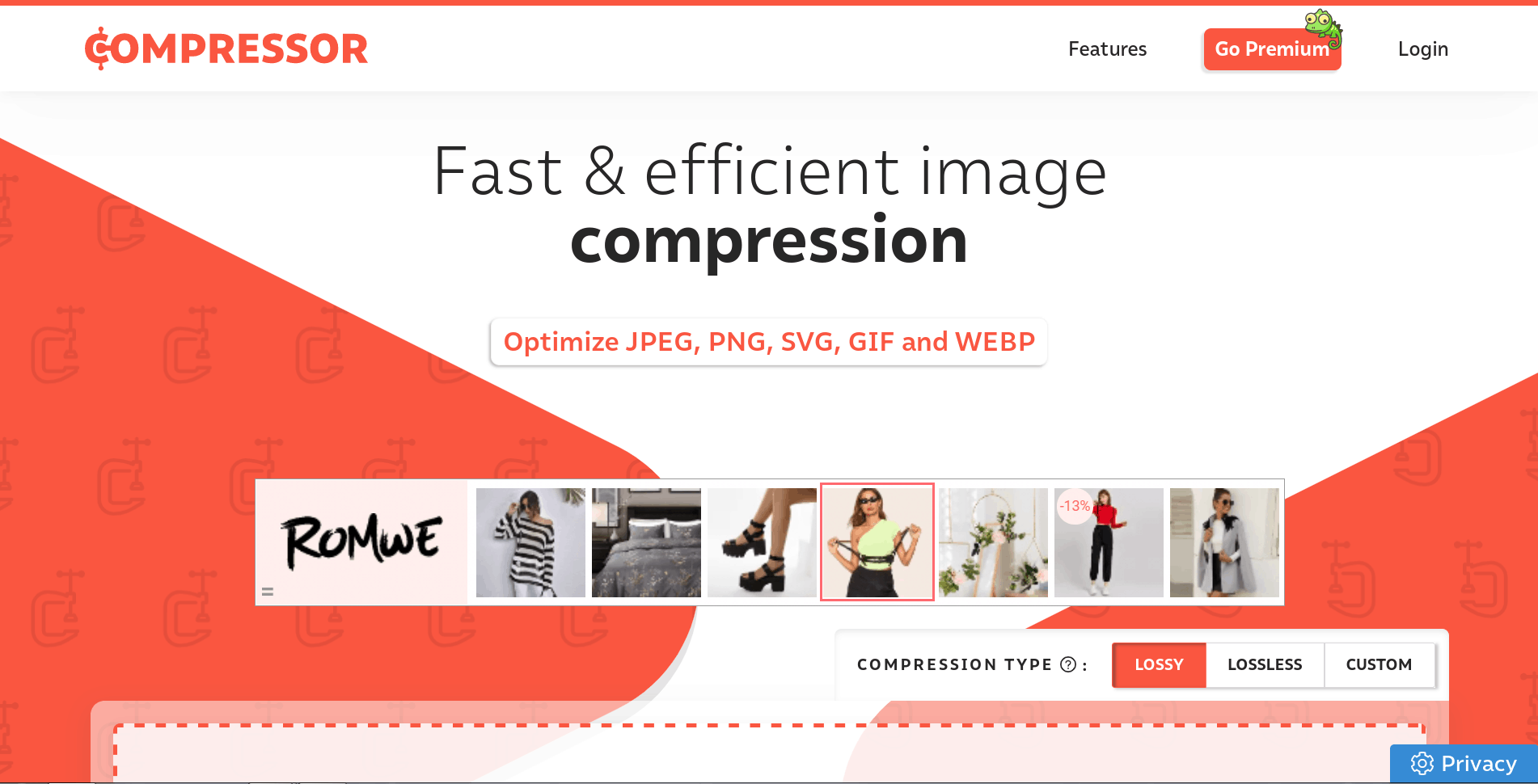 And last but not least, for those of you that don't want to download anything, and enjoy a fast and free online option, let us present Compressor.io. This tool is compatible with JPEG, PNG, SVG, GIF, and WEBP, the most common image formats used online.
Compressor.io will not let you down. Being an online tool, it is limited, but still, it's the best free online image compression tool out there.
It provides you with three compression types: lossy, lossless, and custom. The best thing about it, Compressor.io gets the job done fast. Just drag-and-drop your images, compress them, and be on your merry way. Simple as that.
Final Thoughts
The results these tools provide you with aren't all that different when you look at it realistically. The average user won't be able to tell the difference between the compressed images.
So, you shouldn't worry too much when choosing one, and the best course of action would be to pick a tool that suits your work style the most.
If you're using WordPress, then go for ShortPixel. If you want to mess with commands, ImageMagick is the way to go. You get the picture.
Best of luck, and we hope you've found your perfect tool.