If you run a business and offer services that your clients need to book appointments for, there are several ways to fill your calendar.
You can take calls, manage individual emails, or create an appointment booking form for your website using a form builder.
However, the easiest way to go is to use one of the plugins we will recommend in this article.
These plugins are not just useful for making sure your clients come at a specific time to an appointment; you can also use them to efficiently organize your schedule, make your clients satisfied, and ensure that everything runs smoothly.
What you make appointments for is up to you. Whether it is an interview, a prospect meeting, a sales meeting, or even someone coming in to provide their service to you (such as a hairdresser), we are certain that one of these plugins will work well.
These plugins were designed for a WordPress website, and they are simple and easy to use, so you won't spend hours trying to figure out how to schedule or cancel an appointment.
1. HubSpot WordPress Plugin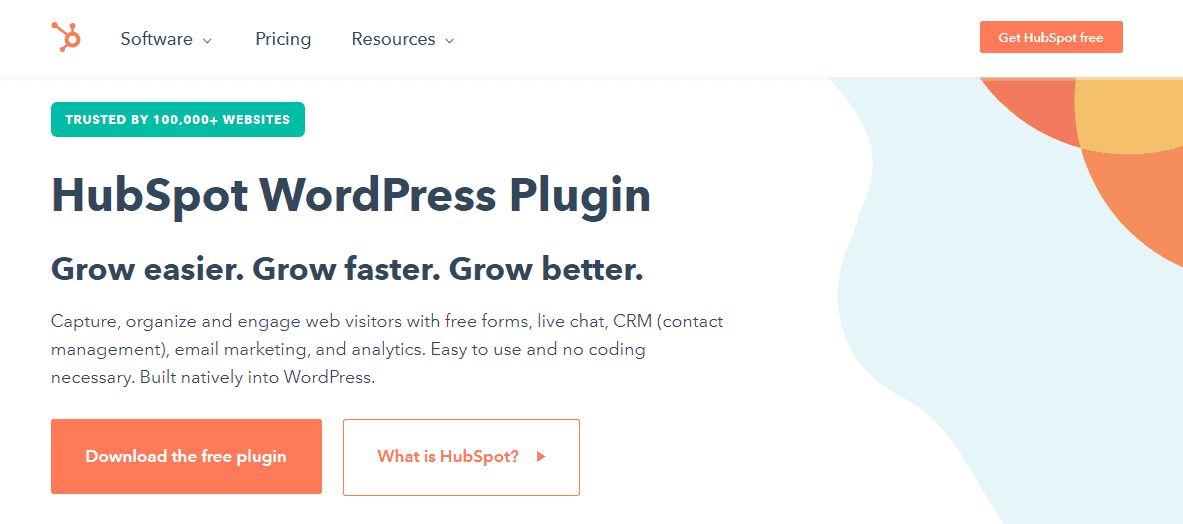 HubSpot WordPress Plugin is a tool that comes with several features designed to provide you with good lead generation and the ability to capture useful client information. It comes with popup forms, integrations, banners, kickback emails, and more.
All information gathered by the plugin is sent to the customer relationship management (CRM) software so you can see everything in one place. You can also see your bounce rates, time on site, customer behavior, and more as the plugin has a good analytics tool. 
The plugin comes with a meetings app, and you can create and send custom meeting links to your clients. However, to have the ability to add a calendar to your site, you will need to upgrade from the free version. 
This plugin requires that you host your site on WordPress.org and that you are on a paid business plan. Otherwise, the JavaScript will not be compatible with the plugin.
2. Appointment Booking Calendar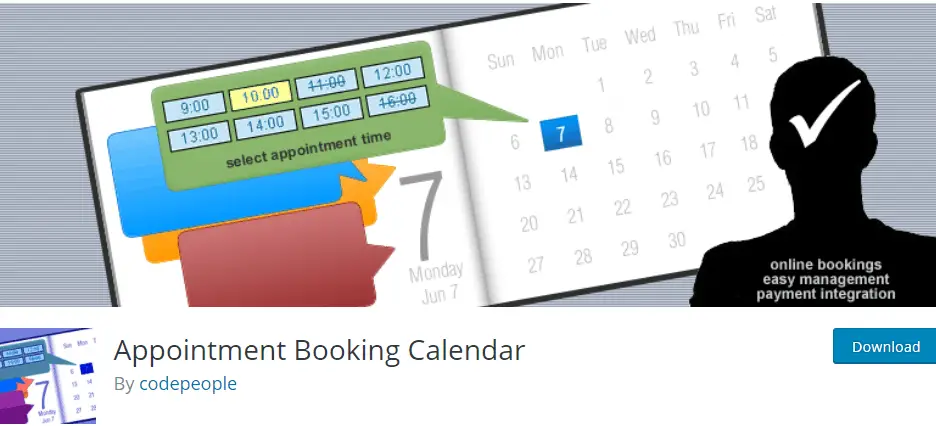 Appointment Booking Calendar is a calendar plugin designed to accept online bookings from a set of time-slots available on your calendar. It is integrated with PayPal to make the payment process easier. It can be used to make an appointment for anything, such as medical visits, events, classes, etc. Also, you can define the capacity for each appointment.
Once a client books an appointment, a confirmation email will be sent with all of the information. And these appointments can be exported to Google Calendar and Outlook. If you need more options, check out this WordPress event plugin.
3. Bookly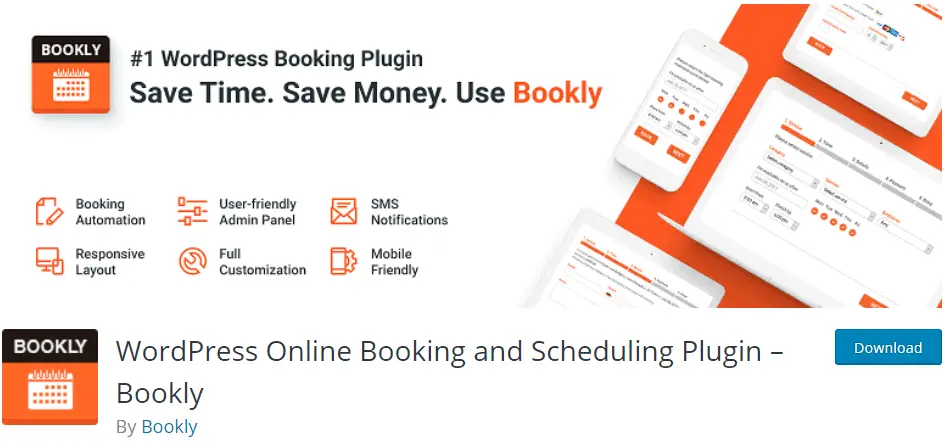 Bookly is a plugin designed for mobile and cross-platform use. With it, your clients can self-book appointments, so you don't need to worry about constant phone calls and spend time making sure everyone is on board with their appointment time.
Once an appointment is booked, custom notifications will be sent to you and your clients with all of the necessary information.
The plugin is compatible with WooCommerce, PayPal, and Stripe to make the payment process easier. Also, its basic version is free, but you can upgrade to get more features. 
4. Easy!Appointments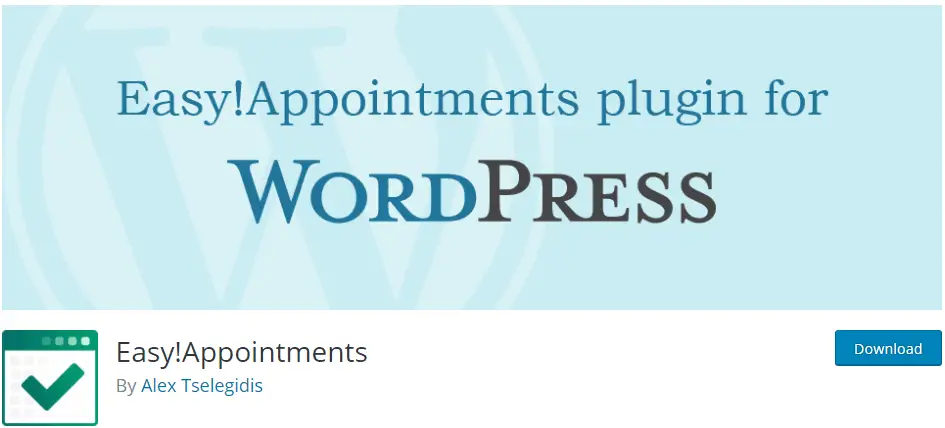 Easy!Appointments is a free, open-source, mobile-optimized plugin using which you can build calendars and forms into your WordPress site through shortcodes.
You can have multiple calendars based on location or services. And you can also send custom links to your clients so they can pick a time that suits them best.
5. Hotel Booking Lite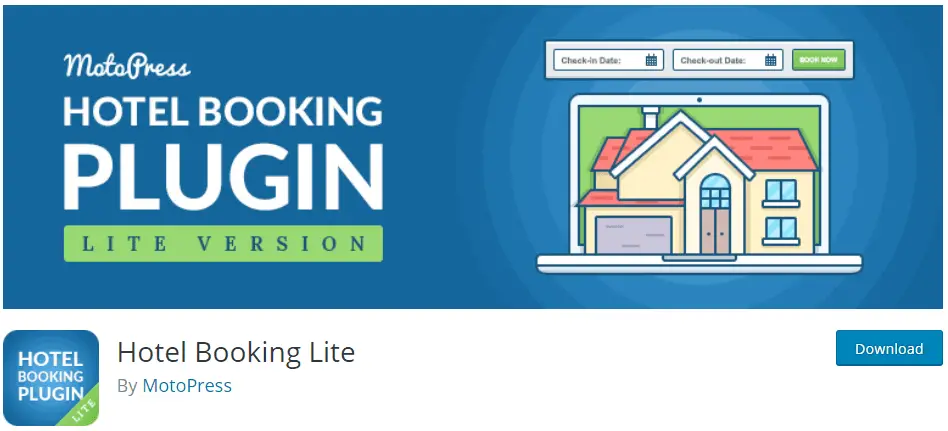 Hotel Booking Lite is a WordPress plugin specifically designed for those in the accommodation/rental/lodging industry. It is a simple tool that makes the whole booking process quite easy.
With it, you can add online payments, taxes, fees info, as well as pricing rates. You can also add an unlimited number of properties, property details, a minimum stay period, and much more.
It comes with great inventory control (once a property is booked, it is no longer available). Plus, it sends your customers a confirmation email with all of the details about the booking. 
6. Booking Calendar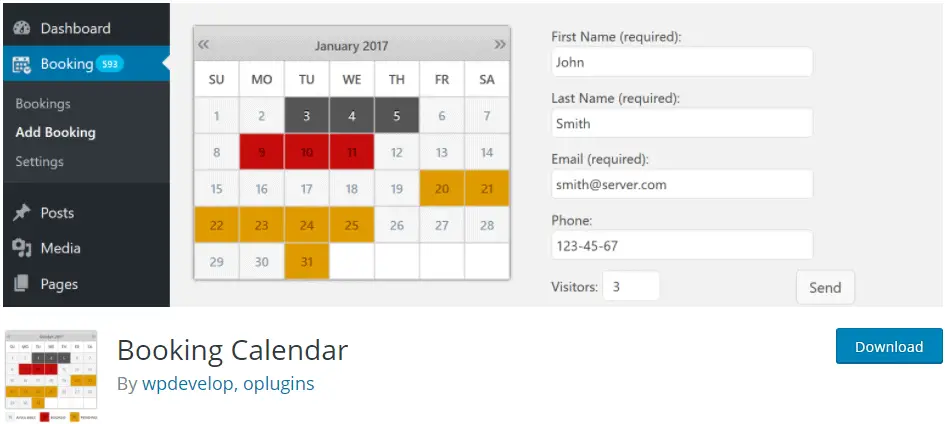 Booking Calendar is a simple calendar plugin that comes with great booking options. Clients can book appointments online, and they can do it from any device, whether it be a mobile phone, tablet, or desktop. Plus, both you and your client get a notification email once booking an appointment is complete. 
You can customize the calendar, so it looks like a part of your website. You can also add the calendar to your website by using shortcodes.
The plugin is quite user-friendly, which is another plus. Also, it is completely free. 
7. Sagenda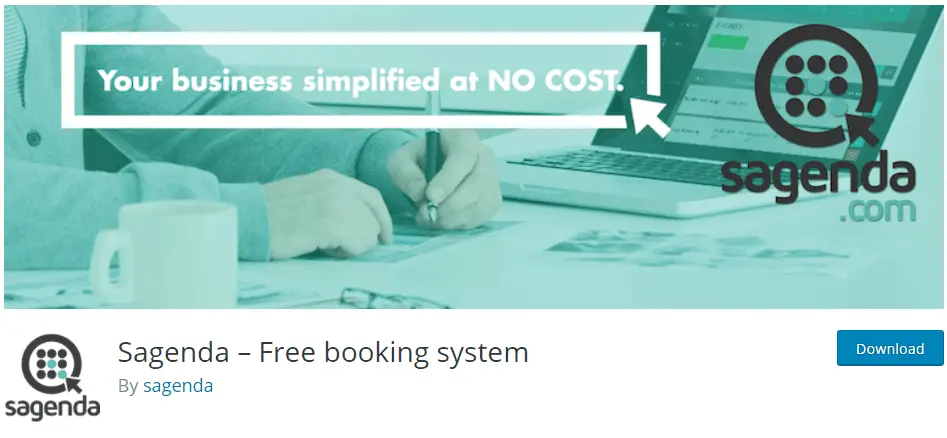 Sagenda is a free appointment scheduling software. It is mostly used by companies that deal with freelancers and project owners/managers.
With it, you can accept an unlimited number of clients and bookings at no cost. Your clients can choose a date and a time that suits them and can pay with PayPal or their credit card. Everything is done online to make things easier for you and your clients. 
8. Booking Calendar Contact Form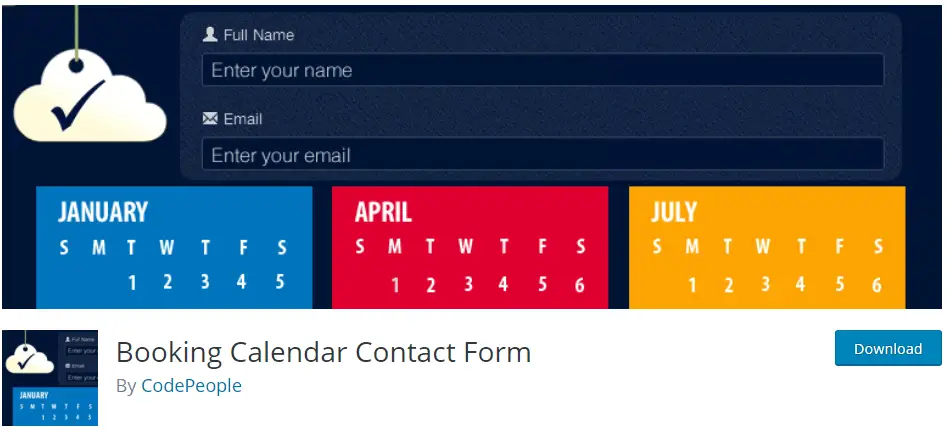 Booking Calendar Contact Form is a free plugin that lets you add a calendar and a contact form all in one. It helps you create contact forms and add calendars through which your clients can make a reservation or book an appointment. It is also connected to PayPal for an easier payment process. 
Once a booking is complete, your client will get a confirmation email. There is also an option to disable booking overlap if, for example, you are hosting a webinar that more people can join. Otherwise, enable this option so bookings cannot overlap. 
9. Pinpoint Booking System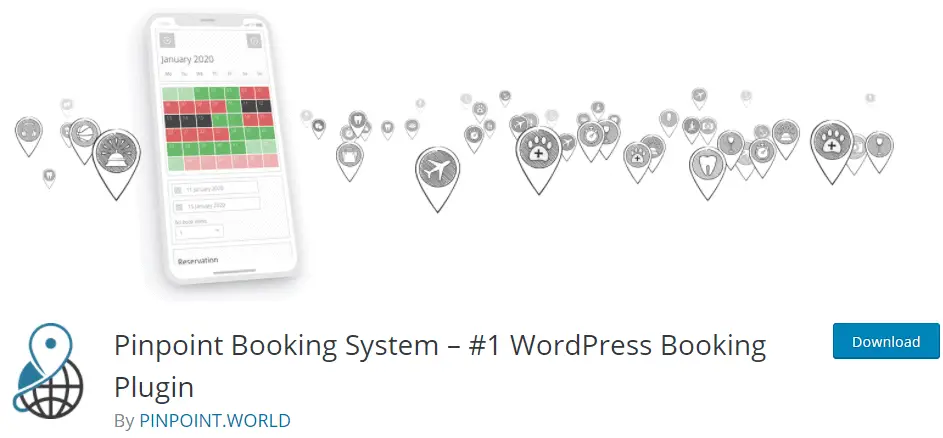 Pinpoint Booking System is one of the most popular free WordPress booking plugins. You can use it for booking, renting, scheduling, and reserving. It is simple and intuitive to use.
With it, your clients can make a reservation or book an appointment straight from your site. Once a booking is complete, your client gets an email with a summary and all the necessary information about their booking.
You can add, cancel, or reject a reservation/booking, depending on the situation. And you can customize the calendar you get, so it fits the theme and branding of your site.
If that wasn't enough, you can also create forms if you need more information from your clients.
The plugin is designed to be responsive, and it adapts to your clients' time zones if you have a global client base. 
10. Appointment Hour Booking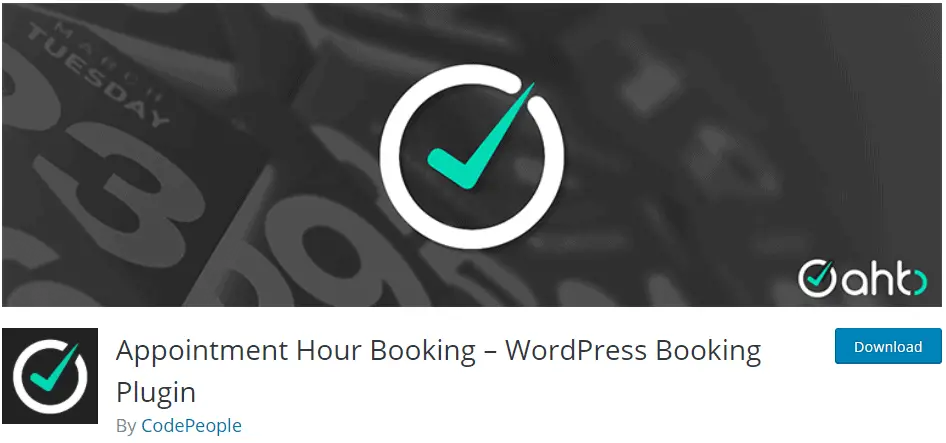 Appointment Hour Booking is another free WordPress plugin for booking appointments. With it, you can define the start time and duration of a meeting. And to make it work, you don't need any coding or shortcodes.
It lets you set up your working hours so your clients know when they can come. It will also present them with the available appointment times so they can choose a time that suits them.
You can customize the length of an appointment based on the service your client picks. You can also set a maximum capacity for each reservation, service, or appointment. The default capacity is 1, but you can change this to any number based on what you offer. Once that number is reached, any new booking will be blocked.
This plugin is integrated with PayPal, Stripe, and Skrill for easier payments. It is also easy to use and was designed to provide a great user experience.
The reservation times are managed, so there can be no double bookings. And lastly, both you and your clients get a customized email with all the necessary information and a summary of the booking. 
Conclusion
In this article, we listed the 10 best booking and appointments plugins that are free to use (some might have pro features). 
Keep in mind, when deciding which plugin to pick, that it should be fully customizable and easy to use.
Also, make sure that it is integrated with Google Calendar, generates automatic notifications and reminders, can adjust to different time zones, and has a lead generation tool.