If you got an idea to start selling your photos online, believe me, you are not alone. This business is getting more and more popular since visual content is all the rage right now. Images are used to advertise and sell everything. Just think about the job of an average social media influencer nowadays, they do advertisements of themselves and products/services of other brands using visual content such as photo and video posts, stories, etc.
While it might not be a full-time job from the get-go, selling photos online can be a great and easy external source of income for you.
So many people are in need of great and unique images, those influencers I mentioned previously, bloggers, businesses, marketing agencies, stock photo sites, you name it. Creating visually appealing and unique images doesn't come naturally for most people, but if it does, you are probably sitting on a hard drive full of them. Why not take advantage of that and make a profit? You have already invested in a camera and other photography equipment, selling photos made with that equipment could be your chance to get a return on that investment.
This business is very diverse, and it doesn't force you to stick to one type of photography like most professional photography jobs do. As a matter of fact, you don't even have to stick to selling just the images, you can also sell prints, physical images and other items containing your art.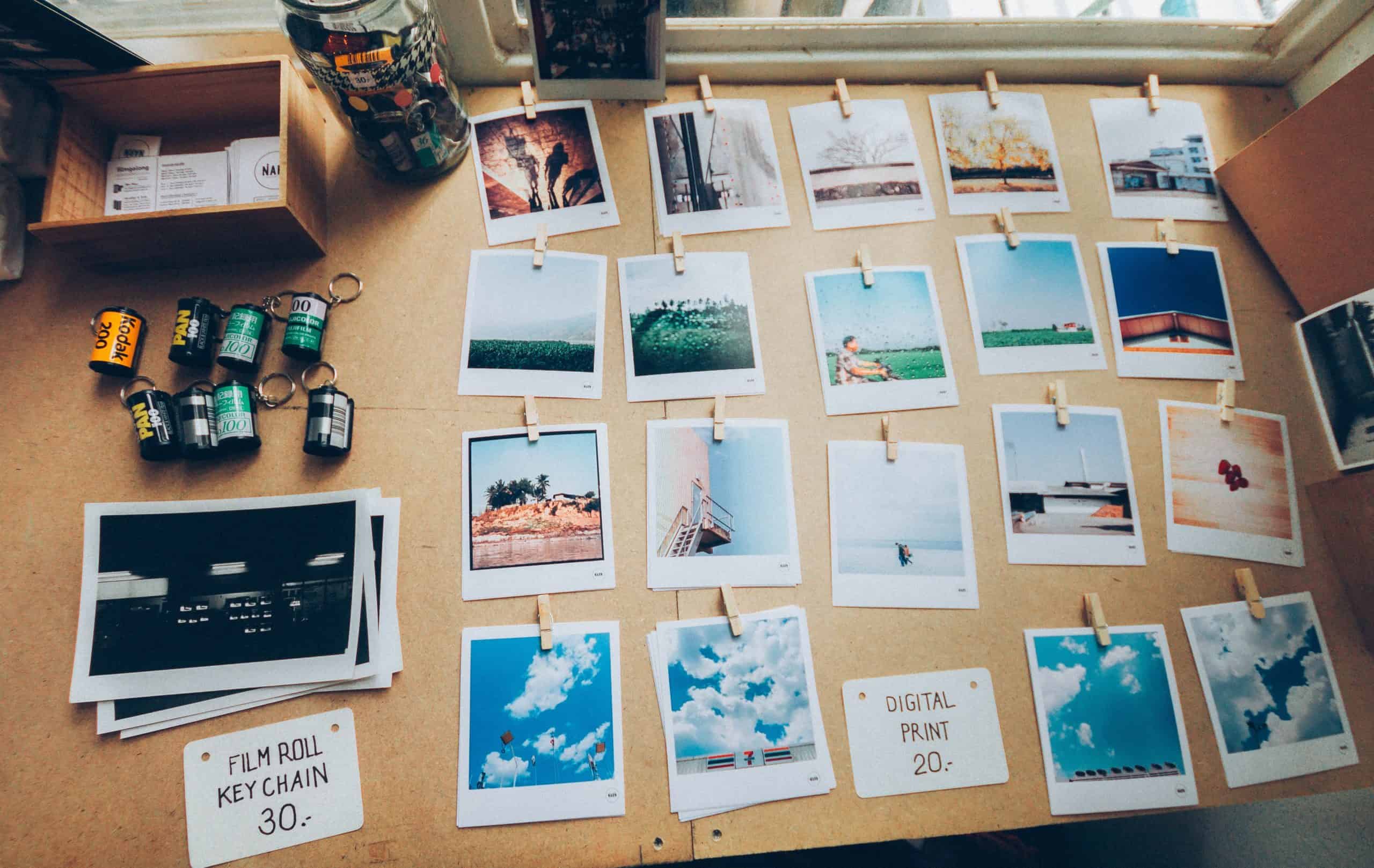 If you do want to make the most profit and really provide the market with what it lacks, you can ask bloggers, agencies and other frequent purchasers what it is exactly they are looking for. Regardless of what they say, as long as the images are good and unique, they will most likely sell. At the end of the day, there is always a demand for interesting images, not for generic ones.
When deciding to go into this business, you have a few routes of doing it. You do it through a range of sites offering these services or build your own site and avoid working with a middleman.
Create a WordPress site
If you decide to set up your own website there is one obvious solution, and that is WordPress. By now we all know the incredible ease and benefits of using WordPress and how it allows us to build any type of site, so why not use it to build one for selling your images.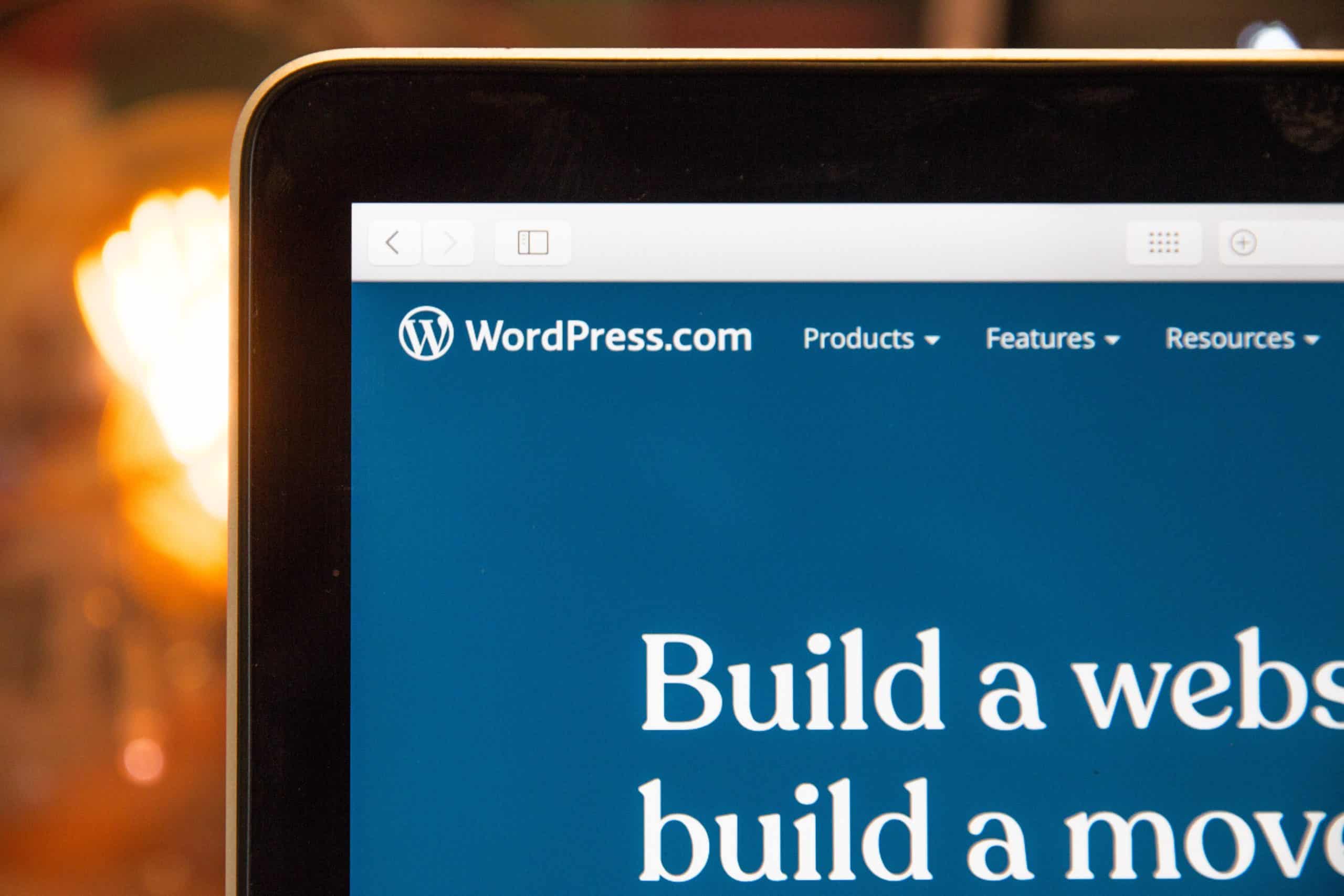 This is a great option for all of you who want to have full control of your brand, how your items are displayed and marketed, and even the sale of your images and other items. If you think making this kind of a site will be a complicated task, don't fear because WordPress and its rich selection of plugins are there to assist you in the entire process. The plugins range from theme and gallery plugins to plugins for editing and selling your images. Because you're creating a site specific to sell photography, we would suggest that you go for a premium photography WordPress theme. There are quite a few good options out there that can be used both as a portfolio site and also to sell your work. Maybe we make a suggestion to have a look at this great list of such themes here: https://www.collectiveray.com/photography-wordpress-themes-portfolio
When making your site you will have to follow a few steps or to be more exact, your site will have to contain a few specific features.
Good hosting
Remember, the images you are selling will most likely have to be of great resolution and quality. A bad hosting provider won't be able to load your site properly and show the images in their full glory and with that, your potential customers might be pushed away from making a purchase.
Most of them can't tell the difference between a poorly loaded site and a low-quality image, so make sure you don't put them in a position where they have to make that distinction.
Pick the right theme
Regardless of the purpose of the site, it has to have a good theme, it is something that can make or break a site, make a visitor keep scrolling or exit immediately. Themes are very important for photography websites because beautiful images have to be beautifully and practically displayed so the customer can easily find what they are looking for.
You're in luck when it comes to themes in WordPress, there seems to be an endless sea of pre-made themes to choose from. Ones for all types of sites, and ones made specifically for photography sites.
Here are a few photography specific themes that you might want to consider.
Photography – A very "straight to the point" name, I know. This is one of the most popular and best-selling themes on the marketplace. It comes with over 70 predesigned galleries, portfolio templates, thumbnail hover effects, image and customer protection.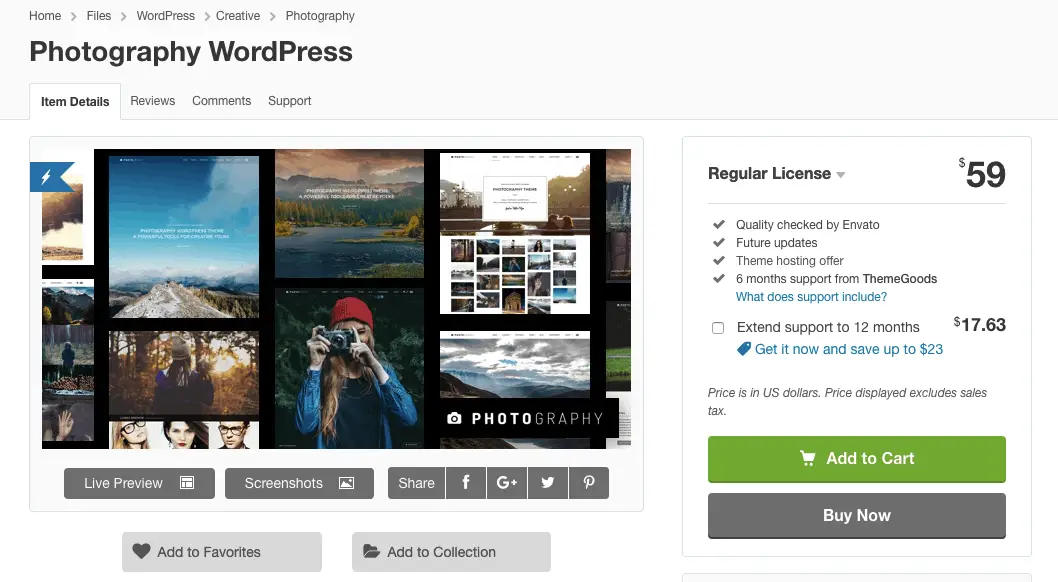 Oshine – This theme was created with photographers, artistic freelancers, and other creative people specifically in mind. With its beautiful slides, carousels, and galleries you can show off your work in the best way possible.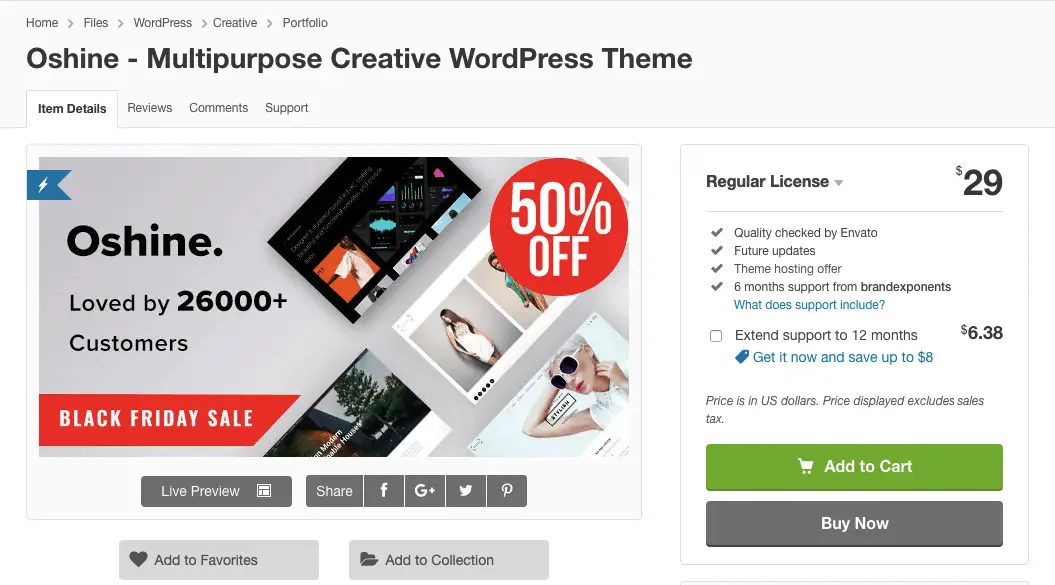 Novo Photography – Alongside its beautiful and fully customizable design, this theme comes with a right-click protection and watermark adding so you can be sure that your images will be protected from theft. It also comes with fully-featured eCommerce options, but more on those in the next paragraph. If you'd like to see more portfolio and WordPress photography templates, we would highly recommend visiting this roundup. It contains a selection of 21 products that are made for photography. You should definitely check it out.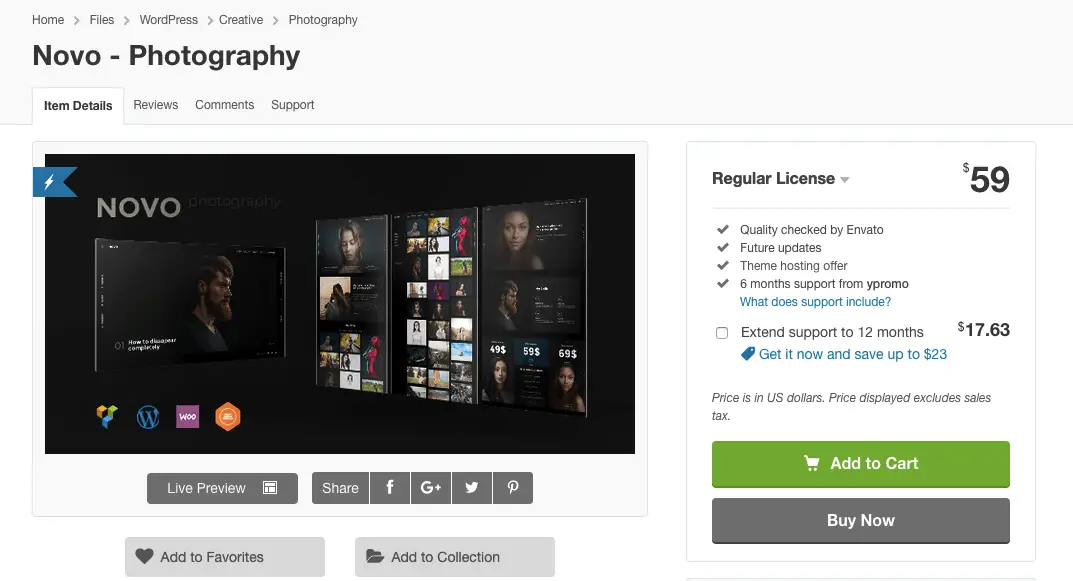 Add an eCommerce plugin
Selling anything over the internet is a complicated process and your website needs to have implemented features allowing you to do so. Those features most often come in a bundle in something called eCommerce plugins. They come in a variety, some can be used for multiple types of products, while others are more specific to a certain type of product. For selling photos online you can incorporate either of those in your site. Some of the most prominent plugins are:
Easy Digital Downloads – This plugin was created specifically for selling digital goods such as photos. It will not only allow you to sell your digital products, but you can also allow other photographers to do so through your site.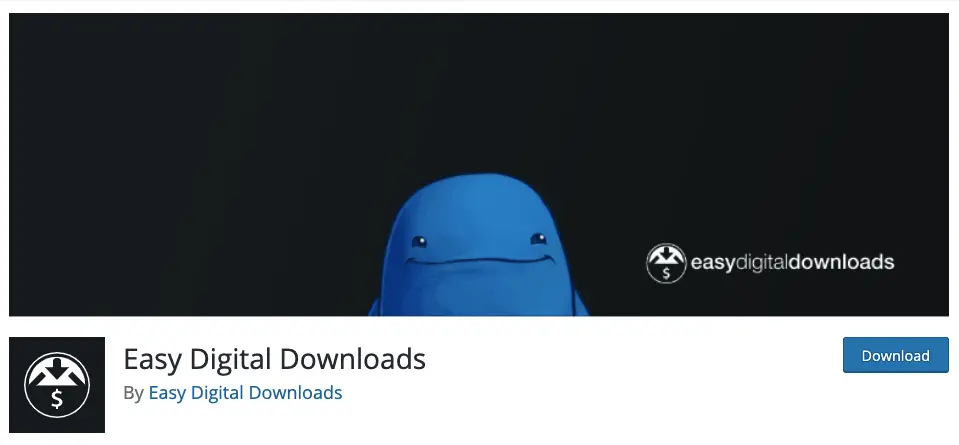 WooCommerce – WooCommerce might be the most recognizable name in the eCommerce industry. Unlike Easy Digital Downloads, this plugin isn't exclusive only for selling digital goods, but also any other type of products as well.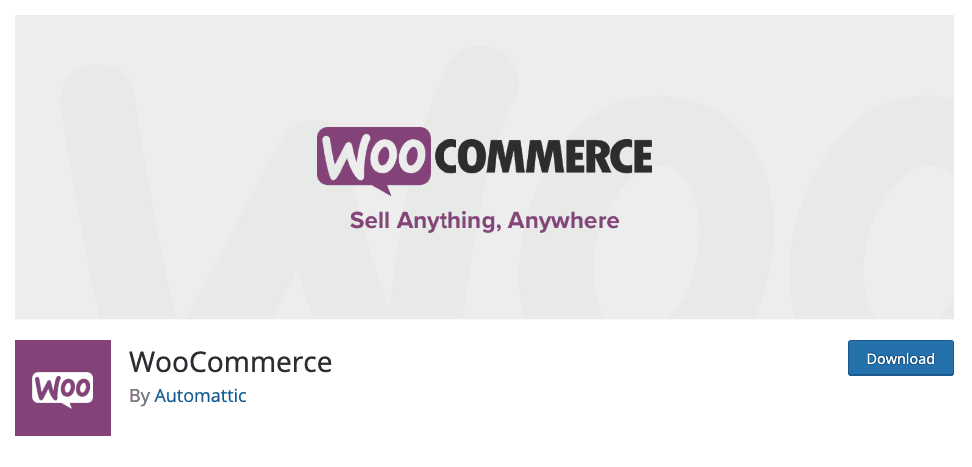 To make the most out of WooCommerce and your online store, you will also need some plugins to take your store to the next level. Let me introduce you to three of those that will be a perfect choice.
Order Export for WooCommerce – This plugin is what you will want to install if you want to export data from your WooCommerce orders. Meaning, if you want to gain a bit more insight into your orders, you can export data from them in different formats, such as Excel and CSV. This one is also tested and works on both Windows and Mac, as well as it's easy to use and rocks a simple interface. Moreover, Order Export for WooCommerce allows you to filter and export just certain aspects of your orders. Plus, you can sort the columns with a drag and drop sorter to customize them how you want. Finally, the plugin also has a premium version. With it, you can have additional fields for your orders, export tags, schedule your exports, and much more.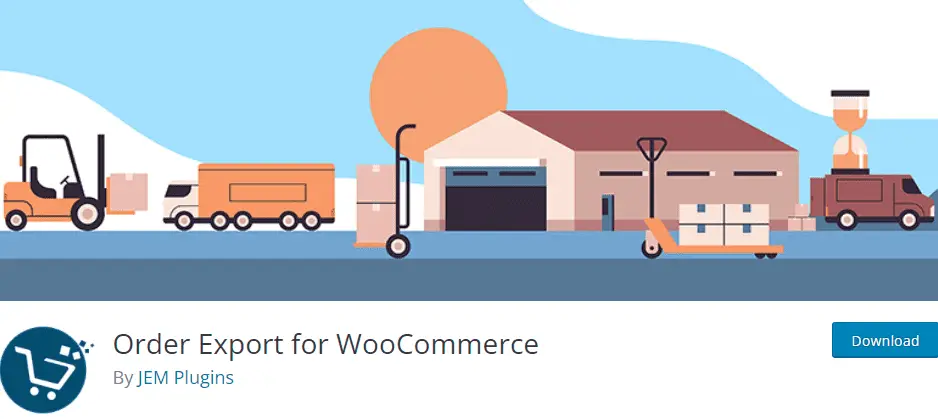 Direct Checkout for WooCommerce – Skip Cart with Buy Buttons – the next plugin is the one that will allow you to completely optimize your online store and provide your customers with a seamless shopping experience. Here you are provided with buy buttons that you can put anywhere on your site. Once a customer presses on that button, their desired product will be immediately put in the cart and they will be taken to the checkout. It acts as a simple and quick way to bypass the cart, and you can even put the buttons in blog posts and widgets.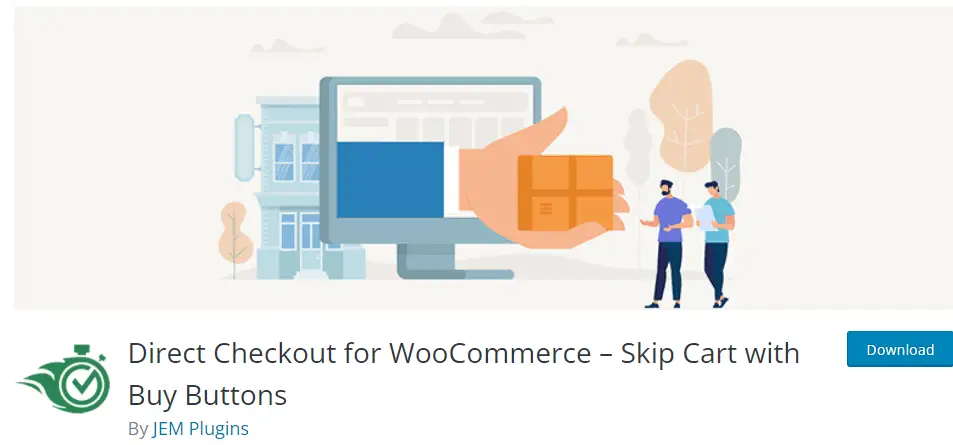 Table Rate Shipping for WooCommerce – finally, we have a plugin that allows you to create a shipping rate based on the weight or price. Also, you can create additional shipping rates using standard WooCommerce shipping settings. Moreover, this plugin is fully customizable and allows for seamless integration with WooCommerce shipping zones. Plus, you can define the shipping label that shows up for your customer in the cart. Another handy feature is deciding whether you want to include the tax and setting up multiple tiers. This plugin also has a premium version that provides you with additional features, such as unlimited shipping services, shipping driven by certain countries or zip codes, and much, much more.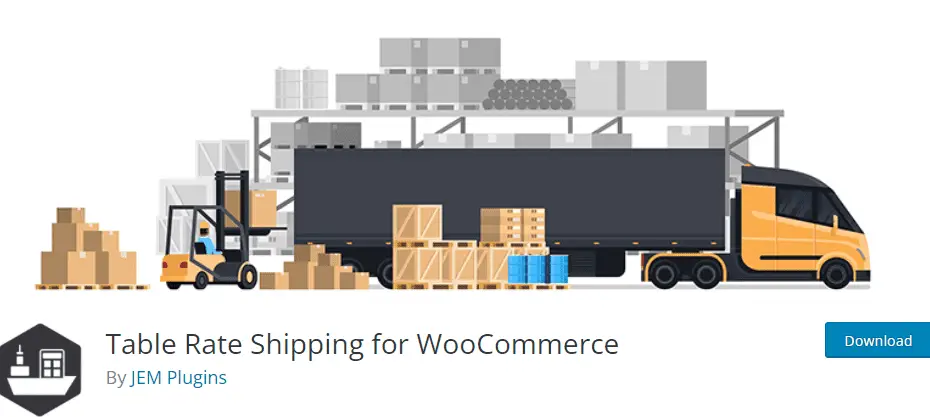 WordPress Photo Seller – Built specifically for selling downloadable photos and physical items with your art. With it, you can sell your photos in a range of sizes and watermark them for protection.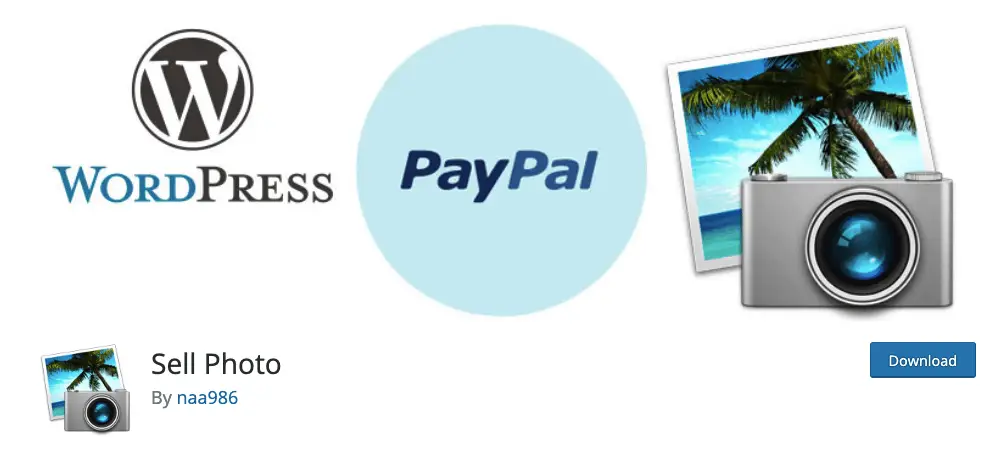 Choose the right Gallery plugin
Presenting your photos to your potential customers must be done right. While WordPress has, by default, its gallery, you might want to consider using a gallery plugin instead. Not only will they give you more, much-needed features and advanced options, it will also help you present your for-sale photos in the best possible manner.
There are many gallery plugins available on the market, but you can also simply go ahead and get yourself NextGEN Gallery Plugin. Why? Not only will you get so many options when it comes to gallery overlay, but it will also help you with print fulfillment, without you having to lift a finger, among other, amazing features!
Check out this video to get a quick grip on what it has to offer, feature-wise, while sparing yourself a couple of minutes of reading in the process.
Upload your images
Now that you have all the previous steps set up, you can finally do what you were there for from the start and that is to upload your photos, so they are there for your audience to see and possibly buy. But rarely is it the case that you can just upload the images and your work here is done. They often need a bit of tweaking, like cropping, resizing, compressing, before they are presented to the audience. To do that you have a lot of software tools at your disposal. One that is free and super easy to use is ResizeMyImage.
ResizeMyImage enables you to do all the required changes to your photos before you post them on your site. If you need to do technical adjustments to your images, like changing the format, compressing them, ResizeMyImage is at your service. If you want to change the physical appearance of the image by rotating or flipping it, cropping or resizing, or if you want to put a beautiful filter on it (I mean who doesn't appreciate a good filter in 2019) and much more, ResizeMyImage is again at your service.
Sell through an already existing site
If making your own site is too intimidating for you, or you're just not looking to do the extra hassle that goes into making a website, then you can always go and sell your images through a "middleman", a.k.a. an image selling site. The internet has an abundance of them to choose from, and who said you only need to choose one, sell through a multiple or even sell through one of these and your own site at the same time, you really don't have limitations when it comes to this. The most popular image selling websites include:
Adobe Stock – If you know anything about photography, Adobe will ring a bell, it is the company behind the most popular photo editing software, Photoshop, and Lightroom. Adobe Stock was also the very first platform for selling images. When you upload your images on Adobe Stock, they will most likely reach a bigger audience than through other sites because the images also become available to people using other Adobe platforms. Sales made on Adobe Stock don't have to be exclusive to the platform, and your commission can be anywhere from 20-60%.

Shutterstock – This site is the go-to place for getting stock images on the internet. On Shutterstock, you set the rights to your photos and the owner will always be credited for their work. A contributor on the site earns every time their content is downloaded and can earn a 20-30% commission. It also doesn't require you to sell exclusively to them.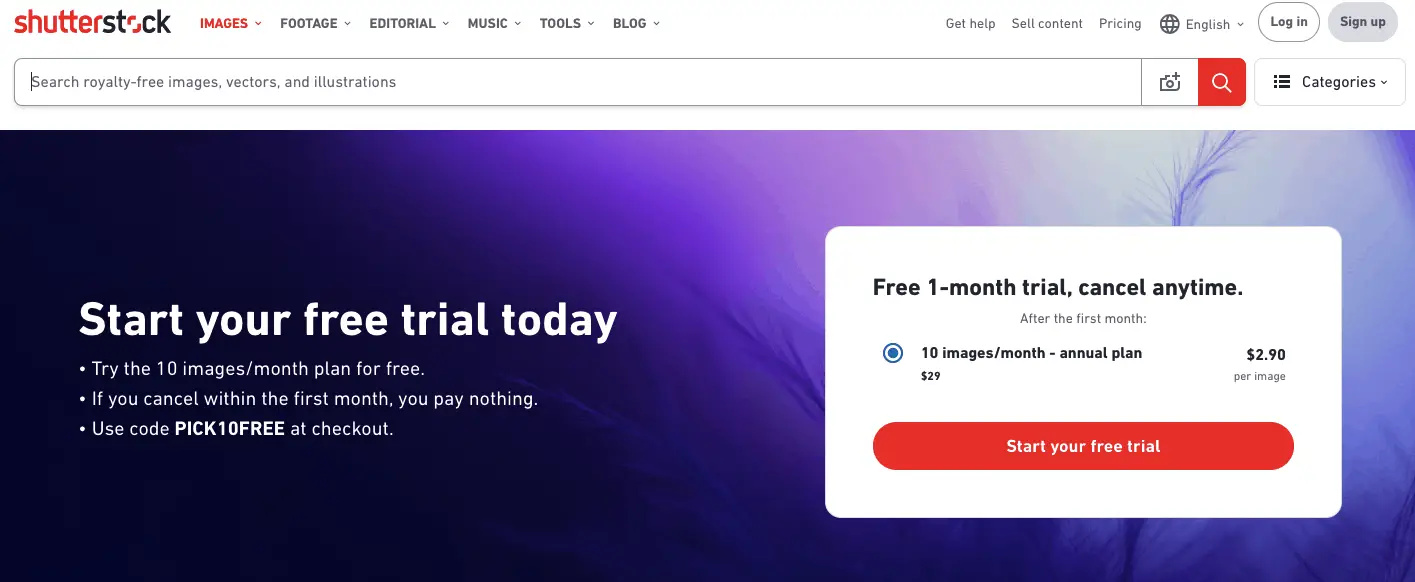 Etsy – The biggest marketplace for unique and artsy products. Here you can sell physical items containing your images and/or the actual images. With Etsy you have full control over everything, displaying the products, pricing them, shipping and packaging.

Getty Images – If you have ever browsed the internet, you have most likely come across a Getty image. It's very known for its high-quality images, especially the ones of celebrities. If your images are not high-quality but still hold value, Getty Images will be interested in it. Only downsides of Getty Images are that they want you to sell exclusively to them and the commission is around 20%.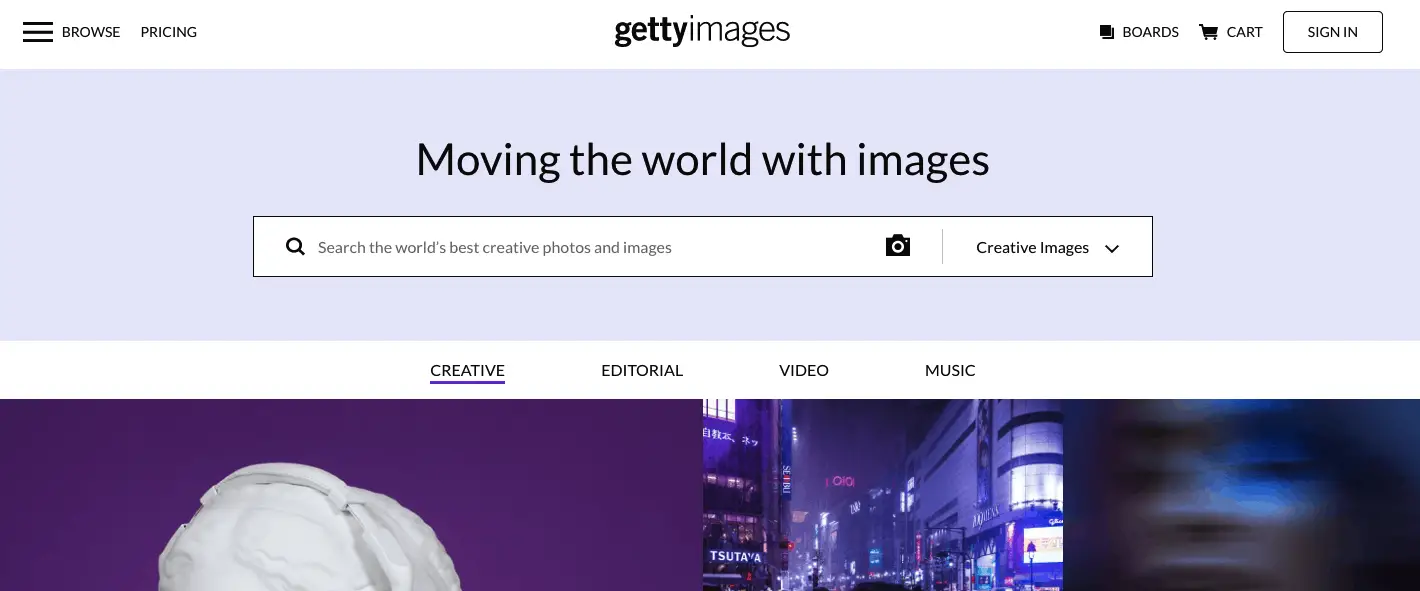 500px – Not only a marketplace for photography but also a community platform where you can show off your skills and work. It offers the possibility to do selling exclusively to them, non-exclusively and licensing. All images sold through 500px are distributed by Getty Images.
Conclusion
After reading this article I hope you are a bit more confident in starting to sell your images online or you are at least intrigued by the idea. Again, to earn from this business you will need to sell a lot but remember that there are a plethora of buyers waiting to see your work. So grab your camera and start turning your hobby into a potential business!