Doing presentations is almost required of us daily, especially if we are working in a business, real estate, or even HR training industry. Most people freak out when they hear they have to create a presentation. They don't know how to do it, or they are scared their audience will be bored, or they are scared they will forget their lines. Basically, they are scared of presenting.
Luckily, you don't need to worry.
Before you choose which tool you want to use, make sure that it is easy to use, that it has import and export features, that you can add all the necessary photographs, access and store it on a cloud in case your equipment fails, check for audio and video capabilities (you never know when you will have to do a voice-over), and make sure it has good technical support. Lastly, check if your tool has different templates that will make your job of creating an interesting and captivating presentation even easier.
Here, we will list five online presentation tools we recommend you use:
1. Prezi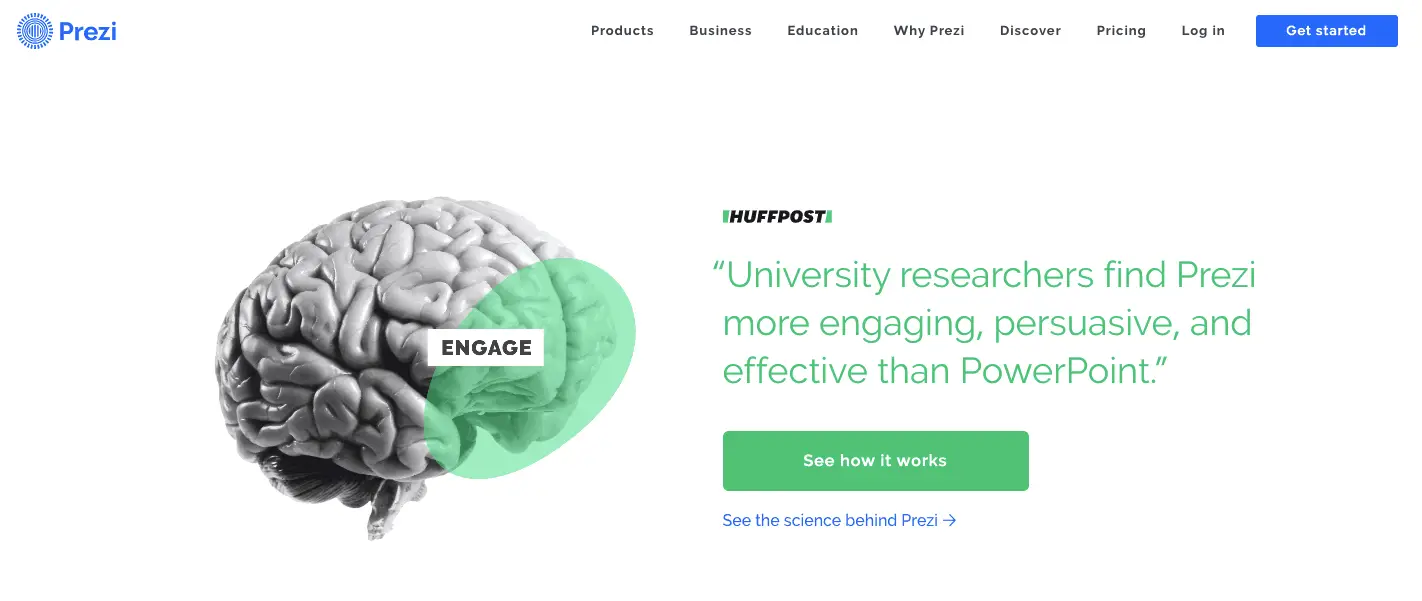 Prezi is a popular cloud-based presentation tool that is free to sign up (you just need your email address for a basic version). It is great because you can create non-linear and dynamic presentations with great animation and motion effects. Prezi is great because it shows how ideas relate to each other with a great zoom-in tool; it has great details that can make your presentation more attractive. Prezi also comes with numerous templates that you can customize however you want.
The only thing you should worry about is overusing the features, which will make for a terrible presentation. Also, it can make it hard to see some data (e.g., financials), so it may not be the best tool to use for a business presentation or different financial analyses.
Prezi comes as a desktop version, so you can keep your presentations on your computer. In a premium version, you can edit them offline and sync them with the cloud. It is compatible with Windows, macOS, and Linux (in browser). Take a look at other pricing plans.
Prezi is a great tool, which is proved daily by millions of satisfied customers, among which are Sony, Airbus, Staples, Fujitsu, Lufthansa, UNICEF, and many more.
2. Canva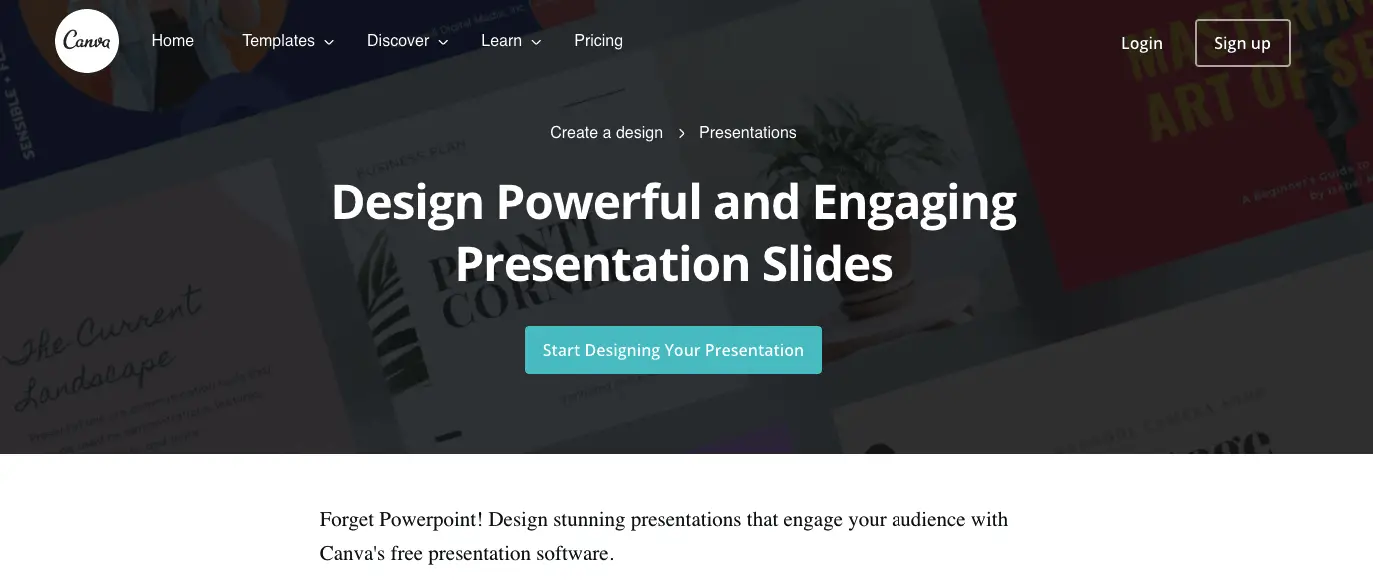 Canva is great for making quick presentations in your web browser. It comes with many templates and layouts you can use and customize. Also, according to Canva, it is easy to use as it "takes only 23 seconds to learn". The main drawbacks are that is doesn't have a wide variety of elements you can add to your presentation, but it comes with a large library of images you can use to create your presentation, and it is not compatible with PowerPoint.
Canva works on Windows, Linux (in browser), and macOS, so it is great for everyone. You create the presentations online, and you can invite your co-workers to edit it (but editing is not available simultaneously).  There are different pricing plans, whether you are a single user, pro, or large enterprise.
3. Visme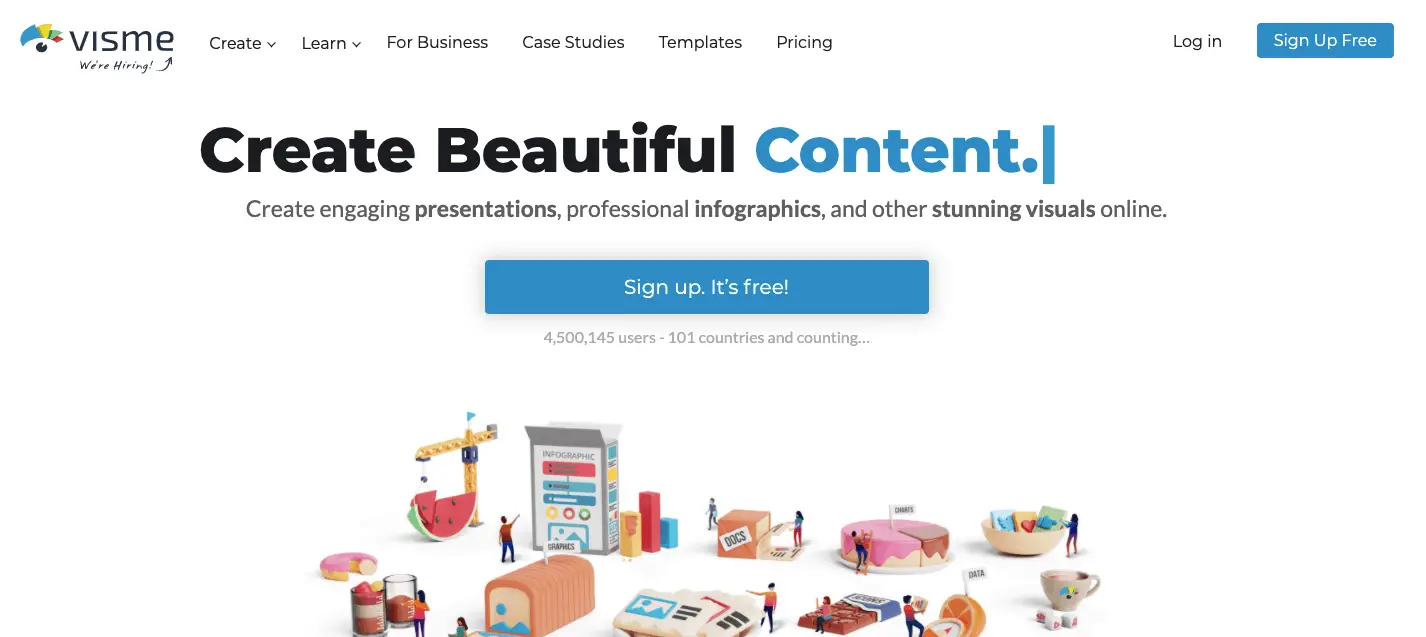 Visme is great for making visual stories, infographics, and presentations. Once you finish, you can embed your presentation in a website or share it on social platforms. You also have access to different fonts and free images you can use. You can add audio and video formats to your presentation. Moreover, you can change text and fonts, colors, add charts and graphs, basically anything you might need to make a great and professional-looking presentation.
Visme gives you the option to view the presentation in a browser, download it, export it and view it offline, or email it as a link.
You can click here to see different pricing plans. To prove how great Visme is, just look at the fact that it is used by CapitalOne, IBM, Experian, Lincoln Financial Group, and other leading brands.
4. Zoho Show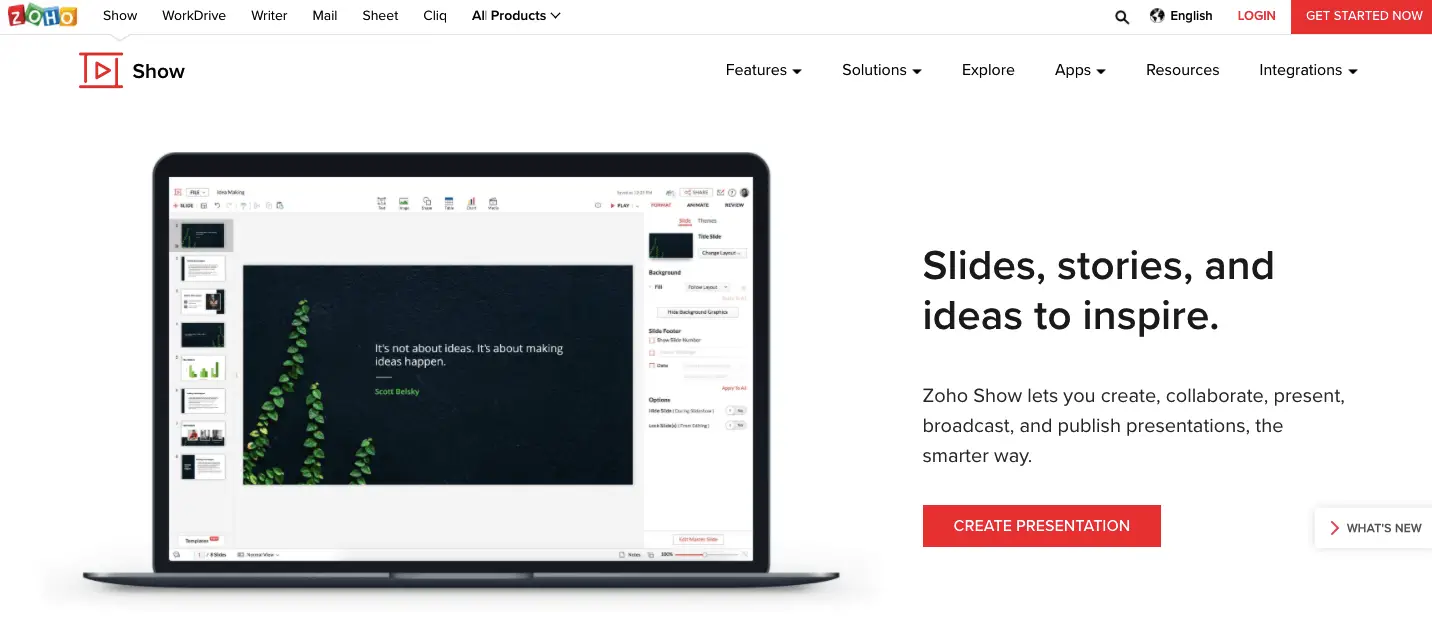 Zoho Show is part of Zoho Workplace (includes additional features such as mail, chat, sheet, sites, and more). Zoho Show lets you create and edit presentations while collaborating in real-time with your co-workers. Once finished, you can publish your presentation on the web, share it with a link, or publish it on social platforms, and you can edit it offline and later sync it to your Zoho Cloud.
When creating a presentation, you can pick a theme, change text and colors, add images, charts, and tables. You can also add animations to captivate the attention of your audience.
You can use Zoho Show for both iOS and Android, and it is compatible with PowerPoint and can be integrated with Jira and Confluence, which are great team collaboration tools. It is free to use for teams of up to 25 users, which is quite a large number of users being given for free. Lastly, Zoho Show is trusted by more than 50 million users globally, and customers include companies like Amazon, KPMG, Netflix, Air Canada, Discovery Communications, and more.
5. FlowVella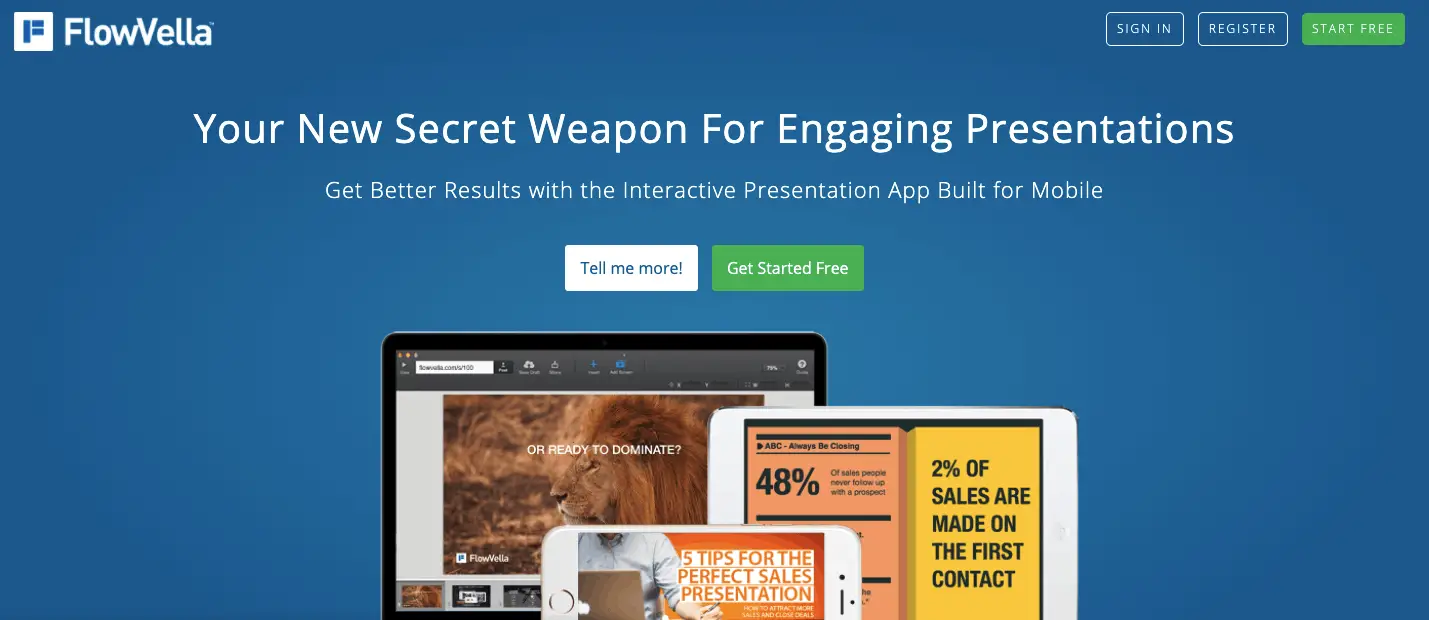 FlowVella is cloud-based presentation software that works for iPhone, iPad, or Mac. It is easy to use as you can choose from many pre-designed templates, use the drag-and-drop option to add photos, videos, and GIFs to your presentation. It gives you a lot of options to make your presentation interesting.
You can add images, videos, texts, links, and PDFs and view the presentation online or offline. You can share it with a link. You can use it offline, and it comes with different analytics tools that let you know how your presentation was seen. You can see who looked at your presentation, for how long, and which pages. These reports are great if you want to measure the success of your presentation on your business.
There is also Kiosk Mode, which is protected with a pin and used to set an interactive display.  Kiosk Mode is great for events, trade shows, conferences, museums, and public spaces if you want to play your presentations in a secure, portable, and interactive display. The Kiosk Mode comes with a Pro plan ($20/month). You can see other pricing options here.
A major drawback is that it is only available for iPhone, iPad, and Mac.
Conclusion
We hope that this article was helpful and that you now know which online presentation tool you will use for your next important presentation.